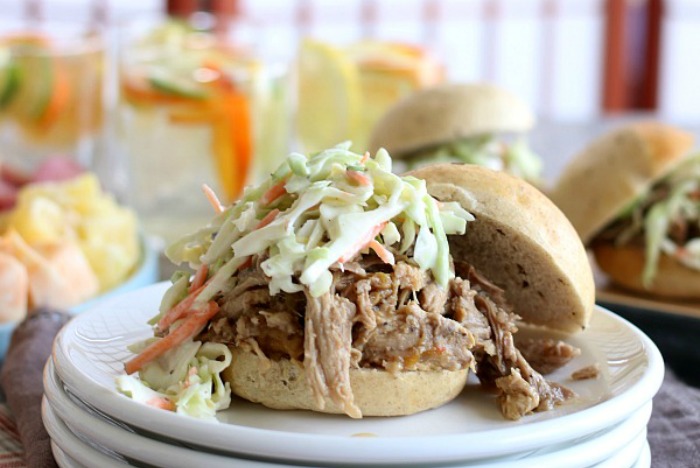 The secret to this amazing Pulled Pork Sliders recipe is in the addition of our not so secret ingredient – mango. You'll fall in love with the beautiful pairing of spicy and sweet in this perfect recipe for busy moms feeding hungry kids after school.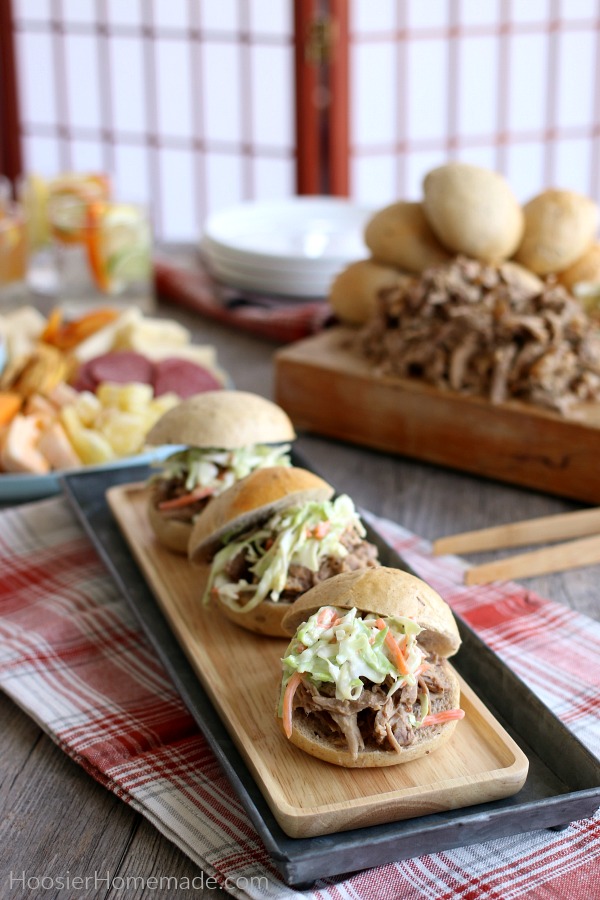 This recipe is brought to you by Mariani. As always, the opinions are my own.
A slow cooked pork roast is the ideal recipe for making pulled pork sliders to serve up to your family at the end of a long day. Moms know how hard it is to juggle things like kids after school activities, daily household responsibilities, and their own work. Having a meal that cooks all day and is simple to serve when dinner time arrives is a must. This easy recipe is a great way to combine flavors you love and create a simple meal that is pleasing. The slow cooker does all of the work, while you enjoy more time with the kids!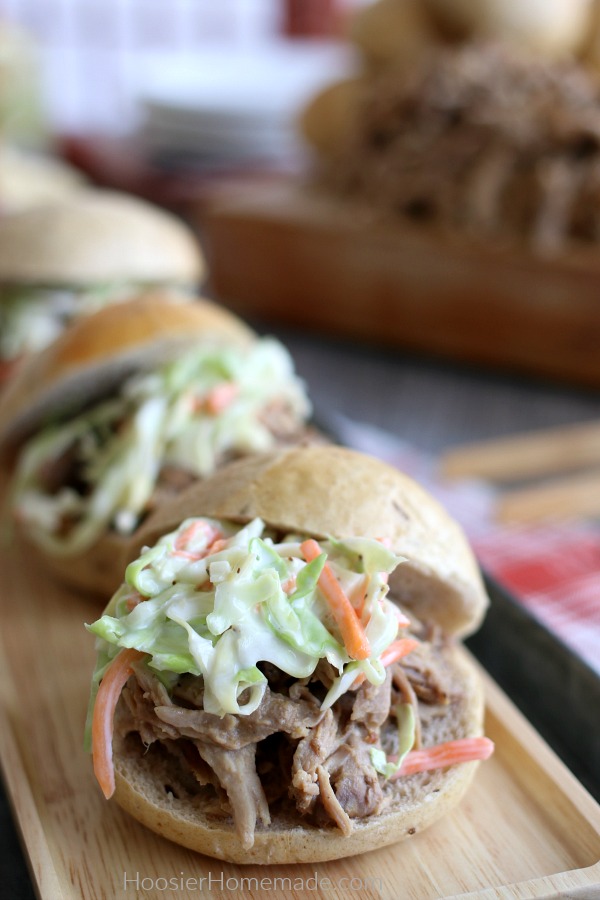 The Secret to Pulled Pork Sliders
Mariani Organic Dried Mango is the perfect sweet addition to compliment the salty pork in this easy pulled pork sliders recipe. With no added sugar or preservatives, you have no mom guilt about serving this to your kids. Mango is a great addition to your recipe as it is high in antioxidants and has that sweetness that your kids will love.
The simple recipe below is going to become a favorite weeknight meal. We serve with a bit of Coleslaw that you can easily whip up ahead of time, or even buy already prepared. I find this is a great way to get kids to eat vegetables without complaining. Adding veggies to the top of your pulled pork belly sliders is a perfect disguise.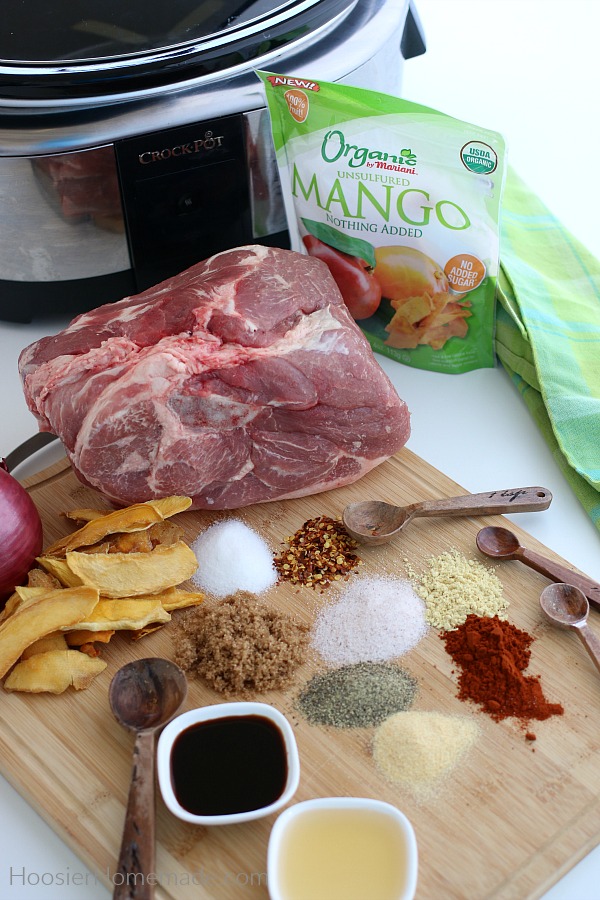 How to Make Pulled Pork Sliders
Begin preparing your pulled pork sliders recipe by making your homemade dry rub. A few simple ingredients from the pantry make a delicious flavor that will coat the pork and impart flavor into the meat as it slow cooks throughout the day. A homemade dry rub is essential for this recipe.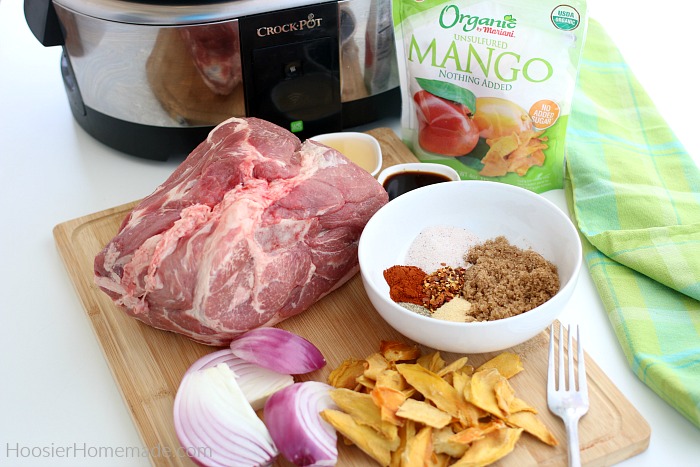 Pork Sliders
Ingredients
5 pounds Pork Shoulder Roast
Onion
Cider Vinegar
Worcestershire Sauce
Sugar
Spice Rub
Brown Sugar
Paprika
Salt
Pepper
Crushed Red Pepper Flakes
Garlic Powder
Ground Mustard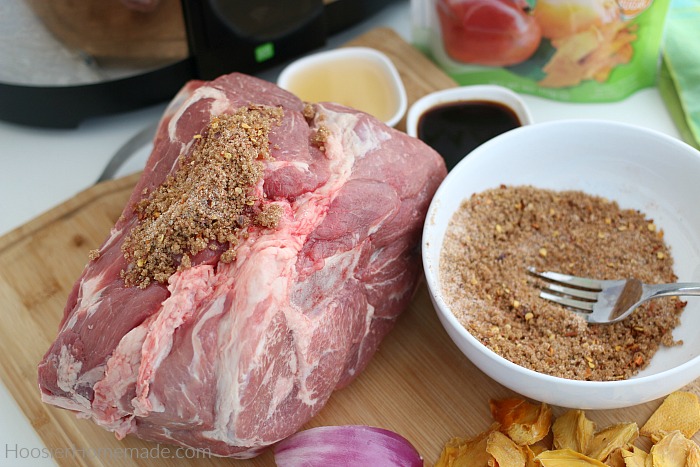 Combine all of the ingredients for the dry rub into a small bowl using a fork to break up any larger pieces, and mix well.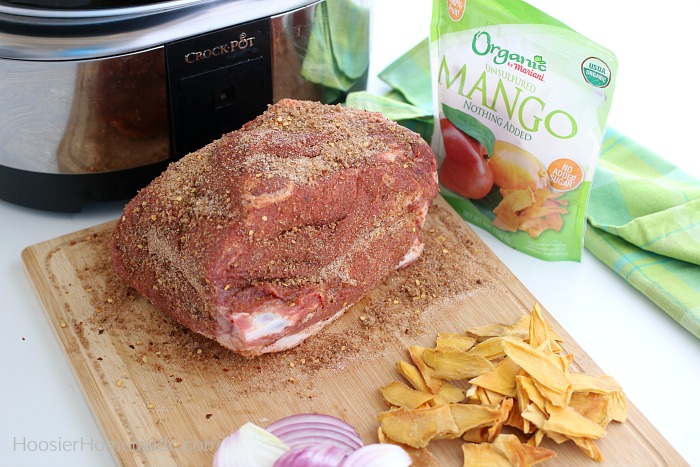 After your spice rub is mixed well, you will coat all sides of your pork roast. This takes just a minute of time, and is a fun part of the cooking process that kids might enjoy helping you complete. Have them slide on some gloves to help keep their hands clean, and enjoy rubbing the dry mixture on all sides.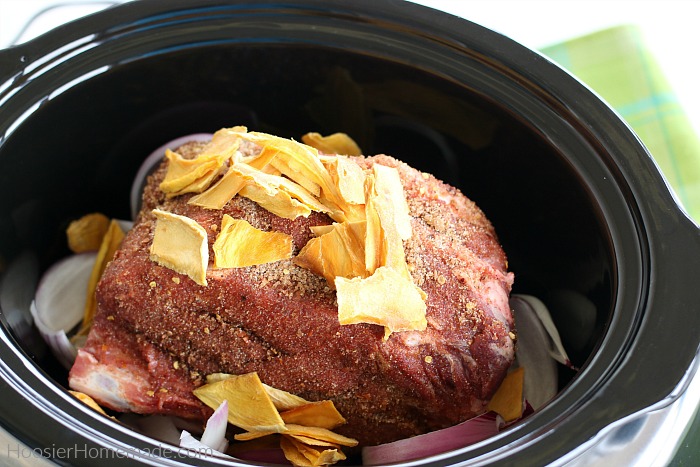 Once your pork roast is well coated, you will place it into your slow cooker on top of a bed of onions. This allows those juices to drip off the roast and as it cooks and create a wonderful flavor.
The secret ingredient comes next in this pulled pork sliders recipe. Once your pork roast is settled on top of the onions, you will place your Mariani Organic Dried Mango slices on top. The sweetness of the mango will cook down onto the pork as a perfect complement to the spice rub.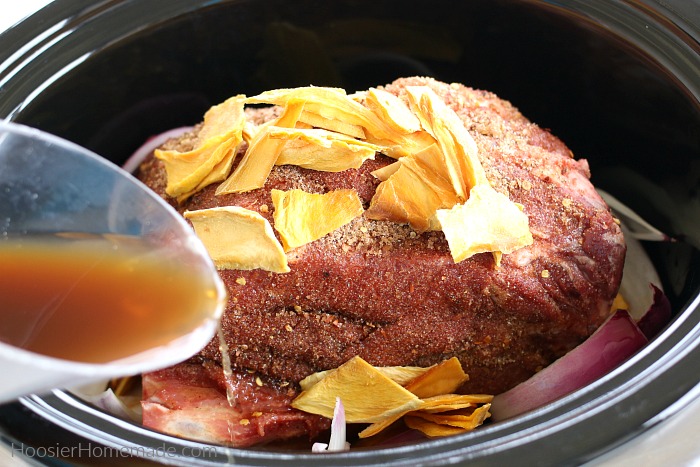 Your final step before cooking is to pour the liquid into the slow cooker and place the lid on top. This recipe is ideal for making on a day you know you will be busy as the slow cooking process gives you juicy tender pulled pork.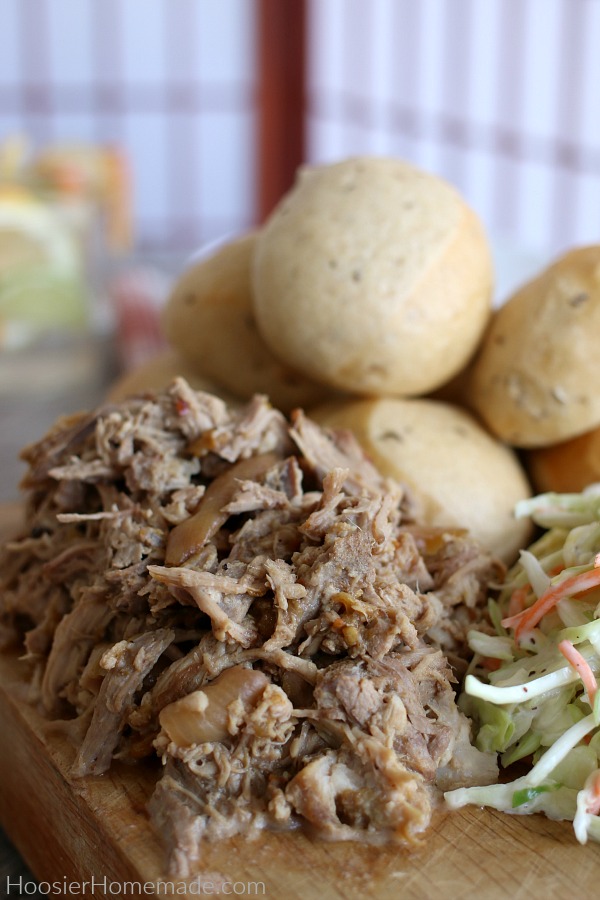 Preparing Pulled Pork Sliders
After a long busy day, you can come home to the smells of this perfectly cooked pulled pork for making dinner a simple affair. To make your pulled pork sliders, you will need to begin to pull or shred your pork. You can do this in the slow cooker, or remove the whole roast and after pulling add back in to mix with the juices and onions. Make sure to mix in those mango pieces for a hint of sweetness in the occasional bite.
I prepare my favorite rolls by cutting them in half and toasting to add a bit more texture to this recipe. Then you put a generous portion of pork onto the bottom half, and top with your coleslaw and top of the bun. You can serve these up buffet style and let your family assemble their own. A buffet or family style serving option makes it easy for them to personalize their pork belly sliders with things like pickles, onions, or just simply the mango sweetened pulled pork on a bun.
What to serve with Pulled Pork Sliders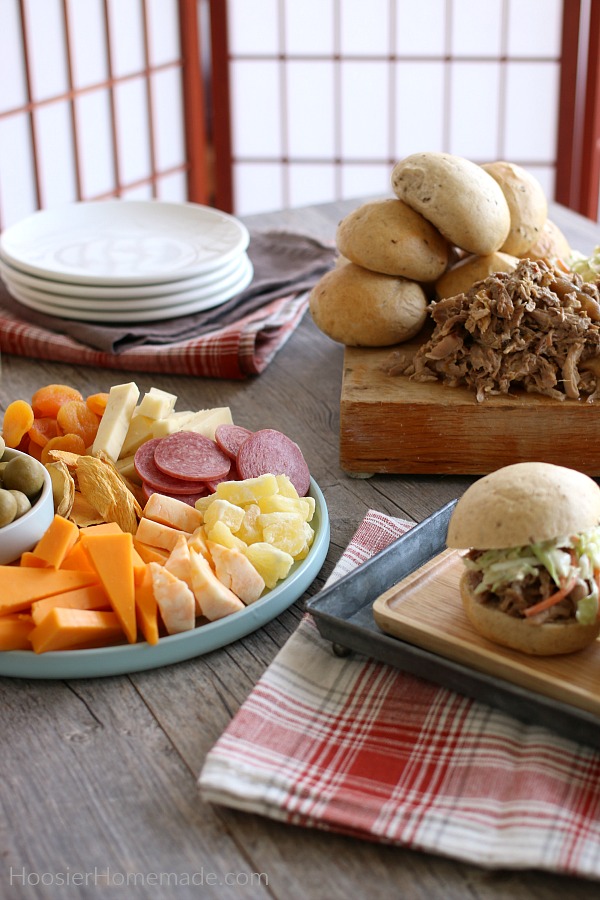 Putting together a Cheese and Fruit Tray to go with the Pulled Pork Sliders takes just minutes and it's honestly so fun to create – not to mention easy.
Cheese and Fruit Tray
Cheese – any kind you like is fine – I like using a variety of cheeses that have different colors, this time I used – Mild Cheddar, Pepper Jack, Munster and Colby
Fruit – this time I added Mariani Organic Dried Mango, Ultimate Apricots and Tropical Pineapple
Meat – this is absolutely optional because you already have the Pulled Pork Sliders, but it definitely adds to the tray
Olives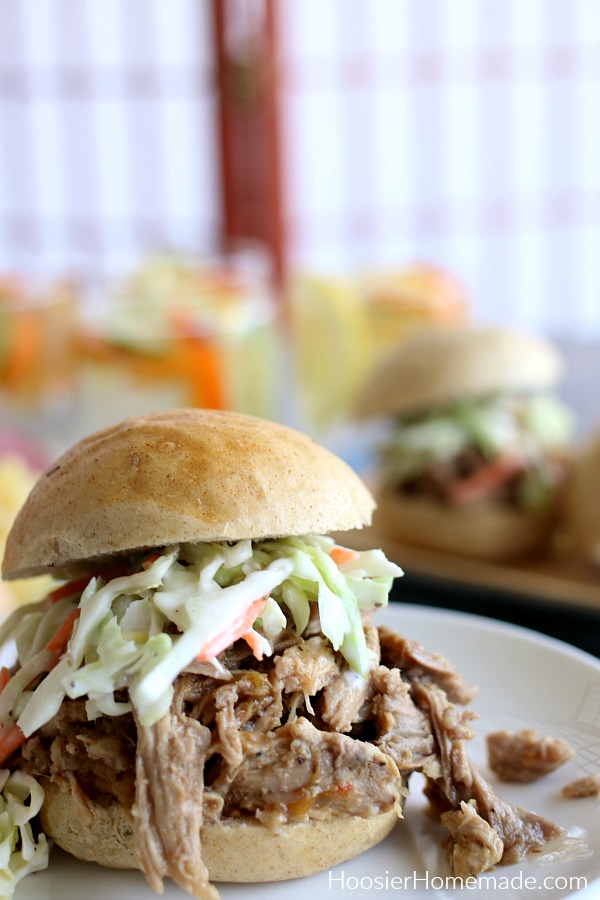 Follow Mariani on Instagram, Pinterest, Facebook or Twitter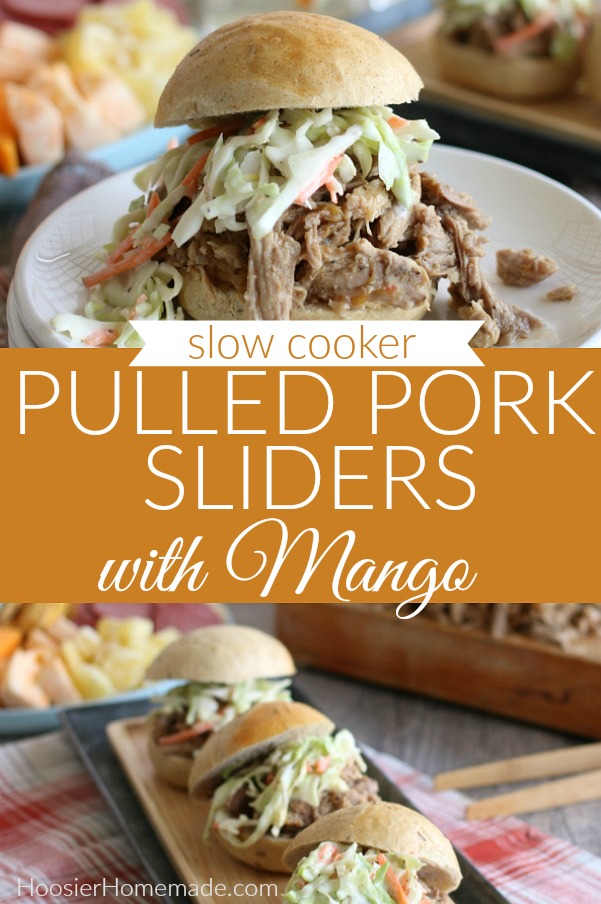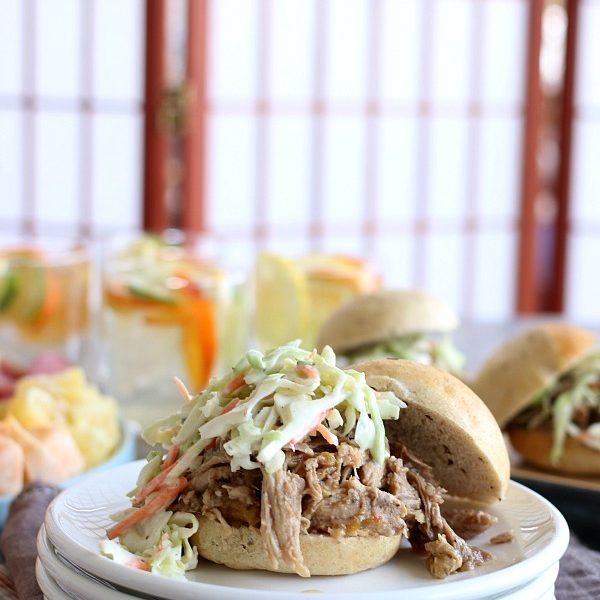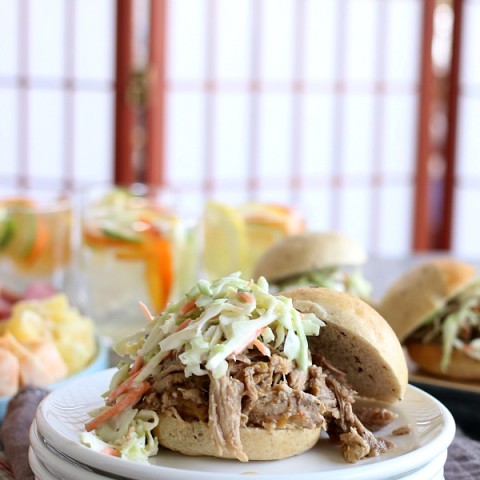 Pulled Pork Sliders
Total Time:
6 hours
15 minutes
A quick and easy Slow Cooker meal that your family with love.
Ingredients
Add to Crock Pot
5 pounds Pork Roast - shoulder or butt
1 (4 0z) bag Mariani Organic Mango
1 large onion, cut into chunks
3/4 cup Cider Vinegar
1 tablespoon Worcestershire Sauce
1/2 tablespoon Sugar
Dry Rub
3 tablespoons Brown Sugar, packed
3 teaspoons Salt
1/2 teaspoon Pepper
1 teaspoon Paprika
1-2 teaspoons Crushed Red Pepper Flakes, depending on your taste
1 teaspoon Ground Mustard
1 teaspoon Garlic Powder
Instructions
Wash and trim roast if necessary
Prepare Slow Cooker - set it out and plug it in
Combine ingredients for Dry Rub in a small bowl
Cover roast completely with spice mixture, rubbing into the meat
Cut onions into large chunks and separate pieces
Slice Mango into smaller pieces - using scissors is the easiest
Place onions in Slow Cooker
Add roast Add mango to the top and sides of roast
Combine cider vinegar, Worcestershire Sauce and sugar Pour into Slow Cooker around the edges of the roast
Cook on low for 5-6 hours - cooking time will depend on the size of the roast and how fast your Slow Cooker cooks.
Internal temperature should be 145-160 degrees using a meat thermometer.
Remove roast from cooker onto a cutting board and let cool slightly so you can handle it easier
Using 2 forks, pull the pork into pieces
Return pork to juices in cooker, heat if necessary
To serve - add pork to buns and top with coleslaw, if you like
Store leftovers in refrigerator
Notes
This Pulled Pork can be made ahead of time, stored in fridge and reheated
Nutrition Information:
Yield:

16
Serving Size:

1
Amount Per Serving:
Calories:

445
Total Fat:

31g
Saturated Fat:

11g
Trans Fat:

0g
Unsaturated Fat:

16g
Cholesterol:

128mg
Sodium:

505mg
Carbohydrates:

7g
Fiber:

1g
Sugar:

6g
Protein:

33g