A great make-ahead Summer salad, this Coleslaw Recipe goes together in just 5 minutes with a creamy homemade Coleslaw Dressing.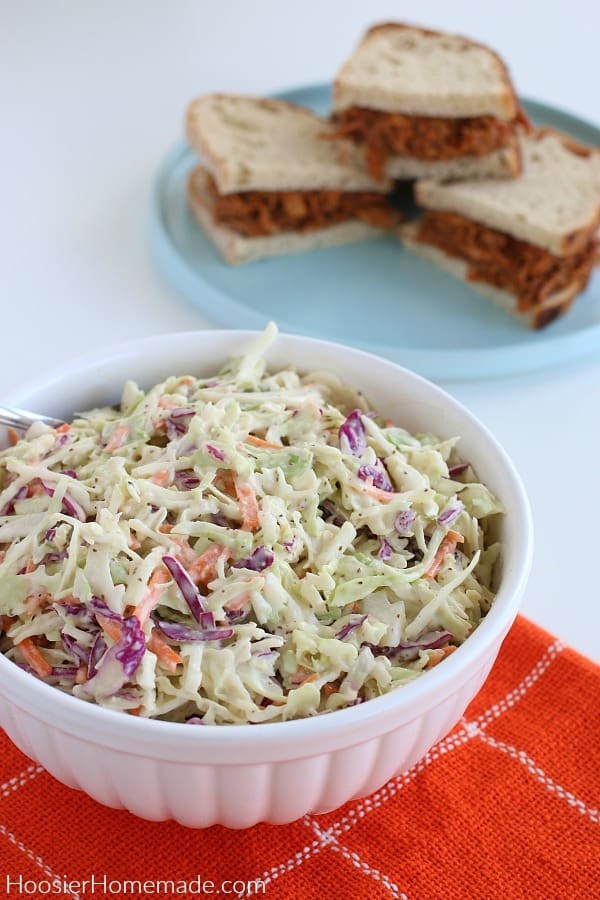 Having an easy, go-to salad recipe for picnics, potlucks and cookouts is important. However, spending less time in the kitchen, so you can spend more time doing what you love is even more important.
This easy Coleslaw recipe is one of those recipes that are a must-have in your recipe box. Everyone will love it and you will want to make it again and again.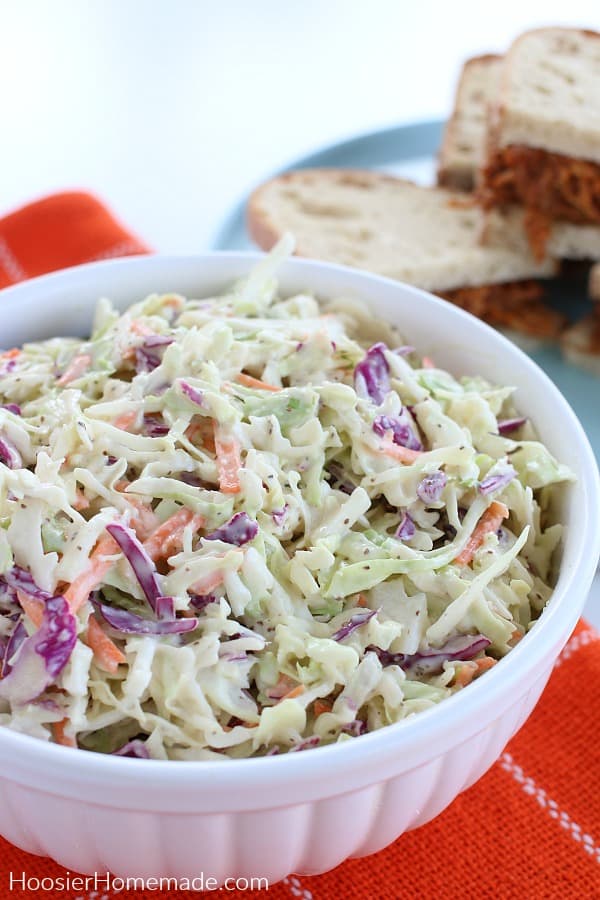 How to Make Coleslaw
The main part of coleslaw is the cabbage mix. You have two options – either purchase store bought Coleslaw Mix or cut your own cabbage and carrots. Either way is fine, to keep it simple and cut down on time, store bought is what I used for this Coleslaw Recipe.
Next you will need Coleslaw Dressing. This is where all the flavor of the Coleslaw will come from. The Coleslaw Dressing in this recipe has the typical mayonnaise base with seasonings and cider vinegar, but it also has a a little kick from Dijon Mustard and extra flavor from lemon juice and onion powder.
The Coleslaw Dressing comes together in less than 5 minutes. You can use it right away on the cabbage mixture, or seal and keep it in the fridge for a few days until you are ready to use it.
When you are ready to put together the Coleslaw, add the cabbage mix to a large bowl, and pour the dressing over the cabbage and toss until the cabbage is completely coated.
Cook's Tip: You can also add the dressing to the coleslaw mix in layers. Add half the cabbage mix to the bowl, then pour about half of the dressing on top. Then add the remaining coleslaw mix and the rest of the dressing. Then toss to coat.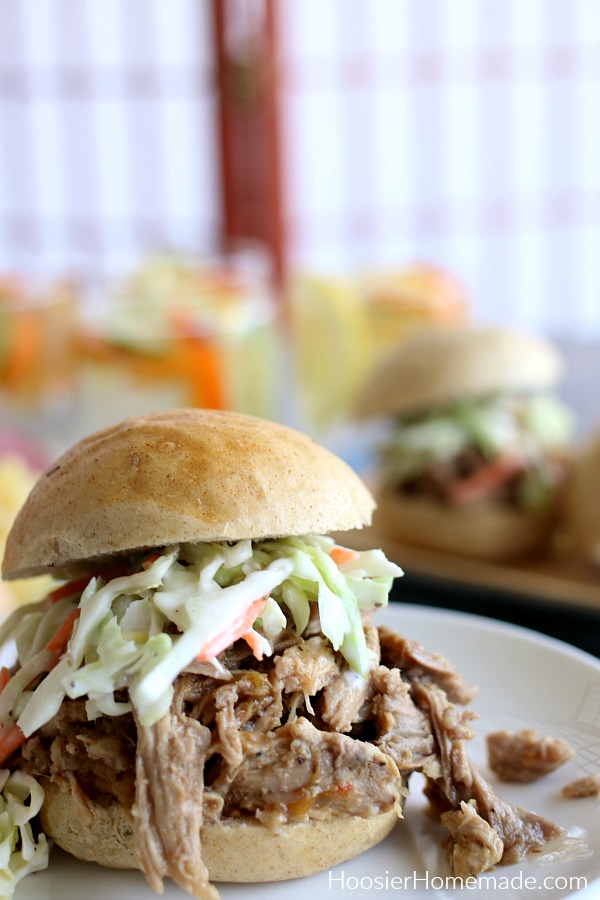 What to Serve with Coleslaw
Once the coleslaw is ready, the serving options are endless. This classic Summer side dish makes it's presence at most BBQ's, family reunions and parties.
It's also best if made a day ahead, giving you more time to enjoy yourself the day of a party or cookout. If you don't get around to preparing the Coleslaw the day ahead, be sure to give it at least a couple hours in the refrigerator before serving.
Coleslaw can be served with a variety of main dishes like Pulled Pork Sliders, Burgers to Chicken, Pork to Tacos, Fish and more.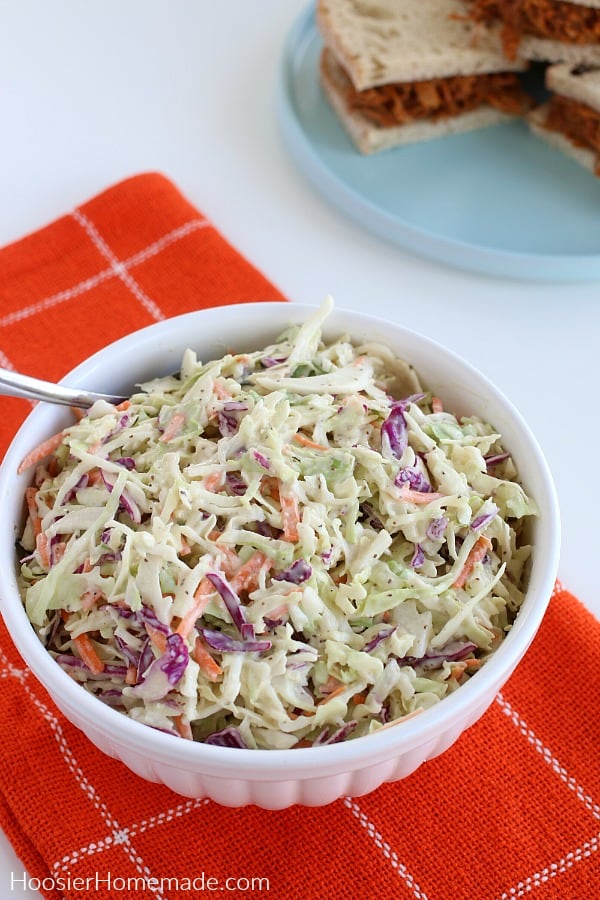 Easy Coleslaw Recipes
While this Coleslaw Recipe is classic, you may also like to try these Coleslaw flavor variations: Cilantro Lime Coleslaw for Tacos, KFC Coleslaw Recipe, Memphis Style Coleslaw Recipe, Pineapple Coleslaw and Chick-fil-A Coleslaw.
Looking for more easy Salad Recipes? Click on the photo for the recipe –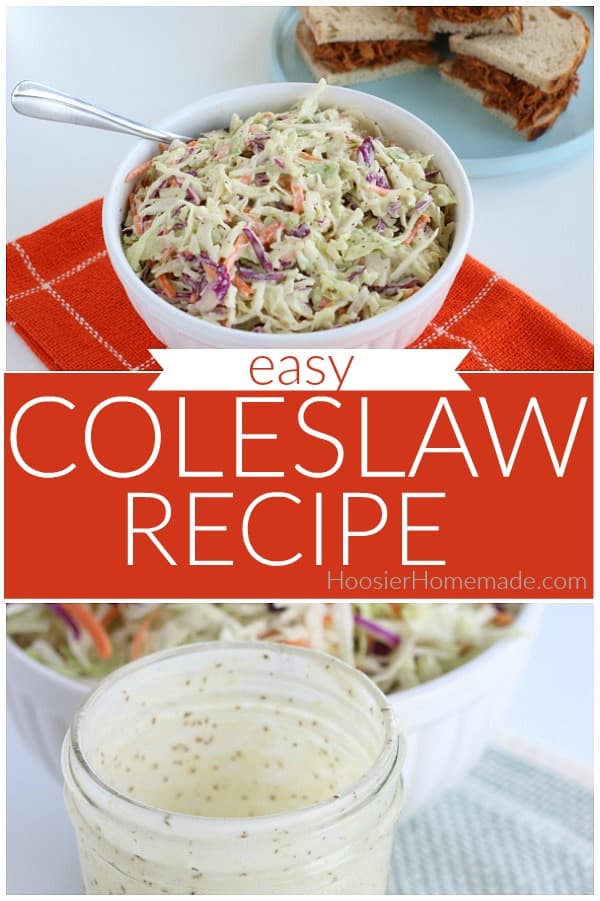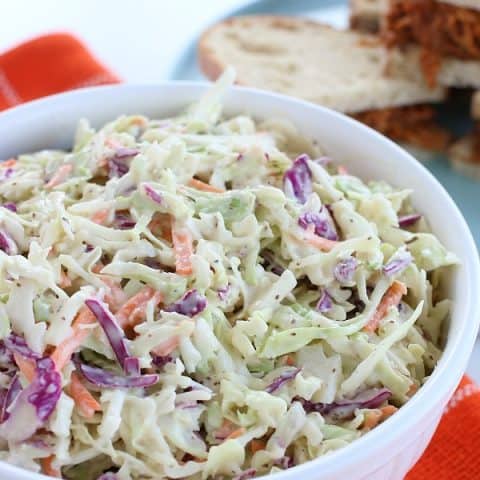 Coleslaw Recipe
This classic Coleslaw Recipe goes together in minutes and can be served with a variety of dishes.
Ingredients
1 bag (14 oz) Coleslaw Cabbage Mix
Dressing:
1/2 cup Mayonnaise
1 tablespoon Dijon Mustard
1 teaspoon Onion Powder
2 teaspoons Sugar
1/2 teaspoon Celery Seed
1/2 teaspoon Salt
1/2 teaspoon Black Pepper
1 tablespoon Cider Vinegar
1 tablespoon Lemon Juice
Instructions
Add mayo to wide mouth mason jar or other jar with lid
Add mustard to jar
Add all seasonings
Add vinegar and lemon juice
Add lid and shake until well combined
Add half of coleslaw mix to large bowl
Pour half of coleslaw dressing over mix
Add rest of coleslaw mix
Pour remaining dressing over mix
Stir until well combined
Cover and refrigerate until ready to serve at least 2 hours
Store leftovers in fridge
Notes
Coleslaw Dressing can be made ahead of time, sealed and stored in fridge.
For best results, make Coleslaw at least 2 hours before serving - 24 hours is best.