You are sure to be greeted with smiles and hugs when the kids see this fun breakfast! This easy Breakfast Pizza Recipe goes together in minutes and then let your imagination run wild to create the faces.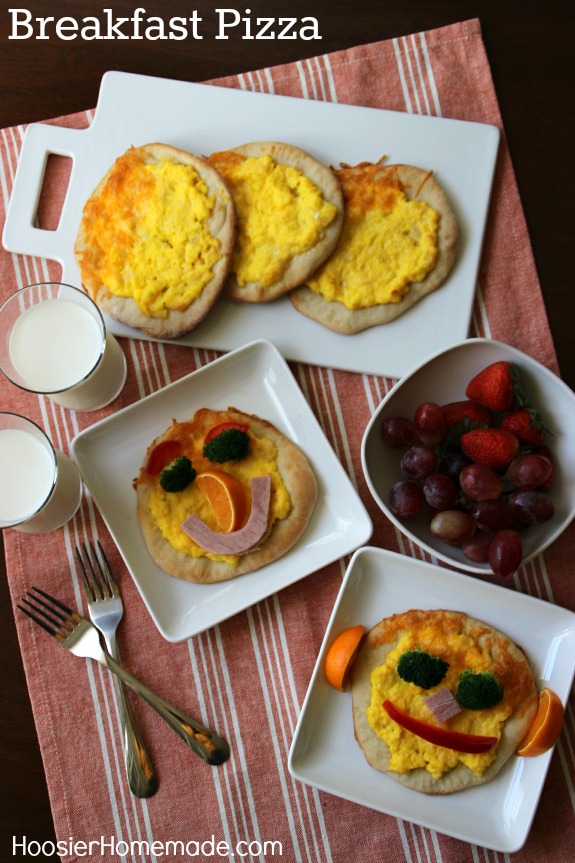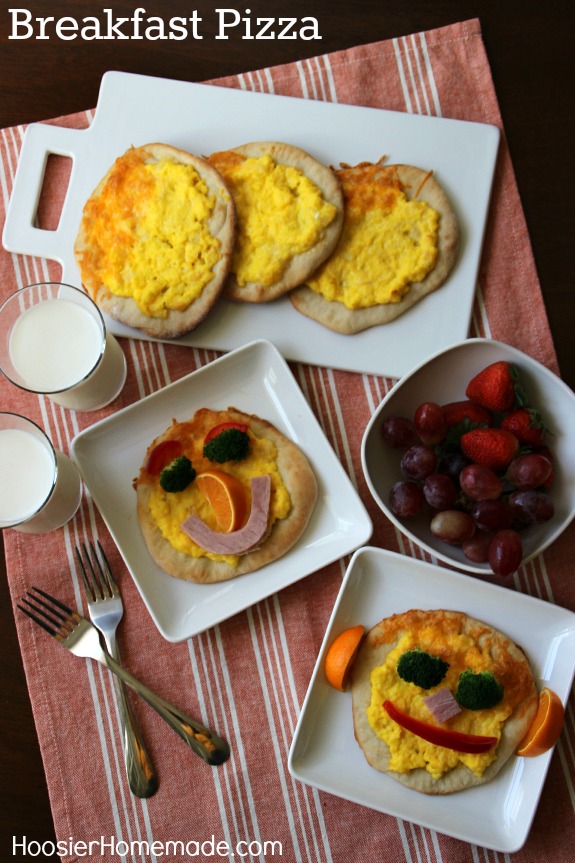 Breakfast has always been a special meal in our family, especially on the weekend or for the holidays. And this Easy Breakfast Pizza Recipe is perfect for the kids to help with, especially now while they are home for Christmas break.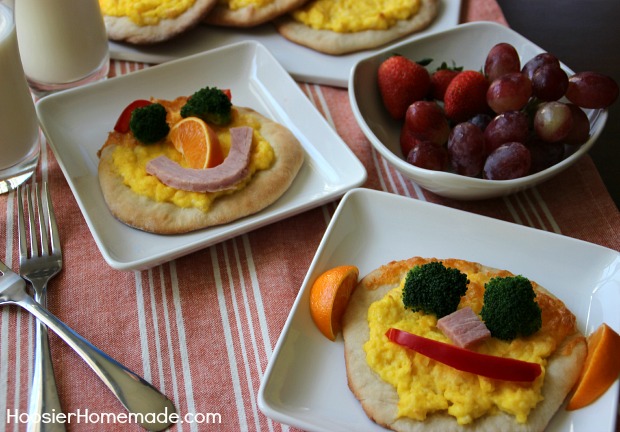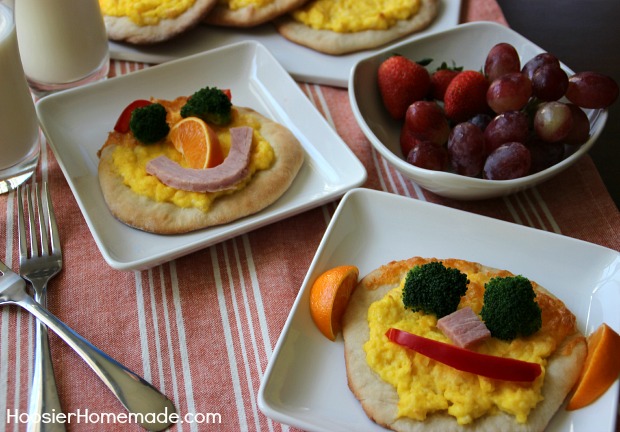 The kids will have a blast creating their own funny face Breakfast Pizzas too! In less than 30 minutes you can whip up a delicious breakfast. In a hurry during the week? Make these on the weekend, and have them ready to re-heat for a quick weekday breakfast.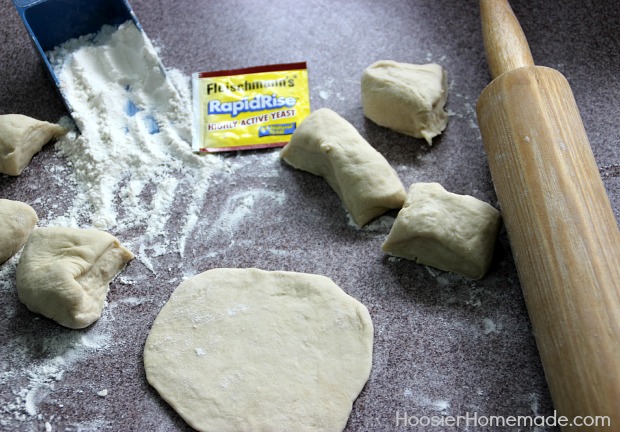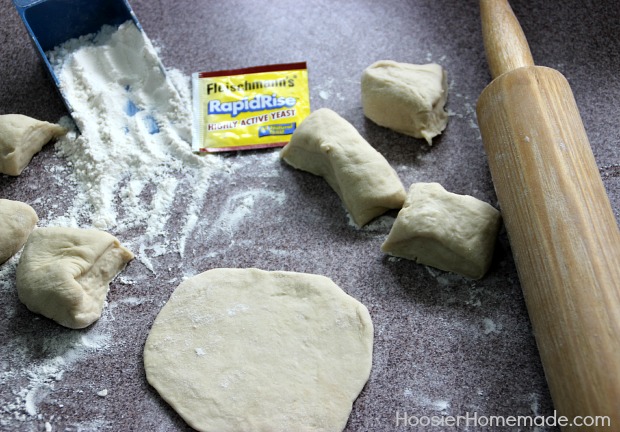 Making the dough for the Breakfast Pizzas is super easy, the dry ingredients including Fleischmann's® RapidRise™ Yeast, with warm water and oil are added. After a few minutes kneading the dough, divide it into 8 pieces, and each piece gets rolled out.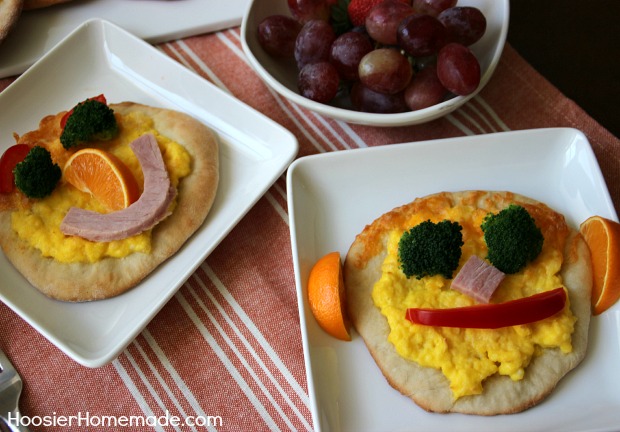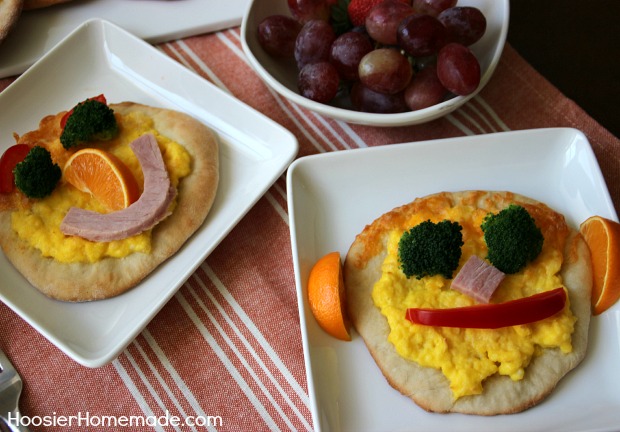 After the dough is rolled out and placed on a cookie sheet, then it's time to cook the eggs. Combined with a little cheese, the beaten eggs are cooked in a skillet until almost done, this took just minutes to do. Then spread a spoonful onto each pizza, and top with shredded cheese for hair. Then into the oven they go for about 10 minutes.
Then comes the fun – adding the faces. You can also add ingredients for the faces before you cook them like it's done here in the original Fleischmann's recipe for Morning Smiles Breakfast Pizzas, but we chose to add our ingredients after. You could also add ingredients to bowls and let the kids experiment with creating their own funny face. We used ham, cooked broccoli, red peppers and oranges. But really, the ideas are endless, just hunt through your refrigerator to see what you have.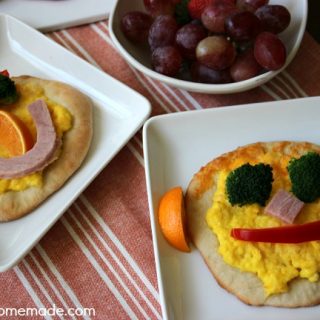 Easy Breakfast Pizza Recipe
You will surely be greeted with smiles and hugs when the kids see these Funny Face Breakfast Pizzas!
Ingredients
1 3/4 - 2 1/4 cups flour, all purpose
1 envelope Fleischmann's® RapidRise™ Yeast
1 1/2 teaspoons sugar
3/4 teaspoon salt
2/3 cup very warm water (120-130 degrees F)
3 tablespoons oil
Eggs
1 tablespoon butter
6 eggs, beaten
2/3 cup cheese, shredded
Faces
Sausage links
Bacon
Ham
Oranges
Peppers
Anything you like
Instructions
Pizza
Preheat oven to 400 degrees and line a cookie sheet with parchment paper or spray with non-stick cooking spray
In a large mixing bowl, combine 1 cup flour, undissolved yeast, sugar and salt
Add very warm water and oil and mix until blended, about 1 minute
Gradually add enough flour to make a soft dough. Doug should form a ball but will be slightly sticky
Turn onto floured surface and knead dough until smooth and elastic, about 4 minutes
Divide dough into 8 equal portions, roll out each portion into a circle. Place on cookie sheet.
Eggs
Melt butter in skillet over medium heat
Combine eggs and 1/3 cup cheese in a bowl, add to melted butter
Scramble egg mixture for 2-3 minutes, eggs are ready when almost set, but still slightly under cooked
Divide eggs and spread on top of each pizza
Sprinkle top with additional cheese for hair
Bake for about 10 minutes or until pizza is golden brown and eggs are set
Funny Face
To add a face, cut pieces of ham, bacon, peppers, broccoli, oranges, anything you like and create a face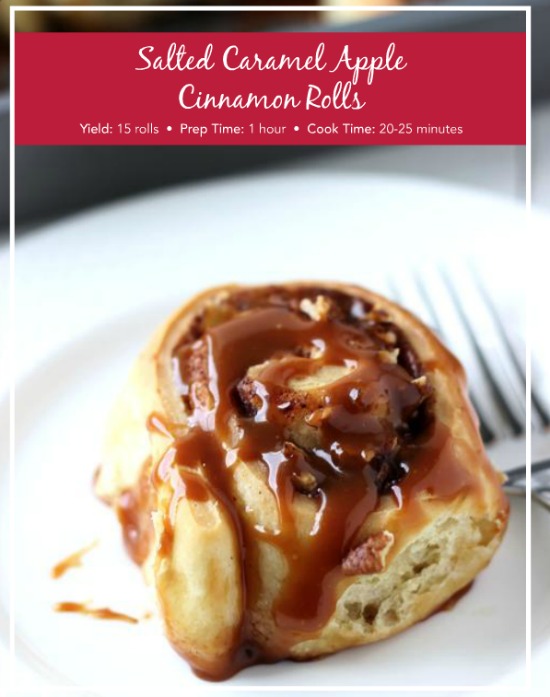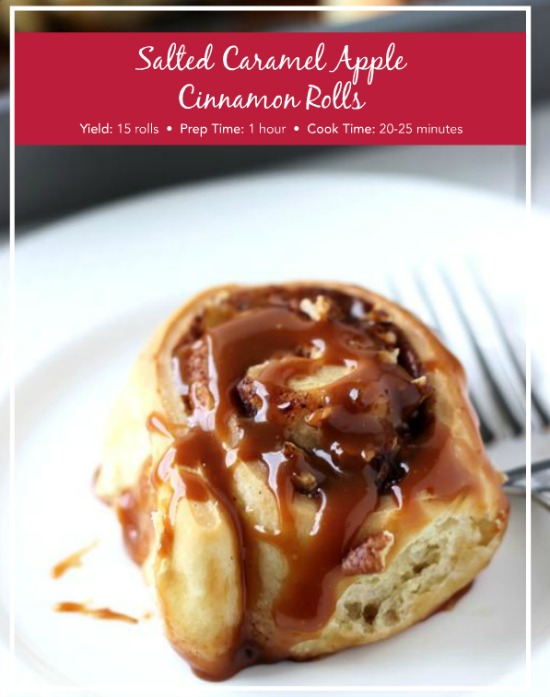 For more delicious recipes, follow Become a Better Baker on Baker on Pinterest, Fleischmann's® Yeast on Facebook and Breadworld.com