As we wrap up 2012, it's always fun to take a look back at what we have accomplished…what went well, not so well and of course our favorites. Beginning today, I will be sharing the Best of 2012 with you! Kicking it off, are the favorite Cupcakes from Hoosier Homemade as well as Cupcake Chronicles Newsletter.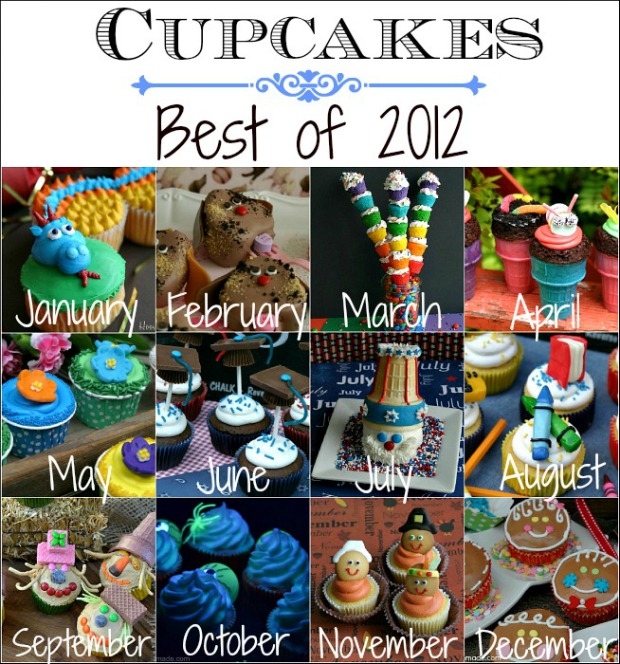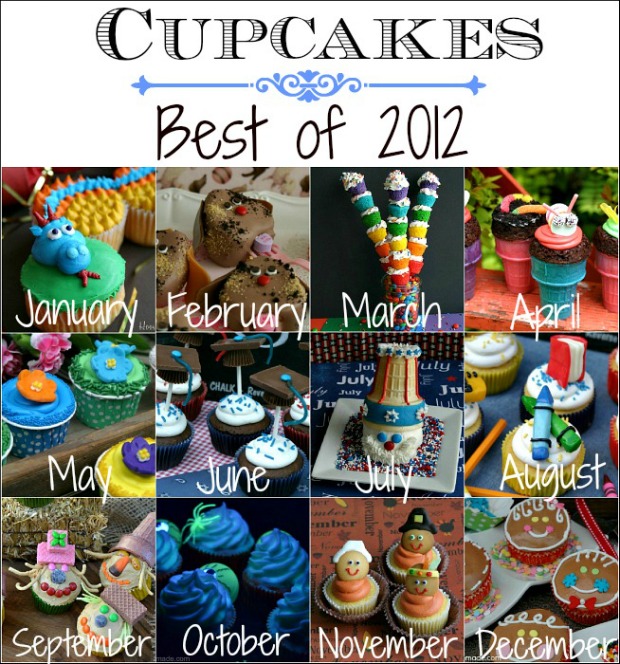 The year was FILLED with fun cupcakes each week for Cupcake Tuesday! Check out Cupcake Heaven for over 200 cupcakes!
January ~ Dragon Cupcakes
February ~ Puppy Love Pops
March ~ Mini Rainbow Cupcakes
April ~ Bug Cupcake Cones
May ~ Flower Cupcakes
June ~ Graduation Cap Cupcakes
July ~ Uncle Sam Cupcake from Cupcakes! 12 Months of Happiness eBook
August ~ Back to School Supplies Cupcakes
September ~ Scarecrow Cupcakes
October ~ Glow in the Dark Cupcakes
November ~ Pilgrims and Indians Cupcakes
December ~ Gingerbread Boys and Girls Cupcakes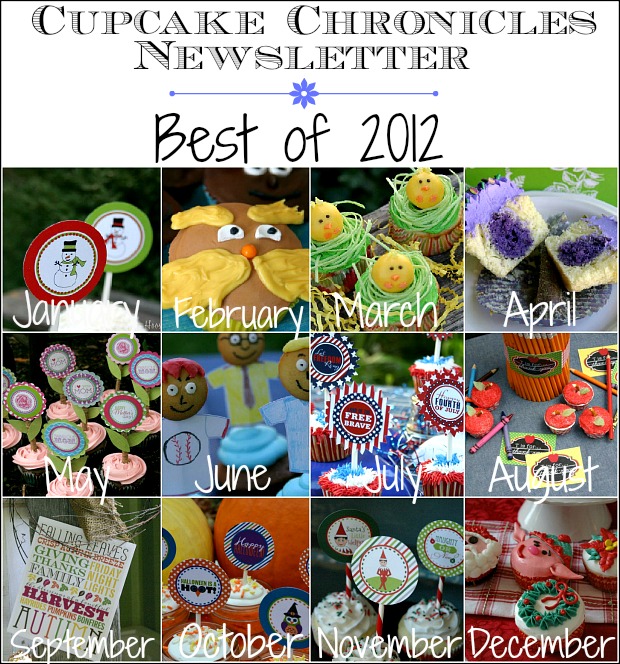 Cupcake Chronicles Newsletter has exclusive cupcake recipes, decorations and a monthly free Printable designed by Charlotte from The Paper Cupcake! Learn more and sign up for the newsletter!
January ~ Snowman Cupcake Toppers
February ~ Dr. Seuss Lorax Cupcakes
March ~ Chick Cupcakes
April ~ Easter Egg Cupcakes
May ~ Mother's Day Cupcake Toppers
June ~ Father's Day Cupcakes
July ~ Fourth of July Cupcake Toppers
August ~ Apple Cupcake Pops and Printable Teacher Notes
September ~ Printable Autumn Subway Art
October ~ Halloween Cupcake Toppers
November ~ Elf on the Shelf Printables
December ~ Christmas Cupcakes: Santa, his Elf, Wreath and Poinsettia
Do you have a favorite?
Do you love baking? Join us over at Joy of Cooking for the Best of Desserts!