That mischievous little Elf is at it again! Whether you call him Jingle, or Tom or even Fred, many children look forward to their Elf on the Shelf each year. These FREE Elf on the Shelf Printables include Cupcake Toppers, a "Be Good" Banner and also a Naughty or Nice Letter to Santa!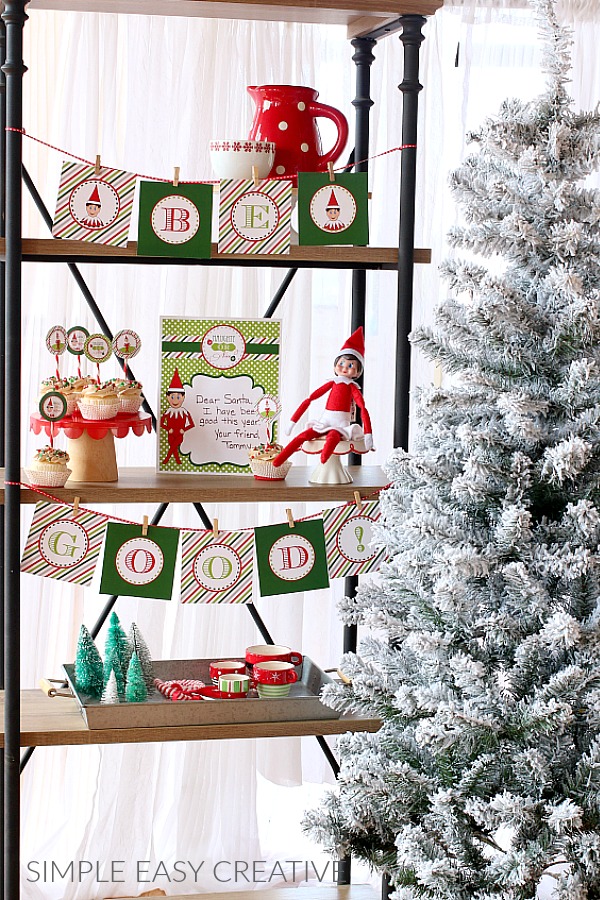 Elf on the Shelf is a very popular Christmas tradition in many families! According to the storybook, the Elf reports back to Santa what the children are doing – whether they are being naughty or nice.
The origin began when Carol Aebersold and her two grown daughters wrote the book. It quickly became a household tradition. A quick online search and a scroll through social media, will show just how popular the Elf on the Shelf is.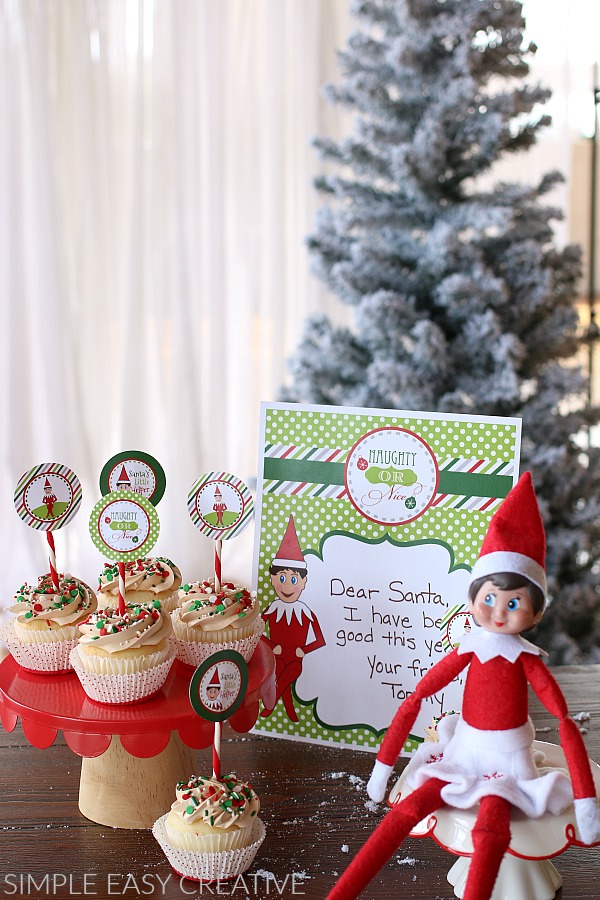 Depending on how you decide what the Elf will do each night – they can get into mischief by knocking things over or making messes in the house – or they can be a little more kind and quietly move around the house bringing cheer.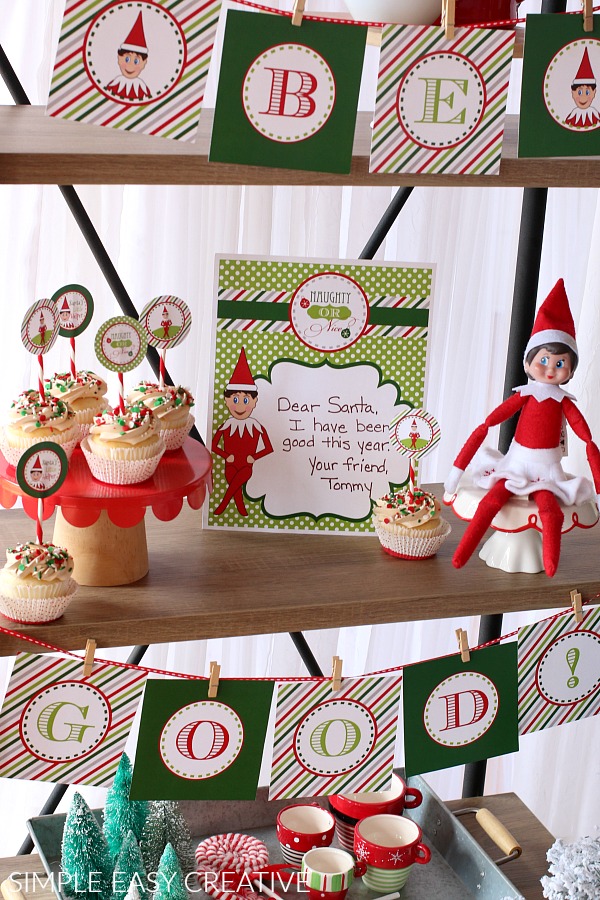 These Elf on the Shelf Printables come with three fun ideas for you – cupcake toppers, a "Be Good" banner, and a letter to Santa.
The Elf on the Shelf Cupcake Toppers have three different designs – Santa's little helper, Naughty or Nice and the Elf.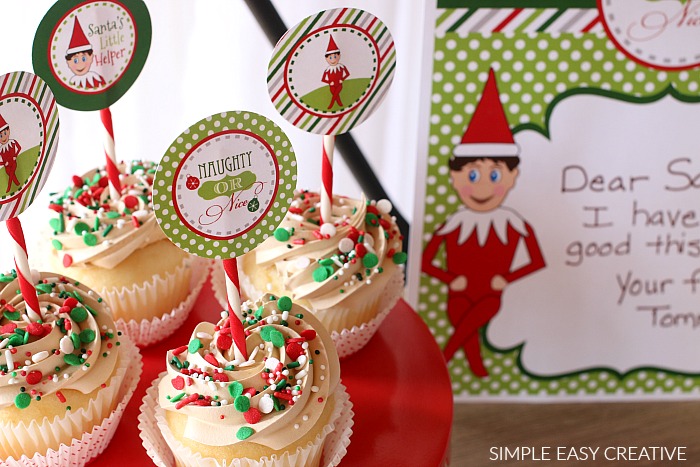 How to make Elf on the Shelf Cupcake Toppers
Print out the cupcake toppers – you can do this on your home printer or save the file to a flashdrive and take it to your local office supply or print shop
The toppers are all printed on a single sheet. Next you will need to cut them apart in rows, this makes it easier to cut the circles.
Cut out each circle with a 2 inch hole punch
To add them to cupcakes, you can use a stick, straw or lollipop stick.
Tape the topper onto the stick, then insert into the cupcake.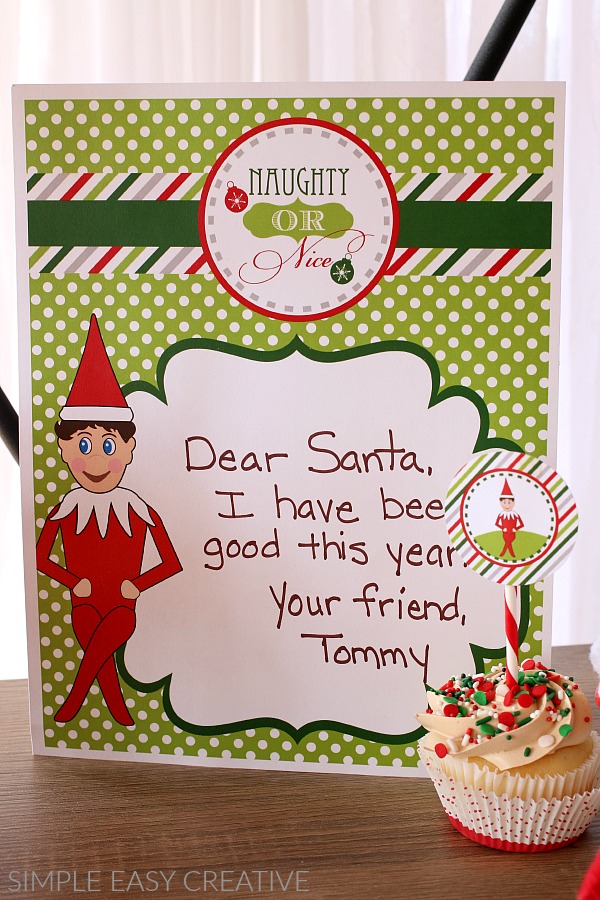 The Naughty or Nice Letter to Santa can be a fun activity to do with your child.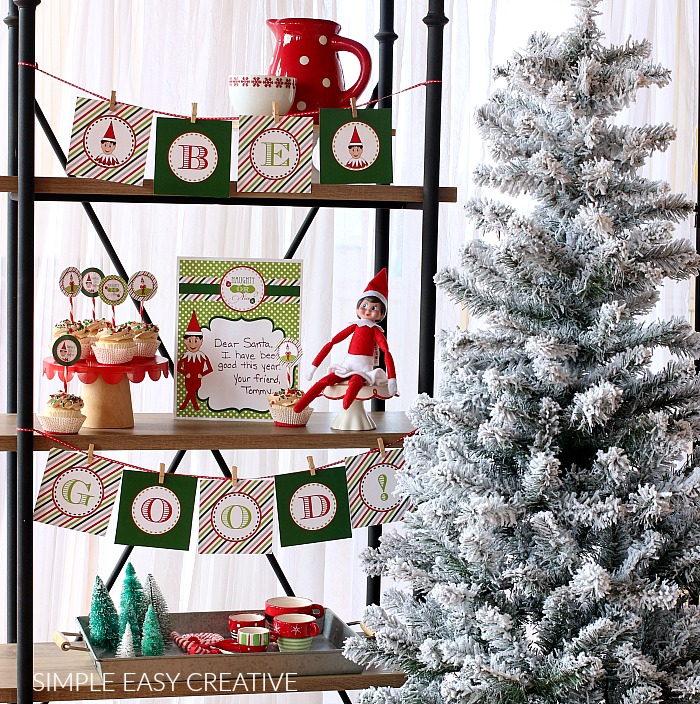 The Banner would be fun to add to your Mantel, or shelves. To hang it, I tied ribbon onto the shelf, then added the banner with small clothespins.