Welcome to Cupcake Tuesday! Be sure to check out the ALL NEW Cupcake Heaven page! And if you are in need to a special cupcake design, use the "Be a Hero" area!
Well we are back from our little cupcake break, thanks to all who bought a copy of Cupcakes! 12 Months of Happiness…I really appreciate your support!
Earth Day is on April 22nd! This is one of those days that we celebrate, that I feel should be celebrated every single day. As a family we try our best to help the environment by recycling, growing our own food and by using products that are earth-friendly.
These Bug Cupcake Cones are a perfect little treat to make with your kiddos for Earth Day! Or maybe even for a Bug Birthday Party.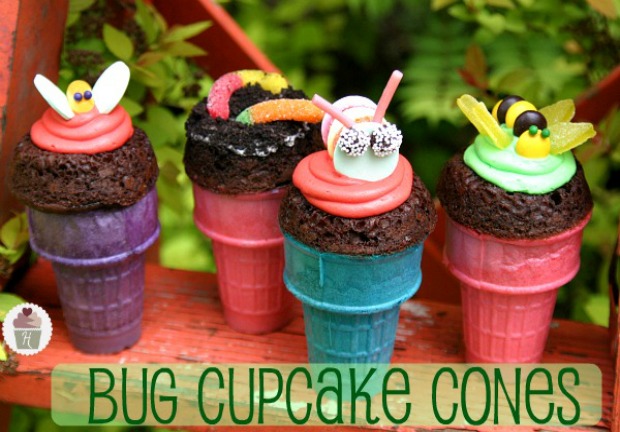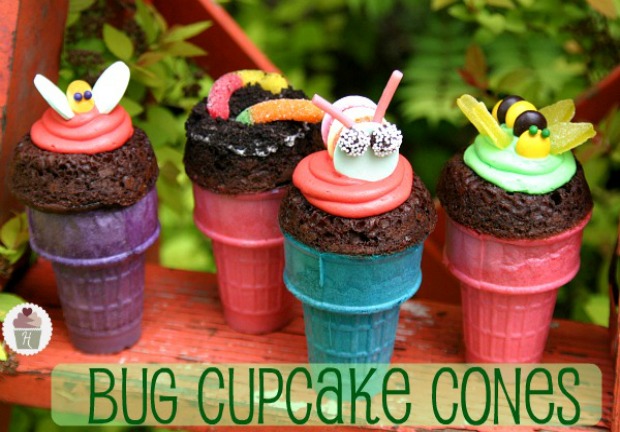 Another way to help our environment is to cut down on paper, so the cupcakes are baked in Ice Cream Cones. For the Cupcake Cones, I used a Duncan Hines Devil's Food Cake Mix and added the ingredients to make it taste more like homemade, and then baked them in Ice Cream Cones using the easy method of baking them upside down.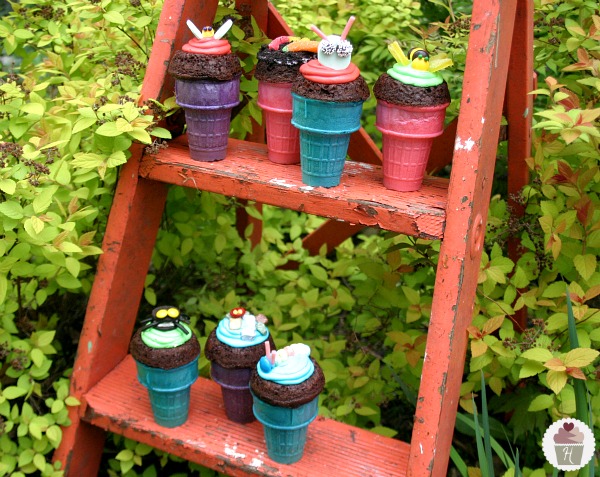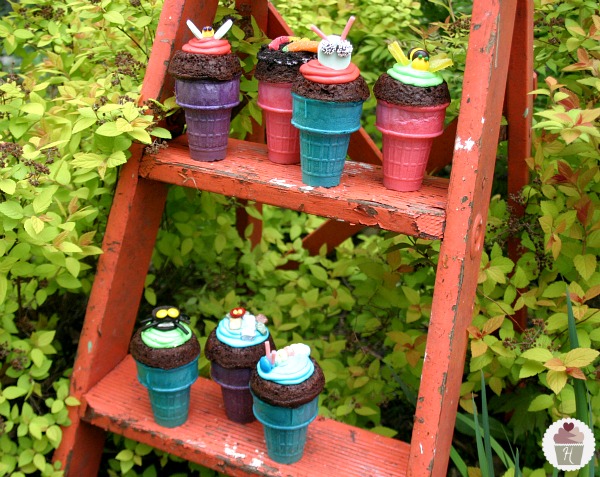 I frosted them using a Decorator Bag fitted with a #10 Tip. Then the Bug making started…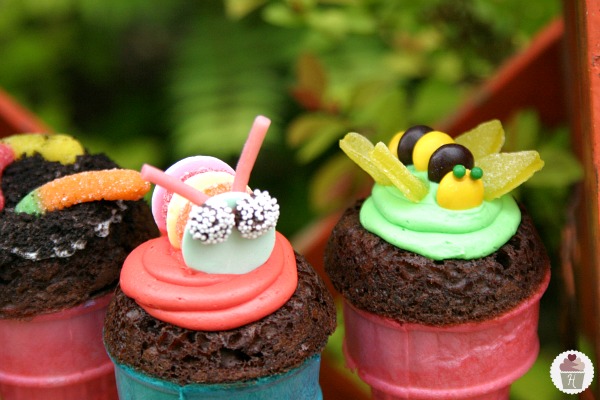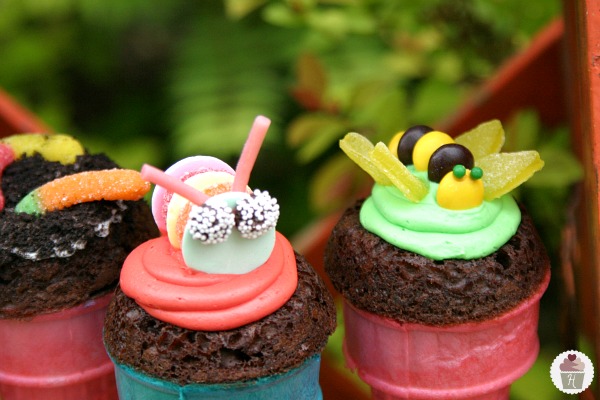 Any candy or cookies you have will work, here's what I used…
Caterpillar
Body – Necco Wafers and Gum Drops
Eyes – Snowcaps
Antennae – Colored licorice
Using your hand, press gum drops until flat. Attach to the Neccos with a little frosting. Add the licorice and Snowcaps on with a little frosting.
Bumblebee
Place M&M's on frosting, add sprinkles with a little frosting. For the wings, press a gum drop out flat and cut it with a small cookie cutter, any shape will work, I used a tiny leaf.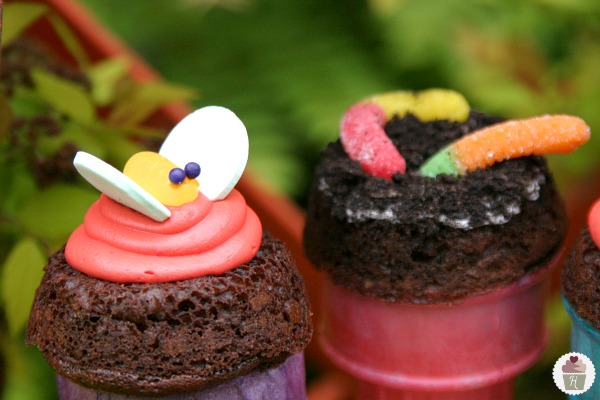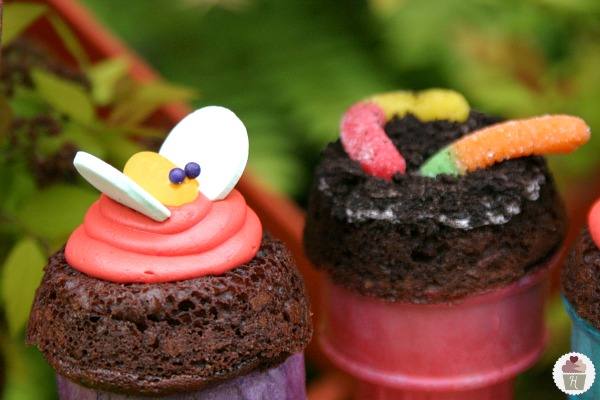 Butterfly
Body – Mike & Ike Candy
Wings – Necco Wafer
Eyes – Jumbo Sprinkles
Place body on frosting, add sprinkles for eyes with a little frosting. Arrange wings next to body.
Worms
Oreo Cookies – crushed
Gummi Worms
Place Oreos in a resealable bag and crush with a rolling pin. Add frosting to cupcake and sprinkle on crushed cookies. Push a worm into the frosting, lay another worm next to it.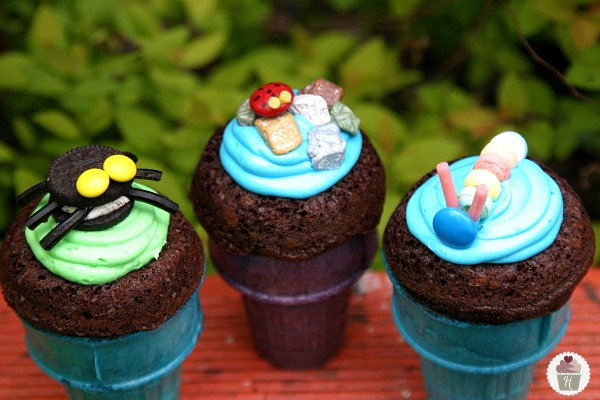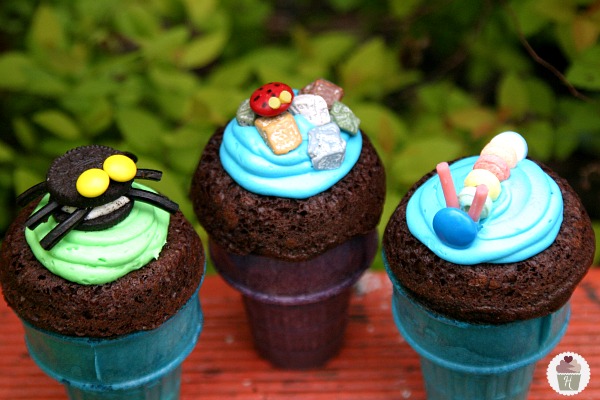 Spider
Body – Mini Oreo Cookie
Legs – Black licorice
Eyes – Mini M&M's
Remove 1 side of the Oreo and place cut legs into the filling, replace top. Add eyes with a little frosting.
Lady Bug
Red M&M's
Eyes – small sprinkle or licorice
Place rocks into frosting. Using a Food Writer, draw dots on the M&M, add eyes with a little frosting
Caterpillar
Body – candy necklace cut apart
Head – M&M
Antennae – licorice
Place candy on top of frosting, add the M&M for the head and the licorice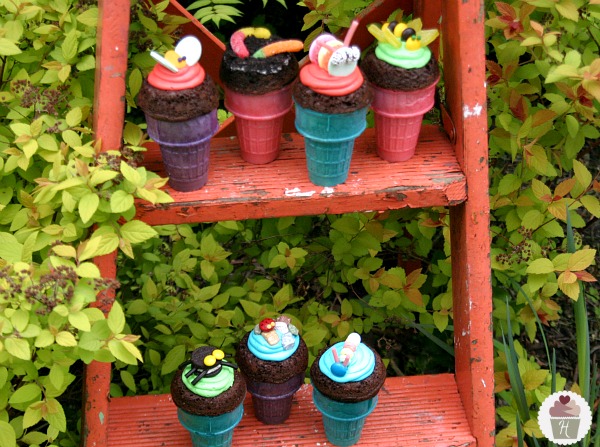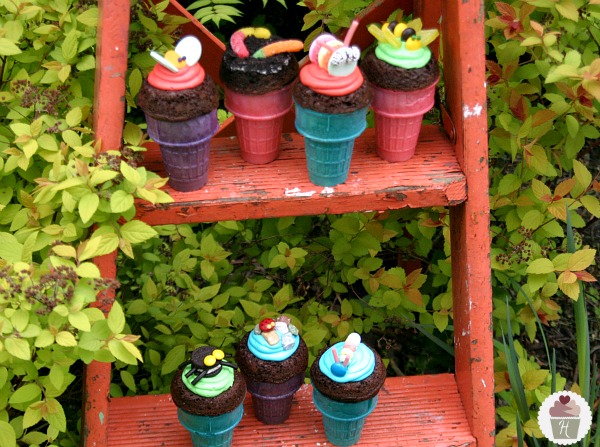 Now it's your turn…show off your cupcake creations! I'd appreciate a link back and be sure to check out the other cupcakes!
If you are reading this post in email, pop on over to check out all the cupcakes linked up to Cupcake Tuesday!