Well hello there, welcome to Cupcake Tuesday! I'm so excited to have you here! Looking for a cupcake recipe? Our Cupcake Heaven page has over 200 cupcake recipes and decorating ideas!
Although cupcakes are not usually made for Thanksgiving, I just couldn't let the time go by without sharing these Pilgrims and Indians. They are from my eBook – Cupcakes! 12 Months of Happiness, if you are interested in seeing the other cupcakes that are shared in the book, head on over and check them out…oh and you can buy it too for only $4.99!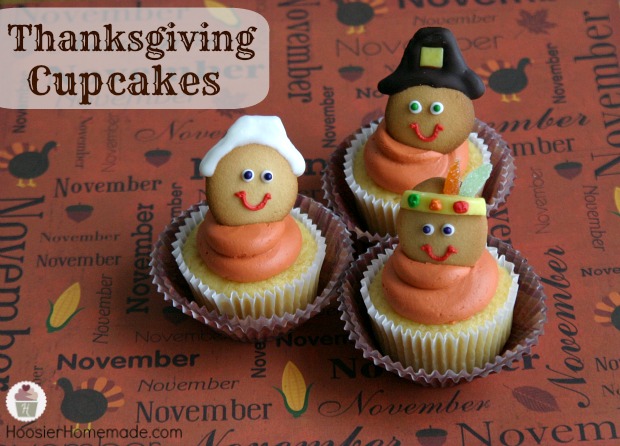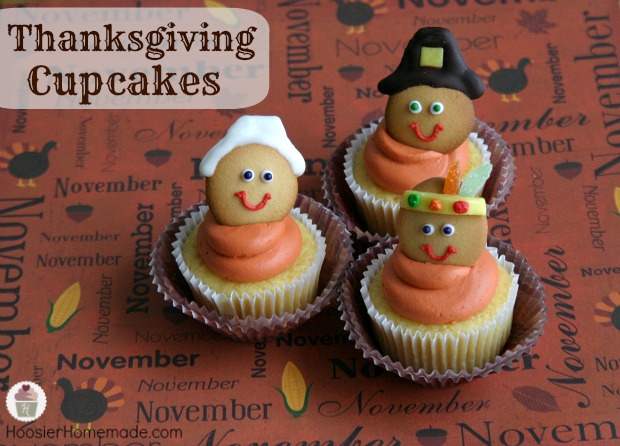 With just a few simple ingredients, you and the kiddos can create these Pilgrims and Indians! I think they would be perfect for the Thanksgiving Kiddie Table too!
Thanksgiving Cupcakes: Pilgrims and Indians
Pilgrim Cupcake Supplies:
Frosting colored Copper
Frosting colored Red
White Frosting
Decorator Bag fitted with a #1 tip
Decorator Bag fitted with a Giant Round Tip
Vanilla wafers
Chocolate and Vanilla melting chocolate
Wax Paper
Eyes – Jumbo Rainbow Nonpareils
Buckle – Yellow Starburst
Pilgrim Assembly:
Hat – Print out a photo of a pilgrim man and women to use as a guide (below), cover with wax paper
Soften Starburst in microwave about 5-6 seconds, flatten and cut a small square for a buckle
Melt chocolate and pour into plastic squeeze bottle
Squeeze chocolate onto wax paper using the photo as a guideline
Immediately place vanilla wafer on the bottom and cover with a line of chocolate
Add buckle to man's hat
Place in refrigerator until set, about 5 minutes
After hats are set, add face, using a white frosting and #1 tip, pipe on a small circle, add a jumbo nonpareil to the center
Using red frosting and #1 tip, pipe on mouth
Indian Cupcake Supplies:
Frosting colored Copper
Frosting colored Red
Frosting colored Green
Frosting colored Orange
White Frosting
Decorator Bag fitted with a #1 tip
Decorator Bag fitted with a Giant Round Tip
Vanilla wafers
Yellow Starburst
Gum drops – orange, green, red, yellow {whatever you like}
Eyes – Jumbo Rainbow Nonpareils
Indian Assembly:
Soften Starburst in microwave about 5-6 seconds, roll out until the length of headband will fit on wafer, cut thin strip
Roll out gum drops, use a little sugar so they don't stick. Cut out feathers. Attach to headband with small amount of frosting
Using a #1 tip, pipe on a green, orange and red frosting into different designs – I made a triangle, square and circle
Add headband to vanilla wafer with a little frosting
Add face, using a white frosting and #1 tip, pipe on a small circle, add a jumbo nonpareil to the center
Using red frosting and #1 tip, pipe on mouth
Thanksgiving Cupcake Assembly:
Fit a decorator bag with a Giant Round Tip and fill with Copper frosting
Pipe a swirl onto cupcake
Add Pilgrims and Indians – use a small marshmallow to support them from behind if necessary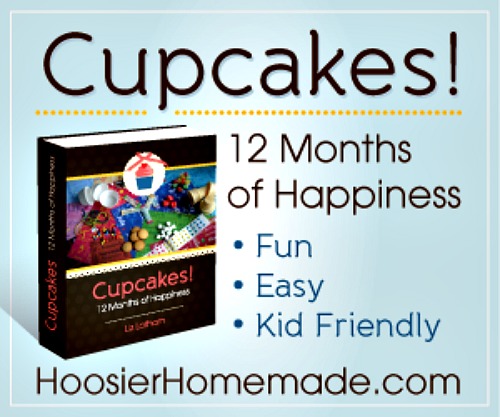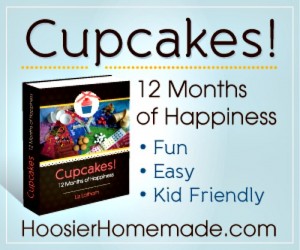 Purchase Now: $4.99