Breakfast Charcuterie Board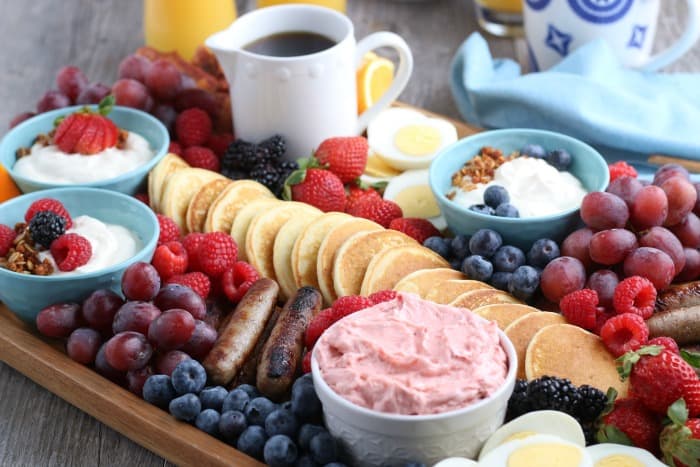 Serving a special brunch doesn't have to take a lot of time. This Breakfast Charcuterie Board is really fun to put together and always a hit with everyone.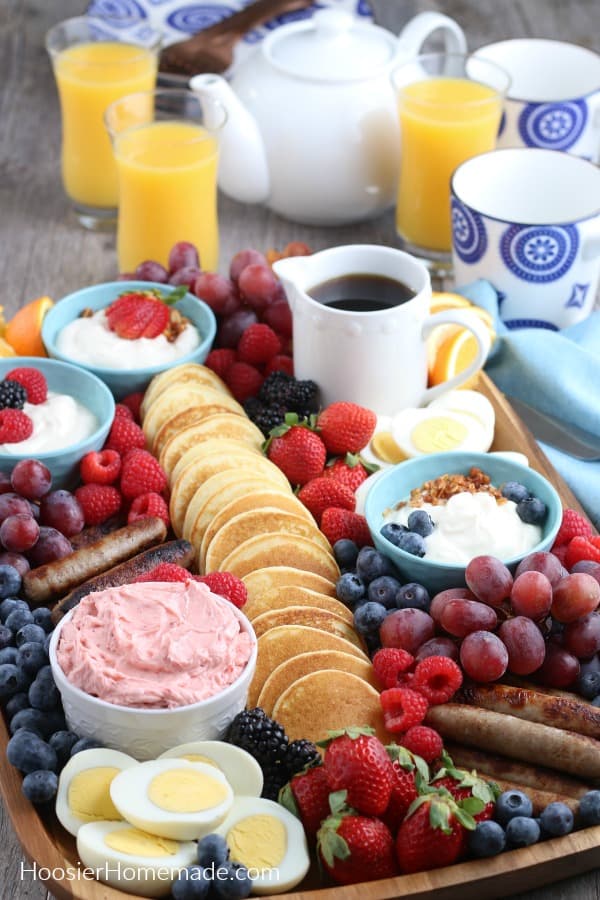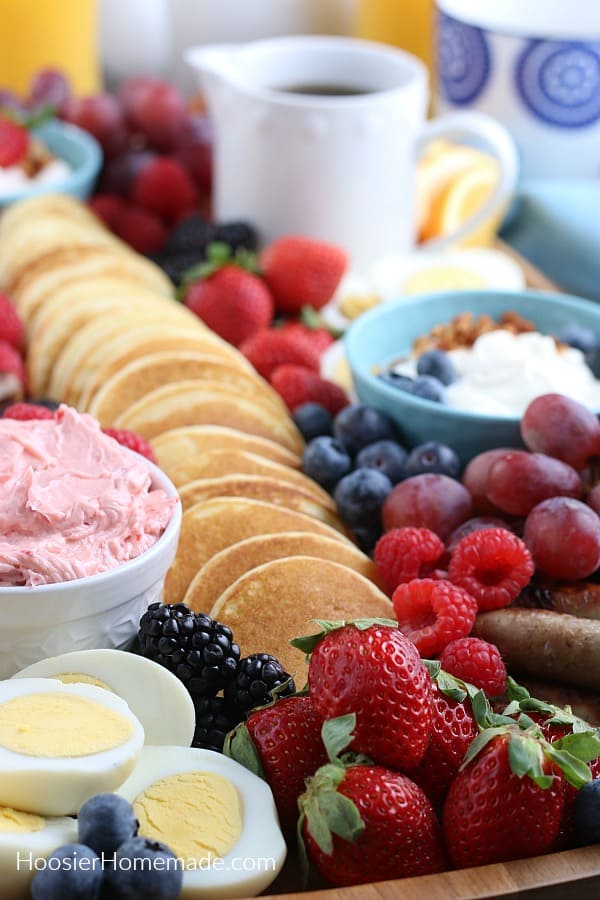 Putting together Charcuterie Boards is one of my absolute favorite things to do. If you are new to creating boards, here are a few tips that I have found helpful –
How to make a Charcuterie Board
Choose a theme – it could be a simple as meat and cheese, or ingredients that pair well with something you are serving – like this fun Hot Chocolate Charcuterie Board for the holidays
Choose a color – this isn't always a must, but it does make it easier, especially when you are choosing ingredients. For example, if you are making a Charcuterie Board for a Summer cookout and want it sunny and bright, choose yellow, blue and orange food to add. Or this red, white and blue Charcuterie Board is great for 4th of July.
Choose a plate or cutting board that is flat and has no sides or very low sides. I like using trays that have just a small edge to hold all the food in.
Begin with the largest pieces first, then fill in going smaller and smaller. More on this step below.
When you are adding, start with a base layer, then after the plate is full, then you can go back in and fill on top to add more height.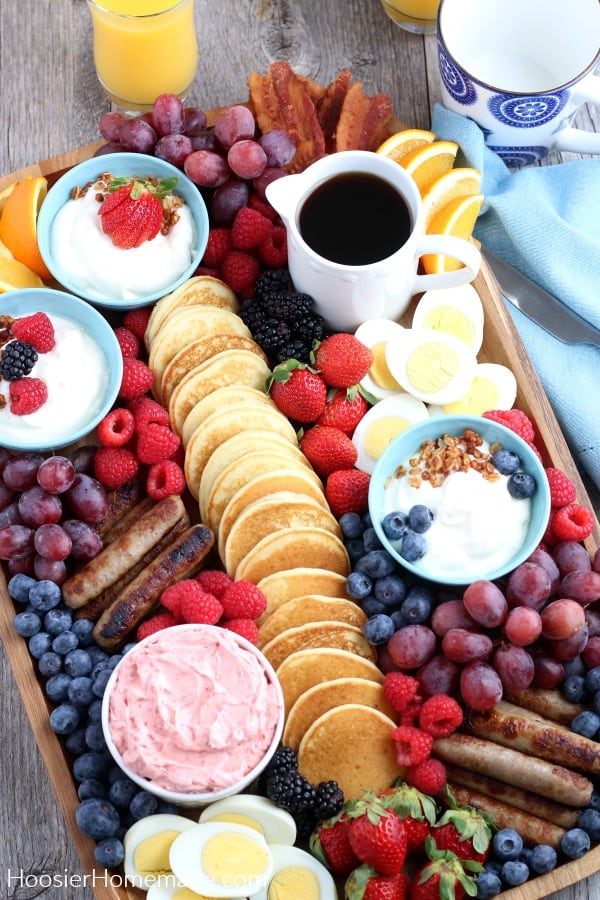 Breakfast Charcuterie Board
Here are the items that this Breakfast Board has, you can certainly change them to whatever you like.
Ingredients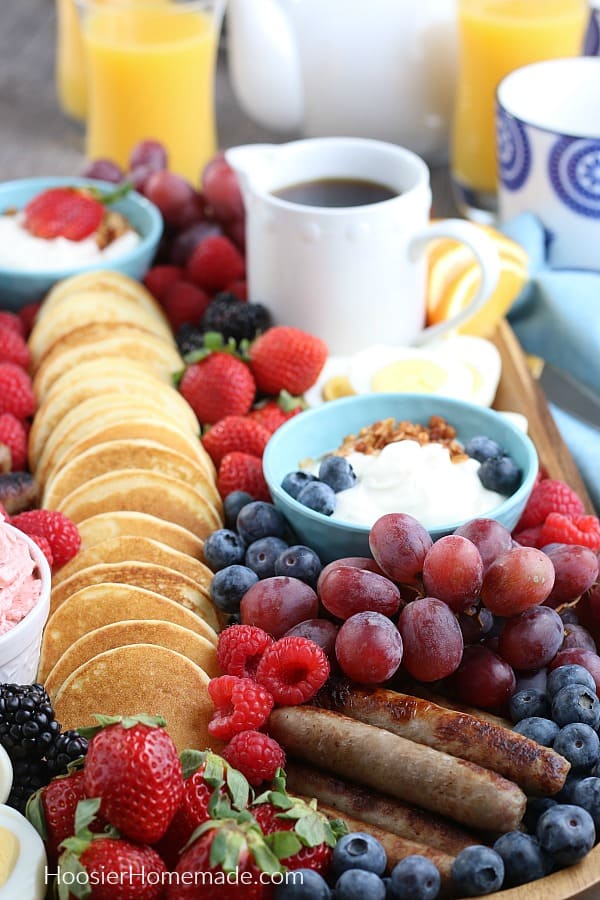 After you have decided on what items you want to add, and you have them cooked and ready, it's time to start building your Charcuterie Board.
For this Breakfast Charcuterie Board – I started by adding the bowls and pitcher for syrup.
Then the pancakes were placed down the center. After that came the bacon, sausage and larger fruit like orange slices, strawberries and grapes.
And last, add in the smaller fruits to fill all the holes.
Hosting brunch never looked so wonderful!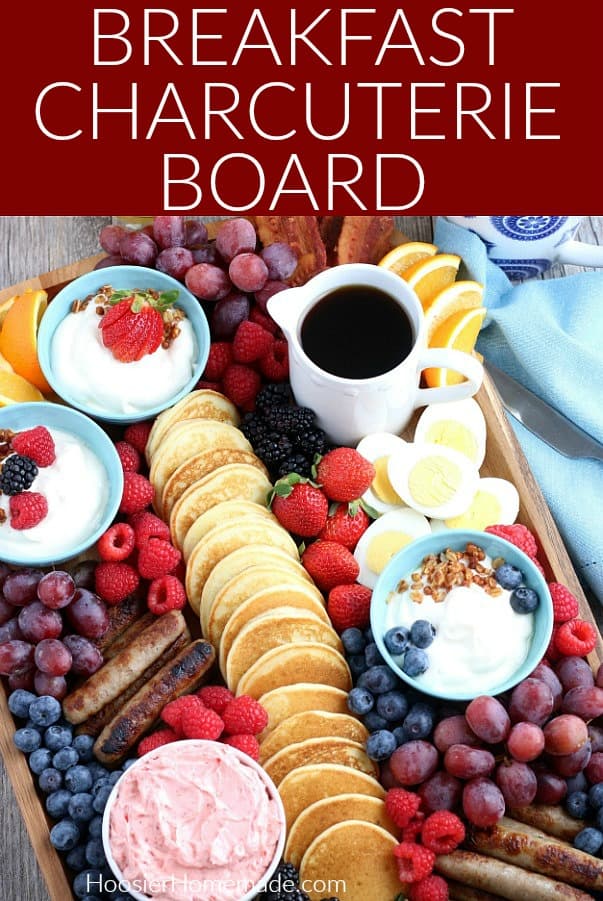 Strawberry Whipped Butter Recipe
2 sticks unsalted butter, VERY soft
8-10 large strawberries, clean and cut into small pieces
2 heaping tablespoons strawberry jam
Cream butter with mixer, then add strawberries and jam and whip until desired consistency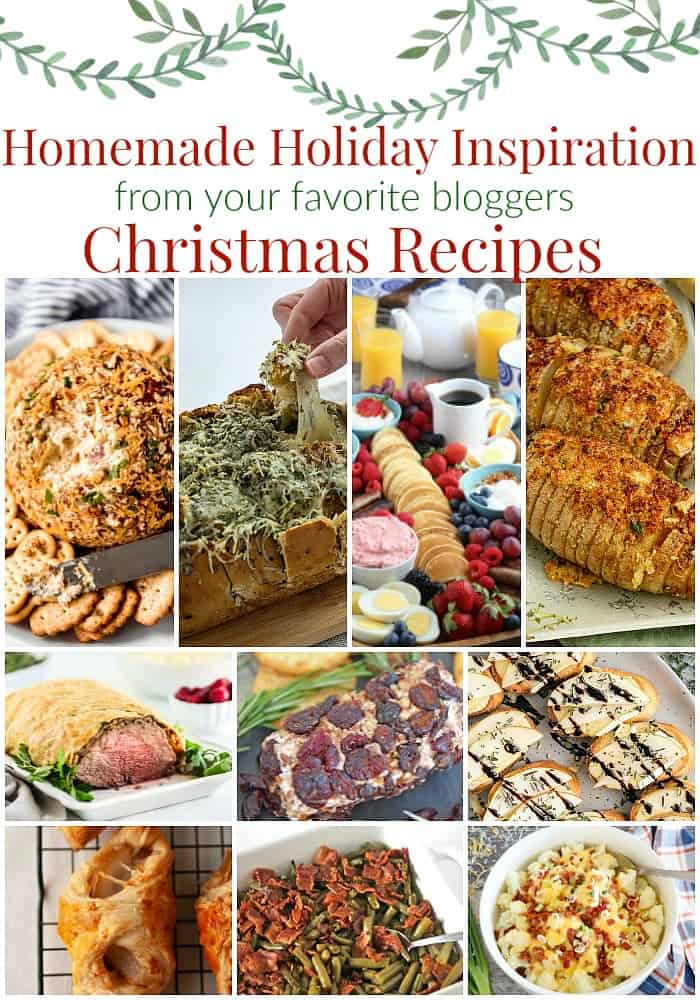 Grab one of these delicious recipes for your holiday celebration!
Pull Apart Cheesy Bread from What's Cookin' Chicago
Cranberry Goat Cheese Roll from Savory Experiments
Loaded Cauliflower from Devour Dinner
Caramelized Onion and Pear Bites from Chipa by the Dozen
Bacon Ranch Cheese Ball from House of Nash Eats
Old Fashioned Green Beans with Bacon and Brown Sugar from Rose Bakes
Pear and Brie Crostini from Tastes of Homemade
Breakfast Charcuterie Board from Hoosier Homemade
Hasselback Potato Gratin from The Flour Handprint
Beef Wellington from Fresh Coast Eats
Looking for more fun Charcuterie Boards? Click on the photo for the details