Charcuterie Board Brunch Ideas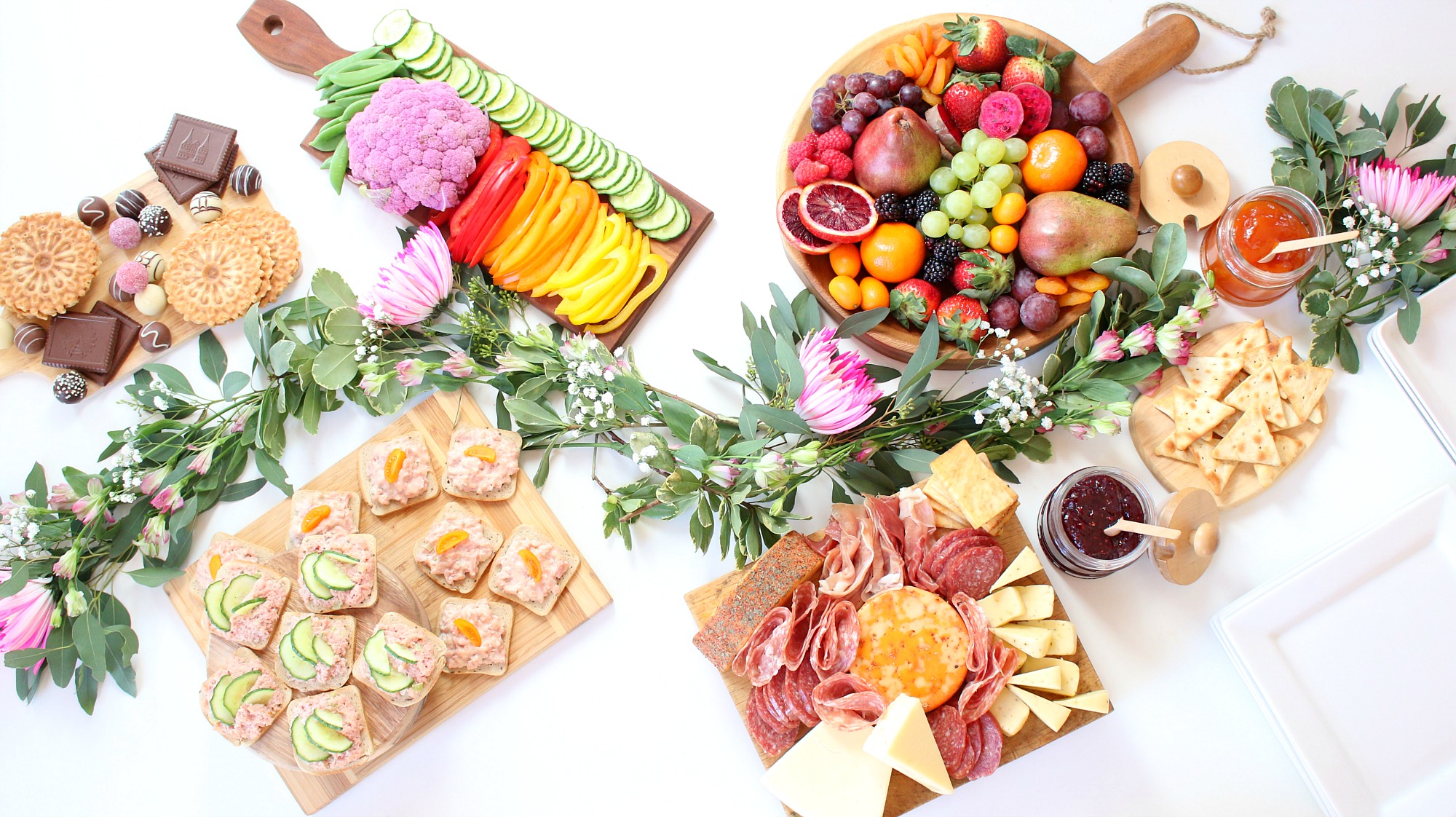 These Charcuterie Board Brunch Ideas will have you springing into action this Mother's Day! Each of the Charcuterie Boards are simple to put together and require no cooking or baking!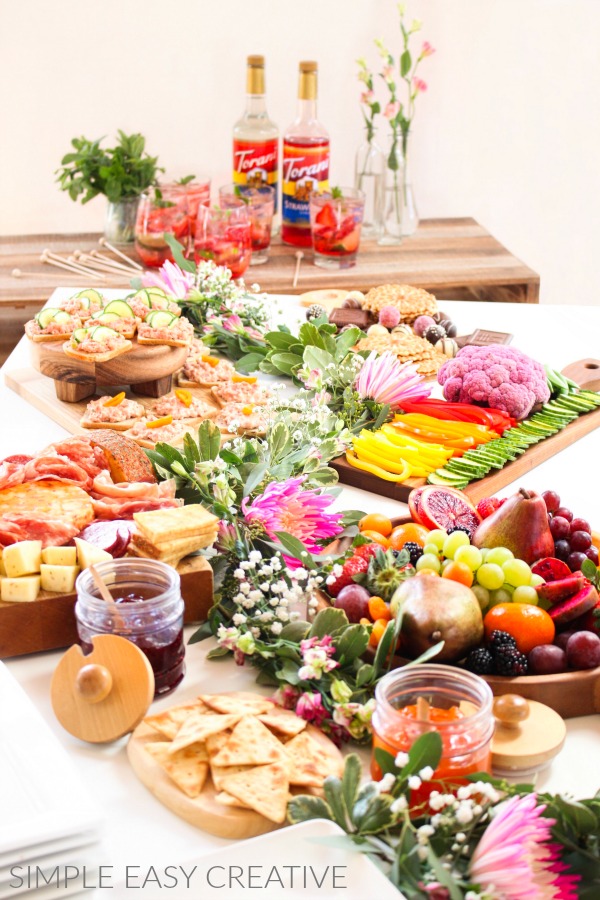 Creating a stunning tablescape with food and flowers doesn't need to be difficult or time consuming! Today I am going to show you how I created these Mother's Day Brunch Ideas, including Charcuterie Boards with Fruit, Meat, Cheese, Vegetables, Sandwiches and Dessert! And of course drinks! #AToraniBrunch
Shh…I have a secret to spill first – there is no cooking involved in this spread! Yes, NO cooking! Everything is store bought!
I love to cook and bake! But what do I love more? Less stress and more time with my family! It's why I teach what I love, so that you can also experience the joy of entertaining, and not have the stress of days of preparation and time in kitchen.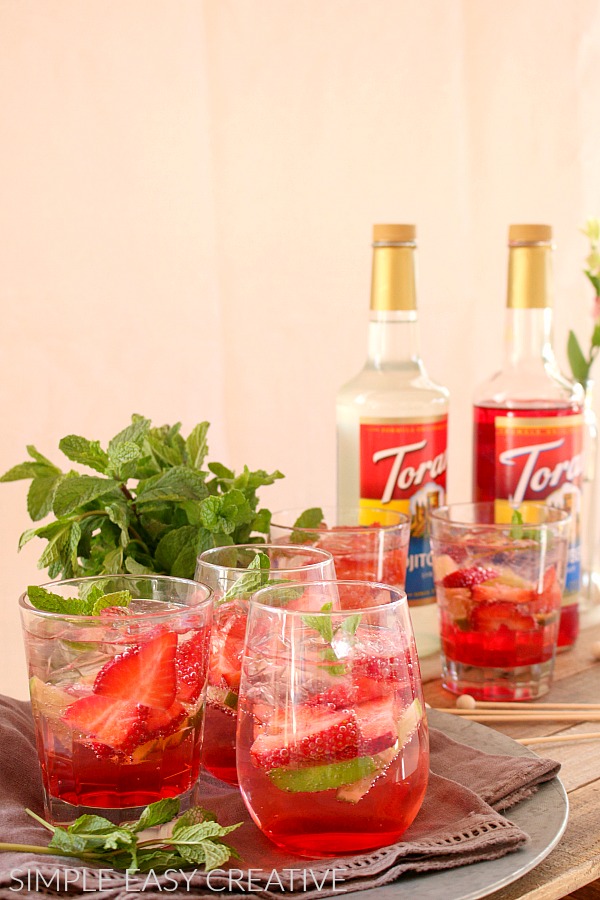 When I began planning this Mother's Day Brunch, I knew I wanted to keep it simple, light and refreshing. That is what Spring is all about, right?
To create drinks that would fit with the feeling I was going for, I turned to Torani Strawberry Syrup. To me, nothing says Spring quite like fresh strawberries. And since it was brunch, I decided to serve a mocktail.
This Strawberry Fizzy Mocktail is super easy, and goes together quickly.
Begin by adding sliced strawberries and lime to the glass, then add 1-2 tablespoons (depending on your taste) Torani Strawberry Syrup, then fill the glass with ice and pour sparkling water over the ice. Garnish with mint if you like.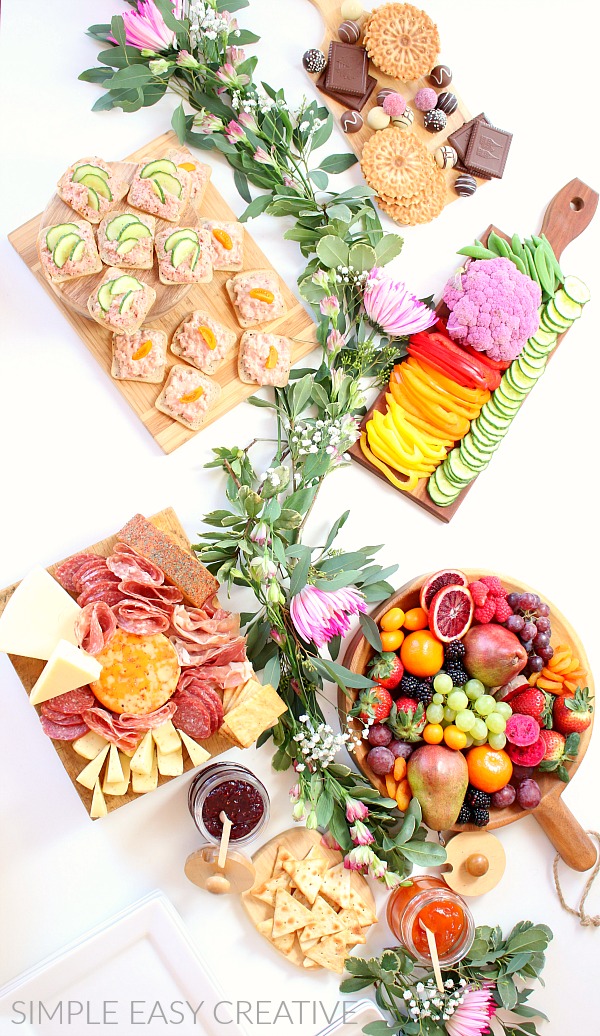 After the drinks have been decided, then it's time to plan out the table and how you want it to look. I have been wanting to create Charcuterie Boards for months now, so the first thing I did was do some research on what should be included and how they should look.
What is a Charcuterie Board?
Originally, the term Charcuterie came from the French, meaning – dressed meats and meat dishes. However, it has now evolved into much more.
Charcuterie Boards can hold a variety of meats, cheese, fruits, vegetables, desserts and much more!
Building the Charcuterie Boards was easy, after I decided what foods I wanted on each board.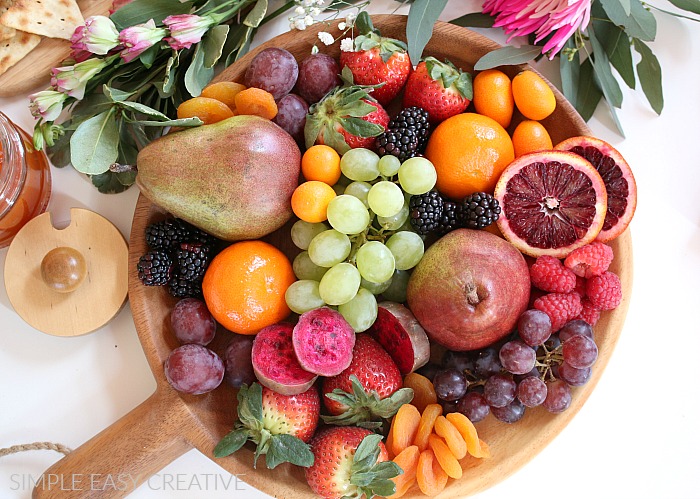 Before starting to build each of the Charcuterie Boards, I chose what boards I wanted to use – two round cutting boards, a square and a rectangle board. If you don't have multiple cutting boards, you can use trays or plates as well.
Let's start with the Charcuterie Board with Fruit, because well – it's my favorite!
To build the board, add the largest pieces of fruit first, in this case it was the pears. Pears don't look great cut, so I decided to leave them whole.
Next add the second largest fruit, the grapes. I used three different varieties of grapes for color and size.
And then the strawberries – add smaller or medium size fruits in sets of three.
Now add in all the smaller fruits, begin by filling in the holes and stack the fruit.
Here are all the fruits on this board –
Charcuterie Board with Fruit
Pears
Grapes – 3 varieties
Strawberries
Mandarins
Dried Apricots
Kumquats
Raspberries
Black Berries
Blood Oranges – sliced
Prickly Pear – the smaller sliced bright red fruit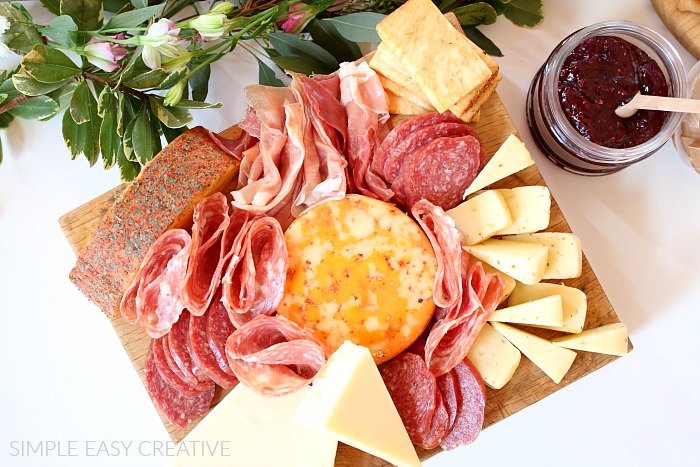 The Charcuterie Board with Meats and Cheeses is pretty straight forward.
Start by placing the large solid chunk of cheese in the center. I chose round to add interest to the square cutting board.
Then the next largest cheeses on the corners, and cut pieces of cheeses on the opposite sides.
Now comes the meats – for the Salami and Prosciutto, fold and fan them to add interest.
With this meat and cheese board, the key is to add as many different colors and textures and possible. Because let's face it, there isn't a lot of color or brightness to meat and cheese.
Charcuterie Board with Meats and Cheeses
Prosciutto
Salami – I used Sopressata Friuli, an Italian Hard Salami
Hard Salami – smoke flavored
Cheeses – a variety, your choice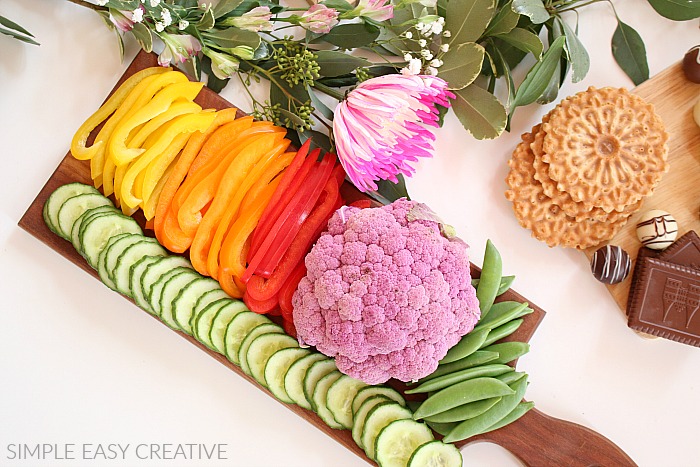 The Charcuterie Board with Vegetables added lots of color to the table. The peppers and cucumbers were cut thinly, making them easy to grab and eat.
Charcuterie Board with Vegetables
Cauliflower – I chose the purple variety to add a different color
Peppers – red, orange and yellow
English Cucumber
Sugar Snap Peas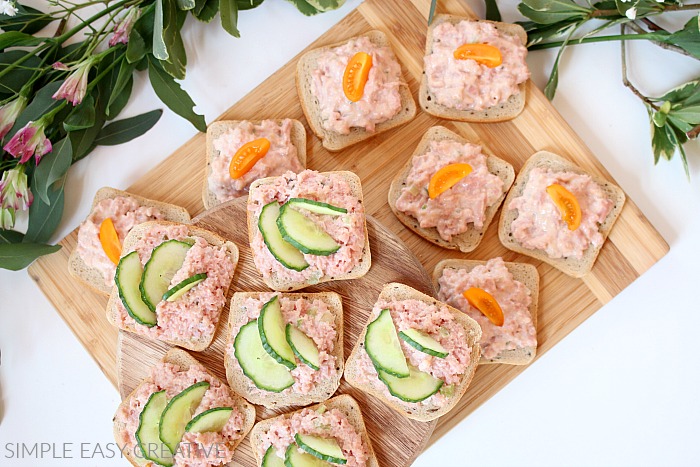 The Charcuterie Board with open face sandwiches added a little more hearty food to the brunch. The cutting boards are layered here for interest and also extra space for the sandwiches because they could not be stacked. There is a small round board that has legs on it, on top of the rectangle board.
The options for sandwiches are endless. I used store bought ham salad and sandwich spread. Thinly sliced and cut cucumbers and orange zima tomatoes are used for the garnish.
Charcuterie Board with Sandwiches
Bread – I used Pepperidge Farm Party Bread, Jewish Rye. It was great to not have to cut regular bread into small shapes or pieces.
Ham Salad
Sandwich Spread
Garnish – cucumbers, tomatoes – you can also use herbs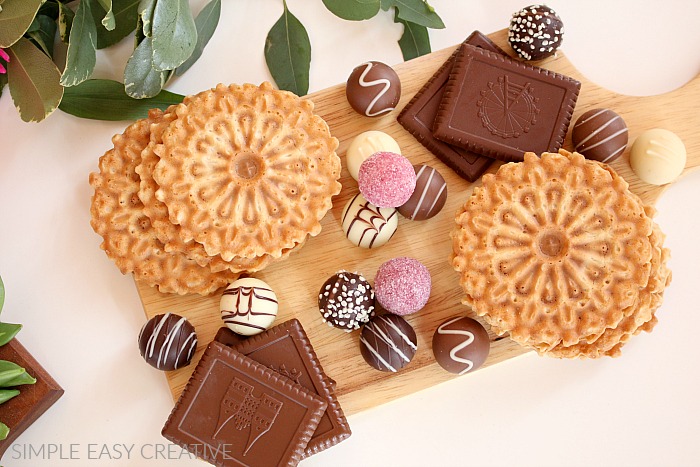 And last is the Charcuterie Board with Dessert. For the board, I debated whether to make the desserts, but since I was keeping the Mother's Day Brunch super simple, I decided to purchase dessert.
When I was searching for different looking items for the photos to give our Instagram channel a new look, I found these cool (and yes delicious) desserts. You can, of course, also make small bite size dessert like Berry Mini Cheesecakes, Chocolate Covered Cherries or Sugar Cookie Fruit Pizzas.
Charcuterie Board with Dessert
 Pizzelle Cookies – I think these are beautiful. You can also serve them on their own with fruit or spreads.
Truffles
Butter Cookies with Milk Chocolate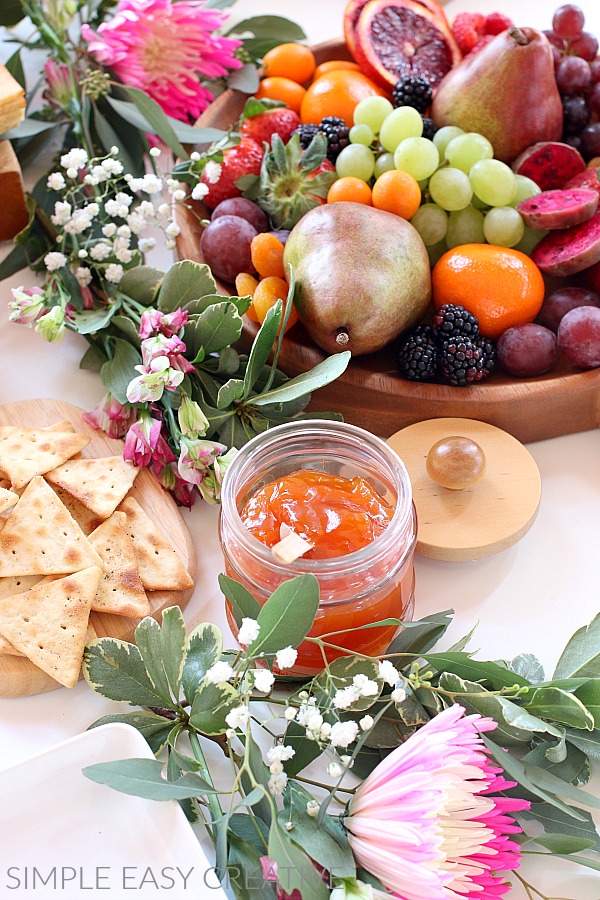 To pull the whole Mother's Day Brunch Table together, I added greens and flowers. After the trays were filled and all set, I began by adding the greens, then the largest flowers and the smaller ones, then the babys breath.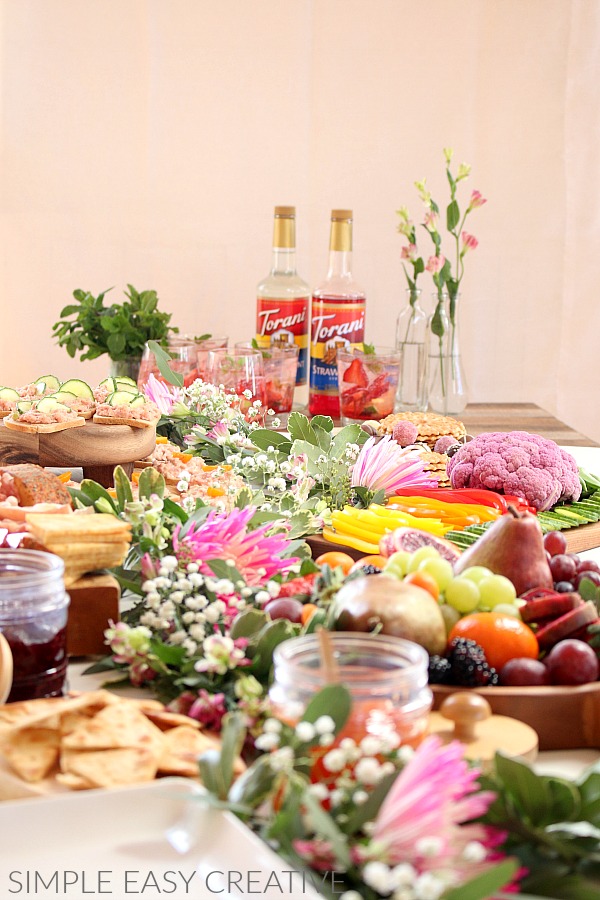 Brunch Table Decoration
Greens – you can find these at your local florist, or grocery store
Spider Outie Mum
Carmelia
Babys Breath
The small table is set with the Strawberry Fizzy Mocktails, I added three small vases with extra flowers, a glass with fresh mint, stirrers and the Torani Flavored Syrups.
Strawberry Fizzy Mocktails
1-2 tablespoons Torani Strawberry Syrup – per drink
Sparkling Water
Ice
Fruit (optional) – strawberries and limes
Fresh Mint (optional)
To make each drink – add sliced fruit to glass, then add Torani Strawberry Syrup.
Fill the glass with ice and pour Sparkling Water over, garnish with mint.
You can use any of the Torani Flavored Syrups that you like. We also tried the Torani Mojoti Mint Syrup along with the Strawberry and it was very good.
Torani's original line of flavored syrups are made with real, simple ingredients like pure cane sugar and natural flavors. And they also have the largest variety of sugar free flavors that are sweetened with Splenda.
Are you ready to try one of these amazing, versatile Torani Flavored Syrups?
Follow Torani for more inspiration on Instagram and Facebook