Holiday entertaining doesn't need to be stressful! Use these Easy Entertaining Tips to save you time and money!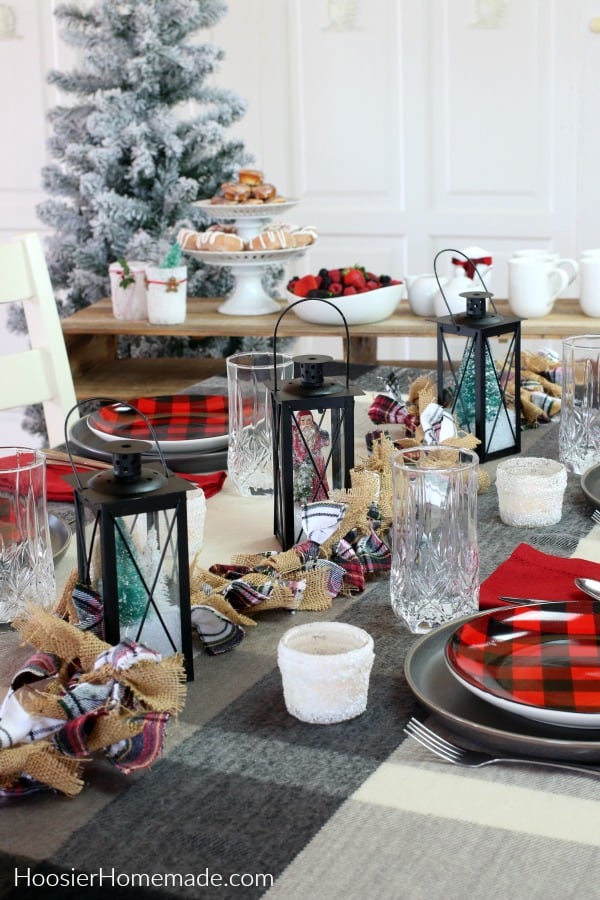 Welcome to Day 83 of the 100 Days of Homemade Holiday Inspiration! Each day we will be inspiring you with recipes, decorating ideas, crafts, homemade gift ideas and much more!
My Mom used to always say "if you want something done in the house, have a party." While I used to agree with that, and still do somewhat, over the years I have changed my thinking to keep to simple and easy.
Easy Entertaining Tips
Be prepared
Make a list, check your pantry for items you could use and be organized
Place everything you have in the house that you will need into a large laundry basket
Then as you go shopping, add those items to the laundry basket so that everything is in one place and easy to see what you have already
Stock up – be ready for surprise guests with ingredients in the pantry that can be made in minutes.
Keep the decorations minimal. These Holiday Lanterns go together in minutes and look gorgeous!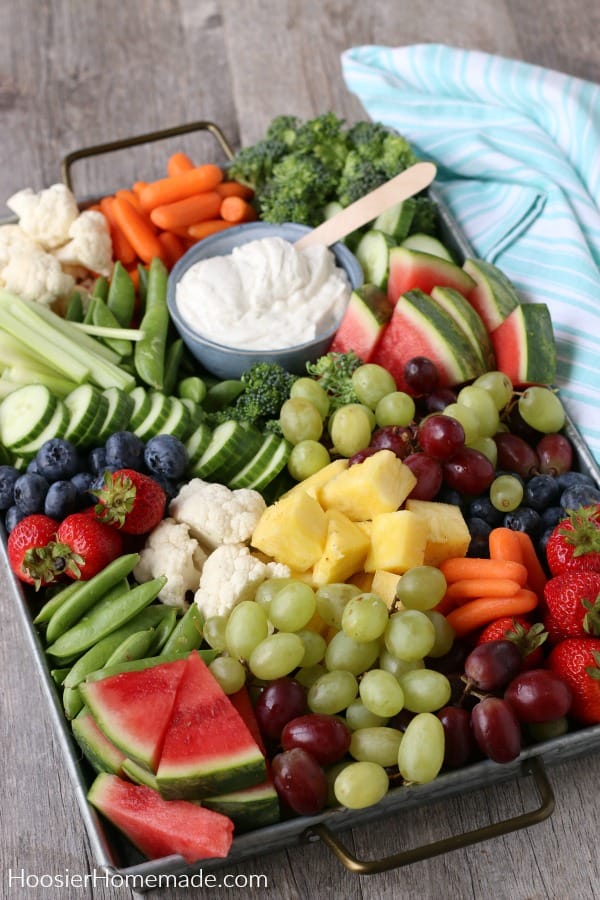 Preparing Food
Prepare as much as you can ahead of time – cheese, fruit, veggies, meat – lots of food can be cut ahead and stored in resealable bags and ready to go
Create an impressive looking Charcuterie Board. They are super fun to put together and look like you spent hours on them.
Use your Slow Cooker – no one wants to be stuck in the kitchen while guests are visiting and enjoying the party
Potluck – ask visitors to bring a dish to share – it's okay, really! Ask them to bring the dish that is traditional to their family during the holidays. It's fun for them and for your guests.
Set up a buffet for guests. It will be easier for you and for them.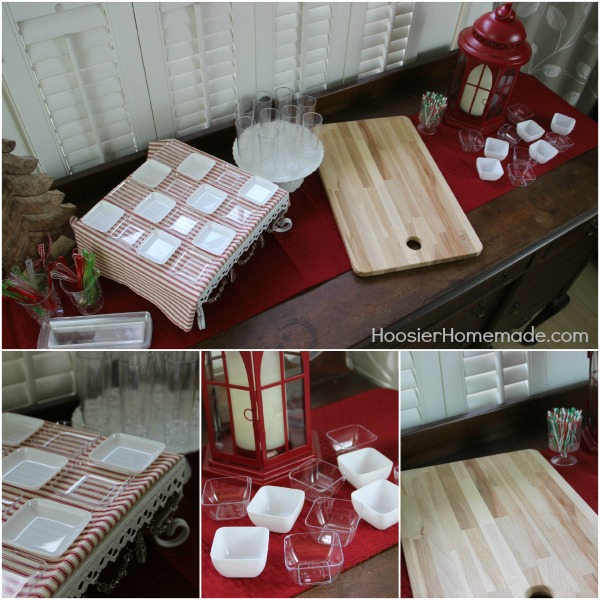 Tips for Setting up a Buffet
Create different levels
Be sure that the taller pieces are in the back
By setting out the serving dishes ahead, you will know if you need to gather any more supplies
Label the dishes so you or someone helping you can quickly fill the dish for serving. I just use sticky notes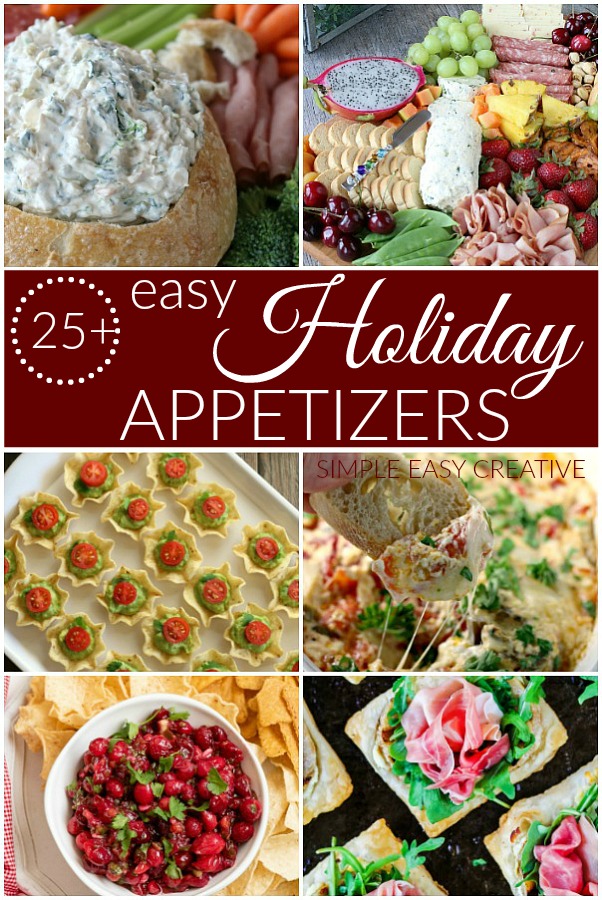 These Easy Holiday Appetizers are epic! From dips to cheese trays – to cheese balls to slow cooker appetizers – and many more! We have you covered with these 25+ Easy Holiday Appetizers! And let's not forget those New Year's parties, these appetizers are perfect for New Year's Eve too!
Reasons to LOVE Appetizers
They are easy to prepare – most appetizers take less than 30 minutes to prep and cook
A little goes a long way – you can make several holiday appetizers to feed a crowd
Clean up is easy – these easy holiday appetizers take very little prep and use minimal dishes
They are pretty to serve – creating a spectacular looking Christmas appetizer tray is easier than you think
Make ahead – HELLO busy Christmas season
Everyone loves them! You can easily make a meal on appetizers, especially these amazing Christmas appetizers

Think outside the box – change up the traditional sit down party
Holiday parties don't always have to be big and grand. Here are 3 ideas for something different
Host a dessert party rather than a full meal
Host brunch. Everyone is busy in the evenings with concerts and school events, a morning get-together is perfect. This Breakfast Charcuterie Board would be great!
Host an appetizer bar and drinks

Cleaning – party ready
The whole house doesn't have to be perfect. Here are a few cleaning tips…
Concentrate on the high traffic areas
Wash windows, not all of them need to be done but entry doors and those in areas where the guests will be congregating should be done
Clean out the refrigerator a few days prior to your party to make room for all the food
Clean early with the intent that on or the day before the party all that will be required is a quick swish and swipe
And don't forget to scrub the sinks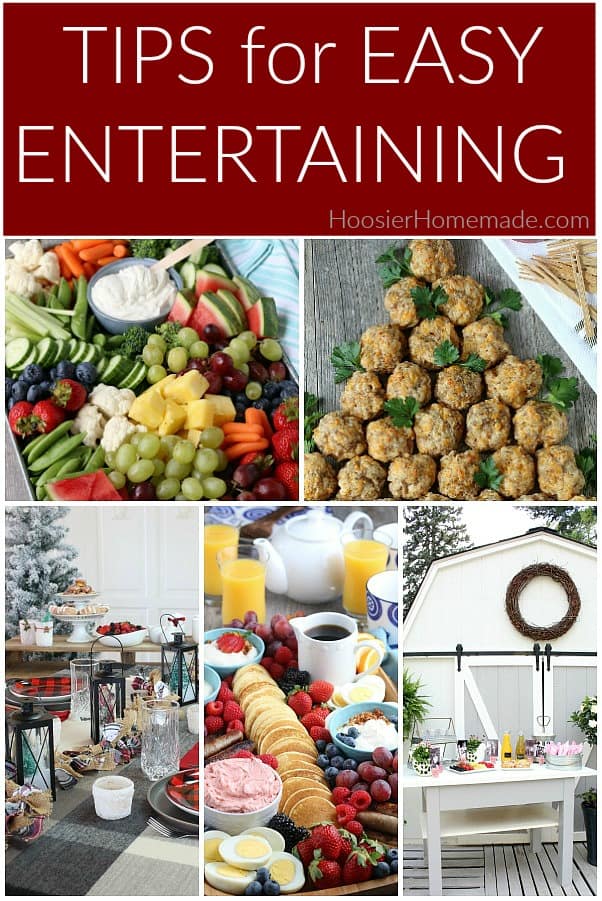 What easy entertaining tips would you add?
Follow along with the 100 Days of Homemade Holiday Inspiration for more simple recipes, easy crafts, homemade gift ideas, decorating tips and much more!