This Cheese Ball Recipe is an absolute must in our home during the Holidays. With only 5 ingredients – cream cheese, thinly sliced packaged meat, green onions, salt and Worcestershire Sauce – this Cheese Ball goes together in a snap!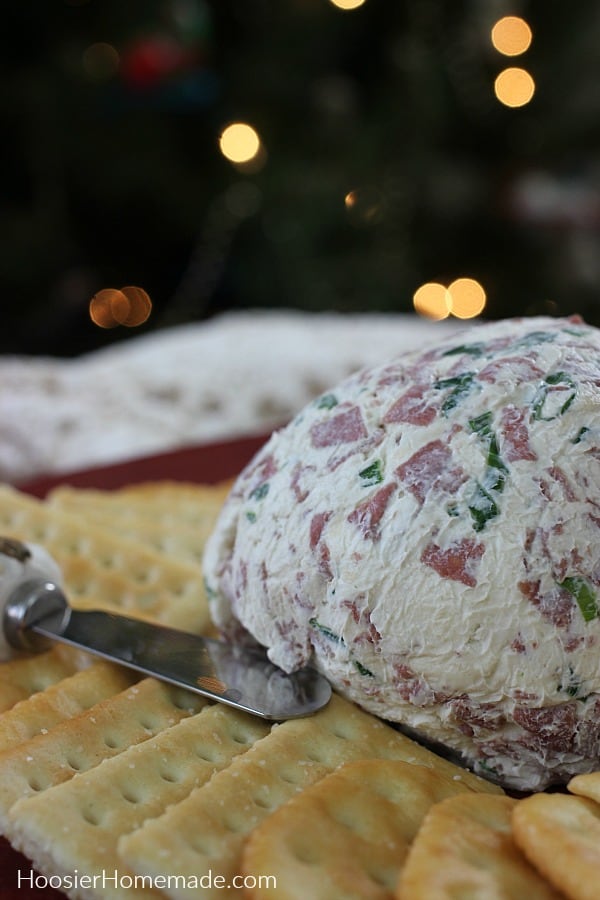 Welcome to Day 79 of the 100 Days of Homemade Holiday Inspiration! Each day we will be inspiring you with recipes, decorating ideas, crafts, homemade gift ideas and much more!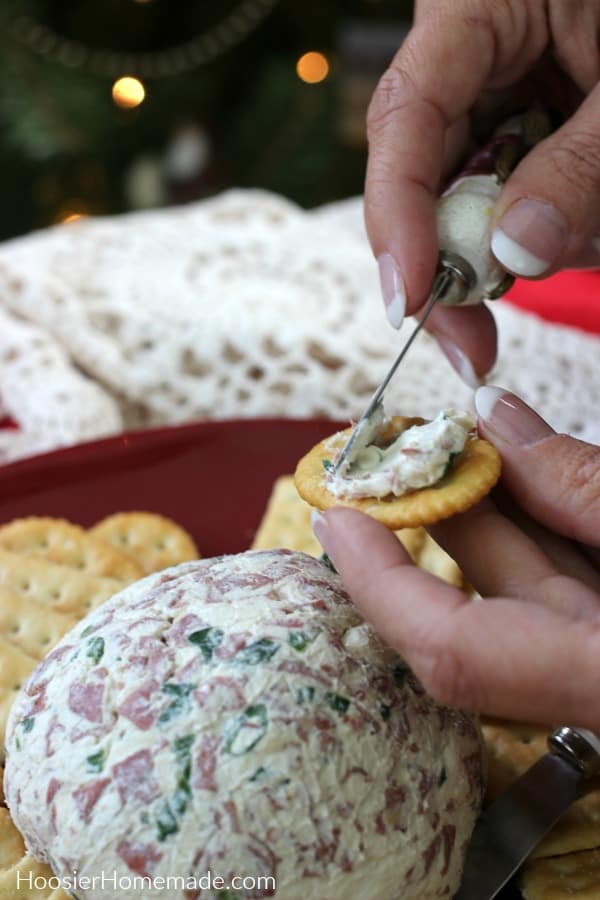 Do you have a recipe that is the most requested from your family?
This Cheese Ball Recipe is the one for me. There isn't a holiday or really even a simple get together go by that my boys don't ask for this Cheese Ball.
Recently I made Spinach Dip and told the boys to come and grab a snack of one of their favorites, and immediately they thought it was the cheese ball. Now they also love the spinach dip, but they were expecting the cheese ball. It will be on the menu from now on, for sure.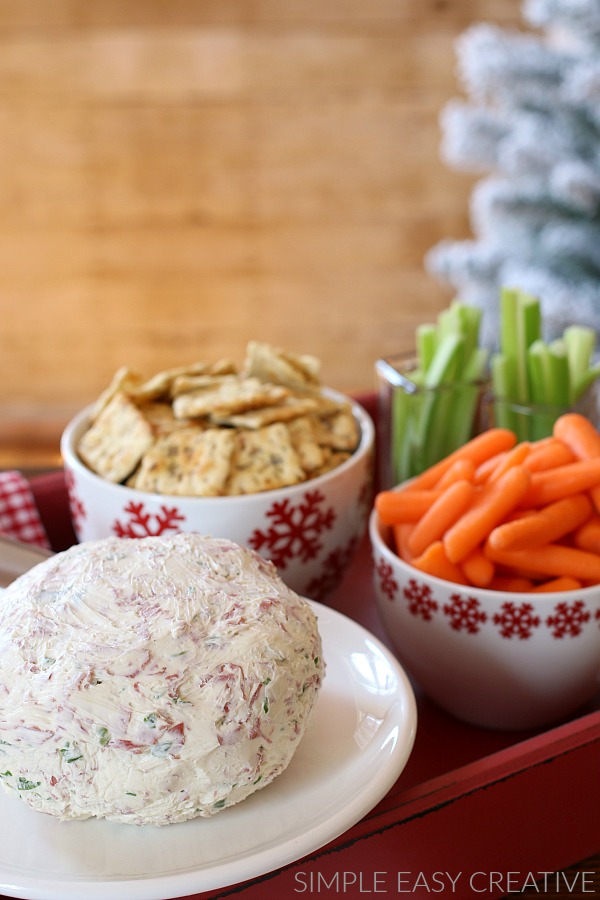 Cheese Ball Recipe
Making a Cheese Ball takes only 5 ingredients and about 10 minutes of time.
Ingredients
Cream Cheese – you will need 2 (8 oz) blocks – be sure they are softened
Dried Beef – 2 packages – you can also use pastrami but I think beef is best
Worcestershire Sauce
Green Onions
Salt – I used to use Accent Salt, but recently have been leaving the salt out completely, and I think it's just as good.
Mixing
I found it easiest to use my KitchenAid stand mixer, but you could also use a hand mixer or mix by hand.
Be sure that the cream cheese is softened quite a bit, it will make the cheese ball smoother and easier to mix.
Add all ingredients together and mix until smooth and well combined
Forming a cheese ball
There are a few options for forming, be sure the mixture is chilled before forming, it makes it easier.
Lay plastic wrap on the counter, add the mixture and then using the plastic wrap, form the cheese ball.
You can also divide the cheese ball in half to make smaller cheese balls
Or you can divide it into small pieces and form mini cheese balls.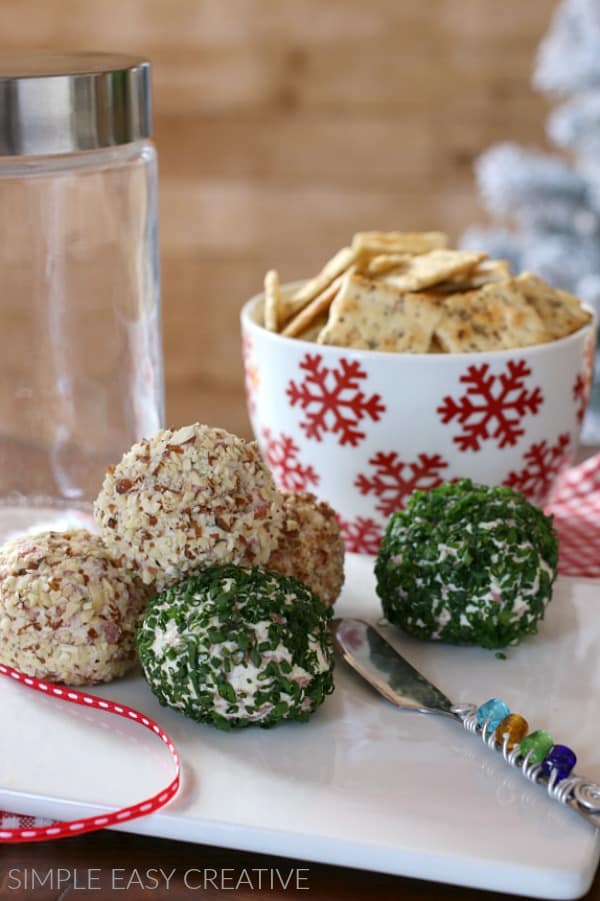 Our family likes this Cheese Ball without any coating, but you can certainly add a variety of coatings if you like.
Cheese Ball Coatings:
Nuts – finely chopped Pecans or Walnuts, form the cheese ball then roll it in the nuts
Chives, finely chopped
Sesame Seeds – black and/or white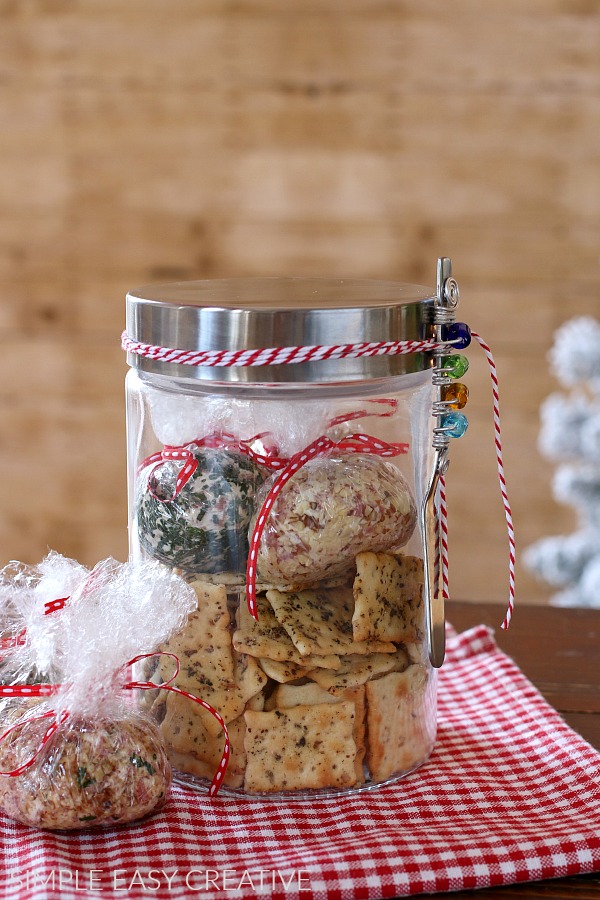 This Cheese Ball Recipe also makes a great gift. Here are some ideas to give it as gifts –
Divide the cheese ball into mini balls, then add crackers to a jar, the wrapped cheese balls on top, and tie on a small knife for spreading.
Creating a gift basket is easy and fun. Add crackers, vegetables and a cheese ball to a tray or basket for a fun gift.
Place the cheese ball in the center of a plate, then surround it with crackers. Wrap in plastic and tie with a ribbon for an easy gift.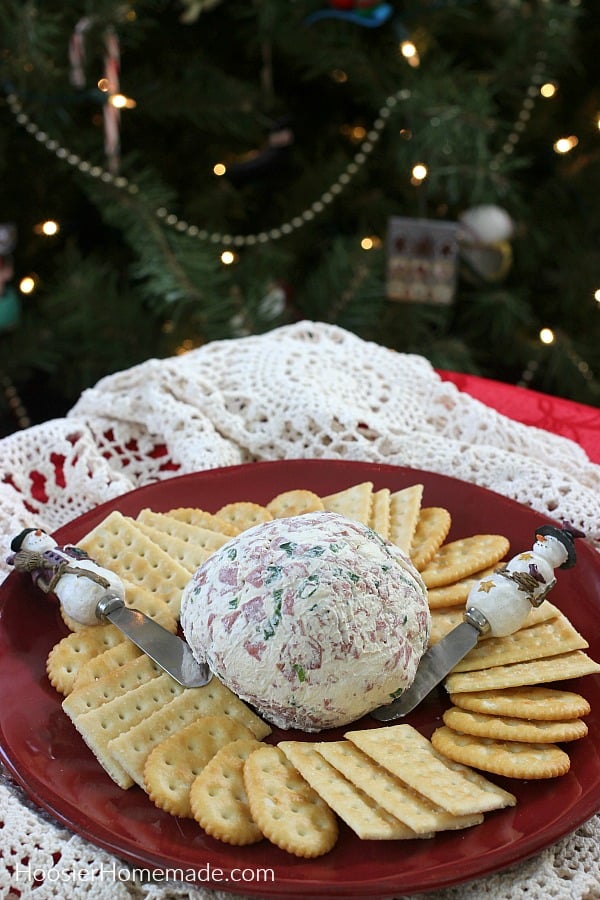 Cheese Ball – Frequently Asked Questions
Can I freeze the cheese ball?
Freezing the Cheese Ball makes it super easy to plan ahead for the holidays or other occasion.
To prepare them ahead for the freezer, follow the recipe below and simply wrap them in plastic wrap then place in freezer safe bag. If you are adding a coating like nuts, add that before serving.
The day of the party, just take them out of the freezer in the morning or the night before and place them in the fridge, be sure to allow at least 8 hours to thaw.
What else can I serve with the cheese ball besides crackers?
Here are some ideas we like –
Crostini
Mini Bagels
Pretzels
Apple and Pear slices go well with a cheddar cheese ball
Celery
Carrots
How long will the cheese ball last?
If you have leftovers, be sure to store it in an airtight container or wrap it with plastic wrap. Place in the refrigerator for up to 1 week.
Can I make the cheese ball ahead?
Yes, you can certainly it ahead of time. Just wrap it in plastic wrap, and place in an airtight container. Then store in the refrigerator for up to 1 week.
Can I mix the cheese ball by hand?
Mixing by hand is fine. Be sure the cheese cream is super soft before beginning to mix. Use a heavy wooden spoon and a strong arm to be sure it's well blended.


Follow along with the 100 Days of Homemade Holiday Inspiration for more simple recipes, easy crafts, homemade gift ideas, decorating tips and much more!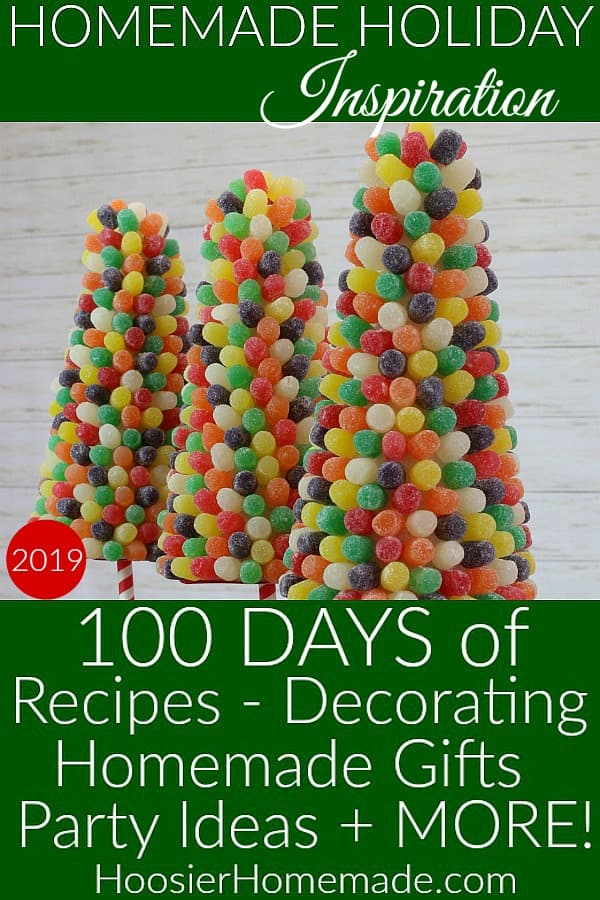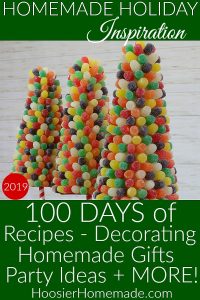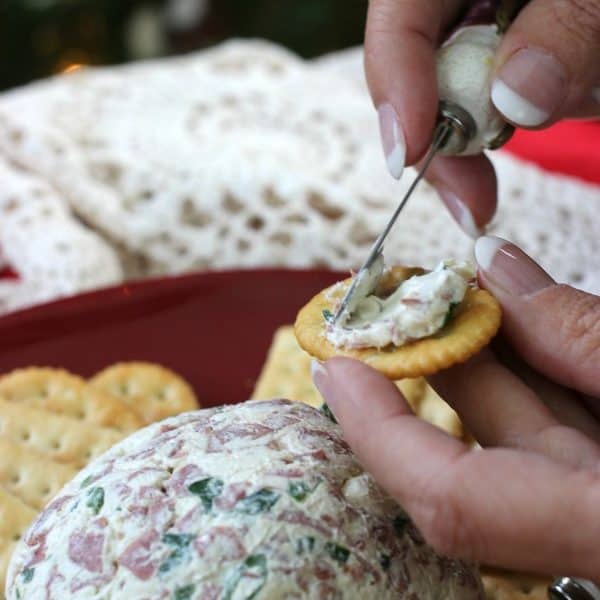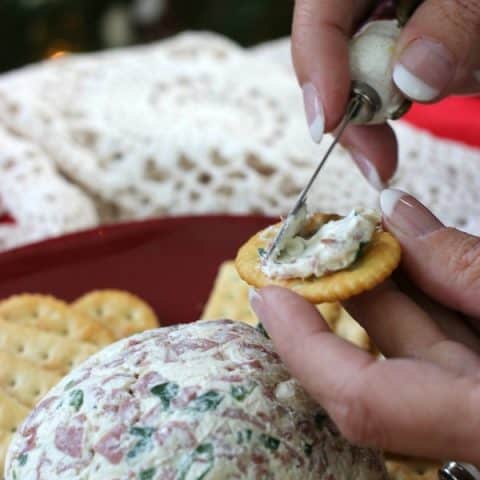 Cheese Ball Recipe
Perfect for a holiday gift or to serve as an appetizer, this Christmas Cheese Ball from HoosierHomemade.com is a must have on your holiday baking list.
Ingredients
2 packages (8 oz. each) Cream Cheese, softened
2 packages of thinly sliced meat, beef works best
2 teaspoons Worcestershire Sauce
3-4 green onions, chopped finely
1 teaspoon (or to taste) salt, optional
Instructions
Mix all ingredients together and form into ball.
You can roll in chopped nuts if you want.
Serve with crackers or vegetables
Nutrition Information:
Yield:

16
Serving Size:

1
Amount Per Serving:
Calories:

47
Total Fat:

3g
Saturated Fat:

1g
Trans Fat:

0g
Unsaturated Fat:

1g
Cholesterol:

15mg
Sodium:

39mg
Carbohydrates:

1g
Fiber:

0g
Sugar:

0g
Protein:

4g
Looking for more holiday appetizers? Click on the photo for the recipe