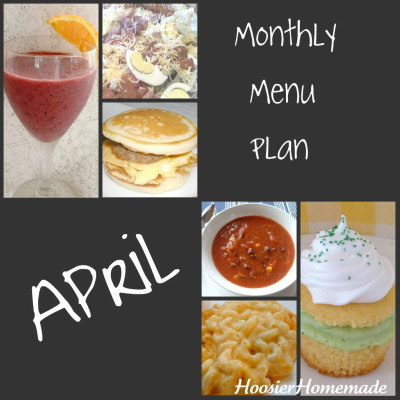 I'm so sorry to be posting this a few days late. The Spring Hop Party kept me baking like a crazy woman the last couple weeks, then Easter kind of sprung up on me too. Since, Nick, our 16 year old, has started his High School baseball season, you will find lots of crockpot and make-ahead meals, it's makes life so much easier to have a plan.
We have lots of great things happening here! If you missed my giveaways, head on over to enter to win a cute Recipe Box and a Dual Chamber Decorating Bag, perfect for your 2 color icing work. The giveaways end, Monday, so hurry! I also have a fun video series coming up with the What's New Cupcake and Hello, Cupcake authors, read all the details and let me know what questions you would like answered by the authors of those fun cupcake books. 
Next week, I'm putting together my Weekly Menu Plan, along with a grocery list and a Meal Prep Plan, and a very special cookbook giveaway! I'll be preparing the whole week's menu in one day. 
Get your leftover ham or Easter dishes posts ready! I'll be hosting a party on Wednesday for everyone to share their favorites! (Old posts are okay too) Details below 🙂
Here's what we have planned for the rest of April…
5 ~ Leftovers (Easter dinner)
6 ~ Homemade Chicken Nuggets & Fries (Andrew turns 19!)
7 ~ Scalloped Potatoes and Ham
8 ~ Crockpot Chicken and Potatoes
9 ~ Bacon Cheeseburgers and Loaded Waffle Fries
10 ~ Enchiladas, chips and salsa
11 ~ Homemade Corn Dogs
12 ~ Spaghetti & Meatballs
13 ~  Cheesy Pasta, Ham & Peas
14 ~  Mini Meatloaves and Mashed Potatoe Casserole
15 ~  Teriyaki Chicken
16 ~  Baked Chicken Chimichangas
17 ~  Sloppy Joes and Mac & Cheese
18 ~ Chicken Tortellini Tetrazzini
19 ~  BBQ Meatballs, Salad
20 ~ Fried Egg Sandwiches or Homemade McGriddles, Fruit Smoothies
21 ~  Chicken N' Noodles, Mashed Potatoes, Corn
22 ~  Mostacolli, Parmesan Knots, Salad
23 ~ Chicken Mexican Soup
24 ~  Stuffed Baked Potatoes and Chicken Wings
25 ~  Grill Out
26 ~  Tuna Casserole
27 ~ Pulled Chicken BBQ Sandwiches, veggies and dip
28 ~  Chef Salad, Homemade Rolls
29 ~  Chicken Stir-Fry and Rice
30 ~   Taco Ring, Mexican Rice, Nacho Bar
1  ~  Stuffed Crust Pizza
Be sure to mark your calendars! Do you have a go-to recipe for the leftover ham or eggs from your Easter dinner? Share it with us!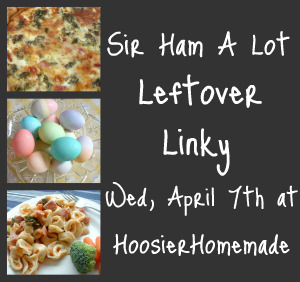 Yup! It's a Sir Ham A Lot Party! 🙂 Don't miss it!
This post linked to:
~Menu Plan Monday hosted by I'm An Organizing Junkie
~Monthly Menu Plan hosted by Mommy's Kitchen