Every time I pick up a strawberry I can't help but be consumed by a flood of memories. One of my goals when I started Hoosier Homemade was to create and share memories of my life with my family of four men. As you well can imagine it can be difficult at times to sway the male species towards that end but every now and then they will surprise me. Some of our greatest memories as a family come from when the boys were young and their grandparents were still alive and the times we shared Strawberry Shortcake with fresh strawberries from the garden.
So as you make these Strawberry Shortcake Cupcakes I hope that you can build memories with your family you will cherish as much as we do.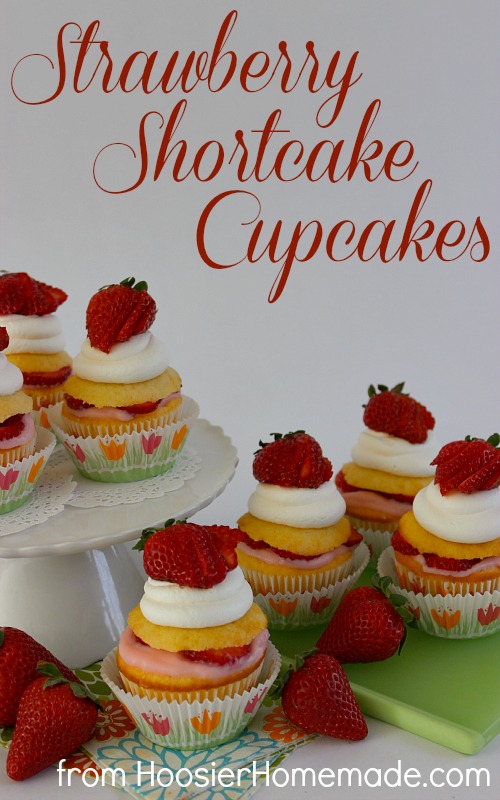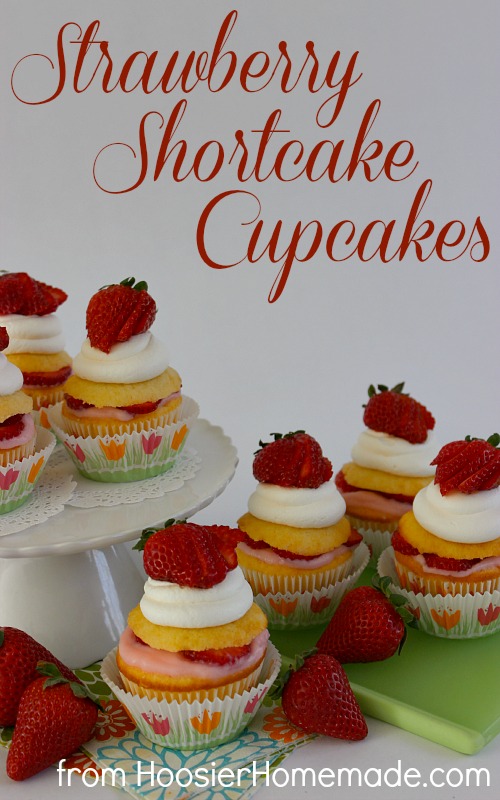 I have to give credit to my parents for instilling in me the passion and creativity I have, my mother loved flowers and shared that with many people. My father loved his yard and garden, especially his strawberries. We would spend lots of time with them, almost daily if truth be told and the boys loved every minute. Especially the time they would spend with PaPa helping him with his strawberry patch.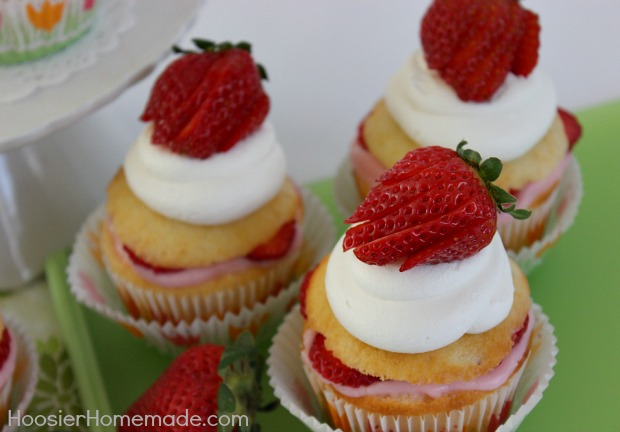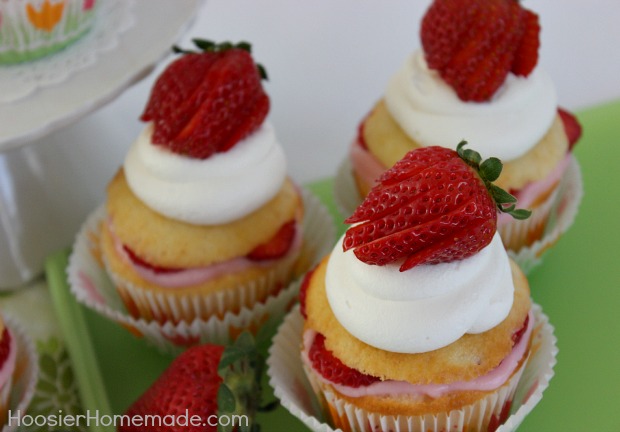 These Strawberry Shortcake Cupcakes begin with a rich French Vanilla cake mix, filled with JELL-O Strawberry Creme Pudding and topped with the new rich and creamy COOL WHIP Frosting.
Let's get baking…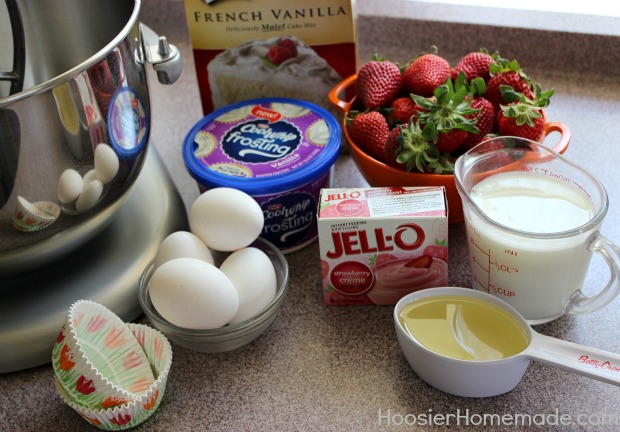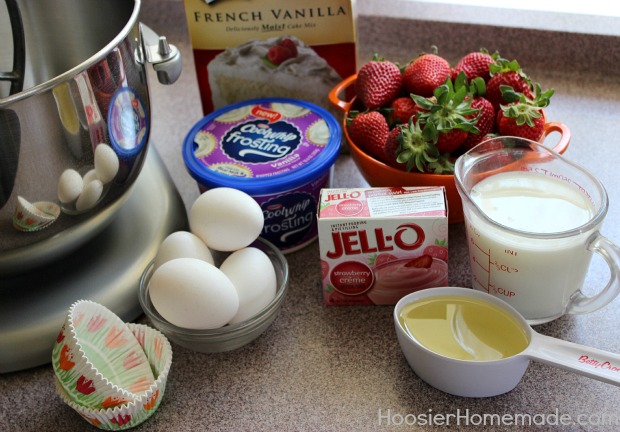 Along with the French Vanilla cake mix and the eggs, milk and oil for it, you will need JELL-O Strawberry Creme Pudding, Strawberries and COOL WHIP Frosting.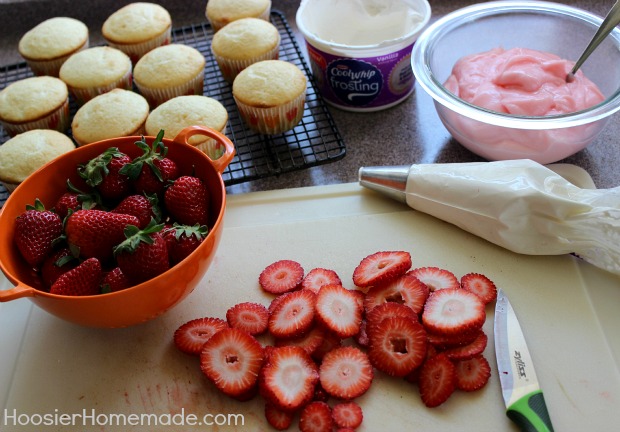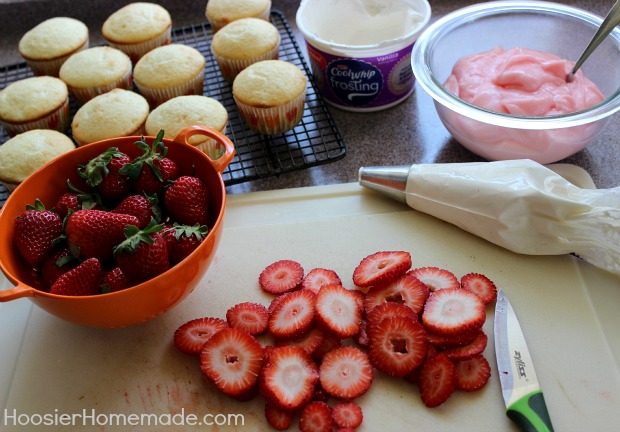 After the cupcakes are baked and have cooled, and the pudding is set up, it's time to assemble the Strawberry Shortcake Cupcakes.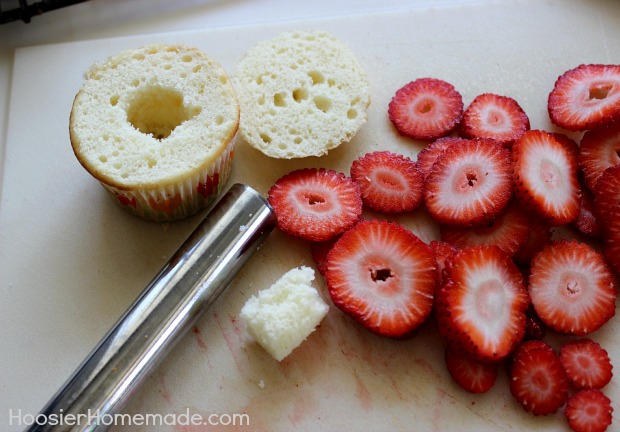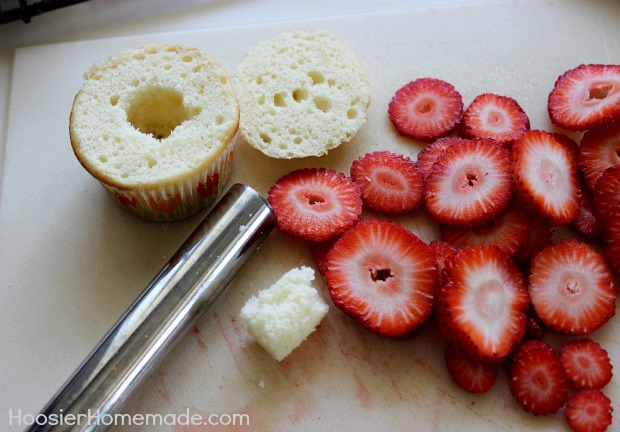 Step 1
Slice the top off the cupcake using a serrated knife
Core out the center using an apple corer, being careful not to go down all the way to the bottom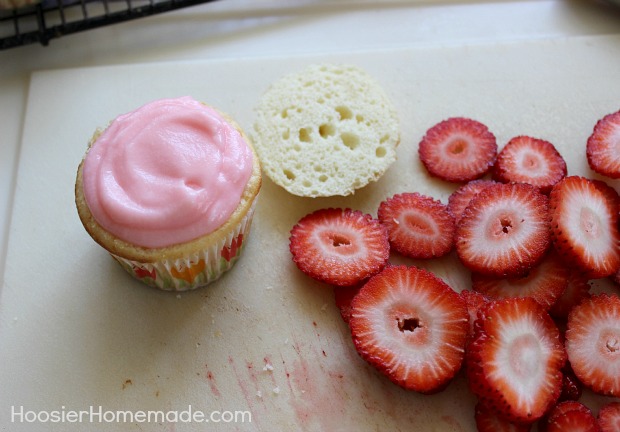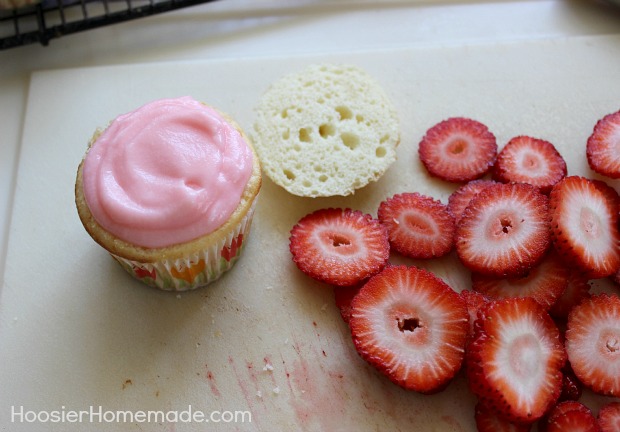 Step 2
Fill the center hole with Strawberry Creme Pudding and add a couple more teaspoons full on top, smoothing with the back of the spoon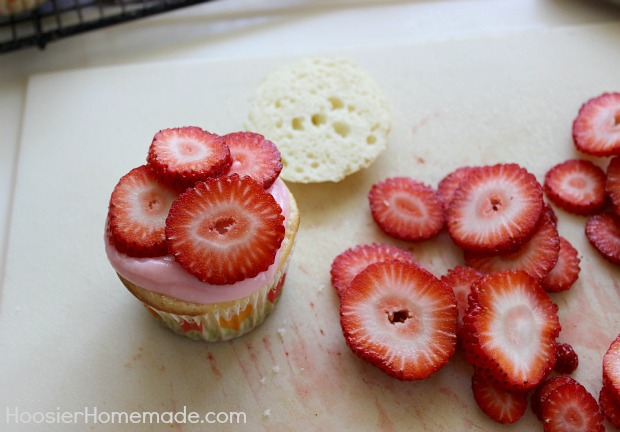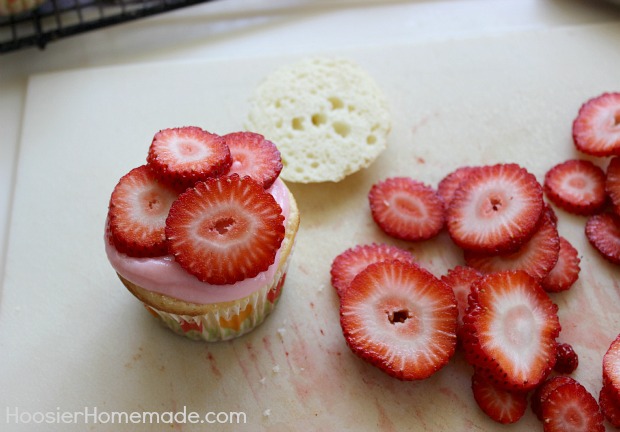 Step 3
Slice the strawberries thinly and add to the top of the pudding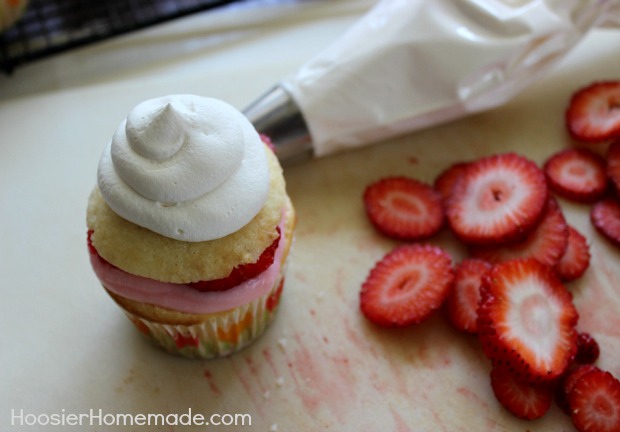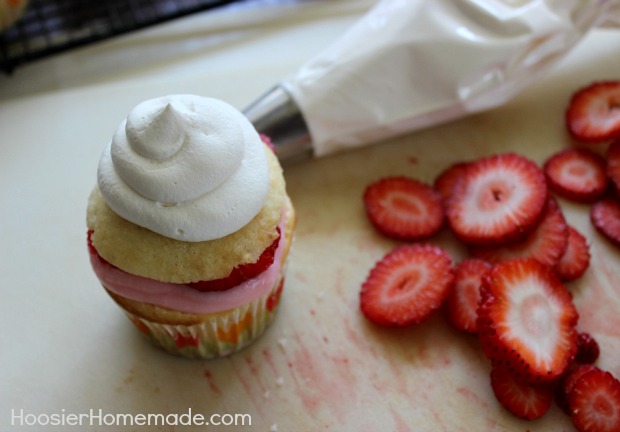 Step 4
Fit a decorator bag with a #1M large round tip and fill with COOL WHIP Frosting
Add the top of the cupcake back on and pipe a large swirl of frosting on top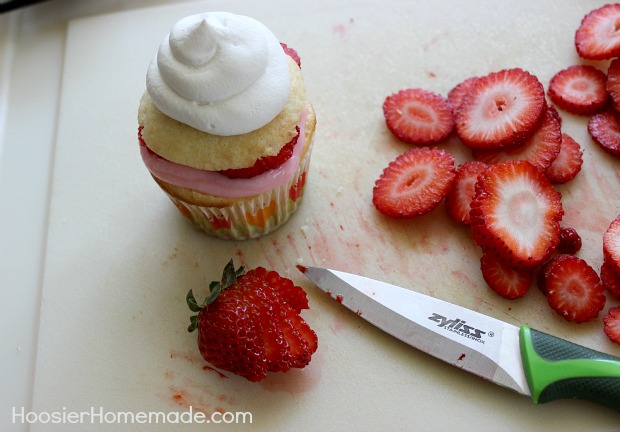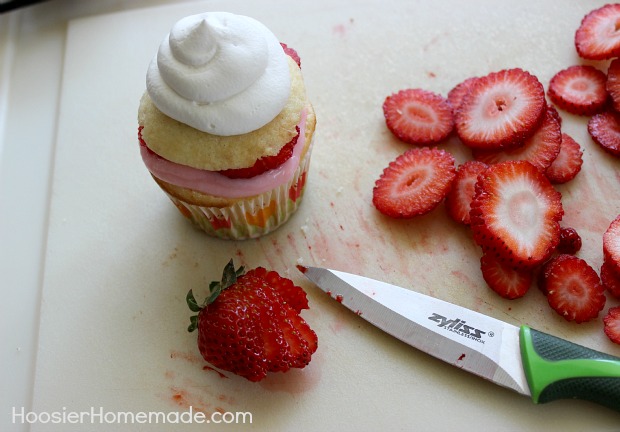 Step 5
Make the Strawberry fan by thinly slicing the strawberry being careful not to slice all the way through
Push down gently to fan the strawberry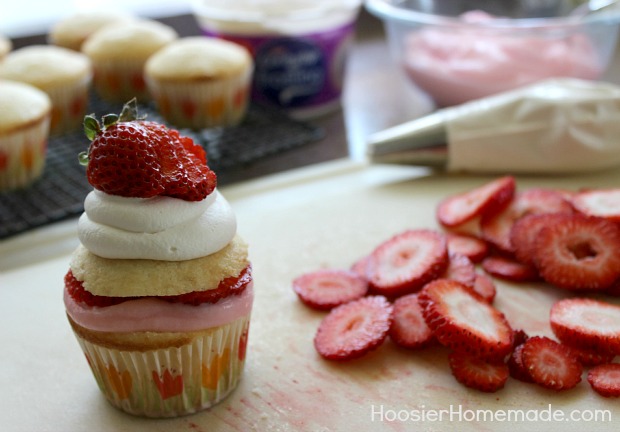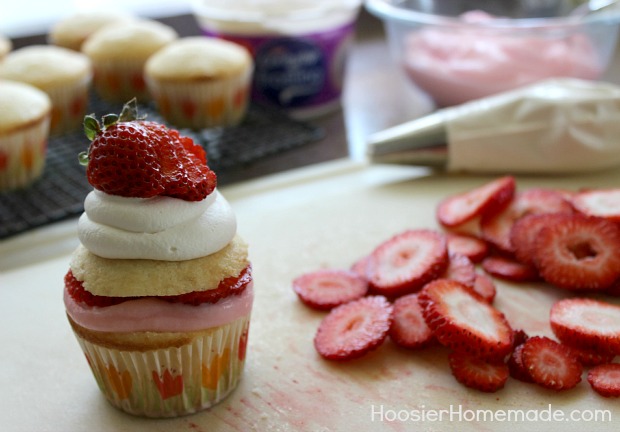 Step 6
Place the strawberry fan on top of the cupcake and repeat with remaining cupcakes
Store in fridge until ready to serve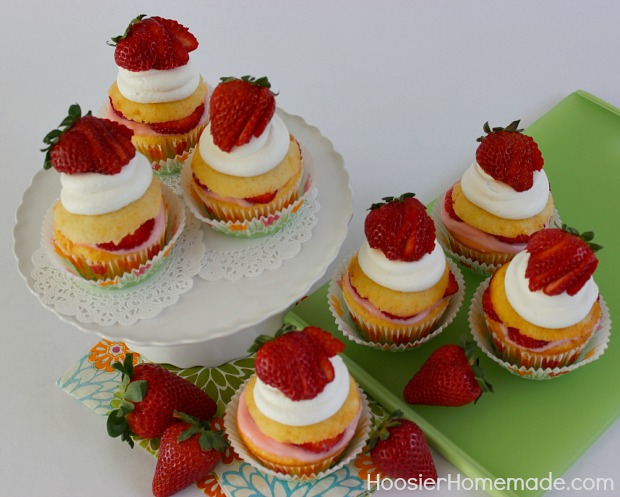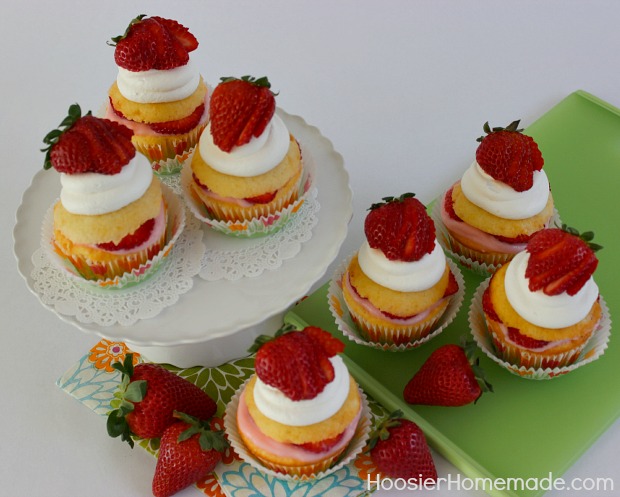 These Strawberry Shortcake Cupcakes are the perfect Spring Dessert! You could serve them for Mother's Day, a birthday celebration, or even a girl's night out. Everyone loves them!
For more recipes visit KraftRecipes.com
Disclaimer: I have partnered with Kraft Foods as part of the Kraft Tastemakers Program. Compensation was provided by Kraft. The opinions expressed herein are those of the author and are not indicative of the opinions of Kraft.