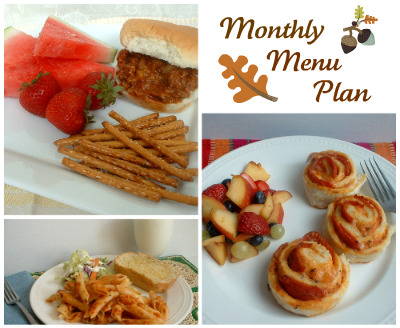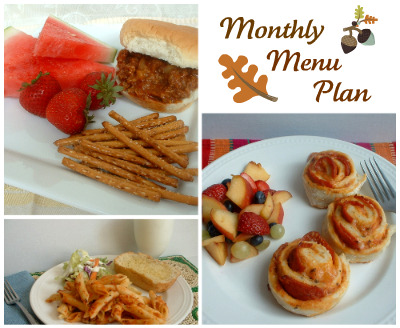 Happy Fall! I can hardly believe it's October already, really! Where did this whole year go?
I'm so excited…the Celebrating Autumn Party is this week, join Myra at My Blessed Life on Monday for an amazing project, giveaway and a linky to share your ideas too!
Before I share my October Menu Plan, I wanted to tell you about this great new e-book that I came across via Twitter. Katie from Kitchen Stewardship has put together some really yummy recipes for Healthy Snacks, and what better time of year to get some baking done. She offers treats like Easy One-Bowl Muffins, Fruit Rolls and the Cinnamon Applesauce sounds perfect for the season! All of these great recipes for only $6.95!!

Katie also offer a Camping E-book with everything from what you need to pack to what you can fix to eat! We don't go camping, but Katie has inspired me to give it a try next Summer! Big Woods Camping E-book is only $4.95!!
Head on over and check them out!! Here's what we have planned for the rest of the month…
October Menu Plan:
4 ~ Baked Potato/Bacon Soup
5 ~ Friendship Casserole (Mommy's Kitchen recipe)
6 ~ Mexican Lasagna (My Blessed Life recipe)
7 ~ Baked Ziti, Salad and Parmesan Knots
8 ~ Bubble Pizza – Budget Friendly Meal!
9 ~ Baked Chicken Wings and Onion Rings
10 ~ Chili and Cornbread
11 ~ Autumn Chicken($5 Dinners recipe) Rice and Veggie
12 ~ Meatloaf, Mashed Potatoes and Corn
13 ~ Chipotle-Lime Chicken Skewers (The Family Dish recipe) and Rice
14 ~ Spaghetti and Meatballs, Salad, Garlic Biscuits
15 ~ Concession Stand Dinner – Chili Cheese Dogs, Nachos, Pretzels, Popcorn and more
16 ~ Apple Cider Beef Stew (Taste of Home recipe) Farmhouse Biscuits and Apple Butter
17 ~ Fried Chicken, Mashed Potatoes, Veggie
18 ~ Breakfast for Dinner – Homemade McGriddles, Fried Potatoes
19 ~Baked Potato Bar and Sausage Cheese Balls
20 ~ Taco Ring, Rice, Chips and Salsa
21 ~ Ravioli, Salad, Garlic Bread
22 ~ Corn Doggies (What's Cookin' recipe)
23 ~ Pepperoni Pizza Skillet (Taste of Home recipe)
24 ~ Lasagna, Salad, Garlic Toast
25 ~ Chicken N' Noodles, Mashed Potatoes, Corn
26 ~ Tuna Casserole
27 ~ Beef & Bean Chimichangas ($5 Dinners recipe) and Salad
28 ~ Italian Dunkers, Soup
29 ~ Sloppy Joes and Oven Fries
30 ~ Halloween Party
31 ~ Trick or Treat Night – Leftovers from Party
Reminders! Celebrating Autumn starts Monday, Cupcake Tuesday is at 7 a.m. now, and Delicious Dishes Party is every Tuesday over on It's A Blog Party, also 7 a.m.  See you there!!
Disclaimer: The E-books are affiliate links. I'd love for you to check it out and see if it's something that would work for you.
 I'm linking to Menu Plan Monday and Mommy's Kitchen