Sausage Cheese Balls and our Menu Plan
Last week for the boys first day of school, I wanted to fix one of their favorite meals, appetizers. I usually serve appetizers at least once a month, they're fun, and most of the time pretty easy too. This time we had an old standby, Sausage Cheese Balls and a new recipe, that I'll share soon, Cheesy Bacon Crescents. I had a request on Twitter for the Sausage Cheese Ball recipe, checked and realized that I had never shared it with you. Guess I better do that…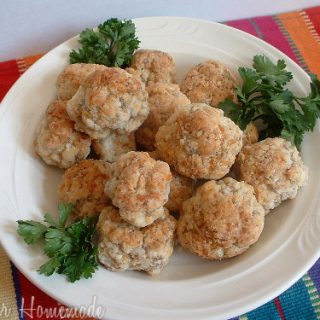 Sausage Cheese Balls
Ingredients
1 pound sausage (I use just regular breakfast sausage, any will do, whatever you like)
1 pound sharp cheddar cheese, grated (again, any will do)
3 cups Biscuit mix (Bisquick, Jiffy or even Aldi's brand is fine)
1/4 to 1/2 cup water
Instructions
Mix all ingredients well. Form into balls and place onto greased cookie sheet. Bake at 375 degrees for about 10 – 15 minutes until golden brown.
This recipe makes about 30 – 40 balls, you can easily divide it in half.
Nutrition Information:
Amount Per Serving:
Calories:

0
Total Fat:

0g
Since these were part of our Back to School day, I thought I would share a picture of the boys, our oldest is going to college, so he's not in this picture.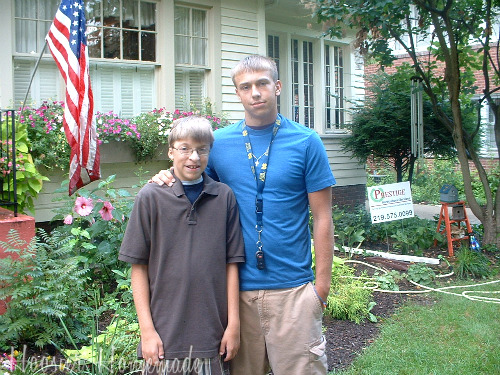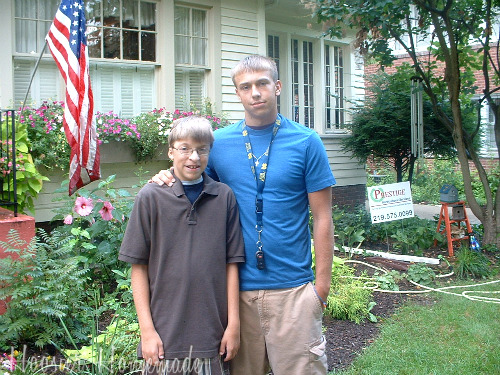 Here is Our Menu Plan for the rest of the week…
Monday ~ Sloppy Joes, Pretzels and Fruit
Tuesday ~ Meatballs in Gravy, Mashed Potato Casserole, Green Beans
Wednesday ~ Taco Roll-ups (Once A Month Mom), Chips and Salsa
Thursday ~ Breakfast for Dinner, Homemade McGriddles, and Fruit
Friday ~ Chicken Chimichangas, Roasted Corn Salsa, Chips and Salsa
Saturday ~ Chef Salad and Homemade Bread
Sunday ~ Chicken N' Noodles, Mashed Potatoes, Corn
Since I'll be at Baking with Betty on Monday and Tuesday, I had to switch a couple meals around from my original August Menu Plan. But that's the beauty of menu planning.
Don't forget! Cupcake Tuesday is tomorrow, come see all the amazing cupcake ideas, our Cupcake Challenge is going on right now too! Join the fun! It's not too late! AND, I have a Flip Ultra Video Camera for the winner!! Plus giveaways each week.
Also, add your recipes to Delicious Dishes Linky Party (Tues a.m.) over at It's A Blog Party, or grab a new recipe to try!
What's on your menu this week?
I'm linking to the Blog Parties in my footer, please visit them! You might just find one or two that are new to you!