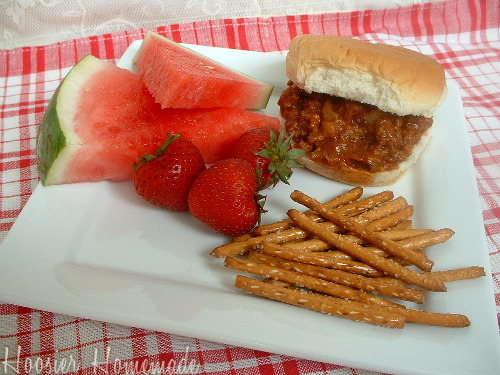 Welcome to another great Menu Plan Monday! How is your Summer going? Are you staying cool? It's been hot here in Indiana, but we are managing the heat pretty well.
I've been trying to use the stove and oven less. And if I do have to cook, I'm trying to make several meals at a time, so that I'm only heating the stove up once. These Make-Ahead Sloppy Joes are a perfect Make-Ahead Meal. I cooked up several pounds of Ground Beef at the same tme, used part of it for Taco Ring and then made the rest of it into Sloppy Joes.
If you are looking for a yummy no-bake dessert to add to this meal, I made a Cool N' Creamy Lime Pie this weekend that was to die for!
I shared this recipe with you awhile back when I did my Make-Ahead Meals for a Week. I love Jane's Cookbook, Make-Ahead Meals for Busy Moms, I have used it over and over again.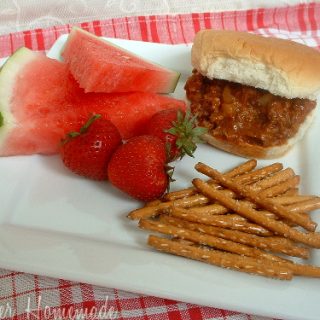 Make-Ahead Sloppy Joes
Make dinner time easier with this Make-Ahead Sloppy Joe recipe from HoosierHomemade.com.
Ingredients
2 lbs. ground beef
2 celery ribs, finely diced
2/3 cup onion, finely diced
2/3 cup green bell pepper, finely diced
1/2 cup ketchup
1/2 cup Barbecue Sauce (Bull's Eye or your favorite)
16 oz tomato sauce
2 tablespoons brown sugar, packed
2 teaspoon dry mustard
2 tablespoons Worcestershire sauce
2 tablespoons vinegar
salt and pepper, to taste
8 hamburger buns
Instructions
In a large skillet, cook the ground beef, celery, onion and green pepper, until beef is cooked through.
Drain the fat.
Add the remaining ingredients, except hamburger buns (of course).
Cover and simmer for 15 minutes, stirring occasionally.
Transfer the mixture to a bowl to cool.
Cover and refrigerate until ready to reheat or freeze in labeled freezer bags, freeze flat.
Cooking Directions:
Reheat in microwave.
Serve on buns.
Note: This time I cooked the Ground Beef ahead, so I sauteed the celery, onion and green pepper in a little butter until soft, then added the cooked meat and other ingredients.
We also made a big pot of these and took them to the Lake with us for Fourth of July. The boys all love them, and they are actually getting a few veggies in them too…shhh, don't tell them.
And now for our Weekly Menu Plan…
Monday ~ Sloppy Joes, Pretzels and Fruit
Tuesday~ StrawberryCream Cheese Stuffed French Toast, Fruit Smoothies
Wednesday~ Chef Salad and Homemade Bread
Thursday~ Burgers, Roasted Corn Salsa
Friday~ Mostacolli, Parmesan Knots, Salad
Saturday~ Sandwiches and Pasta Salad
Sunday~ Grilled Chicken BLT Sandwiches, Fruit, Chips and Dip
What's on your Menu this week?