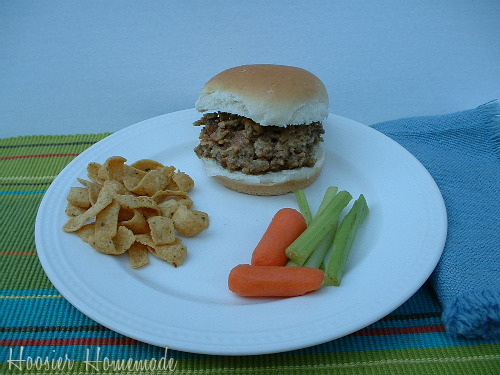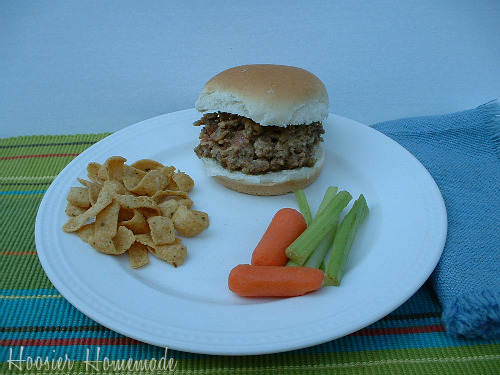 A couple months ago, I discovered a new recipe on the Delicious Dishes linky party on It's A Blog Party, Crockpot Cheeseburgers served up by Linda's Lunacy.
They were quick, easy and very tasty. Andrew, our oldest son, who is a very picky eater, loved them, and suggested that I make them with bacon. So, the Bacon Cheeseburgers in the Crockpot meal was added to the Monthly Menu Plan.
I made a few changes to the original recipe from Linda, and added bacon. While the original calls for Velvetta, I decided this time to make my own cheese sauce. It's actually very easy to make, and we prefer the taste to Velvetta or a store brand cheese spread.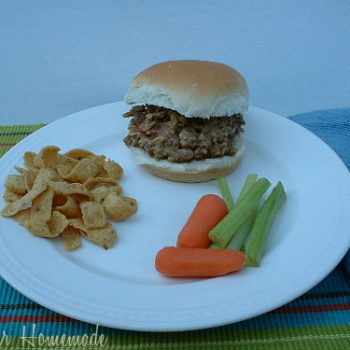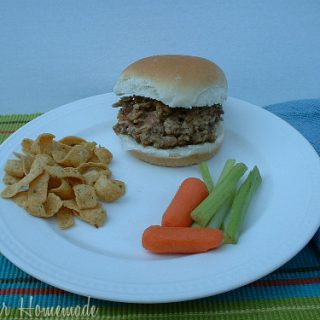 Bacon Cheeseburgers in the Crockpot
Crockpot Bacon Cheeseburger recipe from HoosierHomemade.com.
Ingredients
Crockpot Bacon Cheeseburgers
1 1/2 pounds ground beef
8-10 slices of bacon, cooked and crumbled
1 clove garlic, minced or crushed
1/2 teaspoon garlic powder or garlic salt
1 cup green pepper, diced
1/4 cup onion, diced
Cheese Sauce (recipe below)
Hamburger Buns
Cheese Sauce
1/4 cup butter or margarine
1/4 cup flour
2 1/2 – 3 cups milk, depending on how thin or thick you want it
8 oz of cheese, I use a mix of colby and cheddar
Instructions
Crockpot Bacon Cheeseburgers
Cook ground beef, garlic, onion and green pepper, drain and place in Crockpot.
Sprinkle with garlic powder.
Cook cheese sauce and add to crockpot.
Crumble bacon and stir into meat mixture, heat thru, about 2 hours on low.
You could also just mix everything on top of the stove. After everything is cooked, it's really just simply heating it thru.
Cheese Sauce
Melt butter in saucepan on stovetop, whisk in flour and cook a few minutes, being careful not to get the flour too brown.
Slowly add the milk and whisk.
Add cubed cheese slowly, stirring after each addition until cheese is melted.
Let sauce come to a small bubble, whisking until thick.
Add to crockpot.
How to cook bacon in the oven: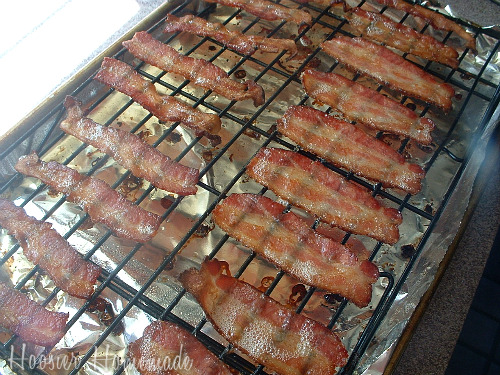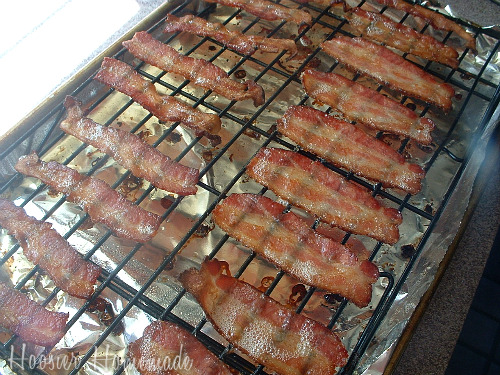 I used to cook my bacon in the oven, by just laying it on a foil lined cookie sheet, but then a reader suggested to place it on a rack so that the grease drips down.
Line cookie sheet with foil, place cooling rack on top and slightly spray with cooking spray. Place bacon on rack and cook at 450 degrees for about 15 minutes.
Serve your Bacon Cheeseburgers on Hamburger buns, you could keep it simple like we did with some veggies and chips, or you could add Fried Potatoes or Potato Skins.
Don't forget! Tomorrow is Celebrating Autumn here at Hoosier Homemade! Come back and add your favorite Autumn recipe! And there will be a giveaway you WON'T want to miss!!
 Linking to Life As Mom