A Mantle for every Season

As the year draws to a close, one of my favorite things to do is take a look back at the Decorating Projects that I completed. Especially now, since starting this blog, I have a special place to share all of my passions.
I often have readers mention to me, that they can't believe I get so much done. I seem to work all the time, well, I do…but I LOVE it. I feel so blessed to be able to share with you all my love for my home, baking, cooking and my family! I also couldn't do many of the things that I am able to get done if I didn't have my husband, Doug, to help me and my boys.
Hoosier Homemade is really a family affair! Whether they are stringing garland or being forced to try a new recipe, they all help me share my passion with you!
One of the MANY projects that they have helped with during this year, is decorating the Mantle. When I started pulling this post together, Doug and I were surprised that I had decorated 12 Mantles, one for every season, Holiday and a couple others.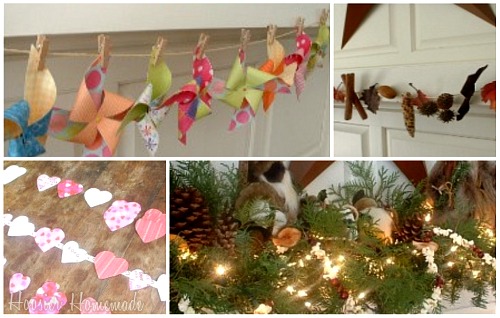 I had lots of fun creating the Garlands too.  The Pinwheel Garland is made with scrapbook paper. The Fall Garland with acorns and items I collected outside is a great no cost project. The Valentine Garland uses cookie cutters for the shapes and scrapbook paper and the Christmas Garland has popcorn, cranberries and dried fruit. You can visit each of the posts to learn how to make them.
Do you decorate your Mantle for the Holidays or Seasons? Share your ideas with us!
I'm linking to… Works for Me Wednesday,Strut Your Stuff, Transformation Thursday, Show and Tell Friday, Saturday Night Special, Masterpiece Monday, Made by You Monday