I'm kicking off this VERY special week I have planned for you, with my Fourth of July Mantle! You all know how I LOVE the holidays, and Fourth of July is one of favorites, maybe even second to Christmas!
I've created another fun collage to show you just how easy it is to decorate your Mantle or shelf for Fourth of July.
I started with a piece of fabric with flags on it
I made the garland from scrapbook paper, and assembled it just like I did the St. Patrick's Day Garland and Valentine's Garland
On one end I added a wooden flag
And on the other end, I added a fun red, white and blue birdhouse
In the garage, I found a VERY old Colonial Flag Banner, with 13 stars representing the colonies. I draped it over the wooden flag and birdhouse.
Next came my Great-Grandfathers Flag
A little angel doll, made with red, white and blue fabric, with cute wire hair
Then some fabric covered styro-balls
And an USA wooden piece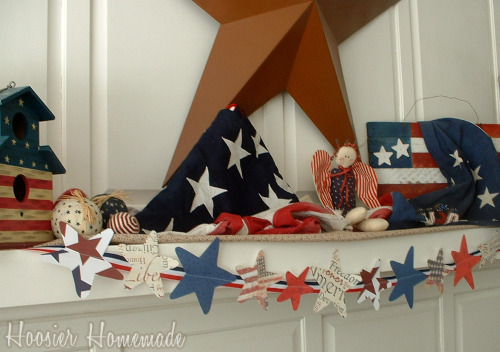 Stay tuned for an awesome week here at Hoosier Homemade! Tomorrow kicks off Day 1 of a full week of Food for the Fourth of July! Main dishes, side dishes, salads, drinks and of course…lot and lots of desserts! Maybe even a tablespace or two!
Do you have a Fourth of July post you would like to share? Link it up to the Fourth of July Party over on It's A Blog Party!
Psst…don't miss my Giveaway for a $25 Gift Card from Domino Sugar and the Great American Bake Sale!
I'm linking to the Blog Parties in my footer, please visit them! You might just find one or two that are new to you!