Welcome to our Home!
Sit back, relax, grab a cup of cocoa, a cupcake and enjoy!
Our Living Room ~ Rustic and Warm
The Main Tree
 
 With white lights and shiny gold beads, the Main Tree is full of treasured ornaments from years past.
The Mantle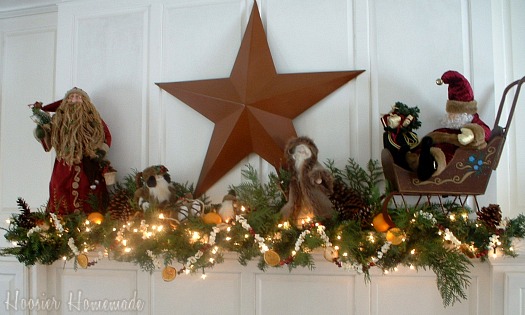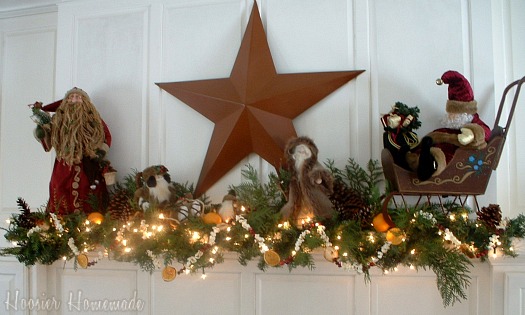 With the fresh green, woodland Santas and a homemade garland, this is my favorite spot in our home! Learn how to make this beautiful garland for yourself.
The Entertainment Center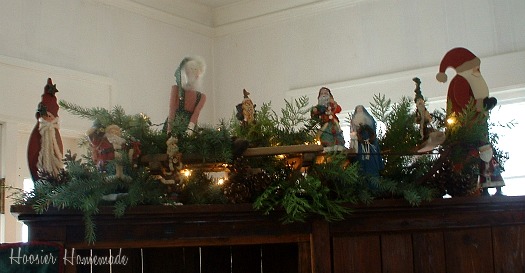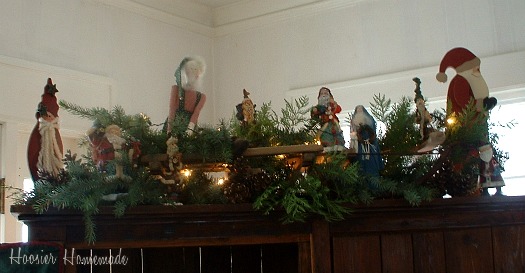 Our Entertainment Center is an antique tool box, with an antique sled, fresh green and more Santas, it compliments the Mantle.
Vintage Christmas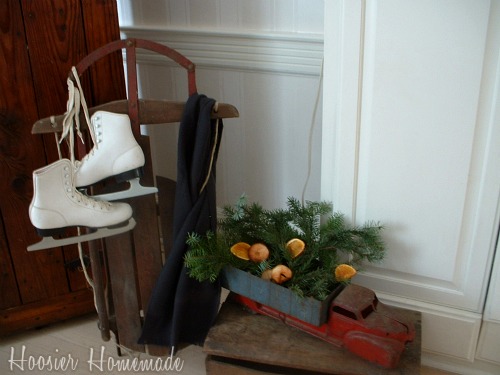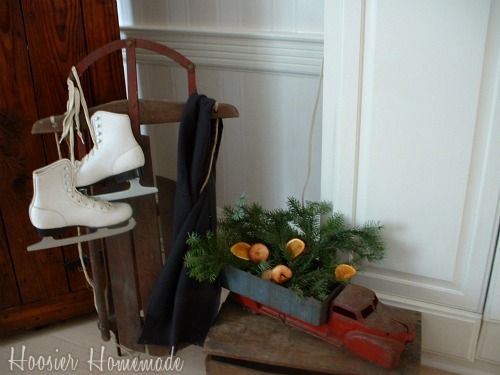 Another Antique Sled, with some old white ice skates, and old truck filled with fresh green and dried orange slices (left over from the garland).
Fresh Greenery for Centerpieces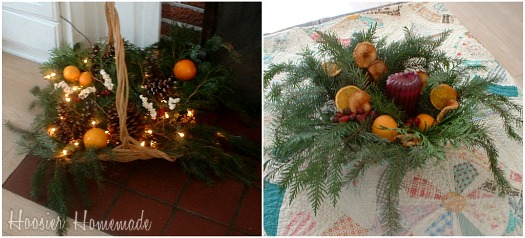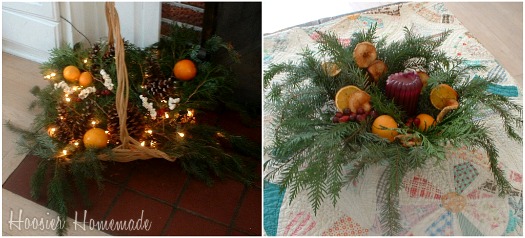 Adding some more warmth to the Living Room, I placed fresh greens in a basket next to the fireplace and added some white lights, pinecones, oranges, popcorn and cranberries. And on the coffee table, I added an old quilt (Thanks Susan Branch) and filled a bowl with greenery, candle, dried oranges and cranberries.
Our Dining Room ~ The Snowman Room
The Snowman Tree

With white lights and crystal beads, the tree is full of snowmen. Many, many years ago, I sewed this set of  Snowman and Snowlady. I think I gave about 20 sets that year. I never kept one for myself. After my Mother-in-law passed away a couple years ago, I received the ones that I had made for her.
The Buffet


Decorated with fresh green and candles, the Buffet is one of my favorite spots. The window above it has a garland and snowman lights.
The Hoosier Cabinet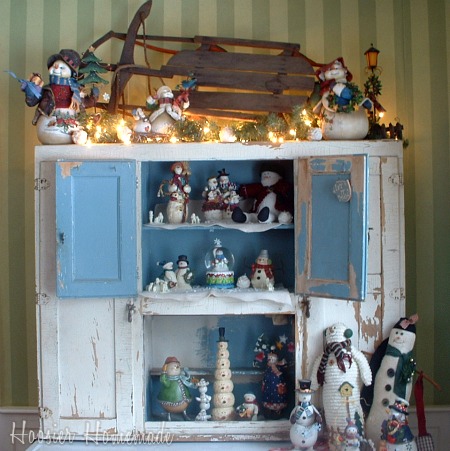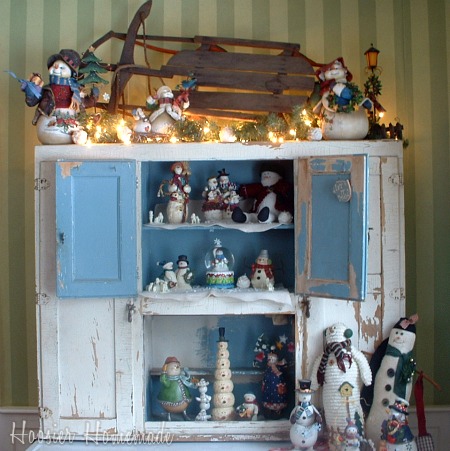 An antique wooden sled on top of the cabinet and filled with lots of snowmen. It's nice to decorate with Snowmen, then I can just leave them out through January.
Dining Room Table Centerpiece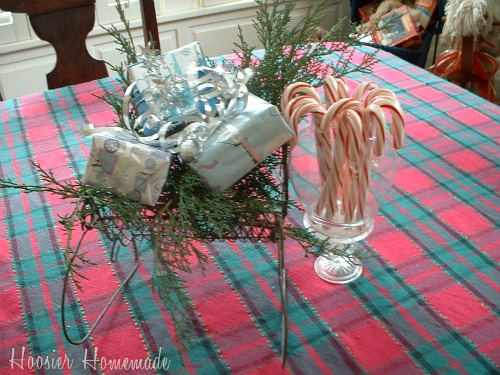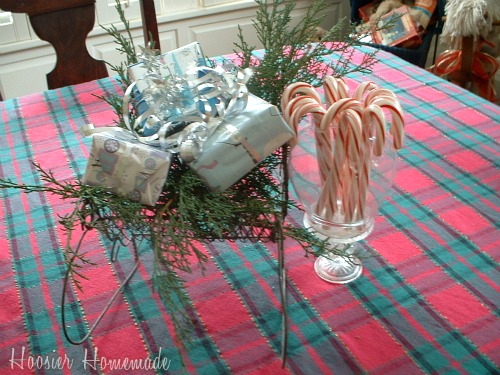 I filled a wire sleigh with some of the leftover fresh greenery, wrapped some small boxes and filled a vase (the one I made for Fall) with candy canes. Easy, Simple, Frugal and Beautiful…I love it!
The Game Corner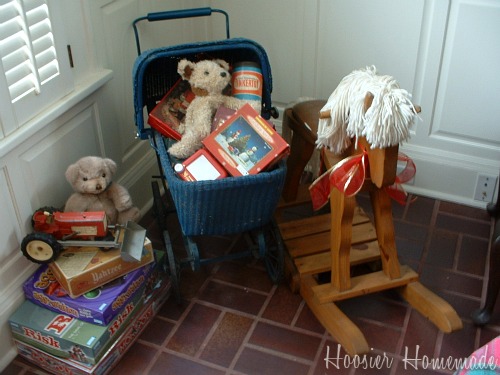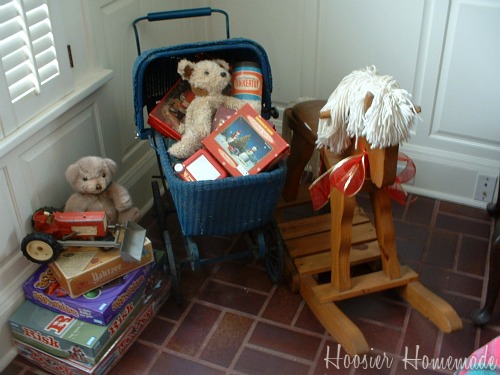 We love playing games, but it seems like we play more if they are out and visible. I created this little game corner in the Dining Room with some nostaligic items too. Puzzles, an old tractor that belonged to Doug, my old doll carriage that belonged to my Great Aunt and the boys wooden rocking horse. It reminds us all of Christmases from the past.
Our Kitchen ~ Antique Utensils and Cookie Cutters
The Tree

In the Bay Window sits my Tree with Antique Kitchen Utensils and Cookie Cutters. Below it are more utensils, cookie cutters (I love the old red ones) and some salt and pepper shakers.
The Village Cabinet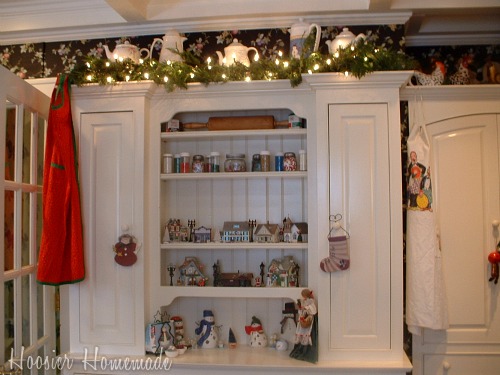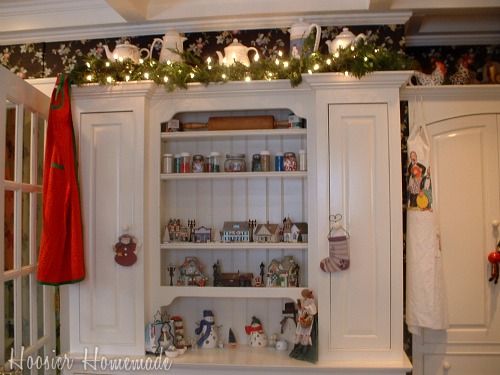 One of the cabinets holds my Christmas Village, a few more snowmen that I didn't have room for in the Dining Room and the Christmas sprinkles in pretty jars. The top has an artificial garland with some fresh green added, and some of my tea pots.
Cookie Tree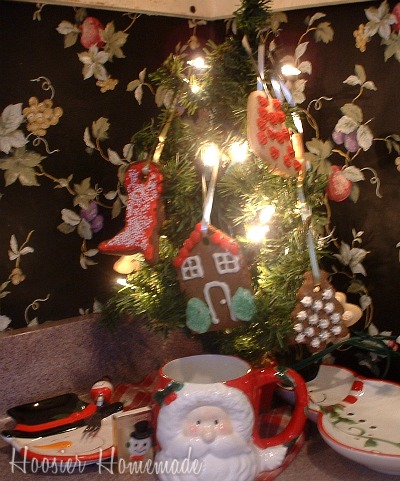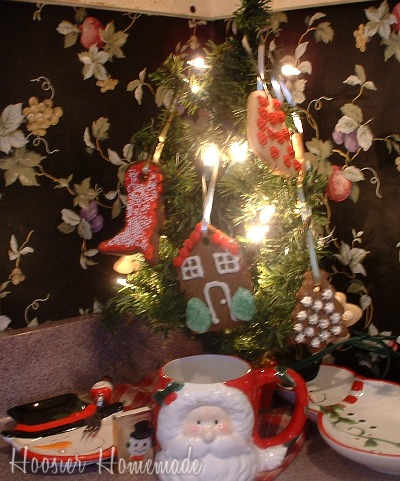 In another corner, a small tree holds the Cookie Ornaments that I made last year, I think they held up really well.
Our Foyer – Vintage Style
The Vintage Tree
 
Another one of the treasurers that I received this past summer when my Father-in-law sold the Farm, was my Mother-in-laws Vintage Tree. Here is a sneak peek, I'll show you more later.
Vintage Corner
 
The stairs are lit with a garland and stockings. And in the corner, some more of the Vintage toys; my old doll, blocks, tractors. Tinkertoys and Lincoln Logs.
Front Foyer – Winter time
The Winter Tree

More to come with the Winter Tree and Antique Lanterns.
I'm so happy you joined us in our Home!! I hope you enjoy your stay! While you are here, take a look around, you will find yummy desserts, lots of cupcakes and more decorating ideas!
Still to come…my office with the Cupcake Tree, the outside and the upstairs with more trees…yes, more trees, I put 10 trees up this year, plus the outside.
Merry Christmas!