I just love decorating our Mantle. If you have been here before, you will probably remember, my most recent Decorated Mantles; Memorial Day and Spring.
Last weekend, my oldest son, Andrew, graduated from High School. We had just a small party, but I still wanted to decorate for him.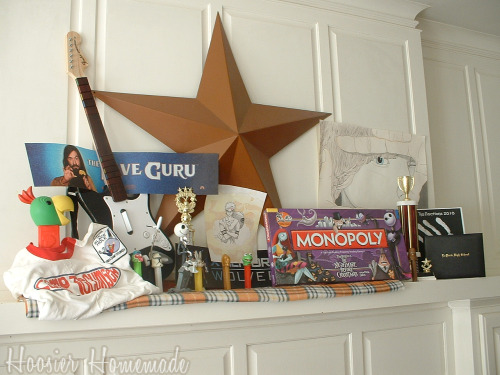 I used an orange and black piece of fabric, because those are the school colors. And simply added items that had meaning.
Trophies that he won
A Rock Band guitar, because he is a big game player
Pez that he collects
Monopoly, his favorite game (Nightmare Before Christmas Edition)
A Nightmare Before Christmas Figure
A T-shirt from Camp in 4th. grade
Some movie mylars ( he LOVES the movies, and works at the theatre)
A book that one of his classes made this year in school
A drawing that he did several years ago
And the MOST amazing drawing he has ever made (self-portrait)
And of course, his diploma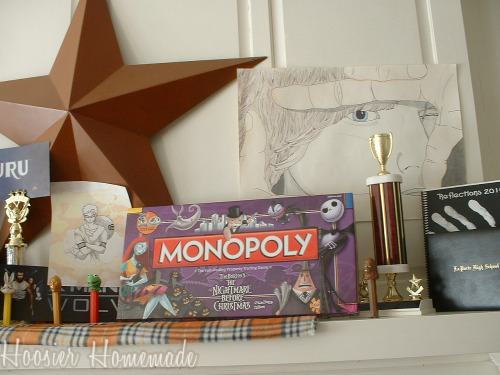 You could most certainly change this to fit any Celebration!
A Birthday
A Promotion
Anniversary
Any milestone…maybe even Summer Reading program
You could also change it, and place some items on a table, or shelf. It doesn't have to be a Mantle. Have fun and think outside the box for your own Celebration Mantle!
I'm linking to the Blog Parties in my footer, please visit them! You might just find one or two that are new to you!