Halloween Mantle ~ How-to Tutorial
It's that time of year again, when all the ghosts, goblins and all creepy things come out of the basement…this time, they landed on my Mantle!
When I was thinking about how I wanted to decorate our Halloween Mantle this year, I knew I wanted it a little creepy. The other holidays when I decorated the Mantle, I kept it pretty light and airy. It was time for a change.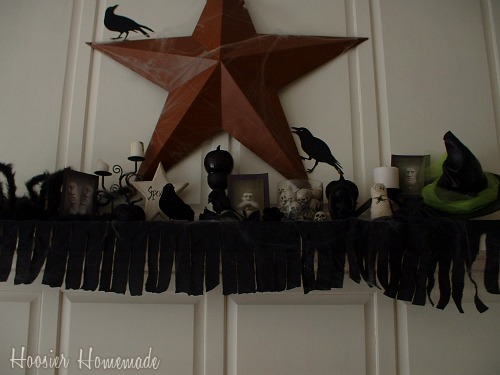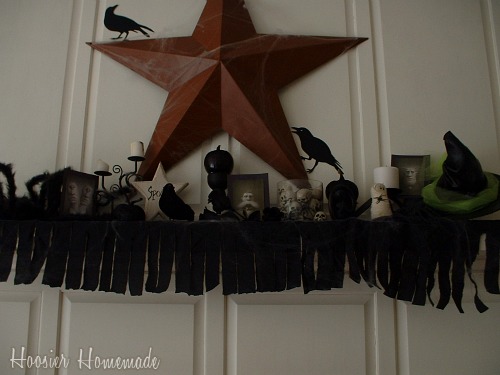 After looking at several other Halloween decorations for inspiration, over at the All-Halloween Bash, I pulled several different ideas together, including the black and white theme that Leanne shared on her blog, Organize and Decorate Everything.
Unlike my Fall Mantle, where I didn't spend any money, this Halloween Mantle did cost me a little to create. However, I spent around $10, and the only item that I won't be able to keep for years to come, are the real pumpkins.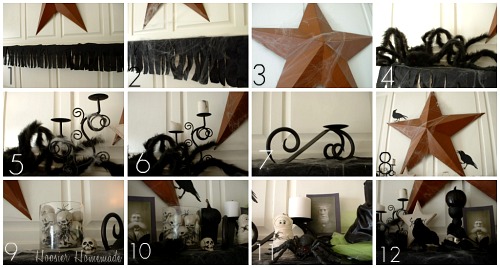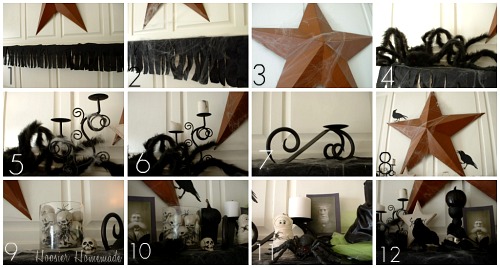 I started with black fabric, tore the strips and then draped it over the edge, to use as a garland.
Next came the spider webs
And the star (that stays on the wall all the time) was dressed with spider webs too
A large spider was added to one end of the Mantle
And a Candle Holder that I bought for $1 at Goodwill, spray painted black, a few more spider webs
Next I added some white votive candles, I burned them down a bit and dripped the wax down the side to look creepy
A second Candle Holder that I also bought at Goodwill and sprayed black
I simply taped a couple crows (thanks Martha) that I bought at Michael's
The skulls also came from Michael's, they were $2 for a bag, I used 2 bags, some spider webs and a few plastic spider rings that I cut the ring part off (I also saw these at The Dollar Tree, after I had already bought them) **See picture below for more detail
I used a small black tin votive holder to place the pumpkin on. The pumpkins got a coat of black spray paint and a sprinkle of black glitter.
Then the Witches Hat was added (see below for details on how to make the Hat) a stuffed Mummy and a plastic spider.
To fill in the middle, I added a white wooden star that says Spooky, a candle holder turned upside down with another pumpkin, 3 black roses and a crow (the same crow I used in the Fall Mantle)
When I saw this Witches Hat at In This Small House blog, I was on the search to find a hat. After several stops, I found one at Target for $2.50, grabbed some Modge Podge (because of course the bottle I had was no where to be found) and some netting at the JoAnn's Fabrics.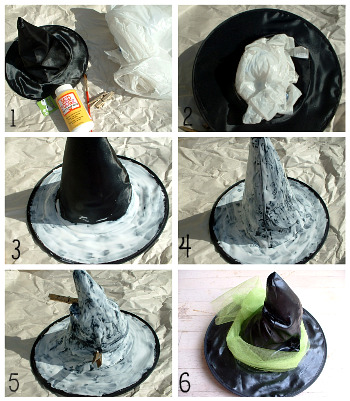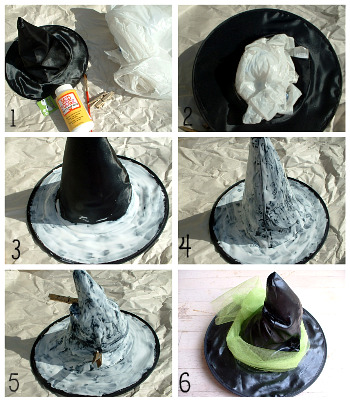 You will need: a Witches Hat, Modge Podge, plastic bags, a paint brush (mine is kind of small, but once again, somehow things disappear in our house) and 2 clothes pins
Stuff the hat with the bags
Paint the brim with the Modge Podge
And then the rest of the hat
Scrunch the hat down and use the clothes pins to hold it in place
Add some netting, tie a bow and use some straight pins to tack it down some (optional)
With the soon to be released new Harry Potter movie, you can look for this hat to be making it's way onto the Harry Potter Dinner post as the Sorting Hat 🙂


The photos of the creepy ghouls were found on the internet, printed off and simply glued to a square of black construction paper.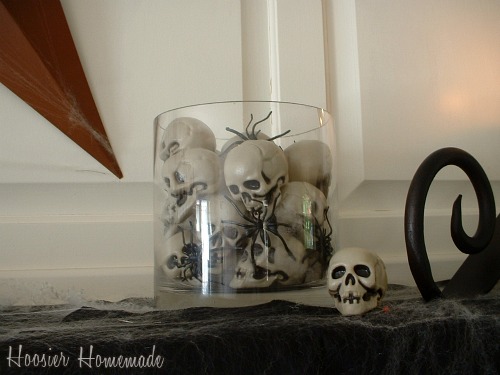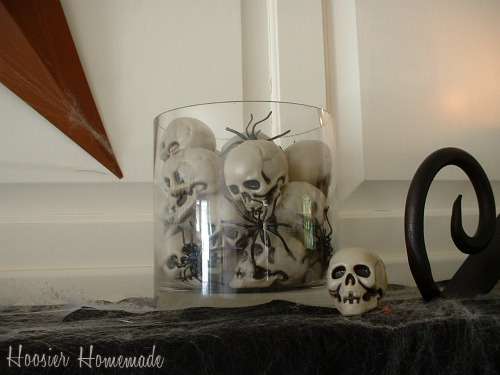 One of the Fall Hurricane Vases, got some new life…I layered the skulls, spider webs and plastic spider rings.
I couldn't resist, I took it one step further and added a few body parts to the fireplace.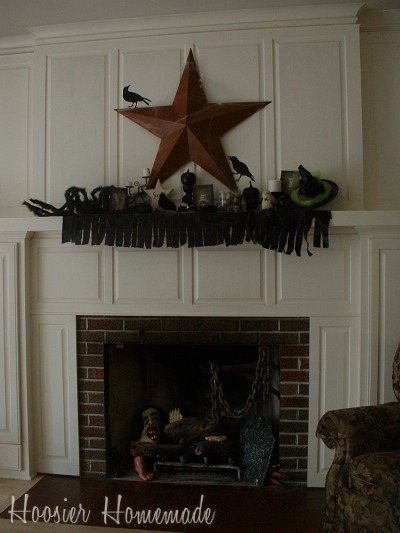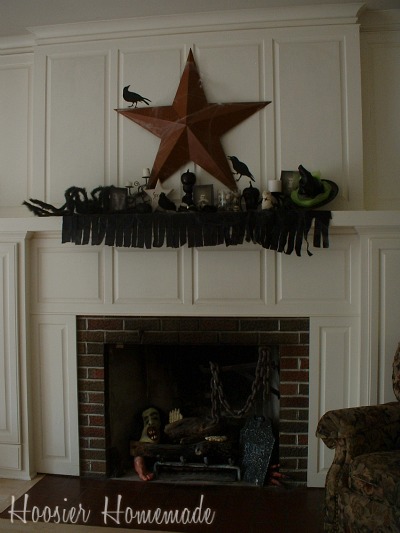 Is it creepy enough? Do you decorate for Halloween? Share your ideas with us!
I'm linking to the Blog Parties in my footer, please visit them! You might just find one or two that are new to you!