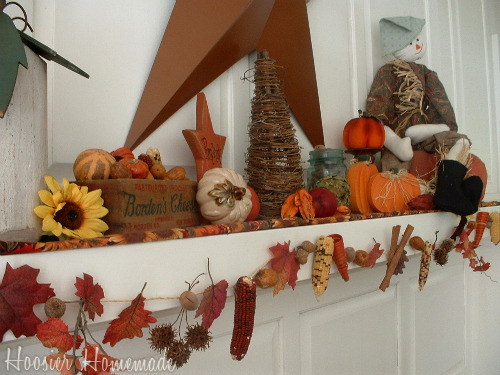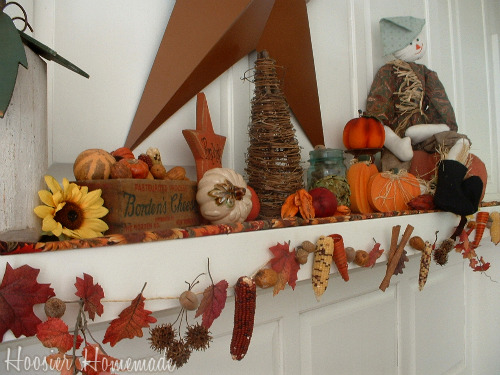 Earlier this week, I shared our Fall Mantle with you. As promised, I wanted to show you how to create your own Fall Garland.
Several months ago, I started noticing Garlands popping up all over Blogland. For St. Patrick's Day, I made a fun Shamrock Garland and then for our Summer Mantle, I created a Pinwheel Garland. They are actually very easy, and really fun. I have a couple more for Fall planned and will share them next week with you.
If you have been around here, you probably know that my most favorite thing to do while decorating, is to shop my house. And creating this Garland and Mantle, was no different. I keep all of my holiday decorations in plastic totes. It's always such fun to start decorating for a new season or holiday, open the box and find a treasure that I had forgot I had.
Last year, I made some small wreaths with acorns that I had picked up off the ground, and was so excited to find a huge plastic bag full of acorns that I never used. I also had some potpourri that my very good friend, Ann Marie, from Nashville, gave me while visiting them last February during Blissdom. I  had some leaf garlands, levitra brand.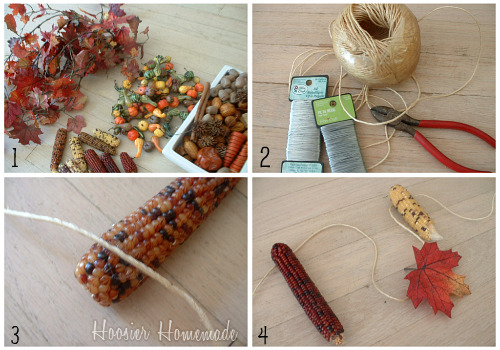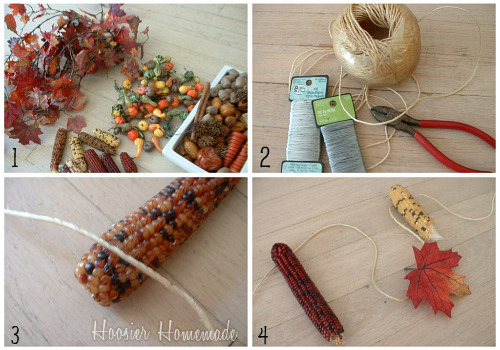 Supplies: Silk leaves or garland, Indian Corn, potpourri, acorns, nuts, gum balls, etc
Twine, wire, wire clippers and hot glue gun (not pictured)
I started by adding the Indian Corn with the glue gun, I just placed them randomly on the twine. I added glue to the corn, laid in down and placed the twine in the glue and held it for a couple seconds. NOTE: During some of these steps you have to kind of work backwards, so that the glue doesn't stick to the work surface (the floor in my case)
After the corn is added, glue on the next largest item you have, randomly, leaves or gourds, whatever you have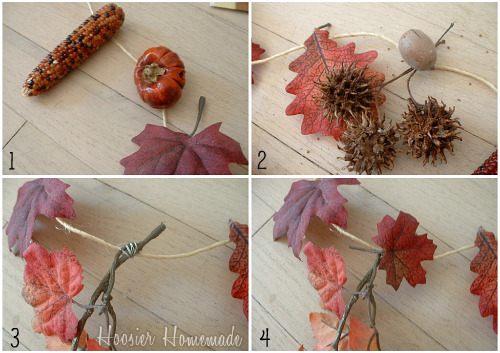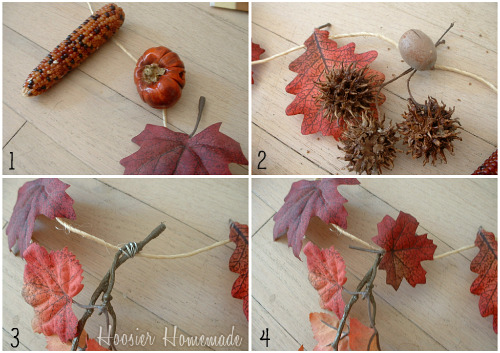 I added some dried pumpkins that were in the potpourri
Then I started adding in the smaller items, I wired these gum balls together and then onto the twine. I glued an acorn over the wire to hide it
Taking a small bunch of leaves from the garland, I wired them onto the twine
And covered the wire with another leaf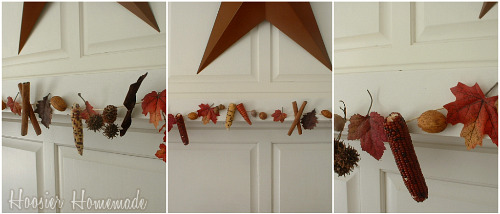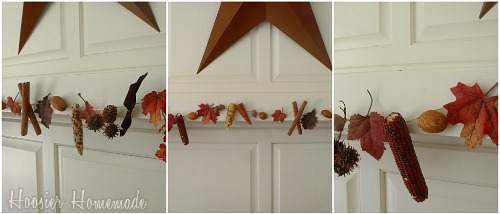 I added in a few more acorns, nuts and small pieces from the potpourri.
Because the Garland was a little heavier than most of the others that I've hung, I added a very small nail into the top of the Mantle (shhh…don't tell my hubby) and then wrapped the twine around it and knotted it a few times. Then I used regular scotch tape and taped the twine to the front of the Mantle, to hold it up.
What is your favorite decorating tip or trick? Share with us!
Linking to…Fall Nesting Party, Home Decor & Organizing