Weekly Menu Plan ~ Deli-Style Pasta Salad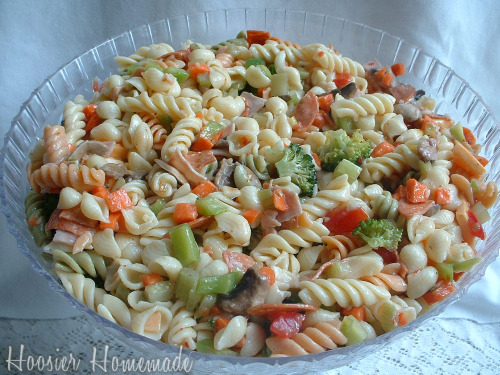 Welcome to another great week of menu planning! We celebrated my oldest son, Andrew's, graduation yesterday, and one of the dishes I served was this Deli-Style Pasta Salad. Even though it's a Pasta Salad, it's actually hearty enough to serve as a meal…great on those hot summer nights!
First, before I get to the recipe, I have some really exciting news! My new blog launches today (Monday)! It's A Blog Party is all about celebrating Blogland. I will be hosting a different linky every day of the week. Come on over and check it out! And get ready to Party!
Lots of exciting things happening this week! Are you ready for the biggest giveaway bash of the summer? Dads Rock Giveaway Bash is this Thursday! Giveaways every hour on 14 blogs! Wow! We have some AWESOME goodies up for grabs too! Flip ShareHD, Hanes, Otterbox, Easy Lunchboxes, Salsa, and much, MUCH more!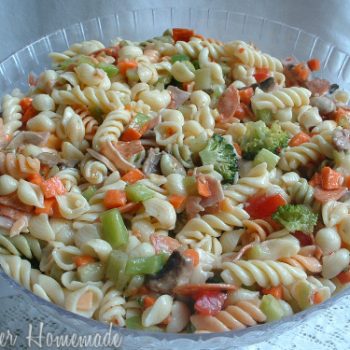 Deli-Style Pasta Salad
A quick and easy Deli-Style Pasta Salad from HoosierHomemade.com.
Ingredients
1 box of tri-colored rotini pasta
1/2 box small shells or other pasta you like
1 small head of broccoli, cut into small pieces
2 tomatoes
1/2 large green pepper, chopped small
8-10 mushrooms, sliced thinly
1/2 block chunk Mild Cheddar Cheese, cut into bite size pieces
1/2 block chunk Colby/Monterey blend, cut into bite size pieces
25-30 pieces of pepperoni, cut into quarters
4 slices of deli ham, cut into bite size pieces
3 stalks of celery, chopped
3 carrots, chopped
2 bottles Italian dressing (I didn't use all of the second bottle)
Instructions
Cook pasta according to directions on the box.
Drain and rinse in cold water.
Chop all meat and veggies, place in large bowl.
Combine with pasta.
Add dressing, and chill overnight.
Add more dressing if pasta gets dry.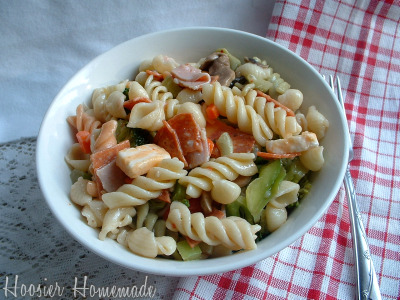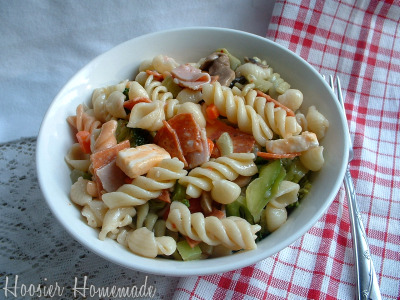 Here is what we will be eating the rest of the week…
Monday ~ Graduation Party Leftovers
Tuesday ~ Sandwiches & Deli-Style Pasta Salad
Wednesday ~ Strawberry & Cream Cheese Stuffed French Toast, Fruit Smoothies
Thursday ~ Crockpot Chicken, Mashed Potato Casserole
Friday ~ Quesadillas, Cheesy Chili Dip
Saturday ~ Homemade Pizza and Slushies
Sunday ~ Honey Lime Grilled Chicken, Seasoned Rice
Don't forget to check out It's A Blog Party and let me know what you think!
And be sure to stop back tomorrow for Cupcake Tuesday!
My new Facebook page is done! I'd love for you to "fan" me!
I'm linking to the Blog Parties in my footer, please visit them! You might just find one or two that are new to you!