Make-Ahead Meals ~ Cooking Day
Welcome! If you are visiting from Pinterest, thank you for stopping by! You can find these Make Ahead Recipes and many more on our new blog, Pocket Change Gourmet. 
Click HERE for Make Ahead Meals >>> Make Ahead Meals
I have cooked many, many meals over the years, but I will have to admit, I have never cooked our meals ahead for a whole week.
It all started when Jane over at Make-Ahead Meals for Busy Moms and I were chatting by email and she asked if I would like to review her new cookbook. Absolutely! I love cookbooks! And recipes that make my life easier! Definately!
Then I had an idea to create a Menu Plan for a week, share a grocery list and the recipes. And have a special Cooking Day.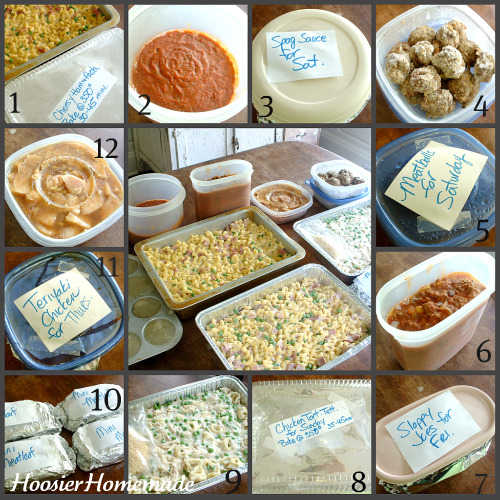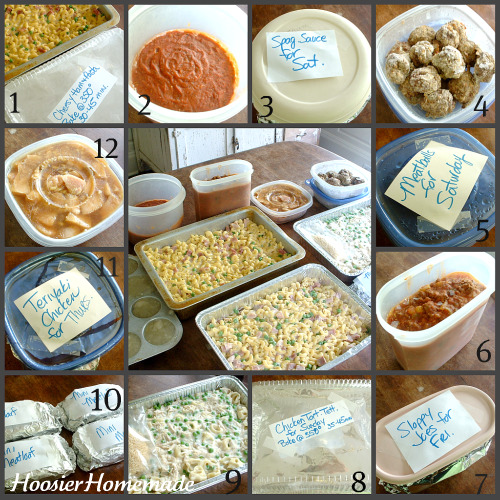 Here is what I cooked…all the recipes are over on the Budget Friendly Meals page.
Cheesy Pasta, Ham and Peas
Spaghetti Sauce
Wrapped and ready for the freezer
Meatballs for the Spaghetti Sauce
Wrapped and ready for the freezer
Sloppy Joes
Wrapped and ready for the freezer
Chicken Tortellini Tetrazzini wrapped
Chicken Tortellini Tetrazzini
Mini Meatloaves wrapped and ready for freezer
Teriyaki Chicken wrapped for freezer
Teriyaki Chicken
I also baked the Make-Ahead Coffee Cake from the cookbook and we loved it.
All in all in went really well. There were a few things I will do differently next time and some I will keep.
I need to have the whole day to prepare and cook, with no interruptions (running children to practice, baking cupcakes, etc)
I will schedule a prep day for cutting veggies etc
Make my cooking plan a little clearer, making sure that I have all the meat and veggies being cut at the same time
Print recipes instead of working from the cookbook, it might be easier to not be flipping the page all the time
Use Jane's Cookbook again! We are lovin' her recipes!
Disclosure: I received the Make-Ahead Meals for Busy Moms cookbook to review. My opinion of the recipes are my own.
I didn't prepare the Macaroni and Cheese. After talking with Jane, I decided it wasn't a dish that should be frozen. I also did not get the Mashed Potato Casserole done, but will put it together the night before we have it.
The Cheesy Ham, Pasta and Peas made a ton, I had enough for 2 meals, so we had one for dinner tonight and I froze the other one. I also made the Chicken Chimichangas on Monday, but we had them for dinner, and they were so good, there were none leftover for a picture.
You may also see in the picture below, the muffin tins, they have chicken broth in them. I boiled a chicken for Chicken N' Noodles a few days ago and kept the broth to use in the Chicken Tortellini, then froze the rest in muffin tins. When they are completely frozen, I will pop them out and put them in a freezer bag.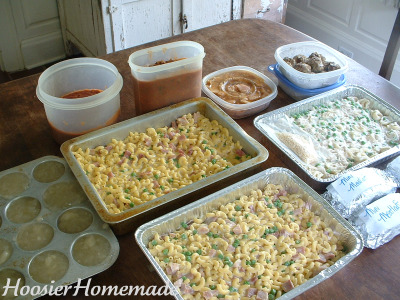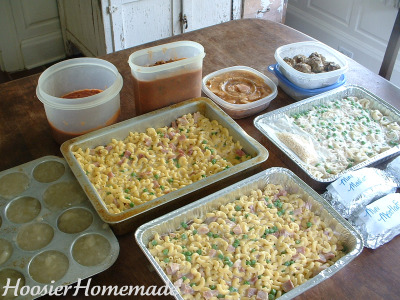 I'm linking to the Blog Parties in my footer, please visit them! You might just find one or two that are new to you!