Food for the Fourth ~ Sides
Welcome to Day 3 of my Food for the Fourth series! I started the week off with a few ideas for Main Dishes, then added some Salads. Today, I'm sharing some AMAZING recipes for Sides! I'm not a huge Main Dish lover, but give me a few great Sides and Salads and I'm happy!
This is my first attempt at this Roasted Corn Salsa, I think it will quickly become a favorite around here! It's yummy!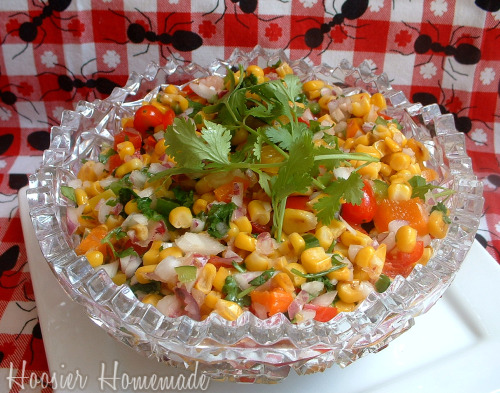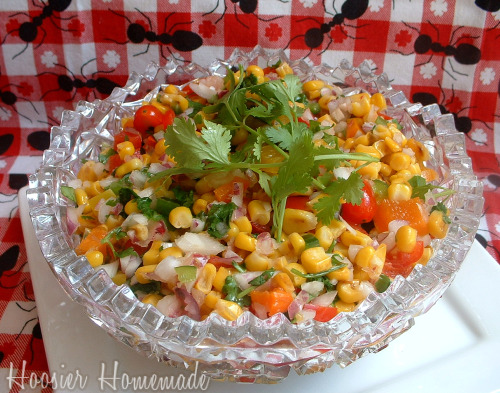 Roasted Corn Salsa Recipe:
2 cups frozen corn or roasted corn on the grill (Brandy linked up this great Grilled Corn to Delicious Dishes linky party over at Blog Party)
1 large tomato, diced
1 red onion, finely diced
1/2 cup (total) Red, Orange and Yellow Bell Peppers (you can use any bell peppers you have, I happen to have these left over from the Chicken Kabobs)
1-2 jalapeno peppers, seeds removed, finely diced
3 tablespoons Lime Juice
1 tablespoon Oil
1/2 cup fresh Cilantro, chopped
1/2 teaspoon salt
Directions:
Spray skillet with non-stick cooking spray, cook corn until brown. While corn is cooking, chop remaining ingredients. Add corn and stir well, place in fridge to chill.
(this recipe is adapted from The Katie Chronicles)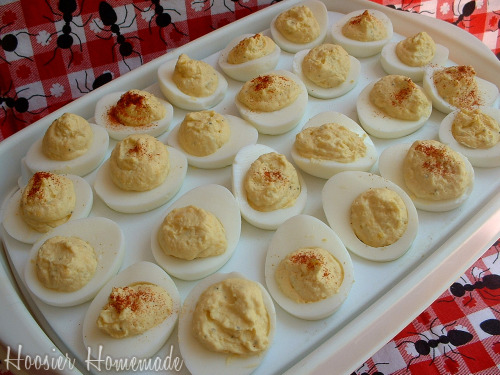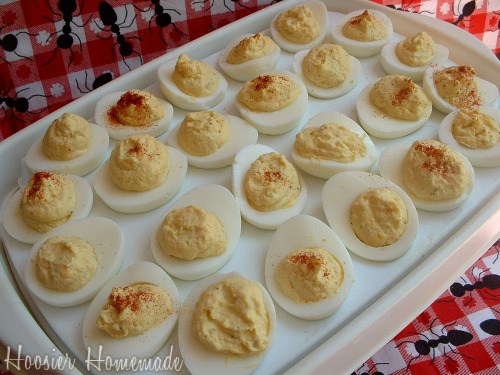 Deviled Eggs are a big hit at our house. I usually have to make at least a dozen eggs, and they are gone in one meal.
Deviled Eggs Recipe: (kind of)
Hard boiled eggs (to get a perfect hard boiled egg, cover eggs with cold water and bring to boil, cover and turn off heat, let set for 15 minutes, drain water and transfer eggs to ice water for at least 10 minutes)
Mayo or Miracle Whip, about 1/2 cup
1-2 teaspoons Mustard
a sprinkle of salt or House Seasoning
a sprinkle of Greek Seasoning
a sprinkle of Celery Seed
Directions:
Mash egg yolks, add other ingredients, combine well. Fill eggs or place in bag and pipe filling in.
The container that I have my eggs in is from Pampered Chef, it's called a Rectangular Chillzane, and the egg holder is an insert that has water inside, you put it in the freezer, then it keeps your eggs cold if you are at a picnic or eating outside. It also comes with a divider for veggies and dip or fruit, and a lid.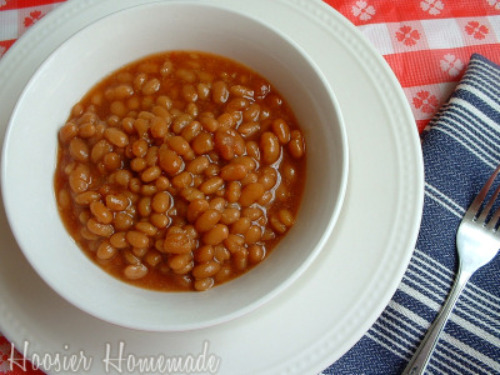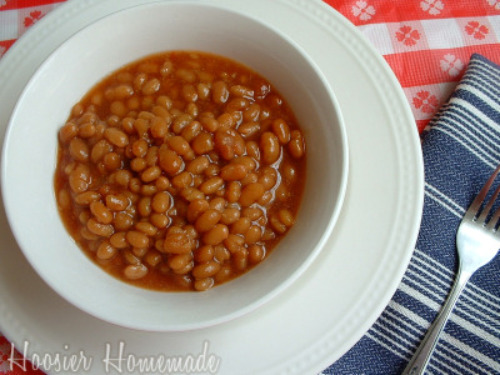 Last month we had a Baked Bean Showdown over at Once a Months Mom's blog, we loved Tricia Baked Bean Recipe. These will definately be on the menu for the Fourth!
Do you have a favorite Side Dish that you love to serve? Share it with us!
Do you need some Fourth of July Inspiration? Check out my Fourth of July Mantle and then head on over to the Fourth of July Party over at It's A Blog Party!
I'm linking to the Blog Parties in my footer, please visit them! You might just find one or two that are new to you!