Make Ahead Meals for a Week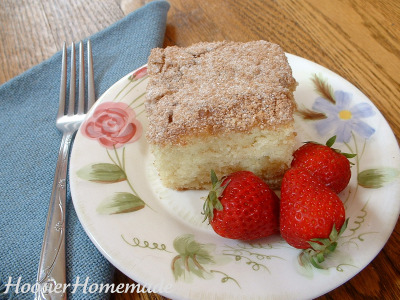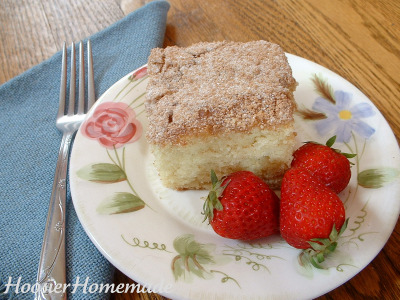 Welcome to another great week of meal planning. I'm changing the plan a little this week. When I posted my April Menu Plan, I had planned on sharing Make Ahead Meals for this week, but after thinking it through, I thought it would be fun to let my readers cook along with me. I love the concept of getting lots of meals ready ahead, but quite honestly, my family doesn't like meals from the freezer all that well, and I usually don't have money in the budget to buy groceries for a whole month. Although I do menu plan for the whole month, just because it's much easier to get the entire month done at one time. It also makes it easy for times like this, when I need to switch the meal plan around.
So, here's the plan…today I'm posting the meal plan and grocery list. Sometime during the week, you can buy your groceries, then on Saturday evening, I will post the Meal Prep Day plan for Monday. Then on Monday, you can follow along with me right here and on Twitter, as we prepare and cook a whole weeks worth of meals.
Why am I preparing and cooking these make ahead meals? First of all, my schedule has really gotten crazy with running to baseball and track practice, and games, Doug is working lots more right now, which also limits his time to help with running, and my yard is screaming for attention too.
And second, Jane from the wildly popular blog, Make-Ahead Meals for Busy Moms, sent me her cookbook, Make-Ahead Meals for Busy Moms, I was just dieing to try some of the meals. And even better! She has one of her cookbooks for one of my lucky readers!
Here is what we will be preparing…
Baked Chicken Chimichangas
Cheesy Pasta, Ham and Peas
Mini Meatloaves and Mashed Potato Casserole
Chicken Tortellini Tetrazzini
Sloppy Joes and Macaroni & Cheese
Teriyaki Chicken
Spaghetti and Meatballs
To shorten up this post, I decided to put the recipes on the Budget Friendly Meal page, head on over there to grab the recipes. I will be posting them throughout the week.
*Update* All the recipes are on the Budget Friendly Meal page now.
Grocery List for Make Ahead Meals: (I included regular ingredients, below are pantry items, spices, milk, eggs, etc.)
Chicken Breast, skinless, boneless – 3 lbs. or 8-10 skinless, boneless Chicken Thighs and 1 1/2 lbs. chicken breast
1 Whole Chicken for roasting
Hamburger or Ground Beef – 5 1/2 lbs.
6-8 Italian Sausages
Ham, cooked – enough for 4 cups cubed
Elbow Macaroni – 6 cups
Tortellini – 20 oz.
Mexican Cheese – 2 cups
American Cheese – 1 1/4 cups
Sharp Cheddar Cheese – 1 1/4 cups
Parmesan Cheese – 1 2/3 cups
Cream Cheese – 8 oz.
Light Cream – 1 cup
Cheeze Whiz Original Cheese Dip – 1/2 cup
French Onion Dip – 1 cup
Salsa, thick & chunky – 1/2 cup
Flour Tortillas – 8 (8 inch)
Celery
Onions
Green Pepper – 2 medium or 1 large
Barbecue Sauce – 1/2 cup
Tomato Sauce – 16 oz.
Tomato Paste – 2 x 12 oz cans
Tomatoes, ground peeled, 2 x 28 oz cans
Chicken Broth – 1 cup
Instant Mashed Potato Flakes – 3 cups
Italian Bread Crumbs – 1 cup
Hamburger Buns
Orange Juice – 1/4 cup
Frozen peas – 3 cups
Other pantry items that you will need…
Oil
Salt
Pepper
Ground Cumin
Cayenne Red Pepper
Dried Oregano
Flour
Garlic cloves
Dried Minced Onion
Ketchup
Eggs
Brown Sugar
Dry Mustard
Worcestershire sauce
Vinegar
Sugar
Crushed Red Pepper Flakes (optional)
Cornstarch
Soy Sauce
Garlic Powder
Ground Ginger
Chicken Bouillon Powder
Butter
Milk
You will need to choose side dishes, if you wish. I will probably serve Mexican Rice, White Rice, and Salad.
I suppose you are wondering about the Coffee Cake photo at the top? The recipe is also in Jane's book, I will share it will you later in the week.
This plan is for next week, here is what we are having this week…
Monday ~  BBQ Meatballs, Salad
Tuesday ~ Fried Egg Sandwiches or Homemade McGriddles, Fruit Smoothies
Wednesday ~  Chicken N' Noodles, Mashed Potatoes, Corn
Thursday ~  Mostacolli, Parmesan Knots, Salad
Friday ~ Chicken Mexican Soup
Saturday ~  Stuffed Baked Potatoes and Chicken Wings
Sunday ~  Grill Out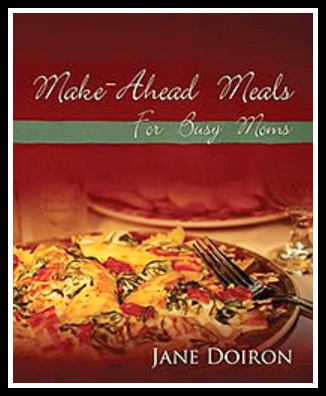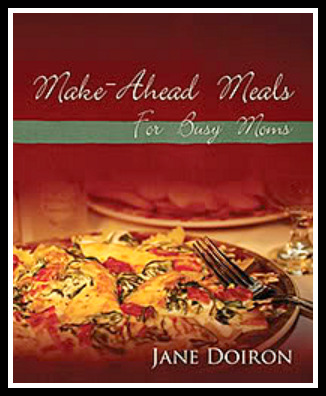 So, how do you get your hands on one of these wonderful cookbooks? You can head over to Amazon or Barnes and Noble and buy one right away. Or you can enter my giveaway and hopefully, win it!
***Giveaway Closed***
Giveaway Guidelines:
Please leave a seperate comment for each entry.
Leave a comment telling me what your favorite Make-Ahead Meal is. 
Become a subscriber of Hoosier Homemade, leave a comment.(5 entries) 
 Become a subscriber of Make-Ahead Meals for Busy Moms, leave a comment. 
Follow me on Twitter, and leave me a comment with your Twitter ID, if you already follow me, just leave me a comment.
Follow Jane on Twitter, leave a comment with your Twitter ID.
Tweet about the giveaway including @HoosierHomemade and @janedoironin in the tweet and a link to the giveaway post. Leave a comment.
Follow Jane on Facebook
Grab the Make-Ahead Meals for Busy Moms and display it on your blog.
The Giveaway will be open until Wednesday, April 21st, 10 p.m. CST, the winner will be notified and have 48 hrs to claim their prize.
And one last entry, just to make it an even 10! Leave a link with your favorite meal post 🙂
Psss…Don't forget to leave your questions for the What's New Cupcake authors, cupcake video series starting soon!
This post linked to:
–Dinnertime Dilemmas hosted by Tatertots & Jello
~Menu Plan Monday hosted by I'm An Organizing Junkie
~Mindful Meals hosted by Chive Talkin'
Disclaimer: I was sent a copy of the Make-Ahead Meals for Busy Moms cookbook. I will write a review on Wednesday, April 21st. The photo of the book cover belongs to Make-Ahead Meals for Busy Moms blog, I edited the photo for my post.