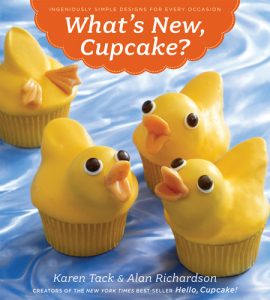 Today is a very exciting day! Today is the launch of Karen and Alan's new book, What's New Cupcake?
I was absolutely thrilled to receive one in the mail a couple weeks ago from Alan! And it was signed too! Once again, they totally outdid themselves! The new book is full of creative ideas, animals, April Fool's Day food, and of course, lots of holiday cupcakes.
If you are not familiar with their first cupcake book, Hello, Cupcake, let me show you a bit…
In February, I shared their Box of Chocolates with you and offered a give-away of their very popular book, Hello Cupcake.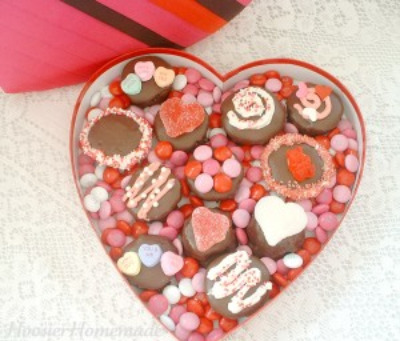 And last week, I shared my Easter Egg Cupcakes that were also inspired by the Hello Cupcake book.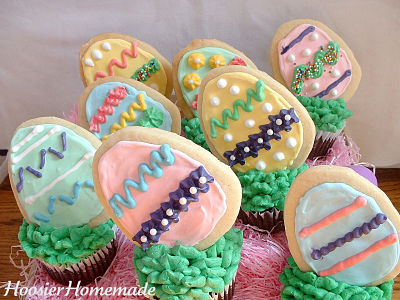 Karen and Alan's work is just amazing. But, even more so, it's easy. Here at Hoosier Homemade, I strive to share with you how homemade doesn't have to be difficult. I love looking at all the beautifully decorated cupcakes and cakes with fondant and gum paste, but honestly, the average Mom and housewife, just isn't able to do that. I know I'm not.
So, I suppose you are wondering? Why is she telling us all this? Well, do I have a SURPRISE for you!
Not only did Alan send me a copy of their new book, they have also agreed to work with me on a video series, bringing you some very creative cupcake decorating!!! They sent an extra book for me to giveaway, stay tuned to win that!
And, today, we are starting a Question and Answer series! So, ask away!
What cupcake question have you been wondering?  Leave it in the comments, I'll pass the questions on to Alan and Karen, then we will have a post with the answers as well as the video series.
One more exciting bit of info…Wilton and Albanese Confectionery Company, are joining me on this little huge adventure!
Fun! Huh?
If you haven't seen their awesome website and blog, take a peek! Today, April 1st. they are taking their cupcakes on the road and will be on the Today Show during the 4th Hour with Kathie Lee and Hoda. Don't miss their fun April Fool's Day Cupcakes!
This post linked to:
~Inspiration Friday hosted by The Inspired Room