This Halloween Party Food is sure to be a hit! Get ready to throw the best party ever with these Halloween Appetizers, Recipes, Snacks, Treats, Cupcakes and more!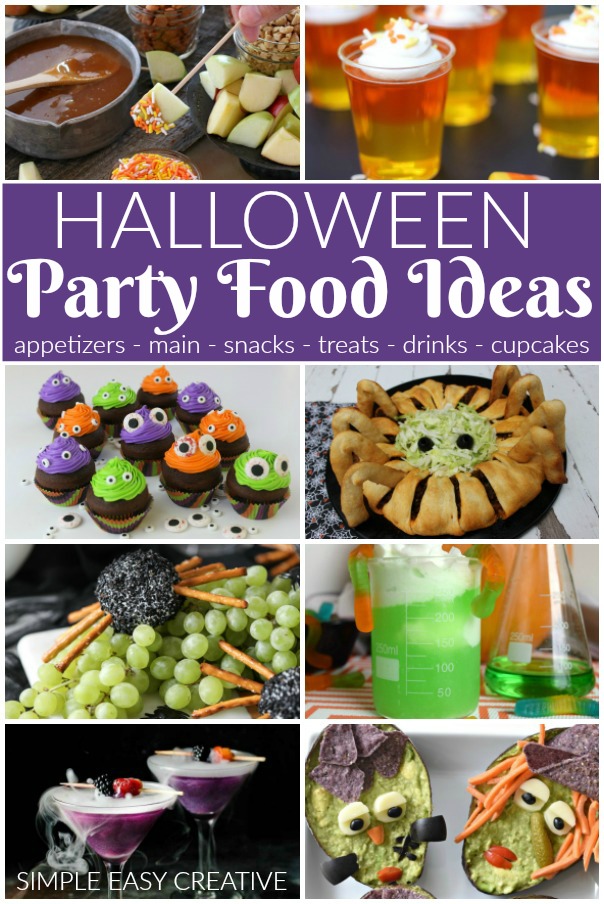 You all probably know by now that we love Halloween at our house. And serving fun Halloween food is something that we look forward to each year.
Whether you need Halloween Appetizers, Halloween Snacks, Dessert or anything in between – we have the perfect recipe for you! We like to serve fun Halloween Party Food, so these recipes won't gross out your guests or your kids.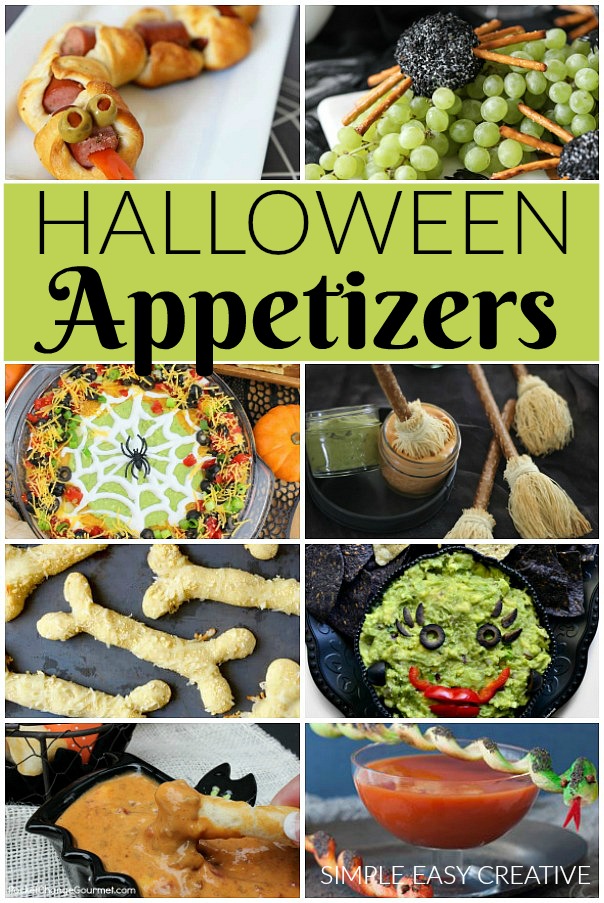 You can serve these Halloween Appetizers before or during your Halloween Party! We have Rattlesnake Bites, Spider Cheeseballs, Spider Web Taco Dip, Pretzel Broomsticks, Cheesy Breadstick Bones, Bride of Frankenstein Dip, Bones with Cheese Dip and Snakes and Soups.
The kids will have loads fun helping you make these fun Halloween Appetizers!
Halloween Appetizers

These Halloween Food Ideas will be the star of the show at your Halloween Party, or serve them for a fun Halloween Dinner for your family! There is a Spider Taco Ring, Day of the Dead Skull Pizzas, Cheesy Candy Corn Quesadillas, Meatball Mummies, Mummy Calzone, Eyeball Pasta Pie and Frankenstein Pasta to choose from.
Halloween Food Ideas
Get in the spooky spirit with this ultimate book for your best Halloween yet! With this collection of over 20 ideas including Easy Halloween Cupcakes, Simple Halloween Recipes for a Family Dinner or Party, Creative Crafts to make with your Kids, Spooky Decorations, and throw the BEST Halloween Party, you can:
Whip up a batch of Monster Eye Cupcakes and have the kids help with decorating them
Create fun Spider Crafts and add them to Candy Corn Buckets for a Non Candy Halloween Treat
Share laughs with your little ones as you make kids' Halloween crafts
Create homemade Halloween decorations to make your home spook-tacular
Celebrate at home with family and friends with the kid-friendly Halloween Dinner Recipes
And so much more! This is your year to be the most festive haunted house on the block, so grab this eBook and start preparing for a bewitching Halloween.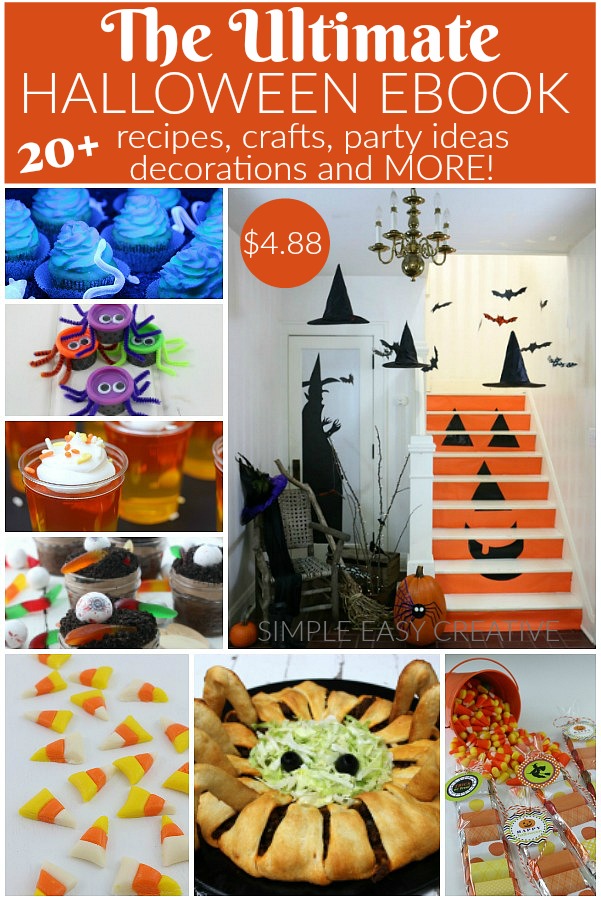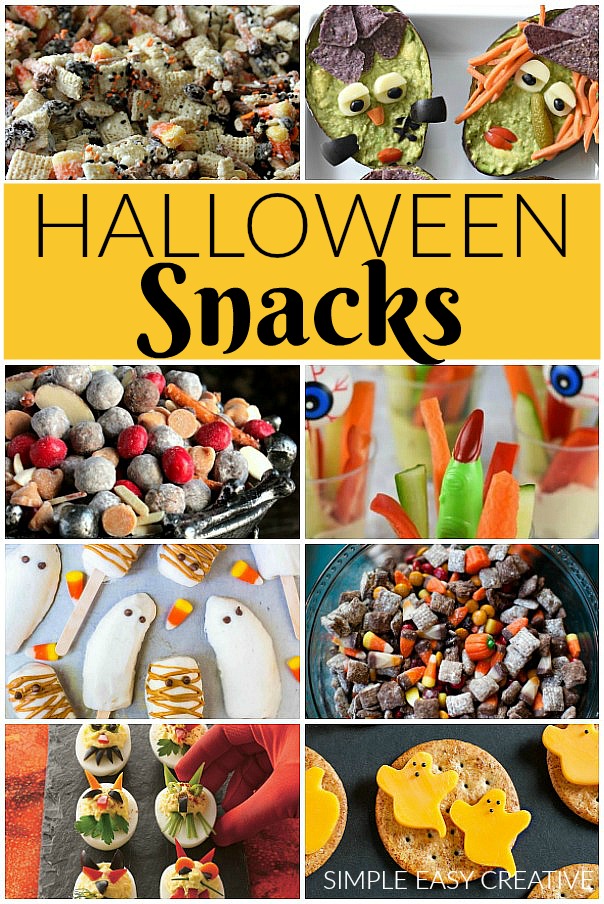 A party wouldn't be a party without snacks and these Halloween Snacks are easy to make and fun to create too! Whip up a batch of Candy Corn Crunch, make fun Guacamonsters, feed the Werewolves, veggies and dip never looked so cute, Banana Popsicles all dressed up, Puppy Chow is always a favorite, let the kids decorate deviled eggs or serve easy cheese and crackers – any of these Halloween Snack Ideas are sure to be a hit!
Halloween Snacks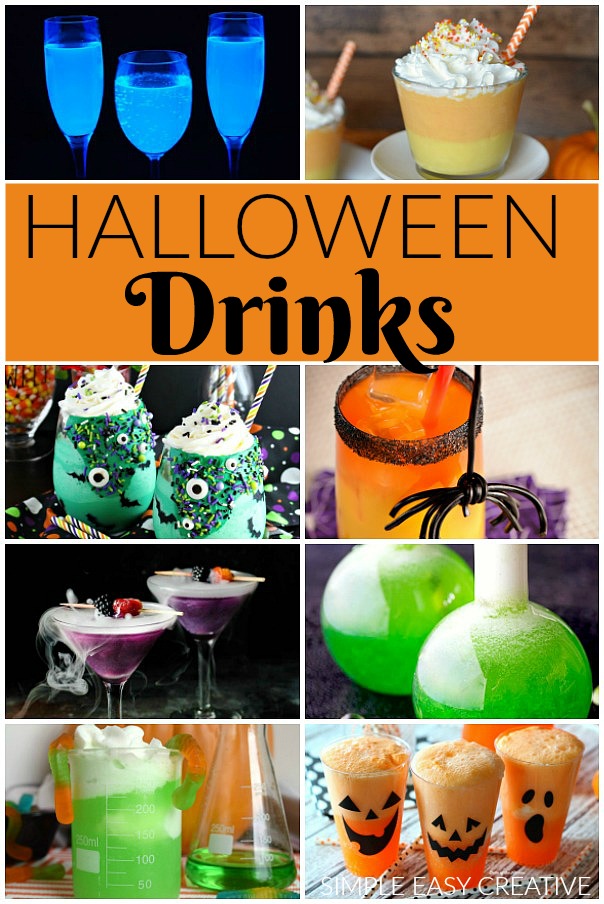 Bubble – bubble – toil and trouble – stir up one of these fun Halloween Drinks for your party!  There are kid-friendly drinks and a few for adults as well!
Halloween Party Drinks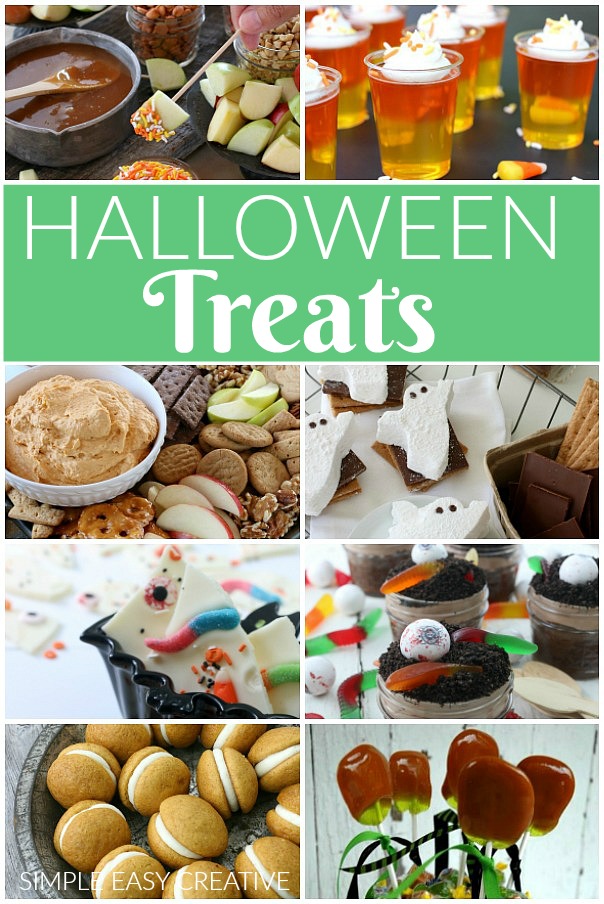 Halloween Treats are my favorite part of the party, and I bet a lot of you agree! Whether you are hosting a Halloween Party or going to one, you can whip up these treats in no time!
Halloween Treats for Party

Well I couldn't let you go without sharing some Halloween Cupcakes, now could I?
Halloween Cupcakes