Easy Monster Eye Cupcakes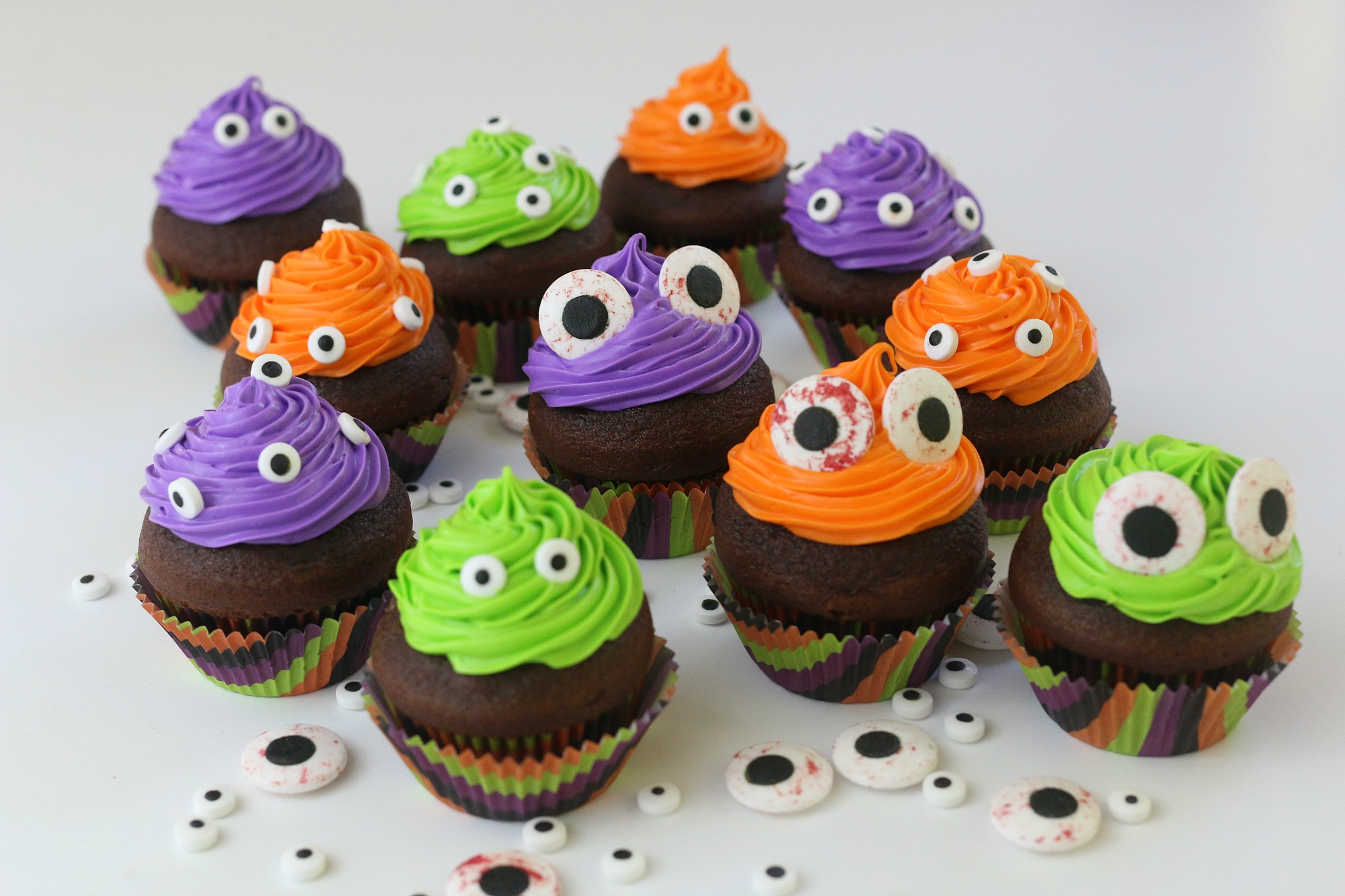 Make these Easy Monster Eye Cupcakes for Halloween parties, after school snacks or just a fun festive dessert! October is here! And with it cute costumes, scary monsters, and brave super heroes!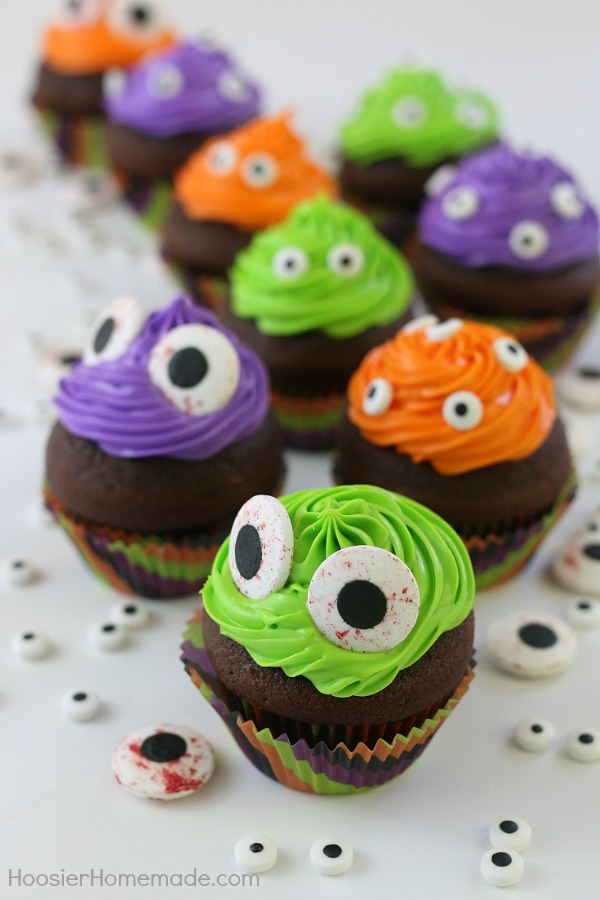 There is nothing better than a dessert that is festive, adorable, and easy! These monster eye cupcakes need only neon food coloring and candy monster eyes to look so good! And I love that that are cute little monsters, not scary ones.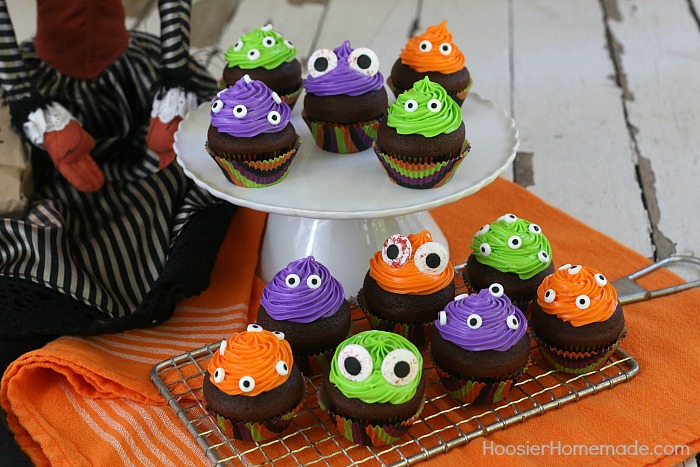 Bake a batch of your favorite cupcakes! You can use a cake mix and add ingredients to make it taste homemade, or these Chocolate Cupcakes are delicious!
For the frosting, we like this Buttercream Frosting Recipe, but you can also use your favorite! Then color it with neon food coloring and pipe it on with a star tip. (Here are my favorite bags and tips!) Once the icing was piped on, I added the monster eyes (mini size and the red vein eyeballs)!
Or let your kids go crazy creating their own little monster cupcakes! They turned out so cute- perfect for a Halloween party, to send to school, or to bring to work!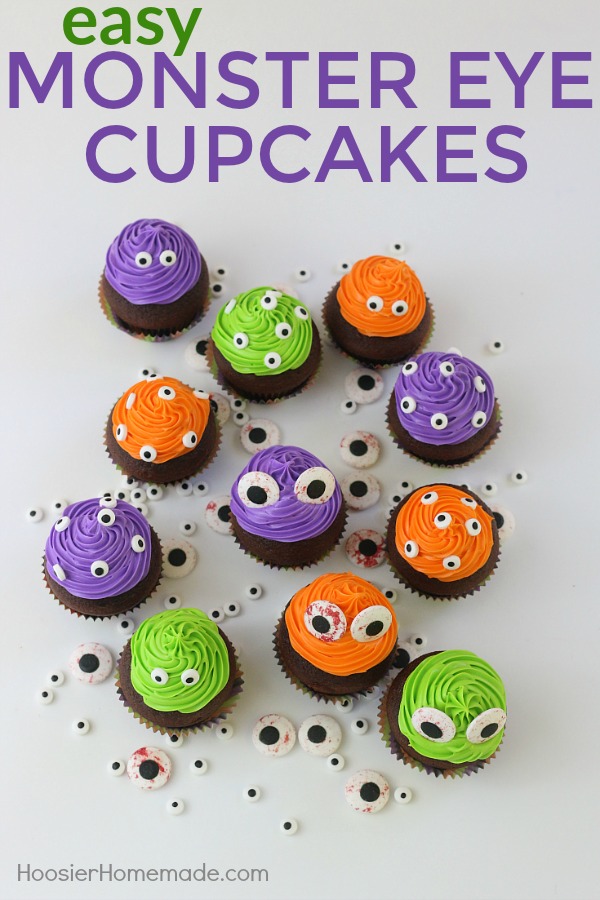 Get in the spooky spirit with this ultimate book for your best Halloween yet! With this collection of over 20 ideas including Easy Halloween Cupcakes, Simple Halloween Recipes for a Family Dinner or Party, Creative Crafts to make with your Kids, Spooky Decorations, and throw the BEST Halloween Party, you can:
Whip up a batch of Monster Eye Cupcakes and have the kids help with decorating them
Create fun Spider Crafts and add them to Candy Corn Buckets for a Non Candy Halloween Treat
Share laughs with your little ones as you make kids' Halloween crafts
Create homemade Halloween decorations to make your home spook-tacular
Celebrate at home with family and friends with the kid-friendly Halloween Dinner Recipes
And so much more! This is your year to be the most festive haunted house on the block, so grab this eBook and start preparing for a bewitching Halloween.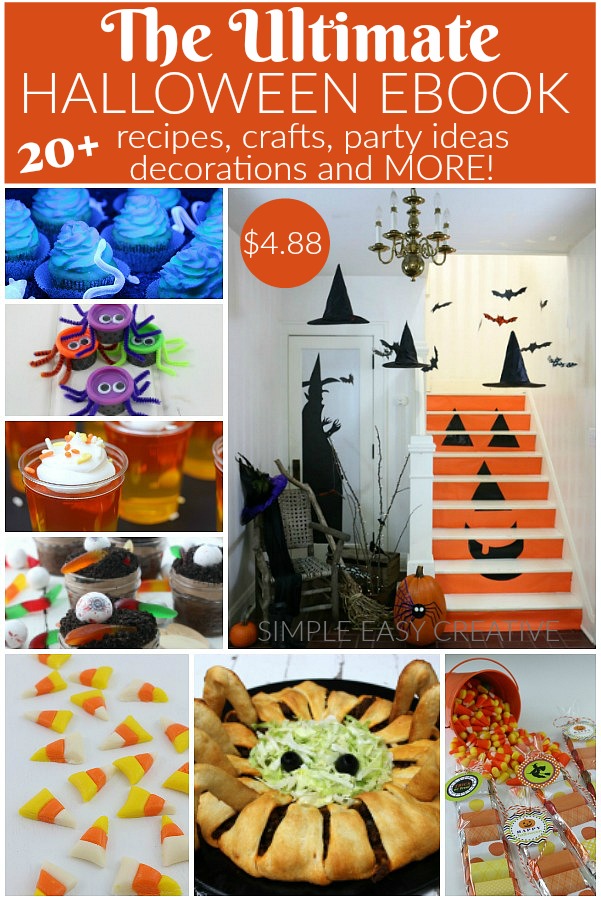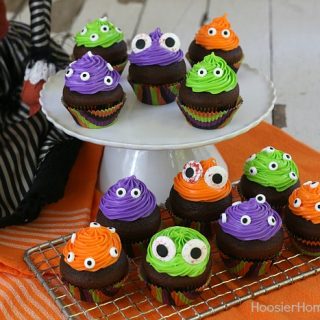 Easy Monster Eye Cupcakes
These quick and easy Halloween Cupcakes are perfect for parties, classroom treats, after-school snack and a simple weeknight dessert.
Ingredients
1 box (17 oz) Cake Mix
1 cup milk
1 stick (1/2 cup) butter, room temperature
3 eggs
Buttercream Frosting (recipe HERE)
Coloring - I used neon shades of lime, purple and orange
Candy Eyes - I used mini and large
Decorator Bags fitted with star tip
Instructions
Preheat oven to 350 degrees and fill cupcake pan with liners
Combine cake mix, butter, milk and eggs until smooth
Divide into cupcake liners
Bake for 10 minutes for mini cupcakes and 15 minutes for standard size cupcakes
Cool completely
Divide frosting into bowls and combine with color until completely mixed
Fill decorator bags with frosting
Pipe on frosting and add candy eyes
Store left overs in refrigerator