It's 9 p.m. Everyone is in bed. You are sitting for a little quiet time. THEN, all of a sudden…down the steps bounds your 8 year old…he forgot that he signed you up to take a Halloween treat for his classroom mates!
Sound familiar? Oh yes…happened to me more than once!
So what's a Mom to do? Run to the pantry and in about 5 minutes, toss together Candy Corn Party Mix!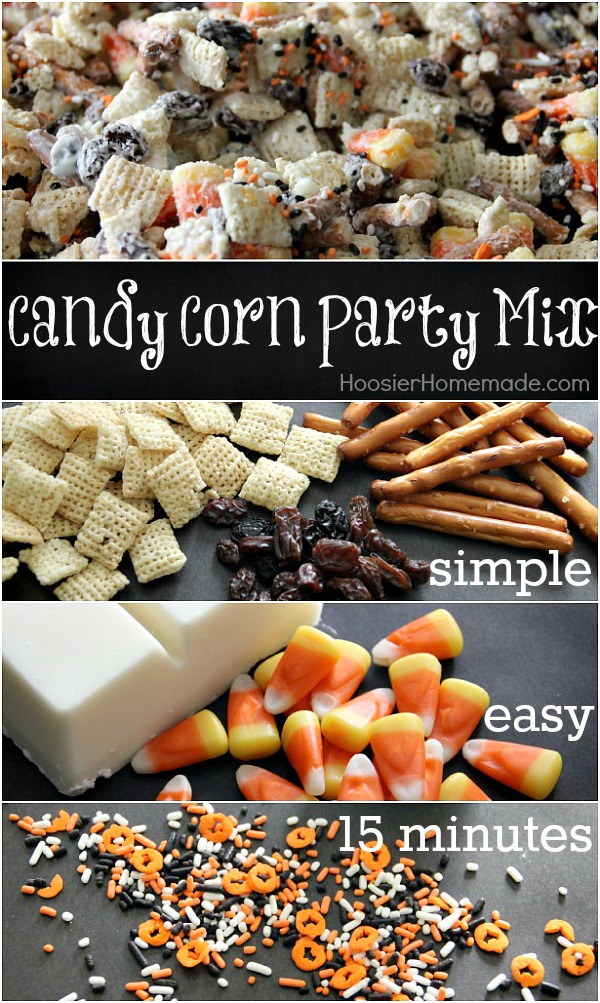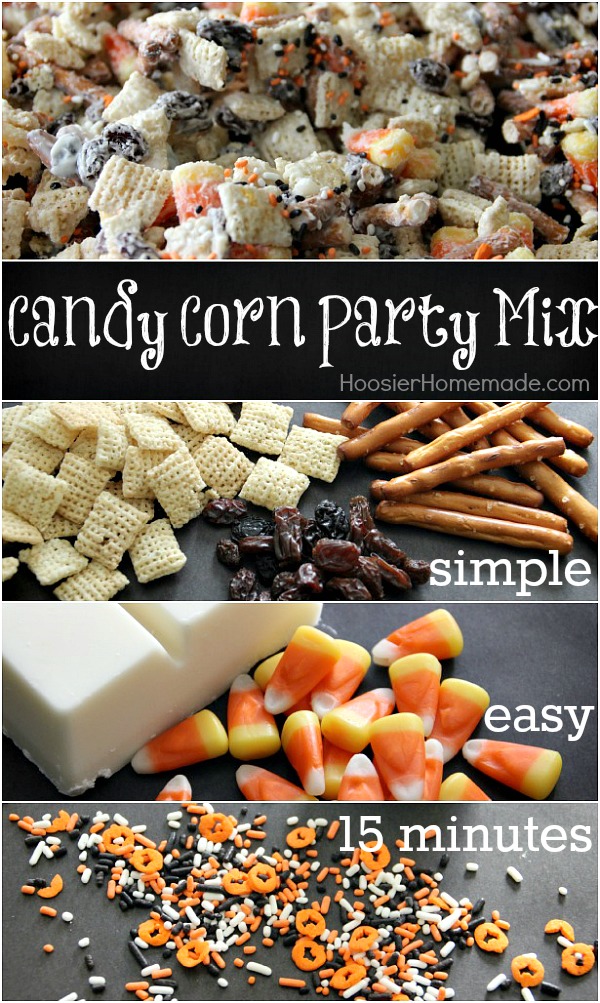 With just a few ingredients, a bowl, spoon and microwave…you can have this Candy Corn Party Mix done in minutes and you can go back to your quiet time. It's perfect to send in for Halloween Classroom Parties, give to neighbors, friends, even family!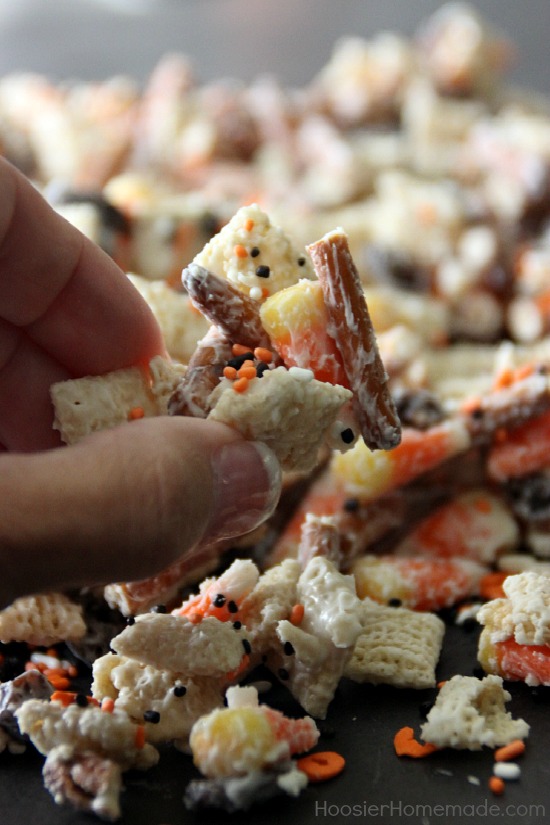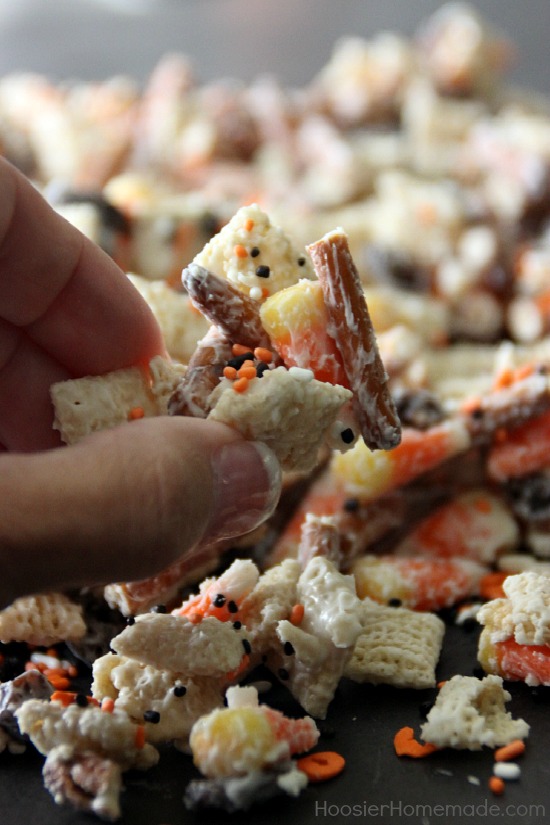 I used Gluten-Free Chex cereal and Gluten-Free Pretzels, making this a great Gluten-Free Treat. There are also raisins, candy corn and fun Halloween sprinkles. And to hold it all together, and because chocolate makes everything better, I melted white chocolate Almond Bark. But you can certainly substitute whatever you have on hand or what your family likes best, using white chocolate is the best though.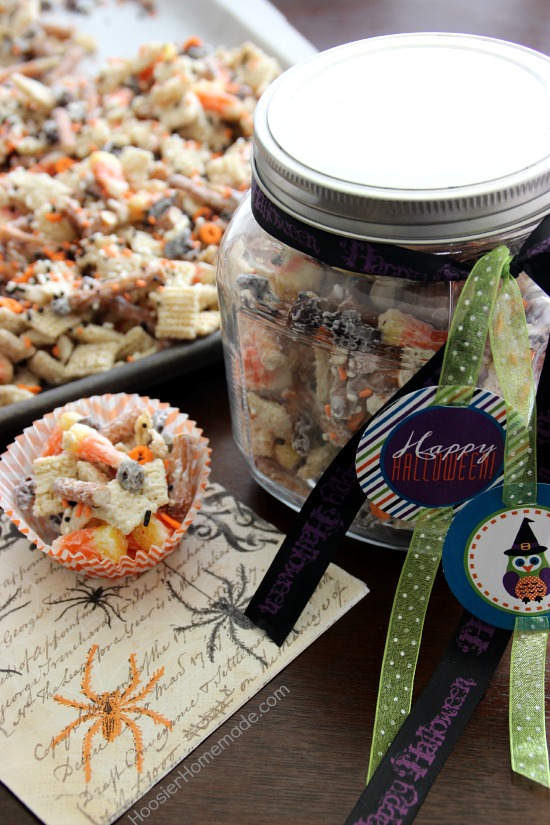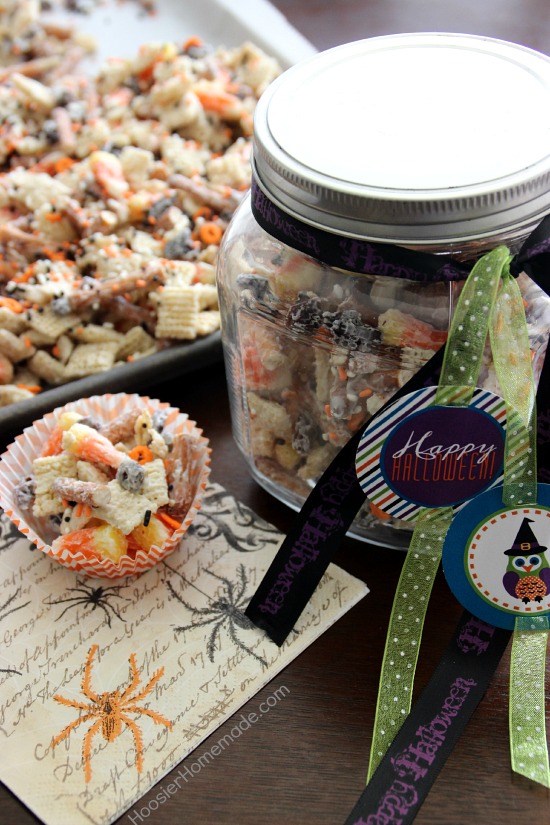 To give the Candy Corn Party Mix for a gift, you can fill cellophane bags with the mix and tie with a ribbon. Or for a little larger gift, add the Candy Corn Party Mix to a jar and tie with a ribbon. You can find the FREE Printables over on the Halloween Printable Page.
This Candy Corn Party Mix and MUCH MORE in our Ultimate Halloween eBook!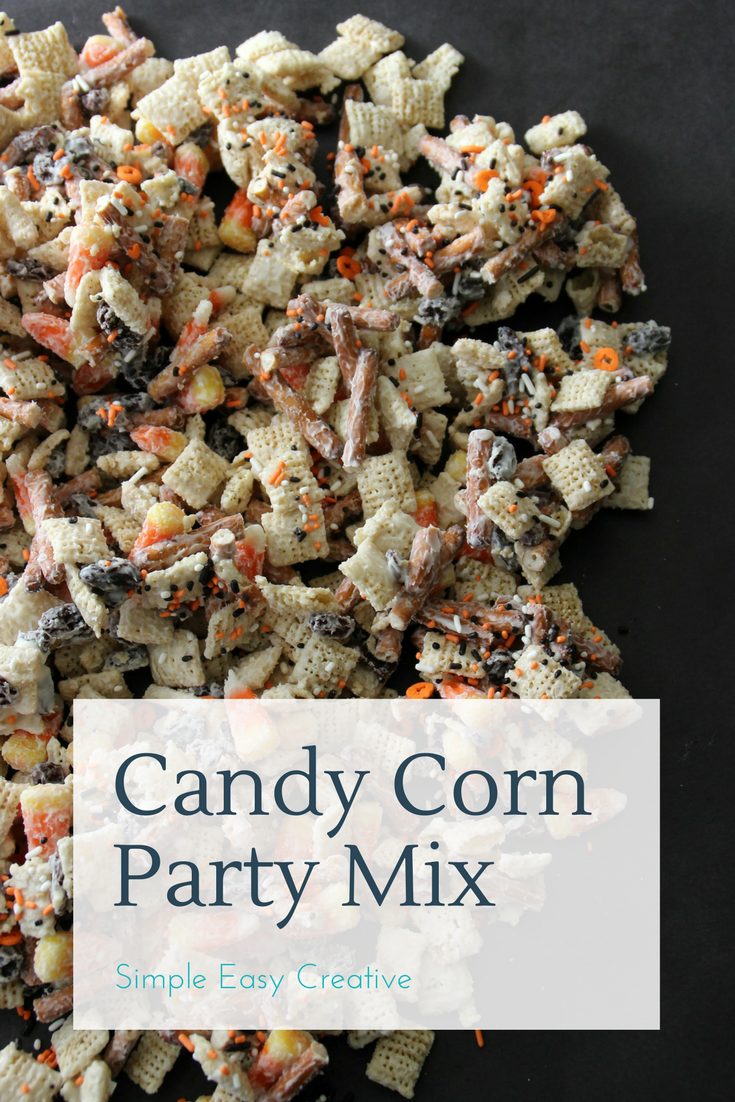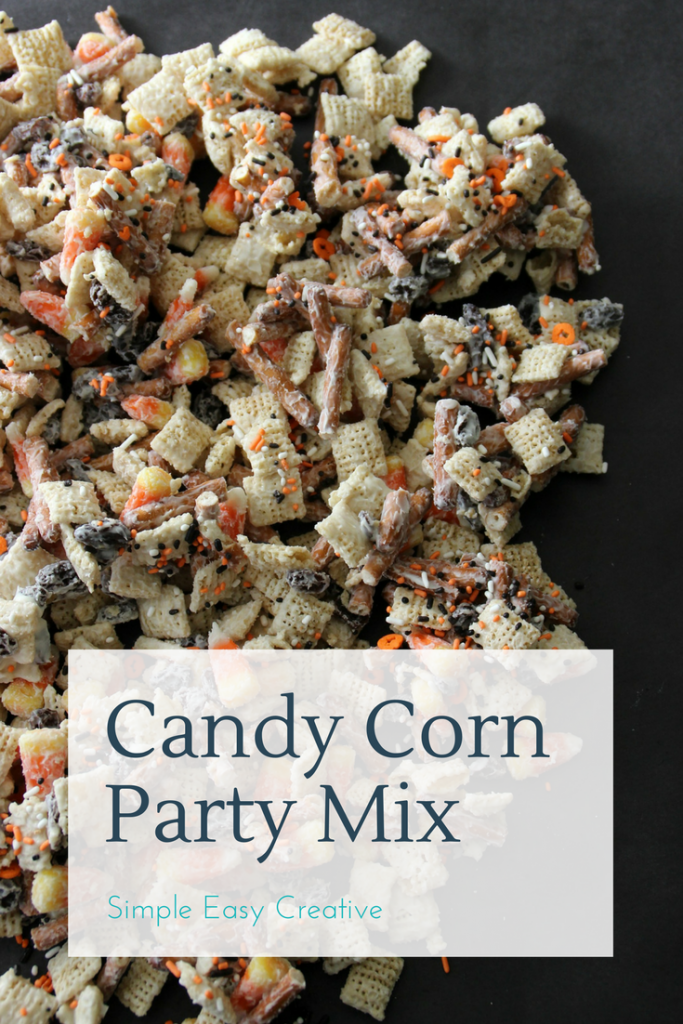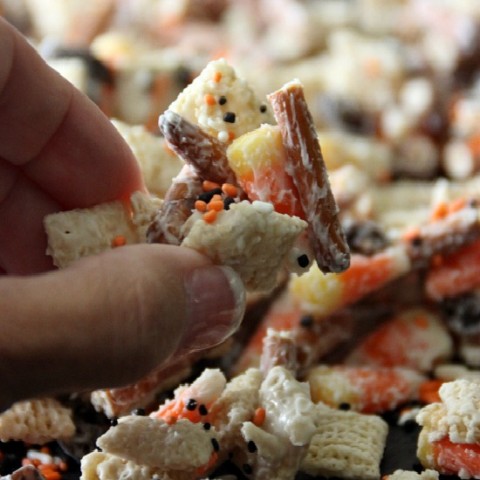 Candy Corn Crunch Halloween Mix
Yield:
about 8 cups or 8 bags filled with 1 cup each
Be the Rock Star Mom who serves up this fun Halloween Mix. Recipe from HoosierHomemade.com
Ingredients
White Almond Bark - you need 1/3 of the bar or 4 squares to equal 8 oz.
4 cups Corn Chex or Rice Chex cereal
2 cups bite-size pretzels - I used Gluten-Free sticks broken in half
1/2 cup raisins
1 cup candy corn
1/4 cup Halloween sprinkles
Instructions
Cover a cookie sheet with wax paper
In a large bowl, toss together the Chex cereal, pretzels and raisins
In a microwave safe bowl, melt the Almond Bark for 1 minute in the microwave. Stir and continue heating for 10-15 seconds at a time, stirring each time until completely smooth
Pour over cereal mixture and toss to coat
Quickly stir in Candy Corn
Spread mixture onto cookie sheet, add sprinkles
Let set about 15 minutes until cooled and chocolate is set
Break apart and place in bags for a gift or enjoy straight from a bowl for a fun family treat
Notes
This Halloween Mix makes a fun classroom treat, neighbor gift or just a yummy family movie night snack.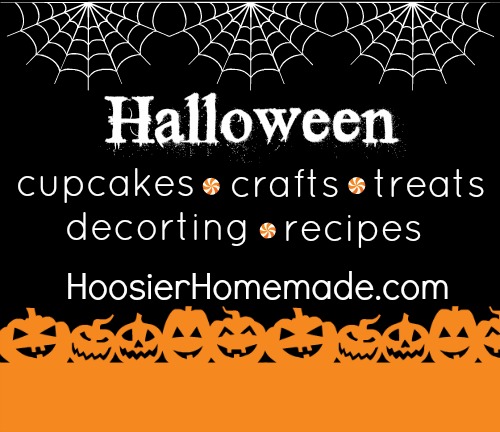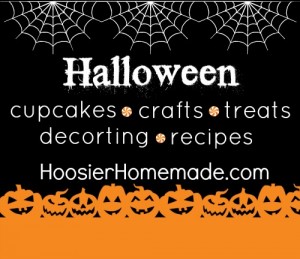 Halloween Crafts, Decorating and Treats on HoosierHomemade.com