Halloween is the perfect time for a little spooky fun! These Halloween Dessert Dirt Cups look amazing on a dessert table and are even more fun to eat. You never know what you'll find inside!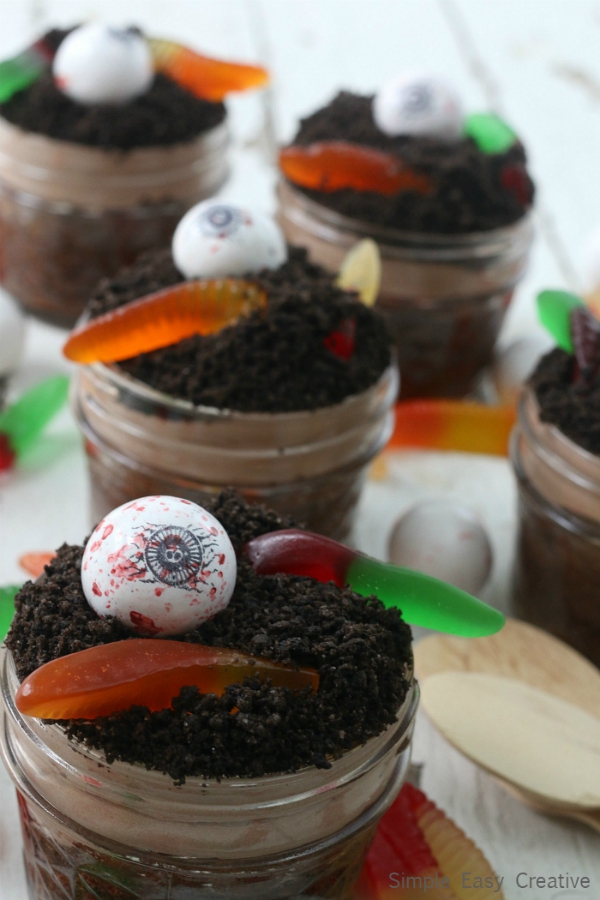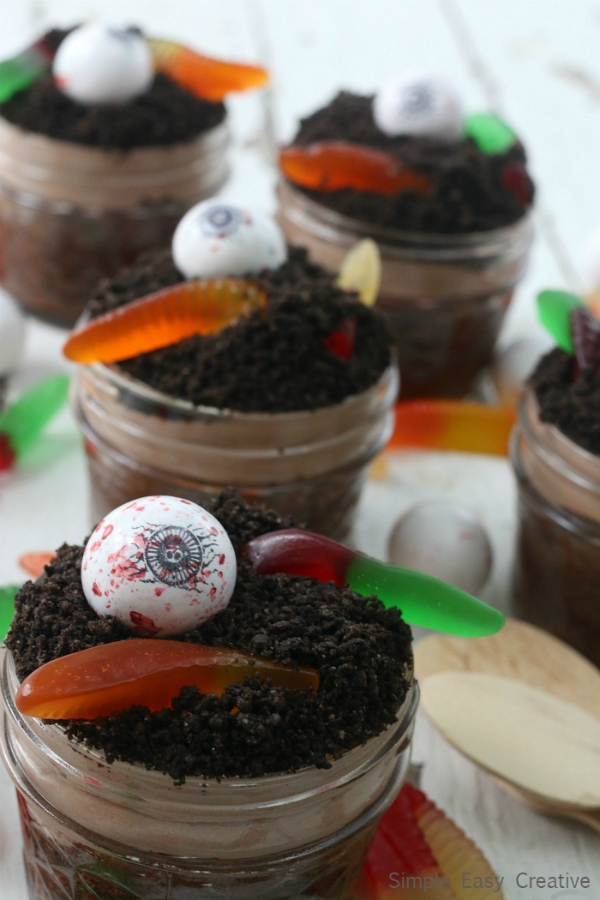 We love Halloween around here- so much that we created a Halloween eBook full of our favorite projects! These Halloween Dessert Dirt Cups are a sneak peek from the book- if you are looking for more fun recipes and DIYs, be sure to check it out!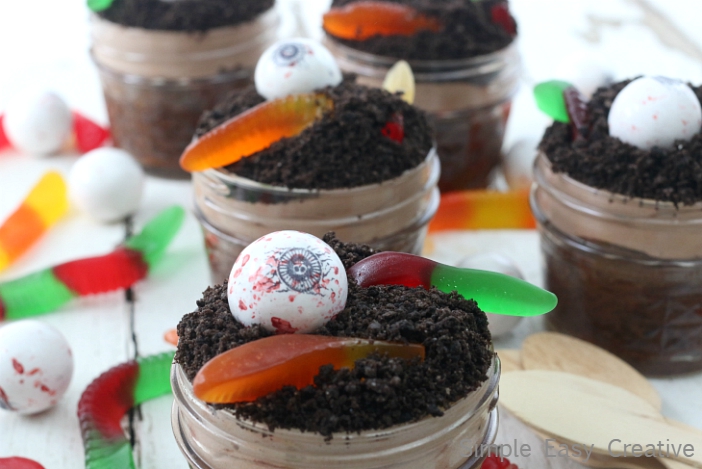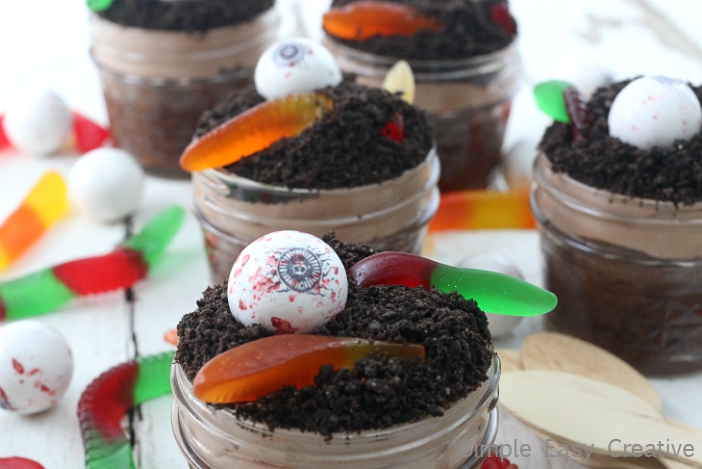 In addition to the ingredients for the dirt cups, you will need –
And of course you can always get creative and add any other creepy candy to your dirt! Or keep it fun for the kids with just worms.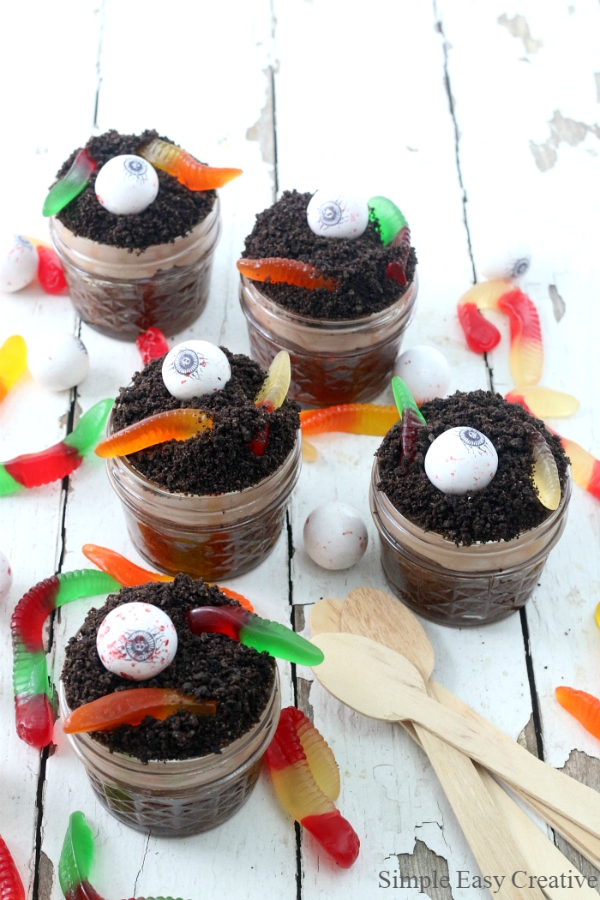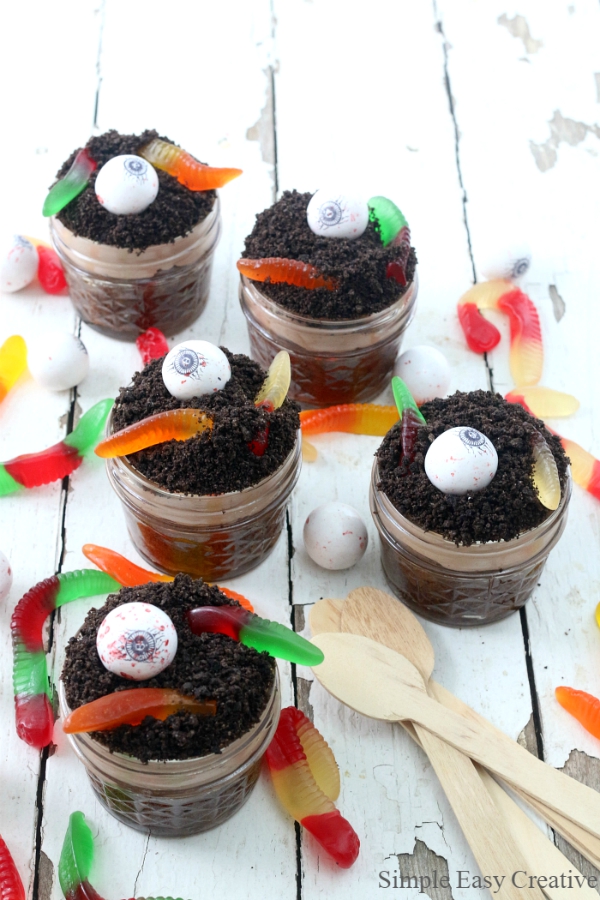 If you are looking for a fun addition to your dessert table or a spooky afternoon snack for your little ones, these Halloween Dessert Dirt Cups are the perfect addition! What would you add to make them more spooky?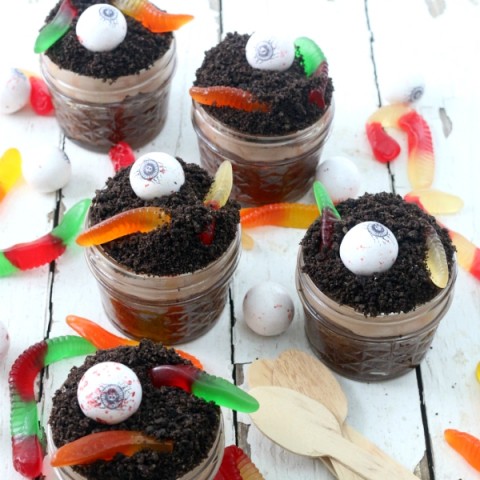 Halloween Dessert Dirt Cups
Fun Halloween treat for parties, or to give as gifts.
Ingredients
1 box Brownie Mix (8x8 pan size)
Ingredients on box (water, oil, eggs)
1 (3.9 oz) small box Instant Chocolate Pudding
2 cups cold milk
1 tub (8 oz) whipped topping, thawed
8-10 OREO cookies, crushed
Decoration - gummy worms and gumball eyeballs
4 oz Mason Jars or other small jar or cup
Instructions
Preheat oven to 350 degrees
Place jars on cookie sheet
Combine brownie mix according to directions on box
Divide brownie mix into jars using a cookie dough scoop - about 2 scoops into each jar (if you are using a 4 oz jar)
Bake at 350 degrees for about 20-30 minutes or until a toothpick inserted in the center comes out clean
Let cool completely
Meanwhile, combine pudding and milk. Place in refrigerator to set, about 5-10 minutes
Combine whipped topping and pudding in a medium bowl
Add pudding mixture to top of brownies
Crush OREO cookies in food processor or resealable bag using a rolling pin
Sprinkle on top of pudding mixture
Add worms and eyeballs, if desired
Store leftovers in fridge