Pumpkin Pull-Apart Cupcakes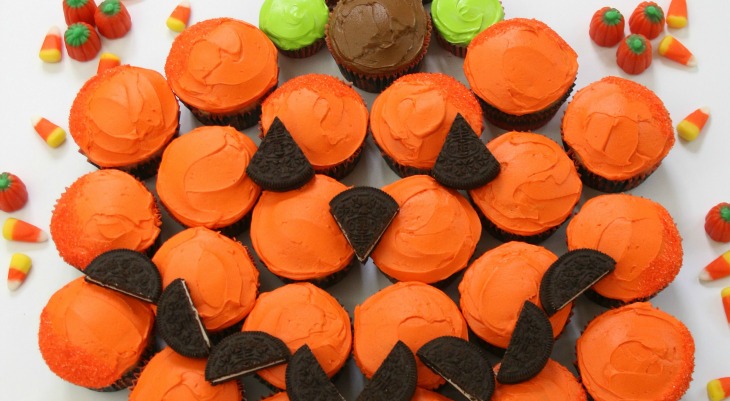 Whether you are looking for easy Halloween party recipes or maybe a treat to take to school, these Pumpkin Pull-Apart Cupcakes are as fun to make as they are to eat.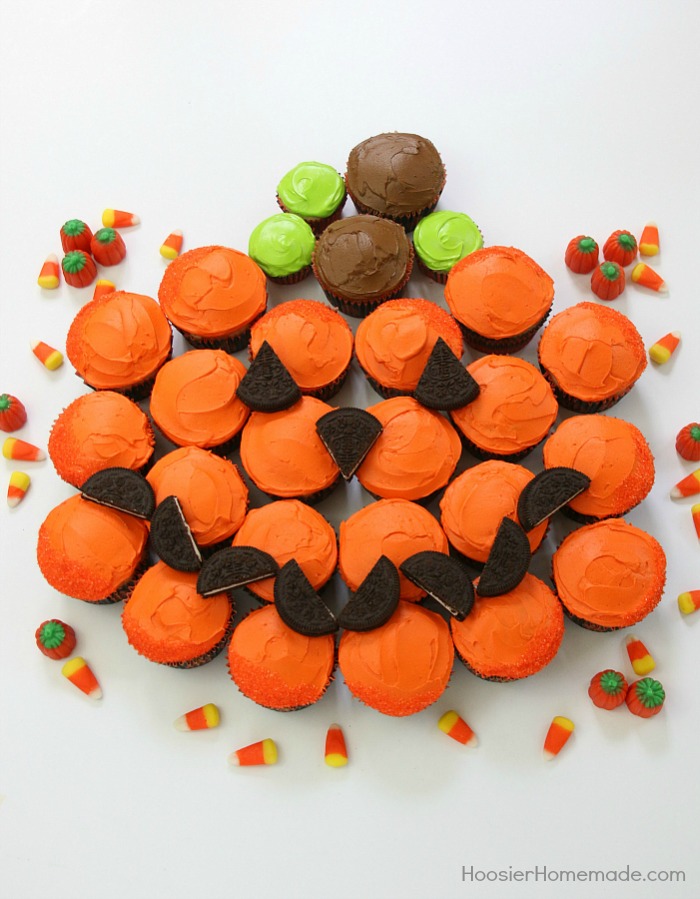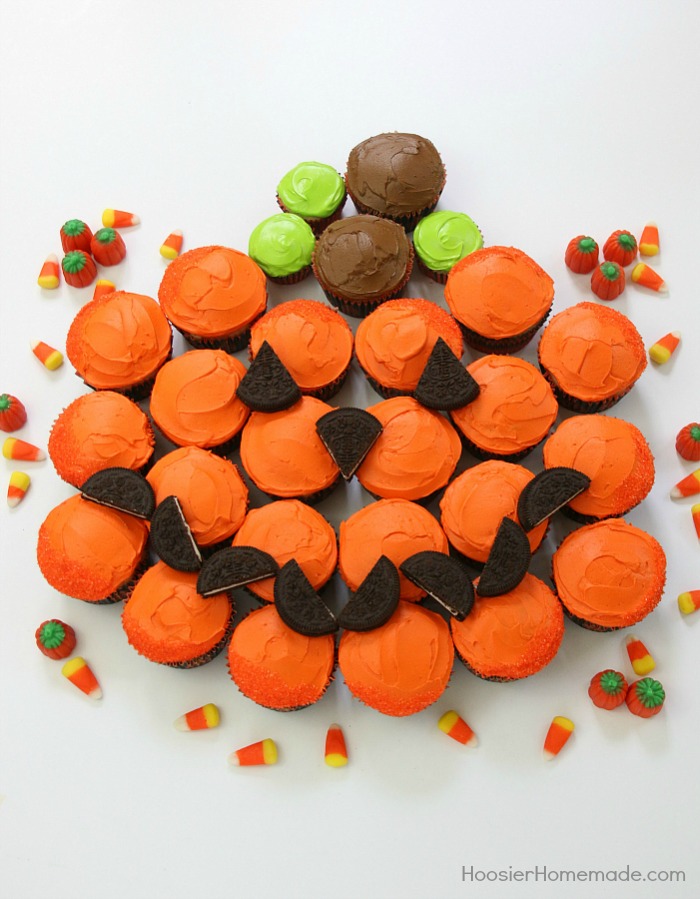 Many years ago, pretty much everyone baked cakes…large, fancy, decorated cakes, and then cupcakes became popular and everyone quickly learned how easy it was to bake and serve them. There were still many people that loved the look of a decorated cake, so Pull Apart Cakes were born.
What is a Pull Apart Cake you ask? Well, simply cupcakes put together to resemble a cake and frosted. There are two version of Pull-Apart Cupcakes – one is with the entire set of cupcakes frosted together to look like a cake and the other is the way I did it, by frosting each cupcake and then placing them tightly together to form whatever shape you want.
I decided to frost the cupcakes separately because I feel like the frosting can get a bit messy with it's in-between each of the cupcakes. This way, they are all together in the Jack O'Lantern shape, but can easily be grabbed and eaten.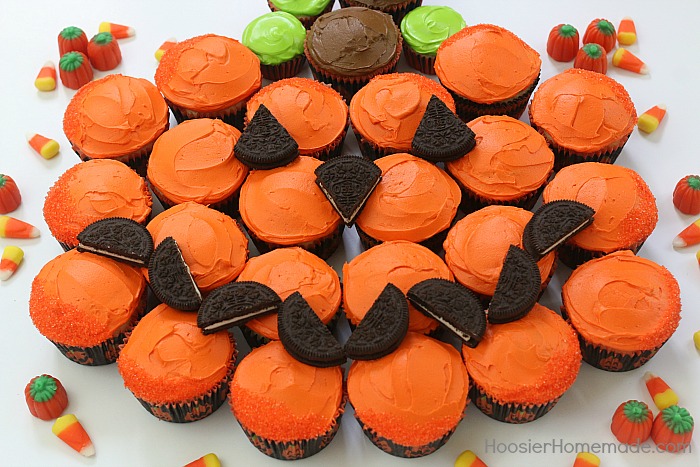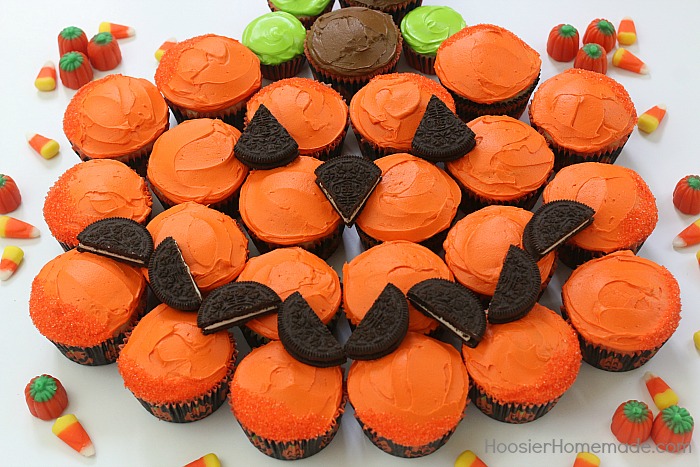 Halloween is a favorite time in our home. For years I have made fun Halloween party snacks to enjoy at home, take to parties, and even classroom holiday parties. I was always the Mom they asked to bring in special treats for every holiday, and honestly, I loved it, and I miss those days. Although I'm reliving it a bit now with my son at college.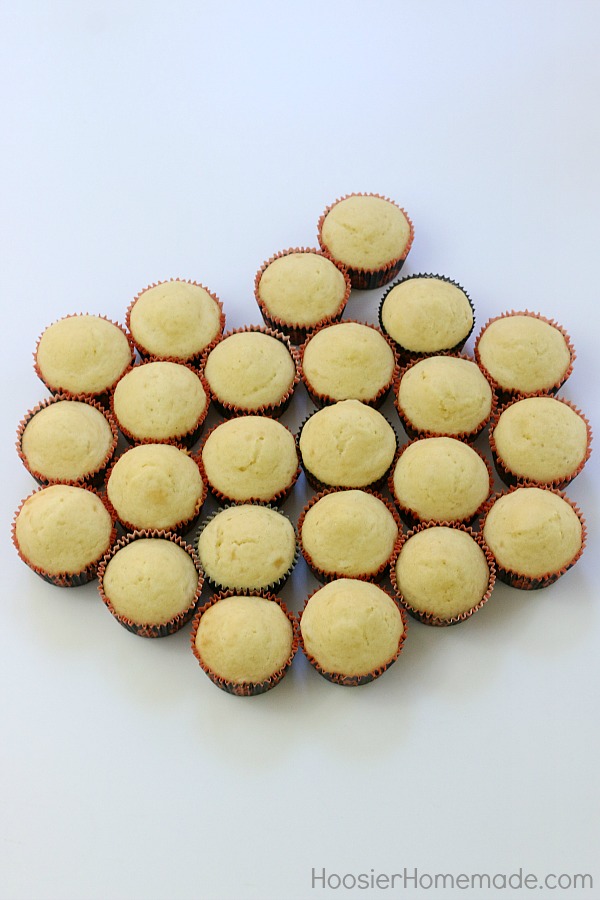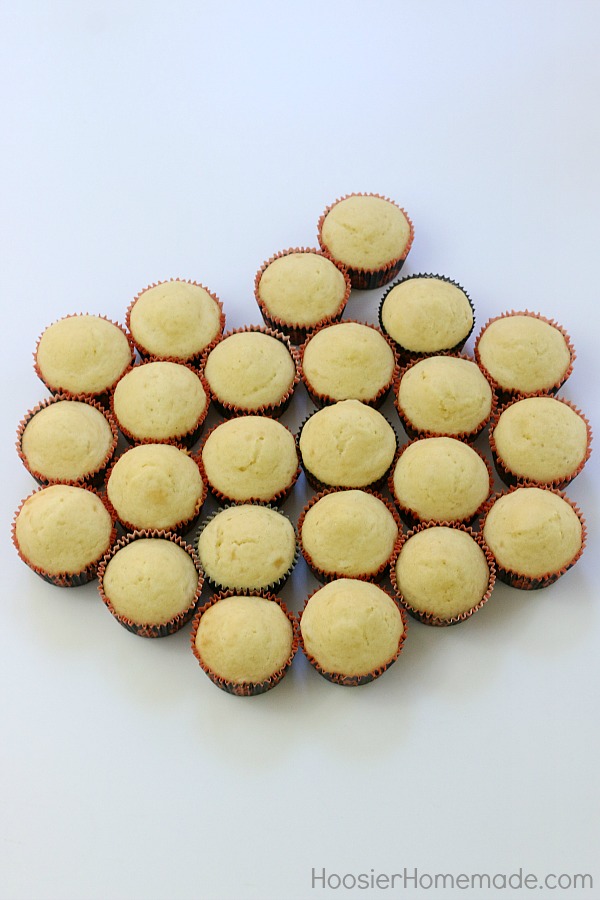 Now, setting the cupcakes up to form the pumpkin shape, isn't hard, but it did take a little time to figure out, so I thought I would save you some time and share it with you.
For the Pumpkin Pull-Apart Cupcakes, you will need –
24 standard size cupcakes
3 mini cupcakes
Orange Frosting
Brown Frosting
Green Frosting
OREO Cookies or other decorations to make the face
To form the pumpkin shape –
Start by placing 8 standard size cupcakes in the center of your board
Then on each side, add 4 cupcakes – placing them just slightly above the center cupcakes
Then place a row of 3 cupcakes fitting them in-between the row of 4
Add the 2 cupcakes for the stem
Add the mini cupcakes for the leaves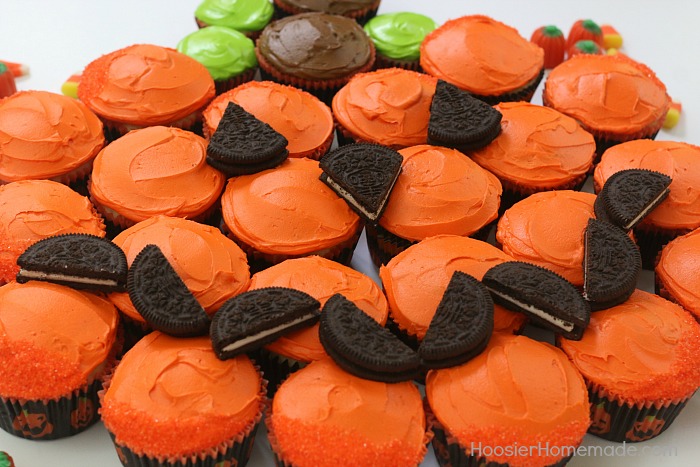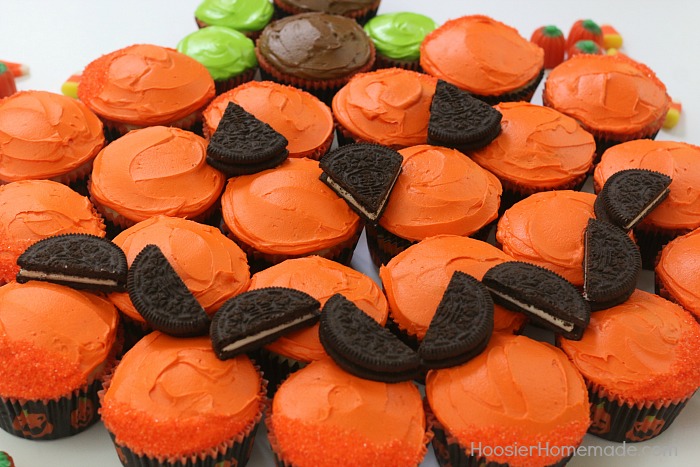 After each of the cupcakes were frosted, I dipped the edge in orange sanding sugar. You could also use sprinkles or leave the decoration off totally.
For the face, I cut OREO Cookies in half for the mouth, and cut triangles for the eyes and nose.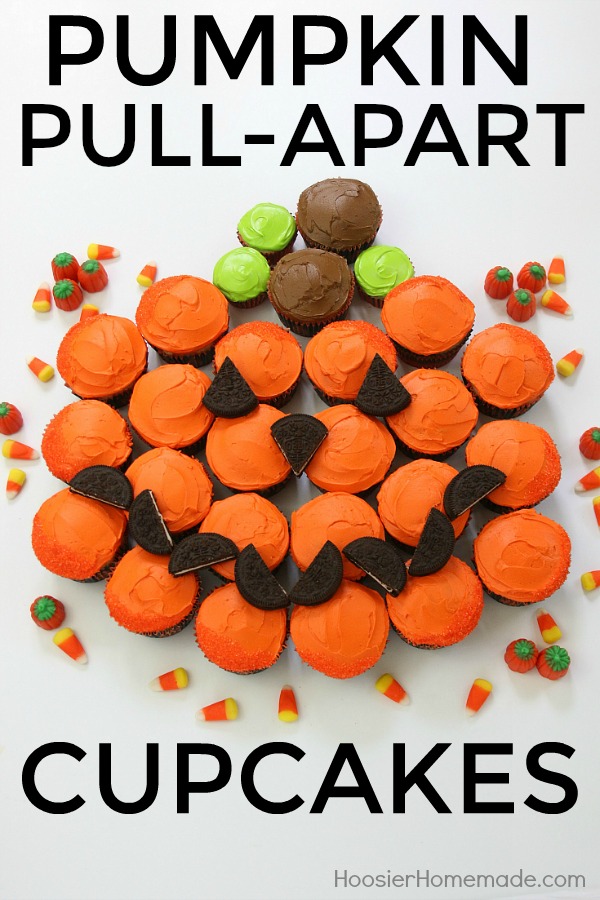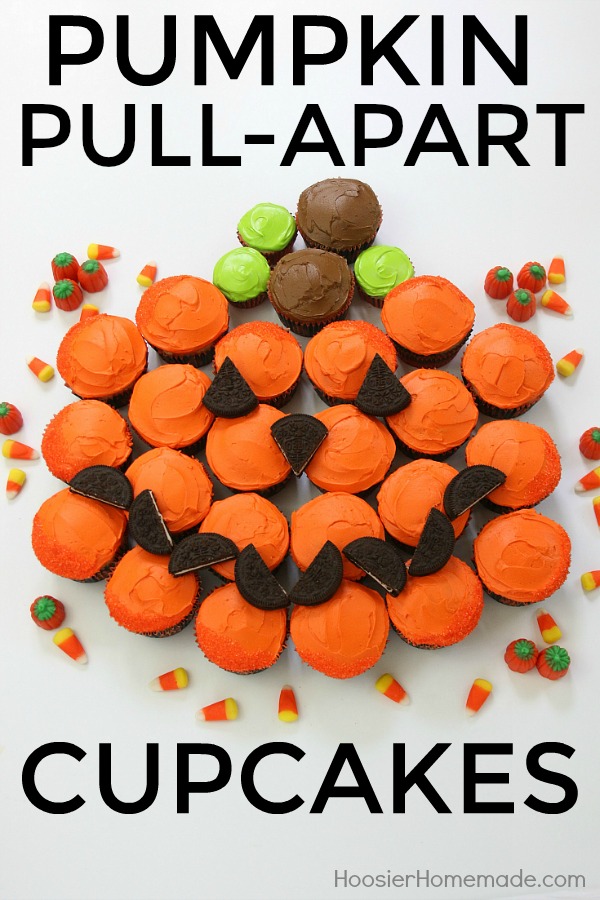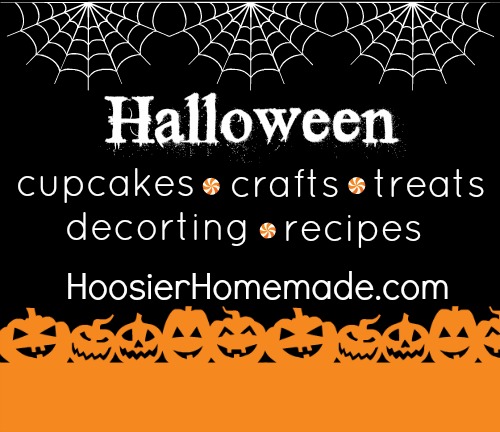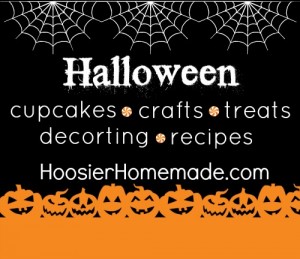 Halloween Crafts, Decorating and Treats on HoosierHomemade.com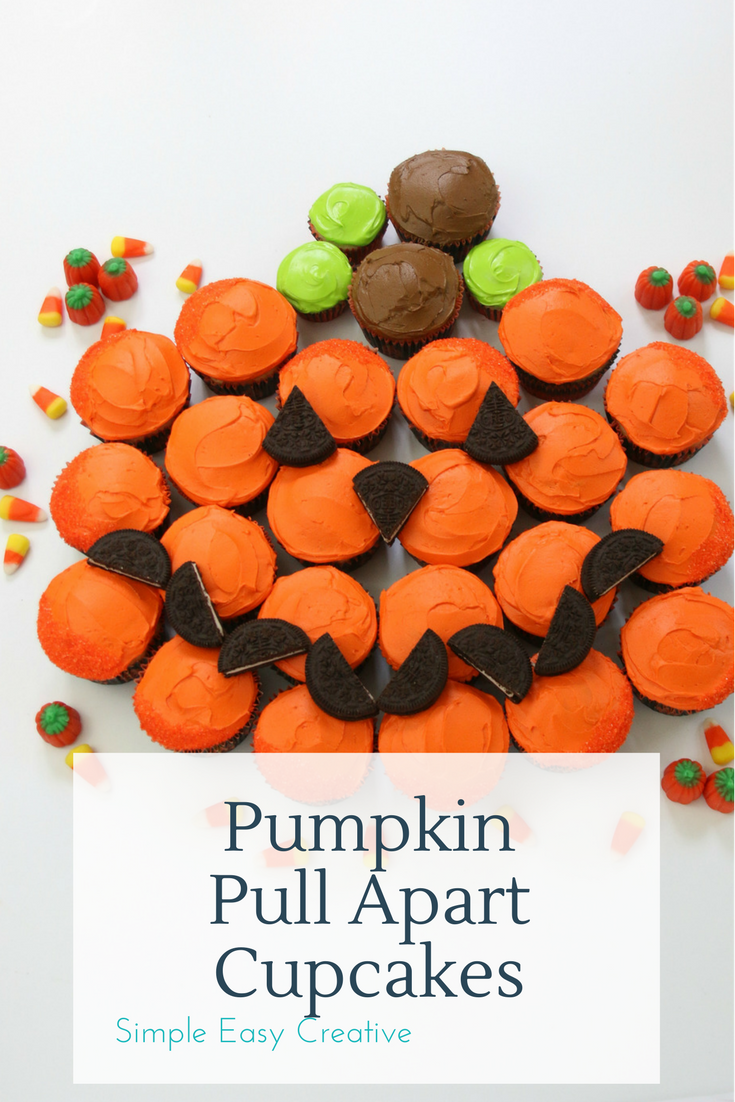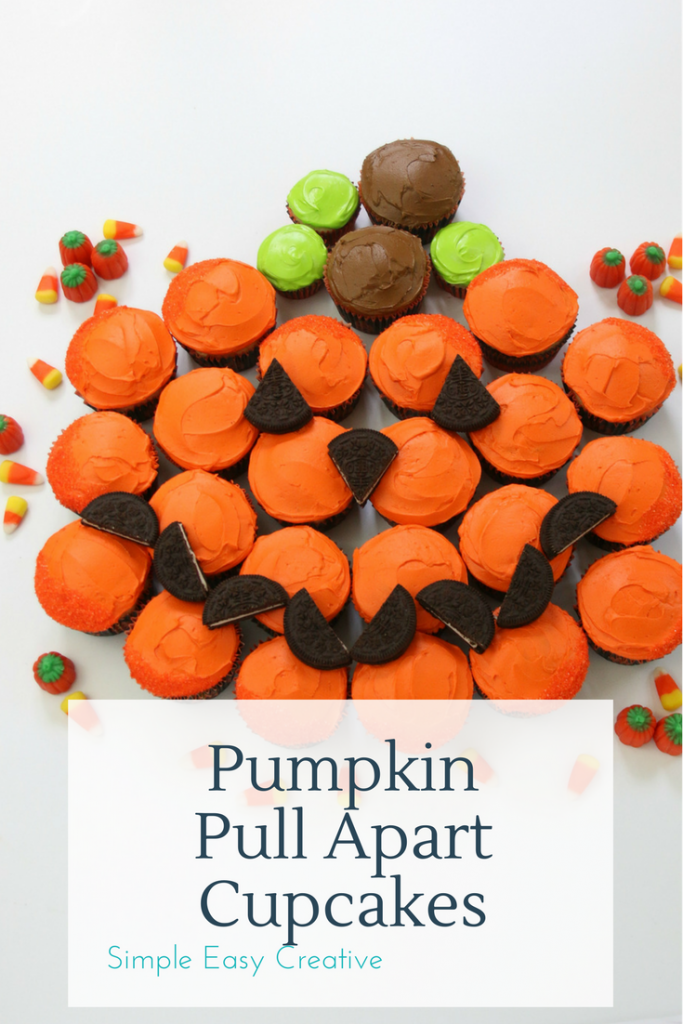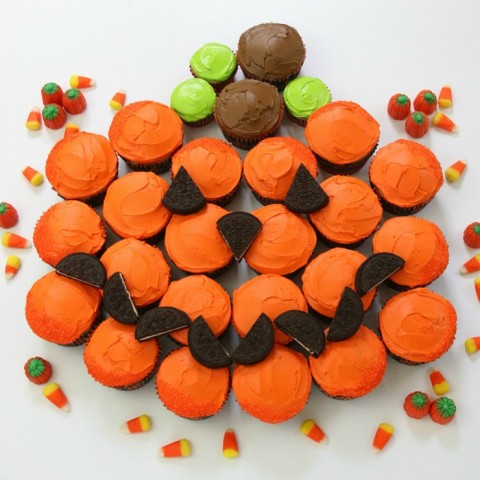 Halloween Pull Apart Cupcakes
Fun and easy Halloween Treat. Perfect for Parties, Classroom treats or even a special after dinner treat.
Ingredients
24 standard size cupcakes
3 mini cupcakes
Homemade or store bought frosting - orange, brown and green
OREO Cookies for decorating or other decoration for the Jack O' Lantern face
Orange Sanding Sugar
Instructions
Bake and cool cupcakes
Place cupcakes on a large serving platter or board in the shape of a pumpkin, using 2 cupcakes for the stem and 3 mini cupcakes for the leaves
Frost 22 orange cupcakes, dip edge in sanding sugar if desired, place back on board
Frost 2 brown cupcakes for the stem
Frost 3 mini cupcakes green for the leaves
Decorate
Cut 3 OREO cookies into thirds to make the eyes and nose
Cut 4 OREO cookies in half for the mouth
Add cookies to the pumpkin
Notes
The ideas for Pull Apart Cupcakes are endless. For Halloween you could make a bat, ghost or even dracula.