Well, only 1 more day in the 12 Days of Cookies series. Today's cookies are another new recipe. I have made Pumpkin Whoopie Pies, but not ever Chocolate Whoopie Pies.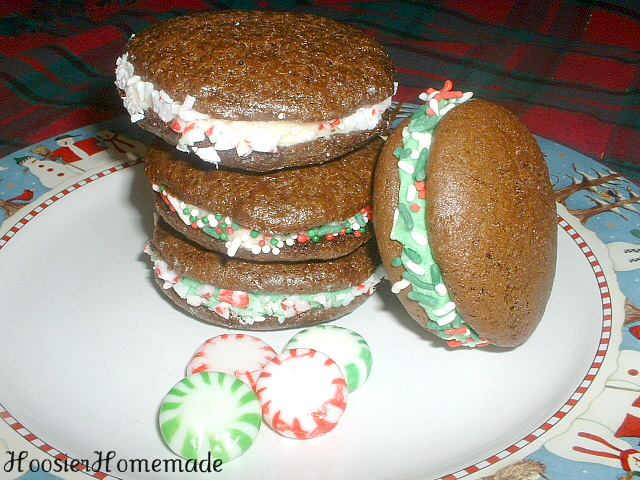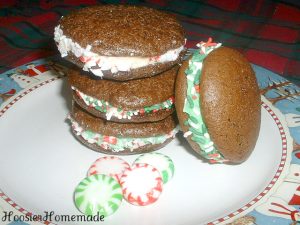 And I will have to say, they turned out amazing 🙂
Ingredients:
1 c. Sugar
6 T. Oil
2 Eggs
2 c. Flour
1/2 c. Baking Cocoa
1 t. Baking Soda
1/2 t. Salt
1 t. Baking Powder
4 T. Milk
Directions:
In large bowl, combine sugar and oil, beat until crumbly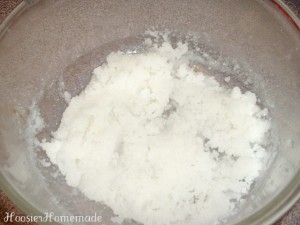 Add eggs and milk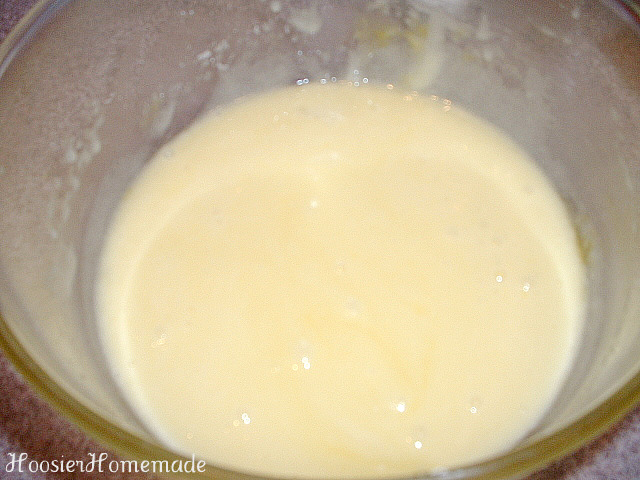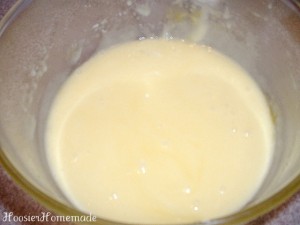 Sift together dry ingredients, gradually add to sugar mixture. Chill dough, overnight is best.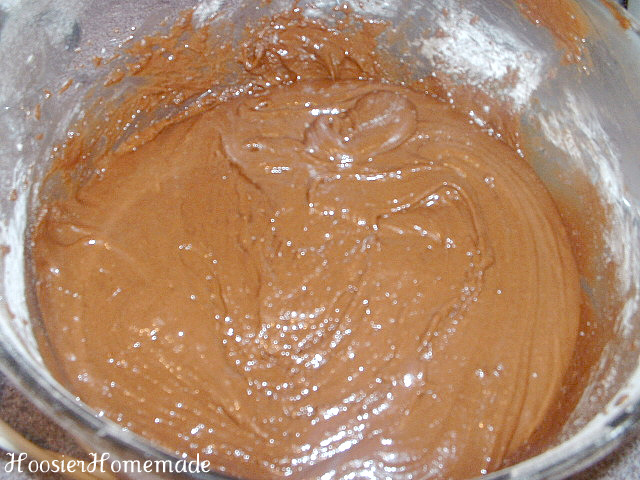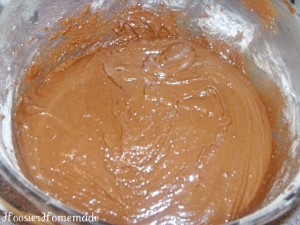 Drop by teaspoon onto cookie sheet lined with parchment paper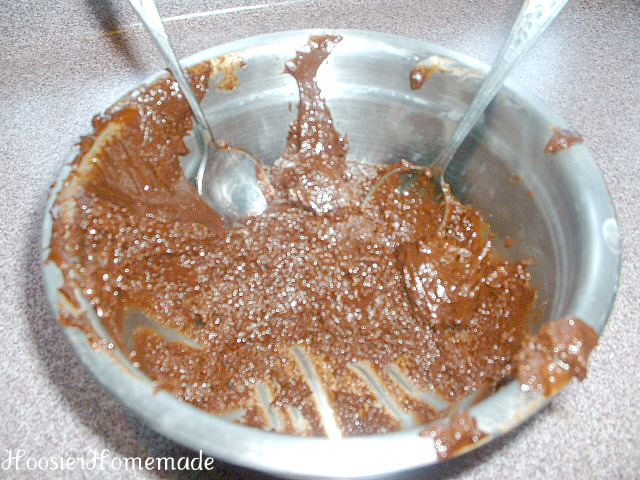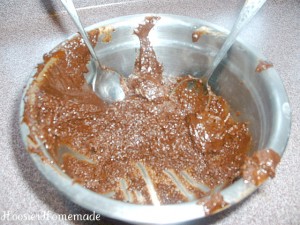 Note: You can roll into balls so they have a smooth surface, or drop by teaspoons like I did. The dough is very sticky, I could only roll 4-5 cookies, without having my hands too sticky to roll any more. Using 2 teaspoons was easy, I just dipped with one and used the other to scoop it onto the paper.
Bake at 350 degrees for 8-10 minutes or until toothpick inserted in center comes out clean. Cool.
While cookies are cooling, beat filling.
Ingredients for Filling:
1/2 c. Butter
1 c. Powdered Sugar (Confectioners)
1/2 t. Vanilla
1/8 t. Mint Extract (optional)
Green food coloring (optional)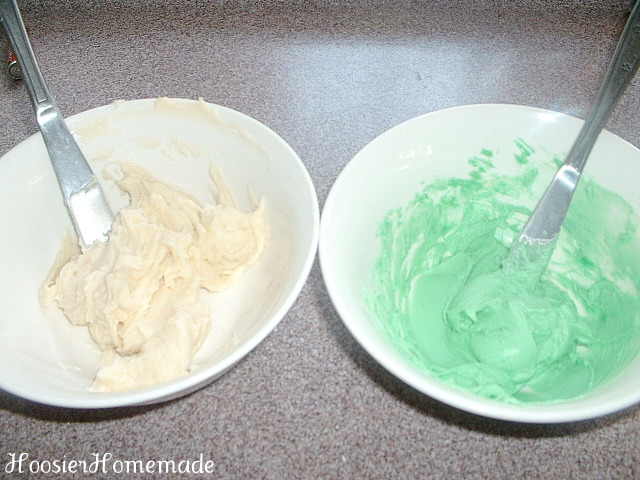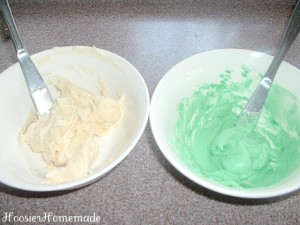 I mixed some with mint flavoring and left some plain, because my boys don't like mint. I thought the mint filling was really good though.
Note: When spreading filling onto cookie, push filling to edge so that it's a little thicker than the middle. Or put a large amount of filling on each cookie. Top with another cookie and press edge gently so that filling is exposed a little. I was only able to fill about 6 cookies with this recipe, so doubling or tripling would be a good idea.
Dip edge of cookie into crushed peppermint candies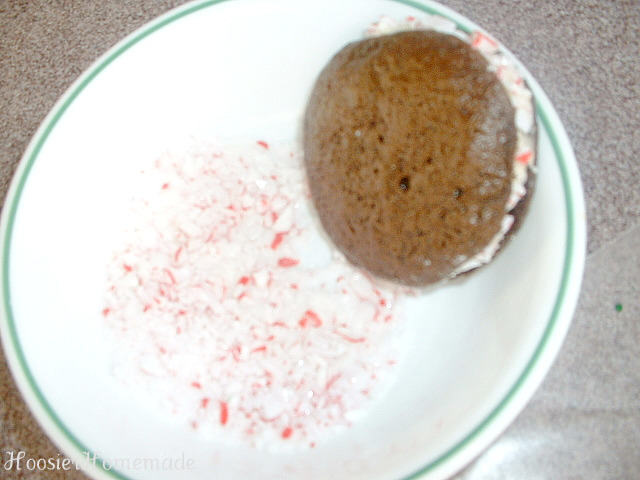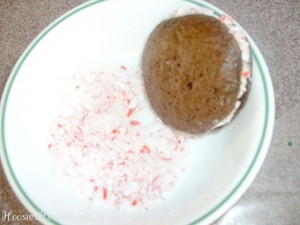 Or use sprinkles on the edge. I placed a piece of wax paper on the counter and just shook the sprinkles over the Whoopie Pie.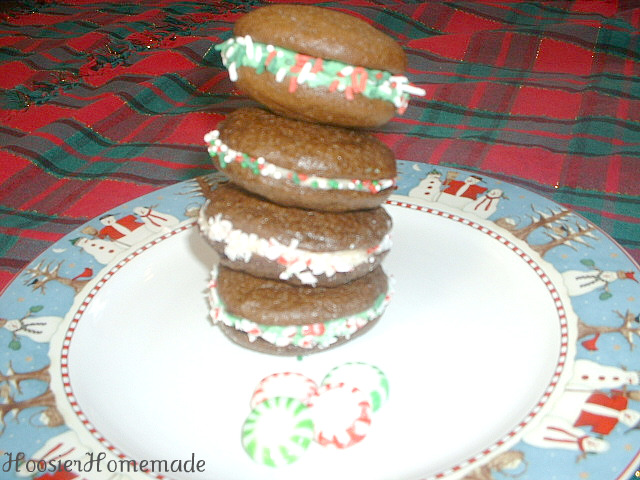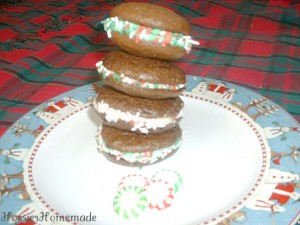 It's the Leaning Tower of Whoopie Pies! 🙂
If you missed the last 10 days
Day 6 ~ Peanut Butter Layer Bars
Day 7 ~ Sugar Cut-Outs (Drop-In & Decorate Donation)
Update~ I'm updating this post to include Day 12~  Edible Ornaments.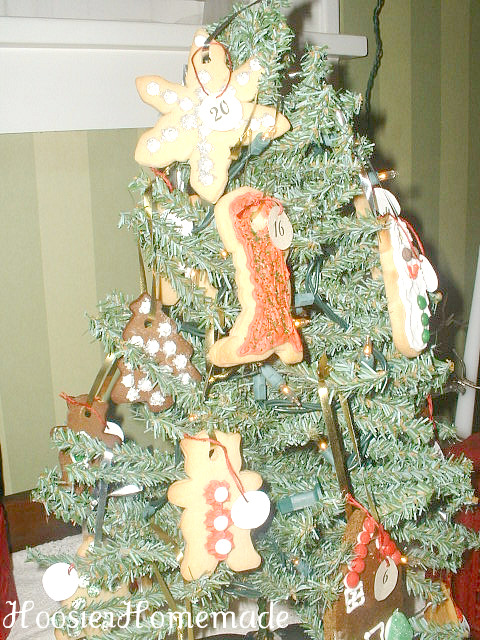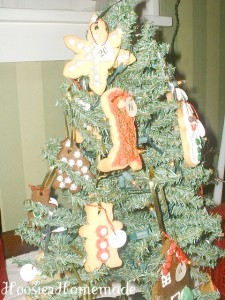 This post linked to:
~Flavor of the Month hosted by  Bake at 350
~12 Days of Cookies hosted by I Am Blissfully Domestic
~Virtual Cookie Exchange hosted by The Hillbilly Housewife
~Tempt My Tummy Tuesday hosted by Blessed with Grace
~Tuesdays at the Table hosted by All the Small Stuff
~Merry Merry Munchies hosted by Dining with Debbie