Christmas Cookies~Peanut Butter Bars~Day 6
Welcome to Day 6 of my Christmas Cookie series. There has been lots of great baking going on at our house this week. Today I'm sharing these Peanut Butter Bars, making bar cookies are a great time saver.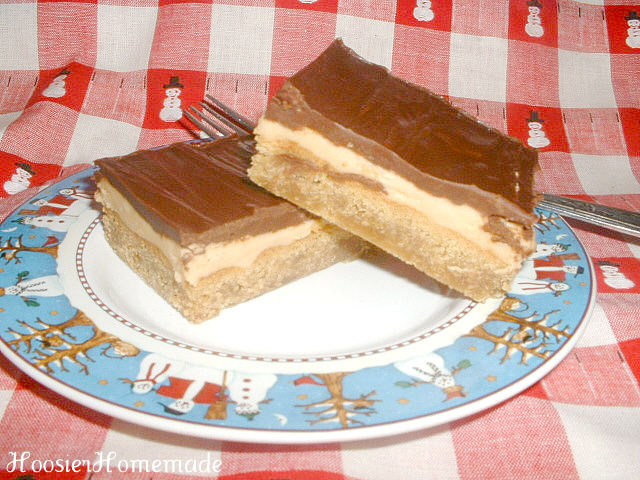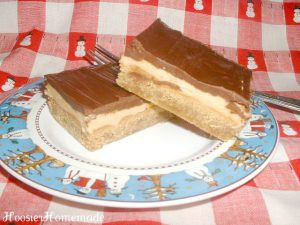 I apoligize for not having step-by-step pictures, but my middle and youngest boys put the middle layer and frosting on these bars while I was outside working on the decorating. I will sacrifice a few photos anyday for the great help.
I also need to share with you that I have never made these before, but they have been on my list to try for quite awhile. As I was taking the pictures of the finished bars, my youngest had one and his response with big eyes "Oh My Goodness!!!" "These are amazing Mom!"  Then while typing this, my husband came into the office and said "Incredible!" He also said that these would give my Twix Bars, that I have made hundreds of times and placed 2nd. at the Indiana State Fair, a run…:)  I guess they're a keeper! He said they tasted just like a Reese's Peanut Butter Cup.
Ingredients:
Cookie Base
Filling
1/2 c. Butter, softened
1/2 c. Creamy or Crunchy Peanut Butter
2 C. Powdered Sugar
2 T. Milk
Frosting
1 C. Chocolate Chips (I like Milk Chocolate Chips best)
1/4 c. Butter
Directions:
Preheat oven to 350 degrees, spray a 13 x 9 pan with cooking spray. In large bowl, make Peanut Butter cookies. With floured fingers, press dough in bottom of pan. Bake 15 – 18 minutes or until golden brown. Cool completely.
In small bowl, beat filling ingredients until smooth. Spread evenly over cookie base.
In microwave bowl, melt frosting ingredients, stir until smooth. Cool 10 minutes, spread over filling. Refrigerate 30 minutes or until set. Cut into bars.
Notes: The filling is very sticky, you want to add a tiny bit more milk to make it easier to spread. Also, the frosting is great, it could be used on any cookie or even cupcakes as a ganache.
If you missed the last 5 days