Sweet Treats: Best Baking of 2012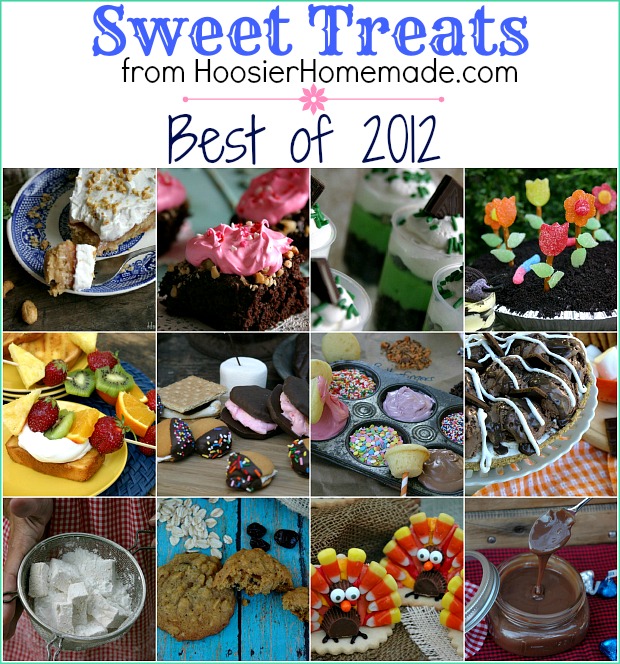 After sharing the top Cupcakes from 2012, I just knew I had to find the Best Sweet Treats for this year as well! Baking is a big part of Hoosier Homemade, so I couldn't let the time pass without sharing the Best Baking of 2012!
Cupcake Fondue…Homemade Marshmallows…Ice Cream Pie…and more…enjoy!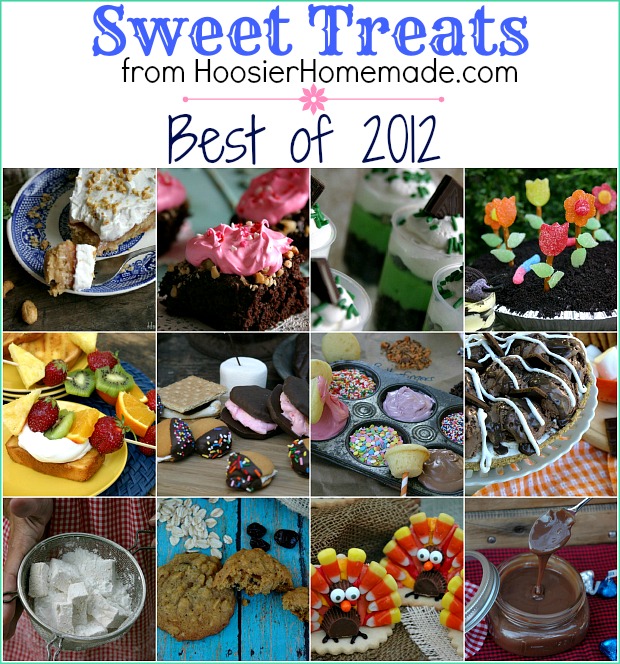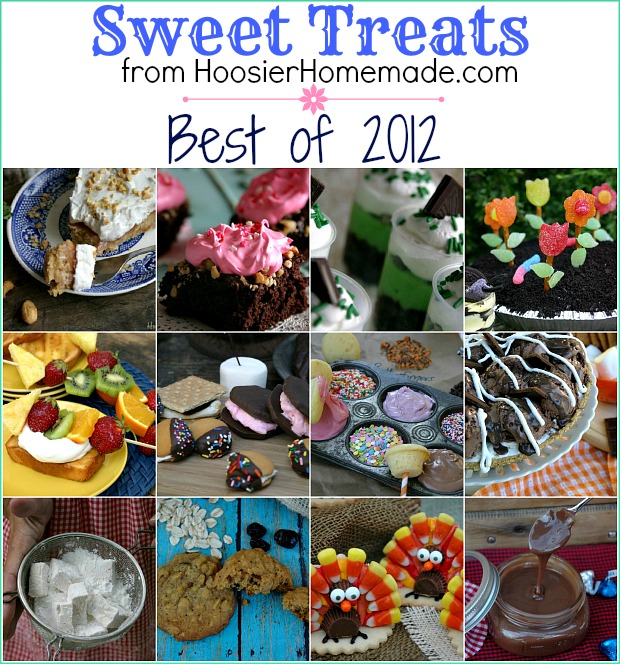 Want to save these recipes? Pin them to your boards for the future! 
January ~ This Peanut Butter & Jelly Pie will take you back to your childhood! **Pin It** 
February ~ These brownies are more cake like than brownies, but definitely Better Than Brownies! **Pin It**
March ~ St. Patrick's Day baking is the best! These Irish Creme Push Pops are super easy too! **Pin It** 
April ~ Cool Whip and Oreos in a pie…you can never go wrong with that! Flowerpot Pie **Pin It**  
May ~ Making Dessert on the Grill was new for me, it turned out delicious! **Pin It** 
June  ~ Lay out the ingredients and let your guests create their own treats from the S'Mores Buffet! **Pin It**
July ~ Another easy dessert…Cupcake Fondue was a HUGE hit this year! **Pin It** 
August ~ When it's hot outside, this S'Mores Ice Cream Pie is perfect! **Pin It** 
September ~ Once you've tried Homemade Marshmallows, you will never want to buy them again! **Pin It**
October ~ Soft, chewy and packed with flavor…Pumpkin Oatmeal Cookies! **Pin It**
November ~ These Turkey Cookies are fun to make and eat! **Pin It**
December ~ With just 3 ingredients, you can whip up this Hot Fudge Sauce in less than 5 minutes! **Pin It**
Which one is your favorite?
Do you love baking? Join us over at Joy of Cooking for the Best of Desserts!