Homemade Brownies: 3 ingredients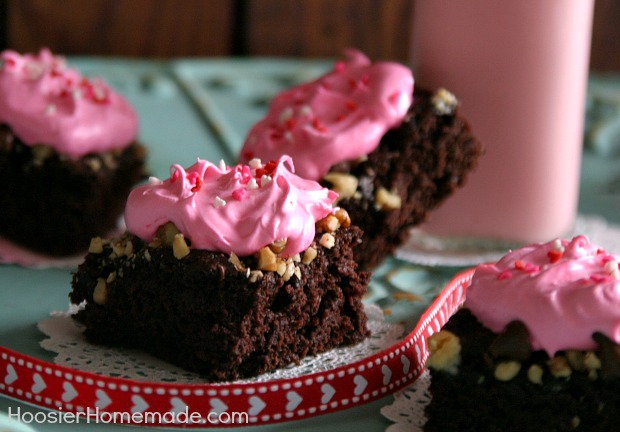 Brownies – whether you make them from a box or from scratch – they could be, next to cupcakes, the most popular dessert around! But how about if I told you that these Brownies only have 3 ingredients – that's it! Would you give them a try?
Although these Brownies are super simple with just 3 ingredients, you can easily add toppings and frosting to make them even more special! For Valentine's Day, I added luscious Marshmallow Frosting and a few heart sprinkles.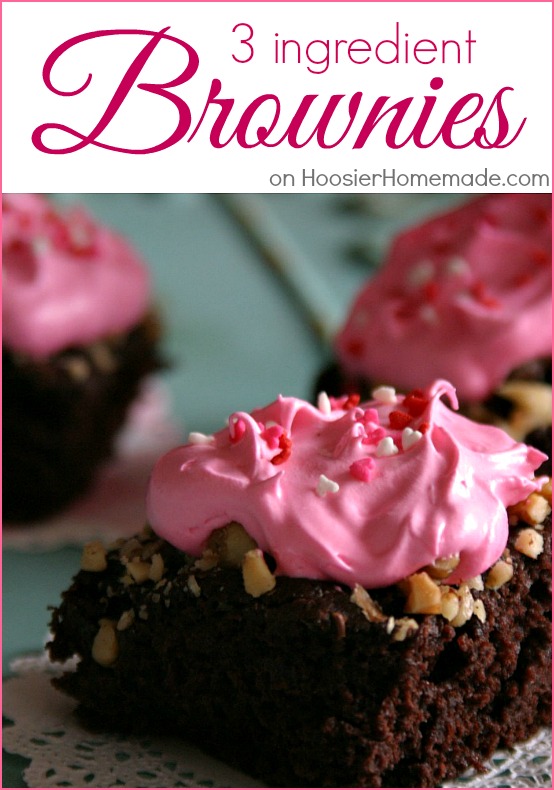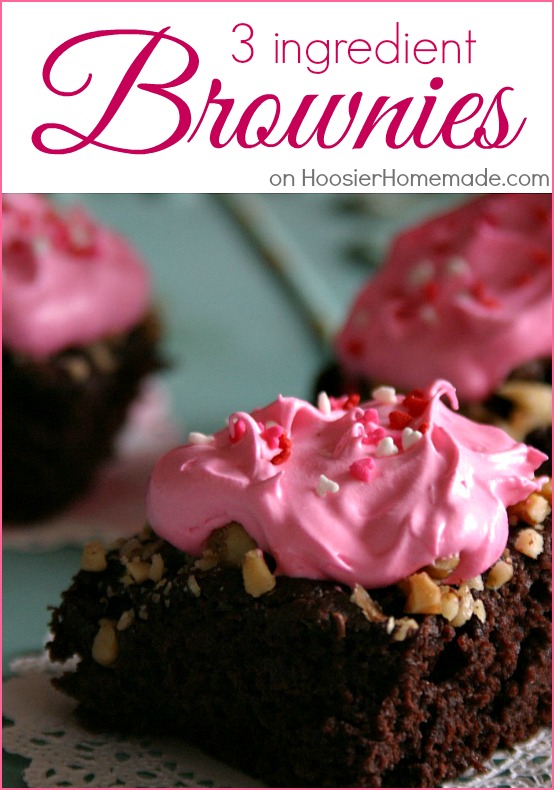 So let me tell you about my love-hate relationship with brownies. I love eating them…hate baking them! Yup..sorry I do! I have tried and tried to find a recipe that was fudgy but not too fudgy…cake like but not too cakey, etc. etc. I had finally given up and just decided to use a box mix, which also didn't always come out right.
And then I found this recipe in Gooseberry Patch Cookbook, Rush-Hour Recipes. It quickly became not only a favorite with me because it's so easy but also a favorite with the family!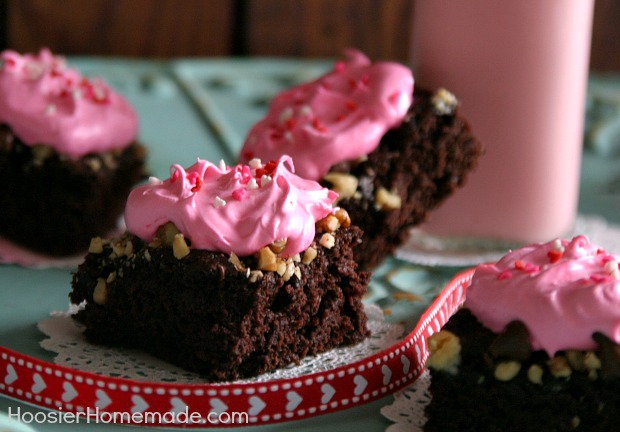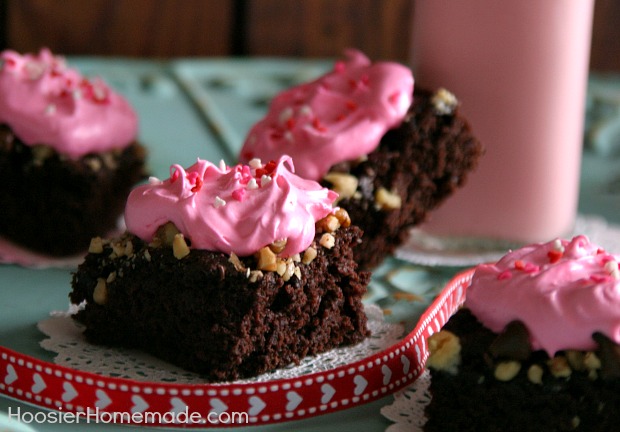 You are going to love how easy this recipe is to make! Just 3 ingredients!! Well unless you add the chocolate chips and nuts to the top, which of course you must do! Oh and the frosting…yes! You MUST slather it on!! You heard that right…I told you to slather the frosting on!!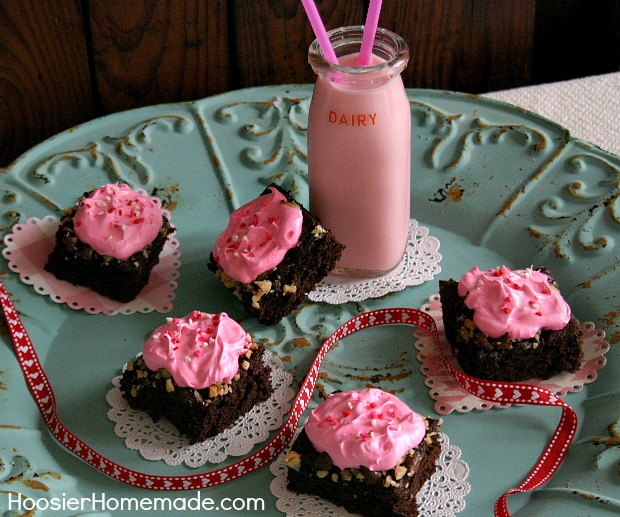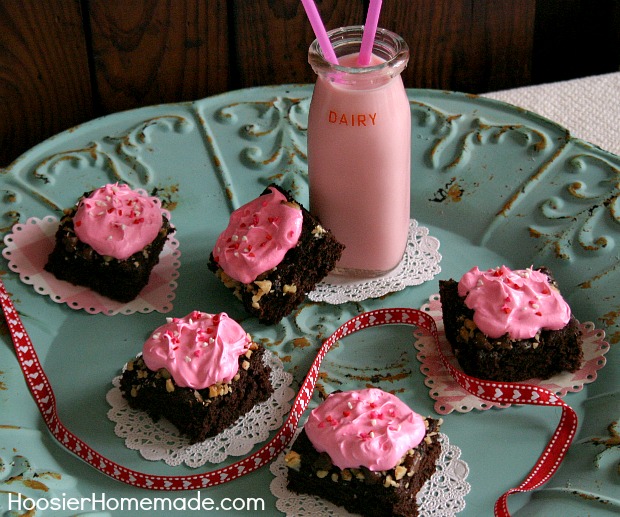 So what's the secret to these delicious Brownies? Chocolate pudding…just one small box. Oh and the frosting helps quite a bit too. Now, of course, they are delicious without the frosting, and actually the recipe in the book doesn't call for frosting, but with Valentine's Day coming up, I just had to add the little pink to them.
You can certainly change them for any occasion, they make a great birthday treat, baby or bridal shower dessert, or even add the colors of your favorite team and serve them on Game Day!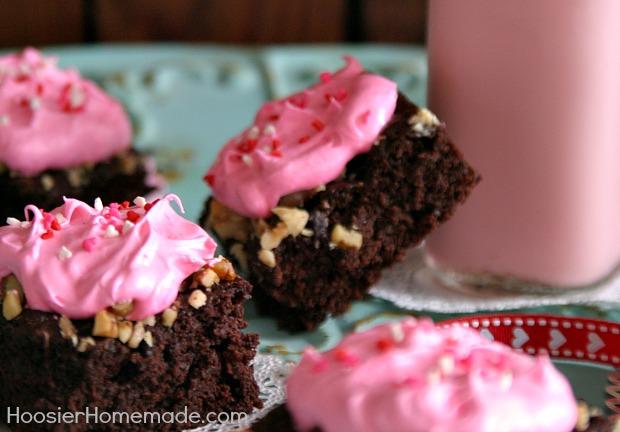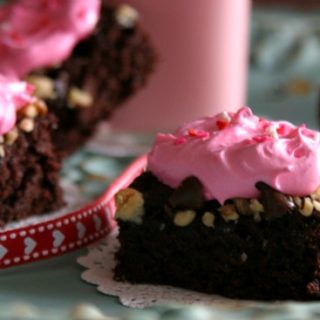 Better Than Brownies Recipe
3 Ingredient Brownies - add toppings and frosting and make them even more special. Recipe from HoosierHomemade.com
Ingredients
Brownies
1 small box Cook & Serve Chocolate Pudding - NOT instant
1 box Chocolate Cake Mix {I used Devil's Food}
2 cups milk
1 cup chocolate chips, optional
1 cup nuts, chopped, optional
Frosting
1 8 oz. tub Cool Whip frozen whipped topping, thawed
1/4 cup Marshmallow Fluff
2-3 drops coloring - optional
Valentine Heart Sprinkles - optional
Instructions
Brownies
Preheat oven to 350 degrees
Line a 13x9 pan with foil and spray with non-stick cooking spray lightly
On a stove top, combine the milk and pudding mix, cook until slightly thickened
In a large bowl, add the cake mix
Add the pudding directly from the stovetop and combine well {the mixture looks really strange, but trust me, it is delicious}
Spread brownies into pan and press down with your fingers {be careful it might be hot}
Sprinkles with chocolate chips and nuts
Bake at 350 degrees for 30 minutes or until a toothpick comes out clean
Frosting
In a large bowl, combine Cool Whip, Marshmallow Fluff and coloring
With a large whisk, whip frosting until fluffy
After the brownies are cool, cut into squares, frost and add sprinkles
Nutrition Information:
Amount Per Serving:
Calories:

0
Total Fat:

0g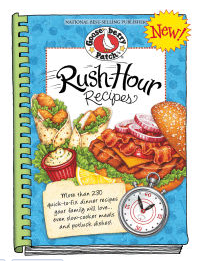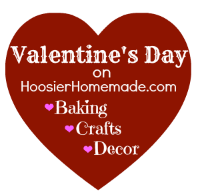 Linking to…Gooseberry Patch