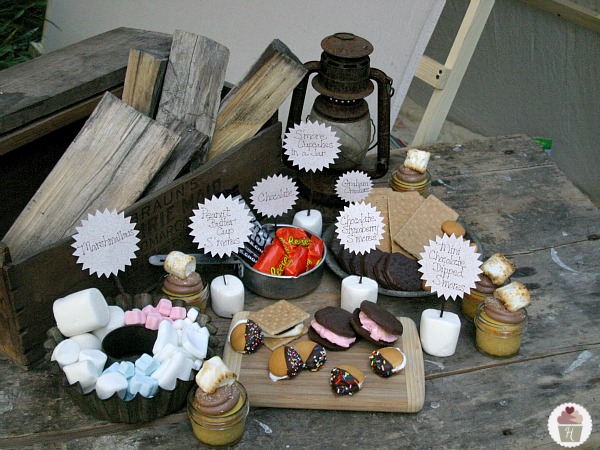 S'more, S'more and more S'mores. All week we have been sharing ideas to make a backyard camping experience one that you and the kids will talk about for the entire summer. And what better way to spend the evening than cooking S'mores over an open fire. But of course we couldn't just give you one type of S'more, no we give you a S'more Buffet.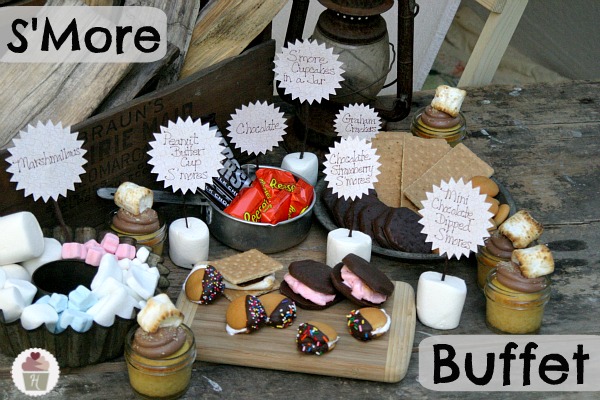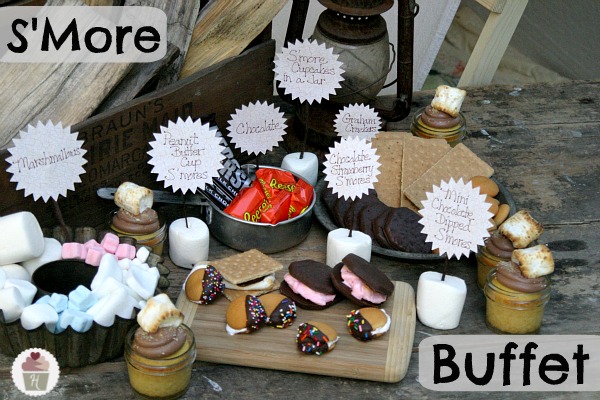 Give your kids and guest options, there are so many ways to enjoy S'mores I've seen them all. Some add fruit, I've even seen one with cheese. But I'm a tradional type of person so in my mind a S'more must include three things, graham crackers or coookies, marshmallows and of course chocolate. As long as you have these basics you can build all types of S'mores.
We've added the ingredients for three S'mores, Mini Chocolate Dipped S'mores that combine Nilla wafers and marshmallows into a sandwich then dipped in chocolate.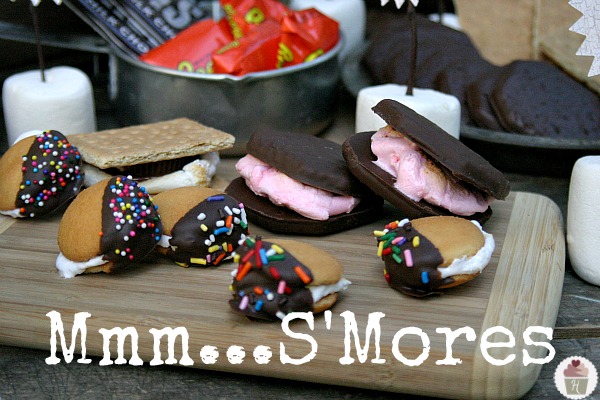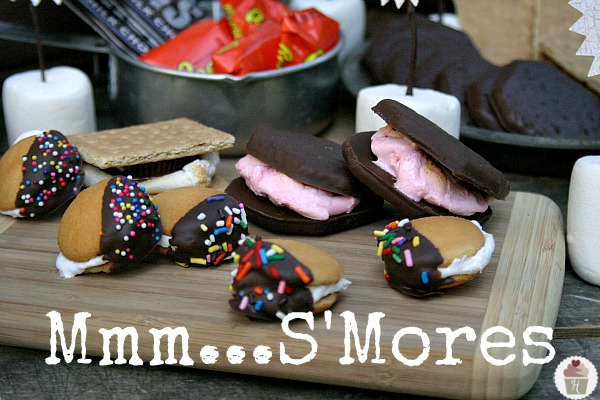 Chocolate Strawberry S'mores, the simple combination of fudge covered graham crackers and strawberry flavored marshmallows. And for the chocolate and peanut butter lovers in the group there's the Peanut Butter Cup S'mores, a delightful blend of peanut butter cup and graham cracker with the gooey marshmallow.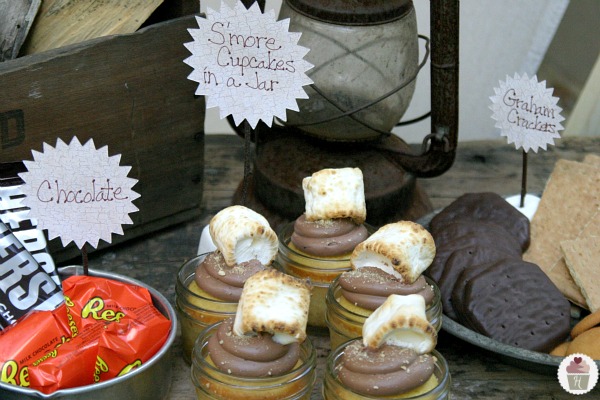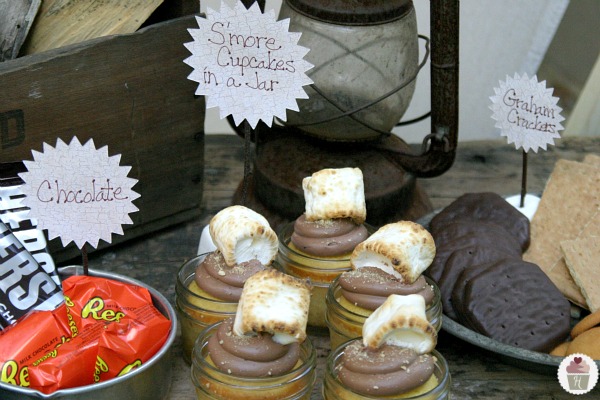 Now of course, you know I just had to add a S'more Cupcake in a Jar. The recipe for these little gems will be in Cupcake Chronicles Newsletter today.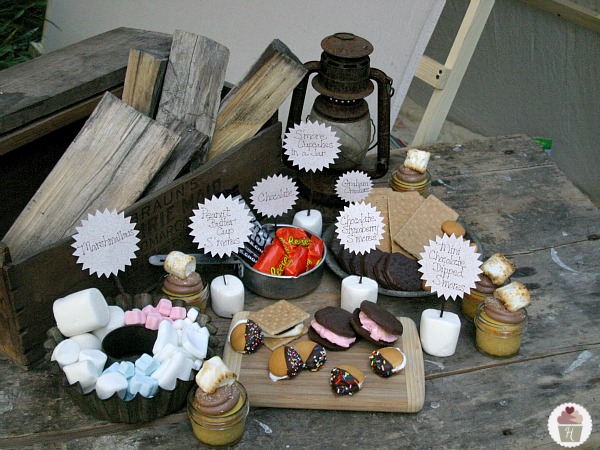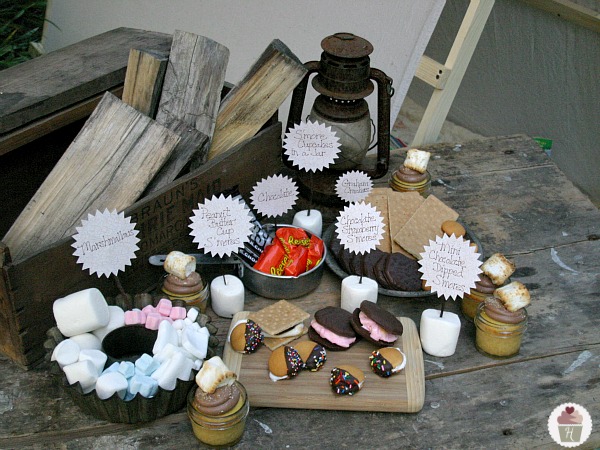 Did you notice those cute little signs I made? Super cute…and easy!  Watch for the tutorial on those coming soon!
And did you see the Backyard Tent in the background? Doug teaches you how to build one of your own…it's quick, not expensive and really easy!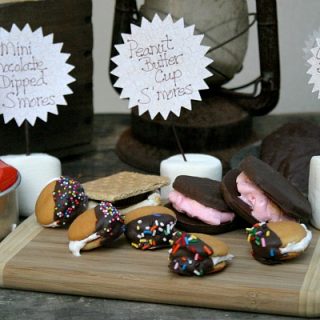 S'more Buffet
Serve up a variety of S'Mores for a fun treat. Recipes from HoosierHomemade.com
Ingredients
Mini Chocolate Dipped S'more
Nilla Wafers
Small Marshmallows (we used star shaped)
Melted Chocolate Chips
Sprinkles
Chocolate Strawberry S'more
Fudge Covered Graham Crackers
Strawberry Flavored Marshmallows
Peanut Butter Cup S'more
Graham Crackers
Peanut Butter Cups
Marshmallows
Instructions
Toast marshmallows...some like them brown, some like them burnt
Mini Chocolate Dipped
Sandwich a toasted marshmallow between two Nilla wafers and dip in melted chocolate, add a little sprinkles for color
Chocolate Strawberry
Sandwich a toasted marshmallow between two fudge covered graham crackers...yum
Peanut Butter Cup
Between two graham crackers smush,(technical term) a toasted marshmallow and peanut butter cup
Notes
Liz says...my personal favorites are the Chocolate Covered Strawberry, but any way you eat them...you want S'More!
 What is your favorite way to enjoy a S'More?
Linking to…Made By You Monday, Weekend Wrap Up Party, Saturday Night Special