Random Acts of Kindness Advent Calendar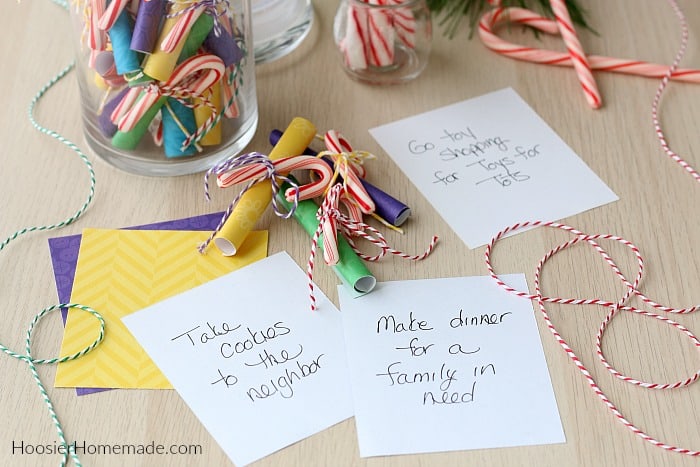 We all lead busy lives, it's time to slow down a bit and think of others. These Random Acts of Kindness for the Advent season are a great way to get the whole family involved.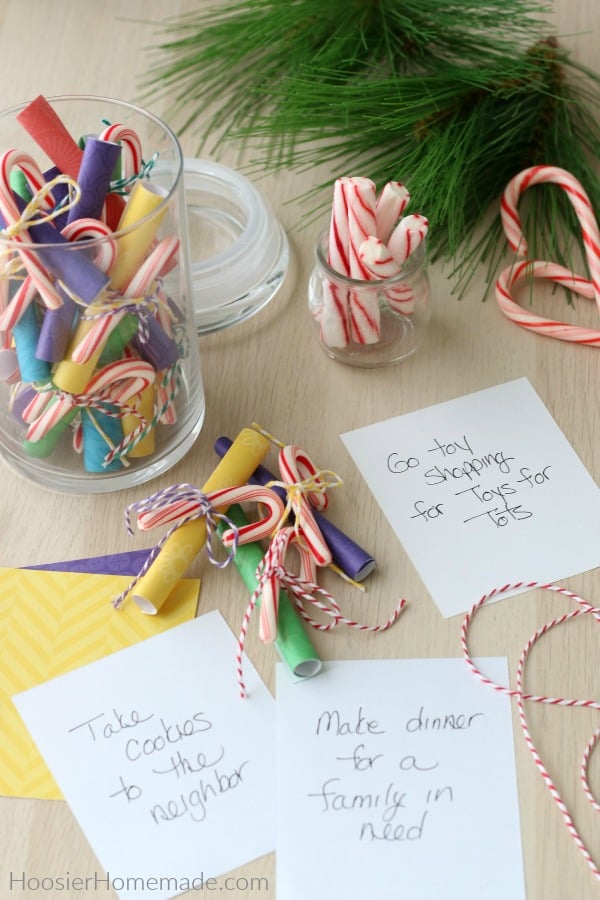 Welcome to Day 9 of the 100 Days of Homemade Holiday Inspiration! Each day we will be inspiring you with recipes, decorating ideas, crafts, homemade gift ideas and much more!
An Advent Calendar is commonly known as a special calendar to countdown the days until Christmas. Families around the world get connected during this special time of year.
The First Sunday of Advent varies depending on the year, so typically an Advent Calendar will begin on December 1st, especially if they are a reusable calendar.

Some of my favorite memories are not big, crazy holiday where we ran non-stop, drove to every family member that invited us, or had no time to even talk to each other. ⁠
It's the small things – like Love Buckets on Valentine's Day, Countdown Bags on New Year's Eve, a Meatloaf shaped like a Jack O' Lantern and YES, celebrating the holiday season!
THIS is why I am on a mission – why I want to help YOU build those special memories with your family as well! ⁠
BUT here's the thing my friend – we are busy, EVERY.SINGLE.PERSON is busy – so let's simplify these special days.
Recently we shared – 6 Simple Ideas to Build Memories with your Family this Holiday Season, and one of those ideas was to create a Random Acts of Kindness Advent Calendar, doing simple acts of kindness during the Advent season.
We all get caught up in the busyness of our day to day lives, stepping back a minute and thinking of others is important to teach to our children, but also for ourselves.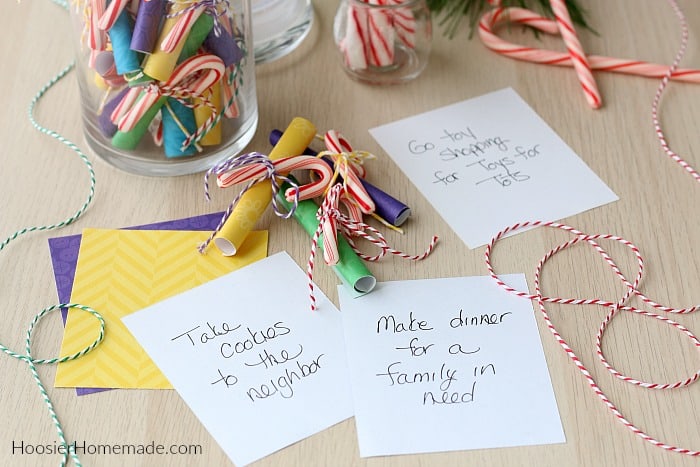 How to create a Kindness Advent Calendar
Supplies
Paper or Scrapbook Paper
Pen
Baker's Twine or Ribbon
Jar
Small Candy Canes, optional
Instructions
Gather as a family to create this Advent Calendar
Find a large jar that will fit all the pieces of paper
Cut paper into the size you want
Write on the paper 24 or 25 different random acts of kindness
Roll the paper up, tie with ribbon or twine and add a small candy cane, if you want
Then each day during the Advent season (or as a countdown to Christmas) choose 1 piece of paper from the jar and have the family do that act of kindness
Random Acts of Kindness Advent Calendar
Here are some ideas to get you inspired –
Take cookies to the neighbor
Make dinner for a family in need
Go toy shopping and donate to Toys for Tots
Drop coffee off at the fire station
Donate to the food bank
Take coffee and donuts, or breakfast to your children's school
Put candy canes on car windows in a parking lot
Feed the birds
Take pet food to the shelter
Write a letter to a soldier
Buy a candy bar and leave it for the postman
Leave bottles of water and snacks out for the delivery man – UPS, Fed Ex etc
Do a chore for a family member
Have your child take their friend a treat to school
Pay for the car behind you in the drive through
Pick up litter on your street
Spend quality time with someone you miss
Plan a play date for your dogs
Make Christmas cards for people at the nursing home
Bake a treat and take it to the police station
Make a list (as a family) of things you are grateful for and then share with the family
Hold the door open for someone
Let someone cut in front of you in line
Donate a bag of clothes
Leave a friendly note where someone will find it. Maybe attach a small piece of candy or candy cane
While all these ideas are great for the holiday season, I do believe that Random Acts of Kindness are super important to teach our children and for ourselves.
Follow along with the 100 Days of Homemade Holiday Inspiration for more simple recipes, easy crafts, homemade gift ideas, decorating tips and much more!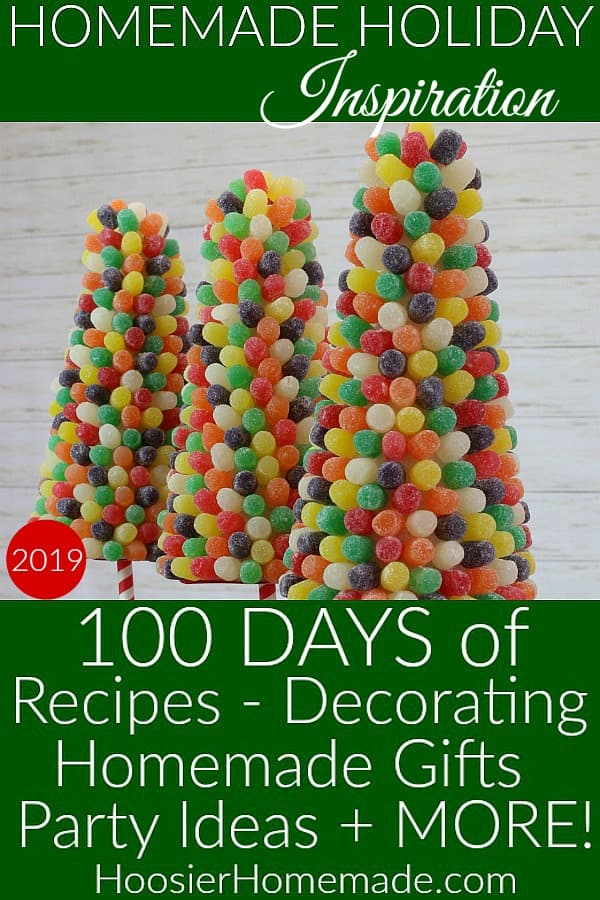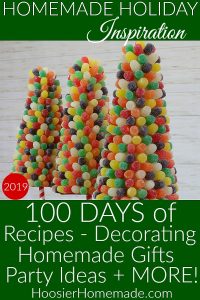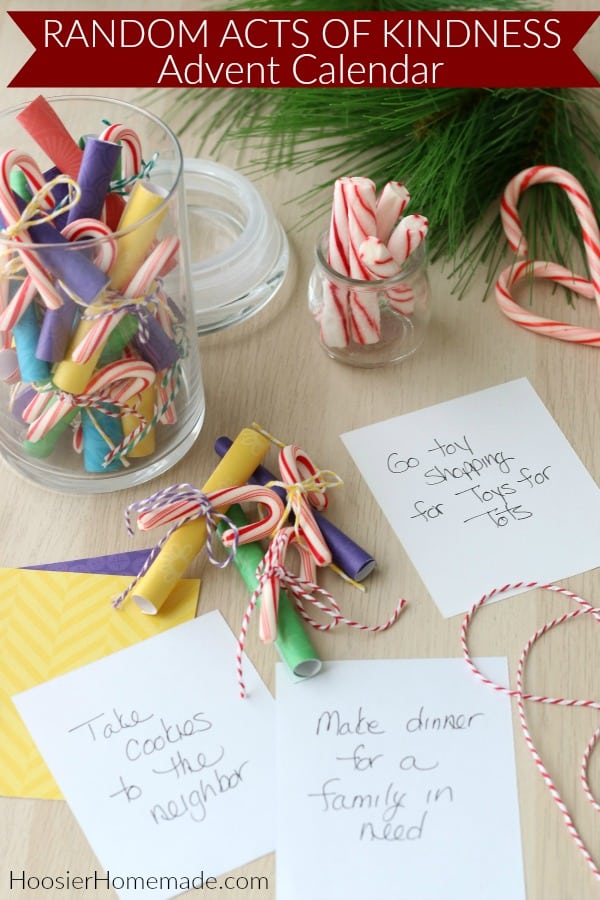 You may also like these other ideas for Advent Calendars.
Click on the photo for more information.