Why not surprise the hostess with this simple Breakfast Gift Basket, or give as a gift to a teacher, neighbor or friend. Add Homemade Pancake Mix to make it even more special.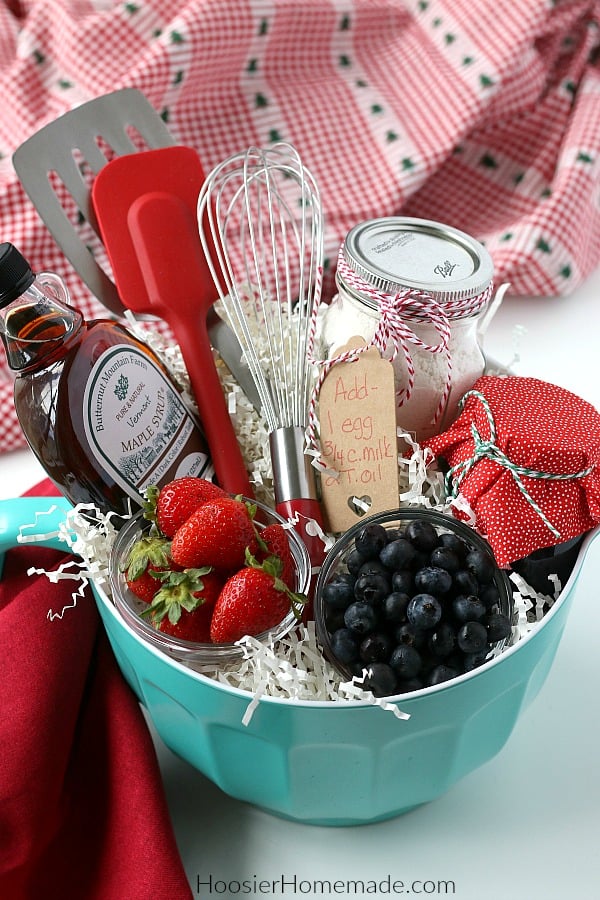 Welcome to Day 8 of the 100 Days of Homemade Holiday Inspiration! Each day we will be inspiring you with recipes, decorating ideas, crafts, homemade gift ideas and much more!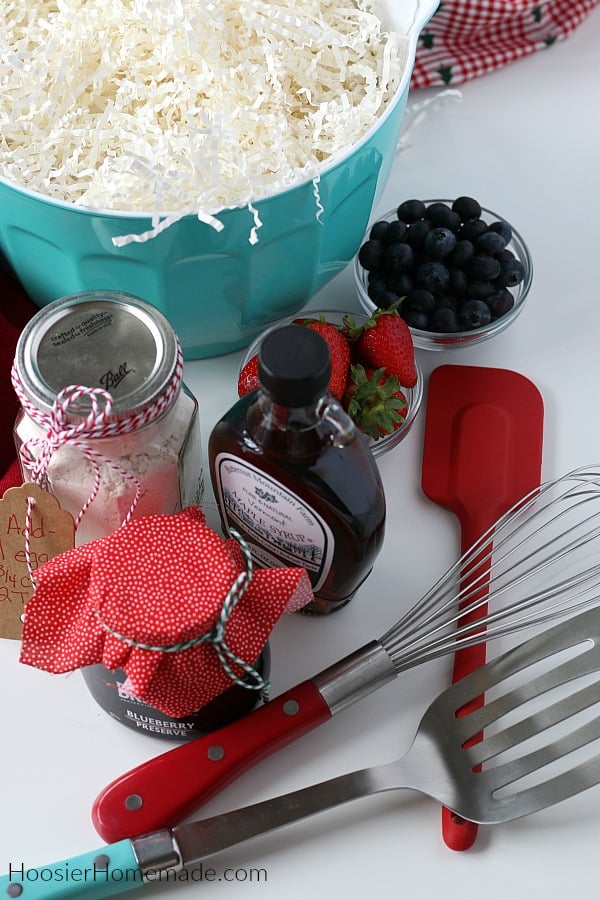 Breakfast Gift Basket
Putting together this Breakfast Gift Basket is really easy. You can certainly change the items you add depending on what you find, here is what this gift basket has –
Basket – not technically a basket, it's a large mixing bowl with a pouring spout that is great for pancake batter. This one is from Walmart, you can also find them online.
Filler – you can use tissue paper, packing paper or shredded paper, which is my favorite to use because you can take small pieces and fill in the cracks
Utensils – turner, rubber spatula, whisk
Pancake Mix – I used my favorite Homemade Pancake Mix, filled a mason jar and added a tag with the ingredients that need to be added
Toppings – syrup, jam, really anything you like. Home Goods is a great store to find unique items
Fresh berries – these are optional, however they add a bit of freshness to the basket. To transport the basket, be sure to cover the berries with plastic wrap
How to put together a Gift Basket
These are steps I use in every gift basket I make, no matter what I'm adding to it.
Add filler paper, if the basket you are using is large, add newspaper or packing paper to fill the bottom. Then add shredded paper on top. Remember the paper will get pushed down when you add the items, so add more than you think you will need.
Begin by adding the largest item first, in this basket, I added the utensils first since they took up the most space.
Then add the middle size items like the pancake mix, syrup and jam. To cover the jam, cut out a square piece of fabric, add to the top and tie with twine or ribbon.
Finish up with the smaller items.
And add small pieces of filler paper to fill in any empty spots.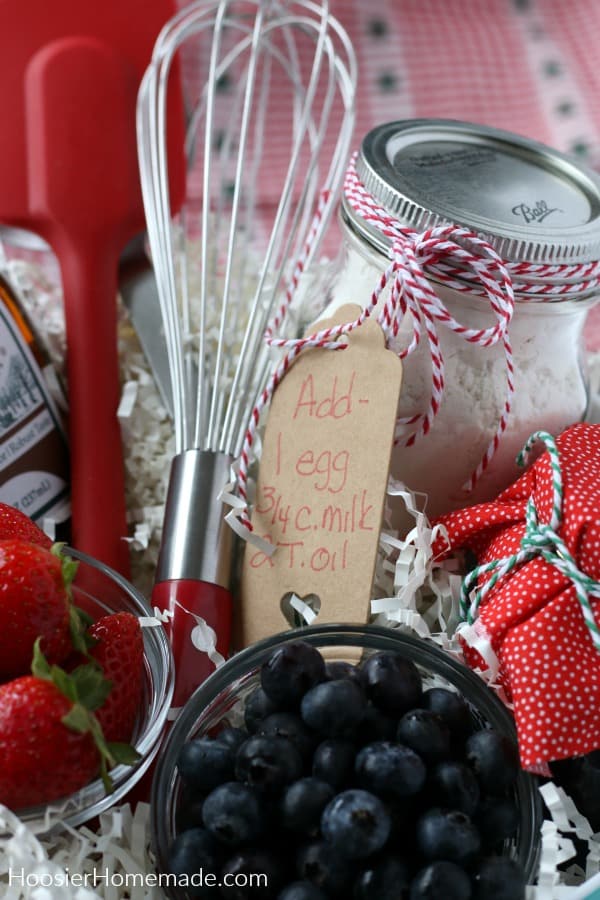 Now that you are done with the gift basket, who will you give it to? Here are a few ideas for you to think about –
Hostess – are you heading to a party, I bet the hostess would love to have breakfast ready for her in the morning
Teacher – I bet teachers receive lots of candy and goodies during the holidays, why not give them something they can use all the time?
Neighbor – do you have a neighbor that you would like to give a gift to but have no idea what they would like? I bet they would love this Breakfast Gift Basket.
Co-Worker – do you have a gift exchange at work, but don't know who you are giving to? Everyone loves breakfast.
Coach – are your children in sports or maybe scouts? This gift basket would make a great gift for them
Follow along with the 100 Days of Homemade Holiday Inspiration for more simple recipes, easy crafts, homemade gift ideas, decorating tips and much more!