With only three ingredients, you can make this Sausage Balls Recipe to serve at parties, family game night, football tailgating and much more! They will disappear fast, so you may want to make a double batch!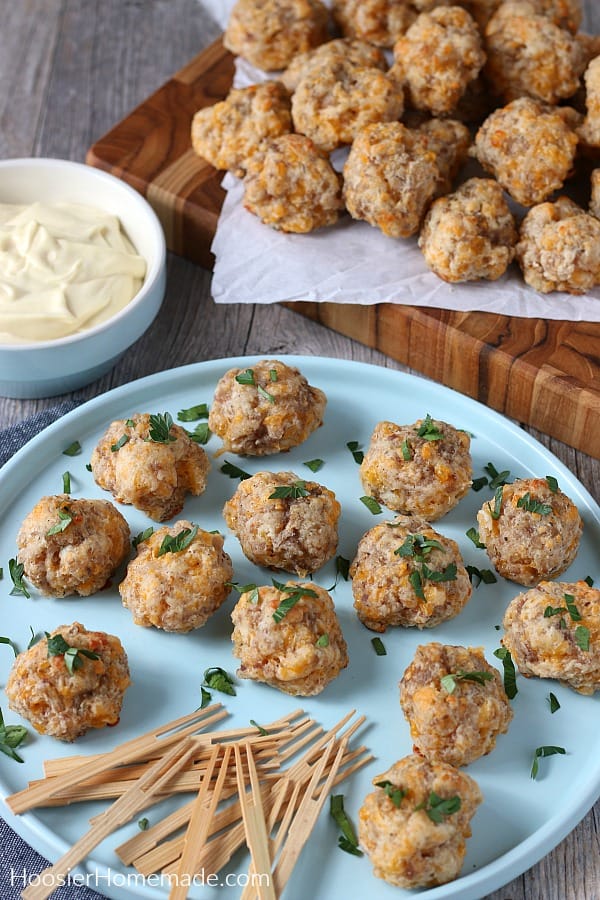 This Sausage Balls Recipe is one that I have been making for years. It actually came from a home ec class that my oldest son took in middle school, so that's about 16 or 17 years ago, wow!
They are super easy to put together and can be served for a simple appetizer or dressed up a bit for a party.
At least a couple times a month, I like to serve appetizers for dinner. It's a nice change to the dinner time grind and the whole family loves it.
Besides the Sausage Balls, some of our favorites are Cheese Ball, Spinach Dip, Taco Cups and Vegetable Roll-ups.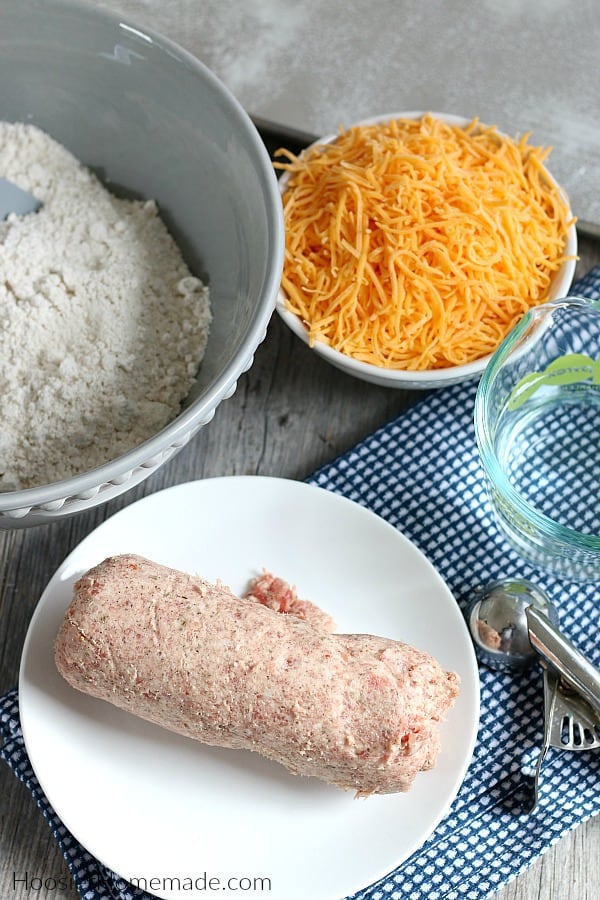 Sausage Balls Recipe
Ingredients
Bisquick Biscuit Mix – or you can use another brand of biscuit mix
Sausage – any breakfast sausage you like it fine, I typically use original flavor pork sausage
Cheese – sharp cheddar is the best, but again, you can certainly use whatever kind you like best
Water – this will hold the dough together nicely
Kitchen Essentials Needed
Cookie Sheet or Large Baking Pan
Foil
Non-stick Cooking Spray
Measuring Cup
Spatula
Cookie Dough Scoop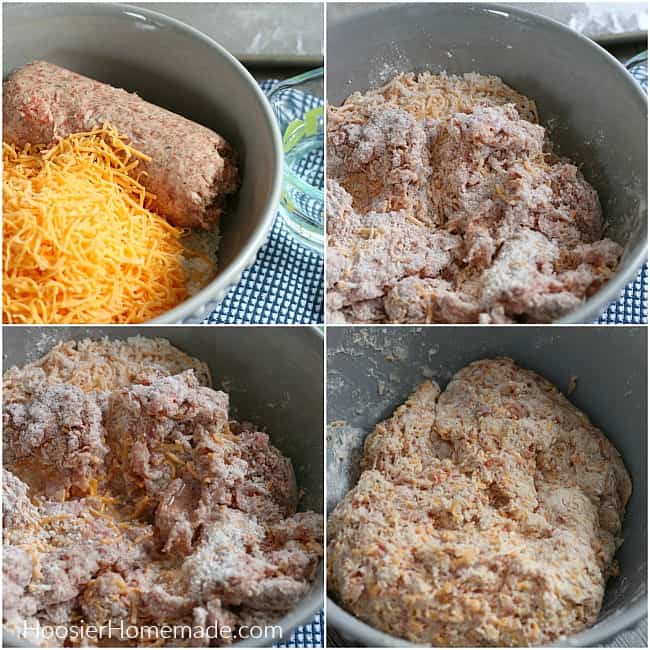 How to Make Sausage Balls
In a large bowl, add the Bisquick, sausage and cheese
Using your hands or a spatula, combine together all ingredients
Add about 1/4 cup water, and blend. You can add more water a little at a time if necessary
Combine the dough until well blended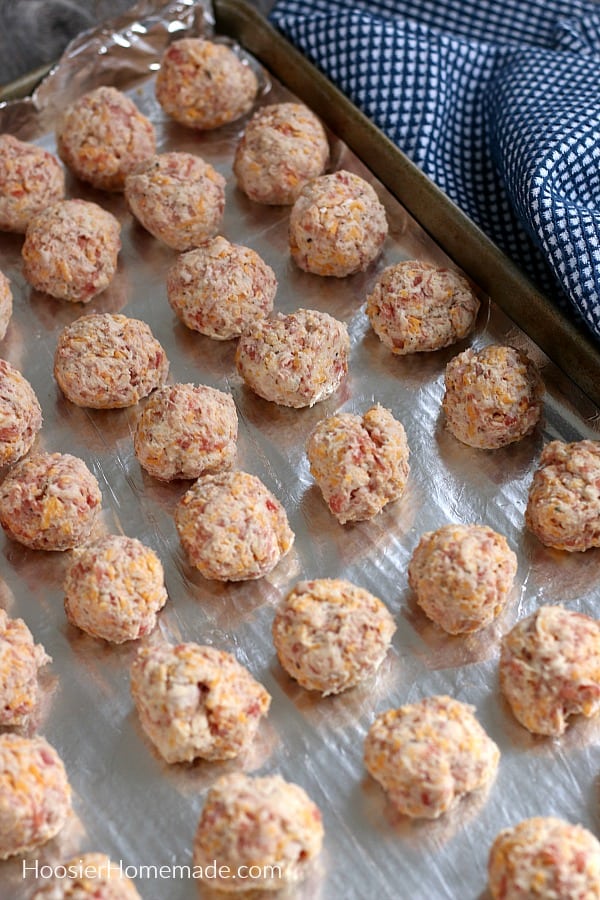 Form the dough into balls and place on a foil lined cookie sheet that is coated with cooking spray.
You can use a cookie dough scoop, small ice cream scoop or a spoon to form the balls.
Then bake the sausage balls for 10-15 minutes at 375 degrees or until they are golden brown.
For a little extra flavor, melt butter in a microwave safe bowl and brush onto the tops of the sausage balls about 5 minutes before they are done baking.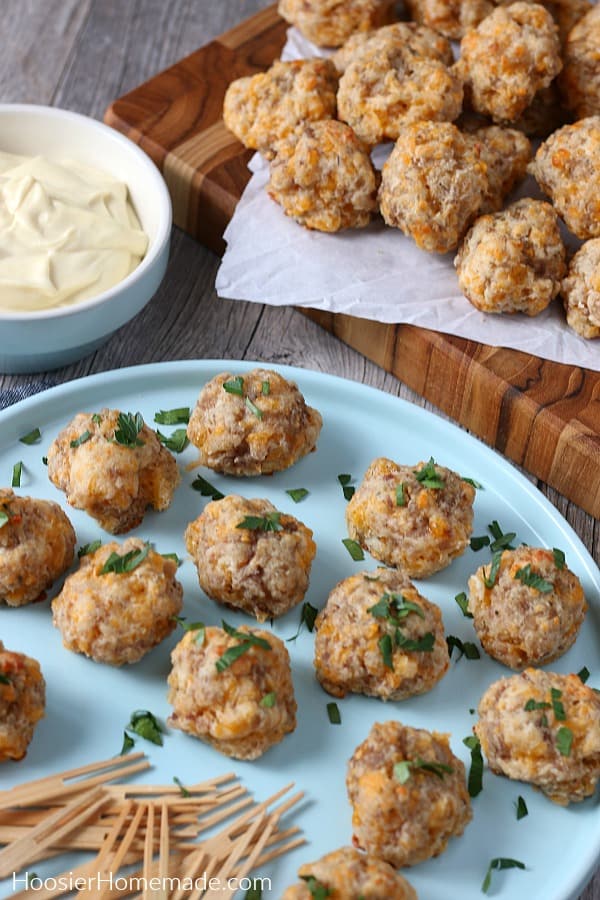 You can serve the sausage balls by themselves or with your favorite dipping sauce. An easy sauce to put together is a combination of mayonnaise and Dijon mustard, about 1/2 cup mayo mixed with 2 tablespoons mustard. Or you can adjust the amount depending on your taste.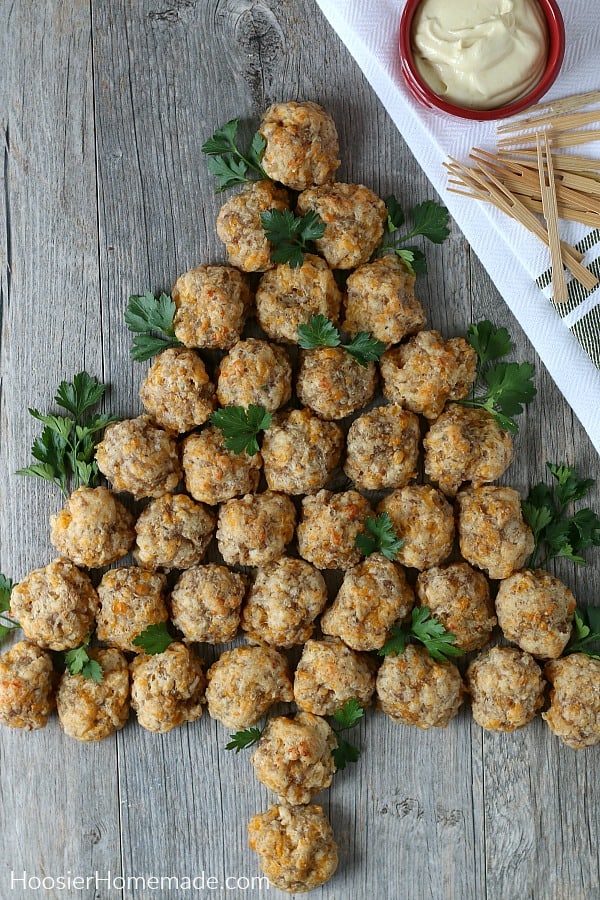 For a fun Christmas appetizer, bake the sausage balls, then lay them into the shape of a tree. Add small pieces of parsley, then serve with dipping sauce and toothpicks.
These Christmas appetizers are also delicious.
Follow along with the 100 Days of Homemade Holiday Inspiration for more simple recipes, easy crafts, homemade gift ideas, decorating tips and much more!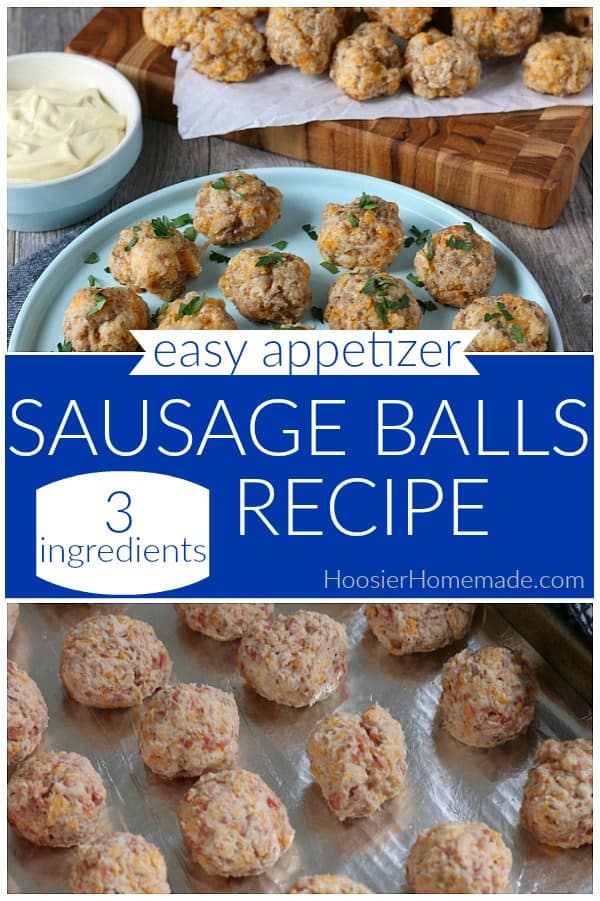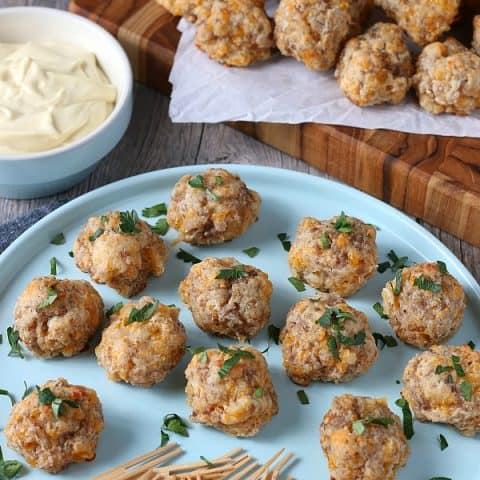 Mini Sausage Balls Recipe
These classic appetizers made with Bisquick will disappear fast at your next party, family game night or snacks for the football game!
Ingredients
3 cups Bisquick baking mix (or other baking mix)
1 pound (16 oz.) Breakfast Sausage, any flavor you like is fine
2 cups shredded sharp cheddar cheese
1/4 - 1/2 cup water
Instructions
Preheat oven to 375 degrees. Spray a cookie sheet with cooking spray.
In a large bowl, mix together baking mix, sausage and cheese
Add 1/4 cup water and mix well, if needed add more water
Roll into 1 inch bite size balls and place on cookie sheet
Bake for 15-18 minutes or until golden brown