Everyone loves a delicious Charcuterie Board, why not put one together as a gift! This simple gift idea can be given to teachers, neighbors, friends or use as a hostess gift.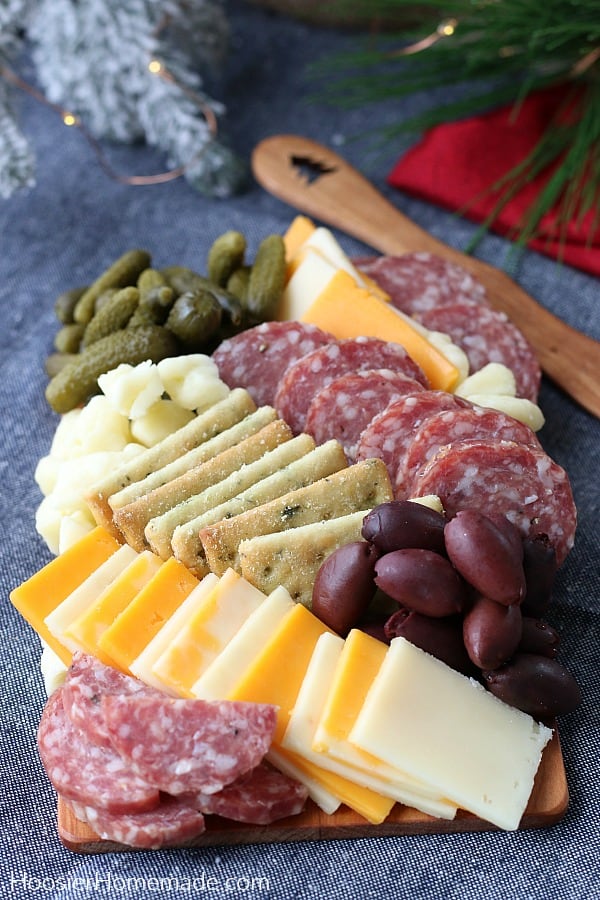 Welcome to Day 10 of the 100 Days of Homemade Holiday Inspiration! Each day we will be inspiring you with recipes, decorating ideas, crafts, homemade gift ideas and much more!
My love for Charcuterie and Dessert Boards is grown quite rapidly. Putting together a board to take to a party, or serve to guests is really fun, why not give one as a gift?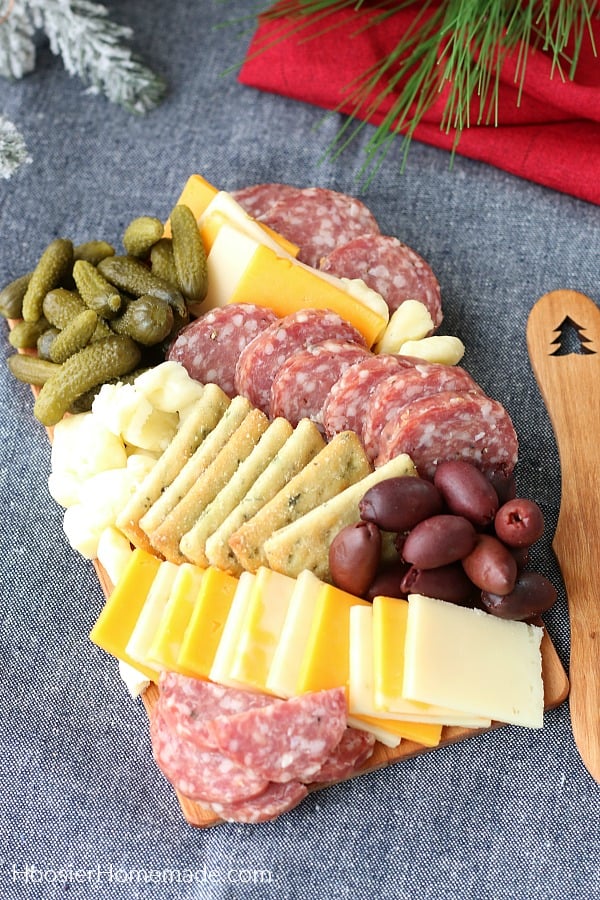 Charcuterie Board Gift Idea
You will need –
A board or tray – depending on who you are giving the Charcuterie Board to and what you want to include on it, will depend on the size. I found this cute little board at Home Goods. It came with a knife too, and has a tree cut out. You can find many different shapes and size boards at stores like Home Goods, TJ Maxx, or even specialty stores.
Food – again, depending on the size of your board and what you want to include, the sky is the limit here. It could be a traditional meat and cheese tray, or you could add treats and make it a dessert board.
Plastic Wrap – if you are transporting the Charcuterie Board, you will need something to wrap it in. Shrink wrap plastic bags that are for gift baskets works really well, just cut them to the size you need.
Ribbon, a bow and card, if you like
What to add to the board –
Meat – really any variety you like is fine here. You can use Salami (like I did), Prosciutto, Ham or even Turkey
Cheese – again, whatever you like it fine. Often times you can find trays with a variety of cheeses already cut in your local grocery store deli
Cheese curds – these are great to fill in the small open spots on the board
Crackers – I like to use a cracker that has a little flavor. This time I used Town House Focaccia Tuscan Cheese Crackers, but we also love the regular Town House or Club Crackers.
Pickles – since this board was small, the pickles needed to be small as well. I used Cornichons Baby Sour Gherkins, found with the other pickles at the grocery store.
Olives – your local grocery store deli should have a variety of olives. Remember the size of your board when choosing the olives and pickles.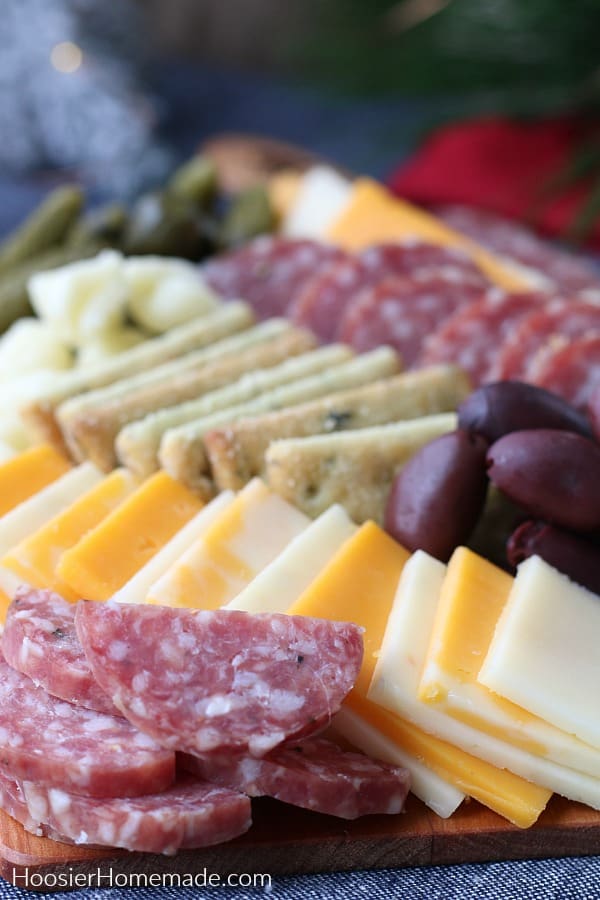 How to build a Charcuterie Board
Building your board will greatly depend on the size of the board and the types of food you choose. Here are my tips to make it look gorgeous –
Begin by placing the largest items on the board first
Then add the next size, and then the smallest
When you are placing the food on the board, add a single layer, just to fill it in, then come back and add more to the top
Fill in all the spaces to make it look full. The cheese curds are great for this, they can be broken and tucked in where you need a space filled.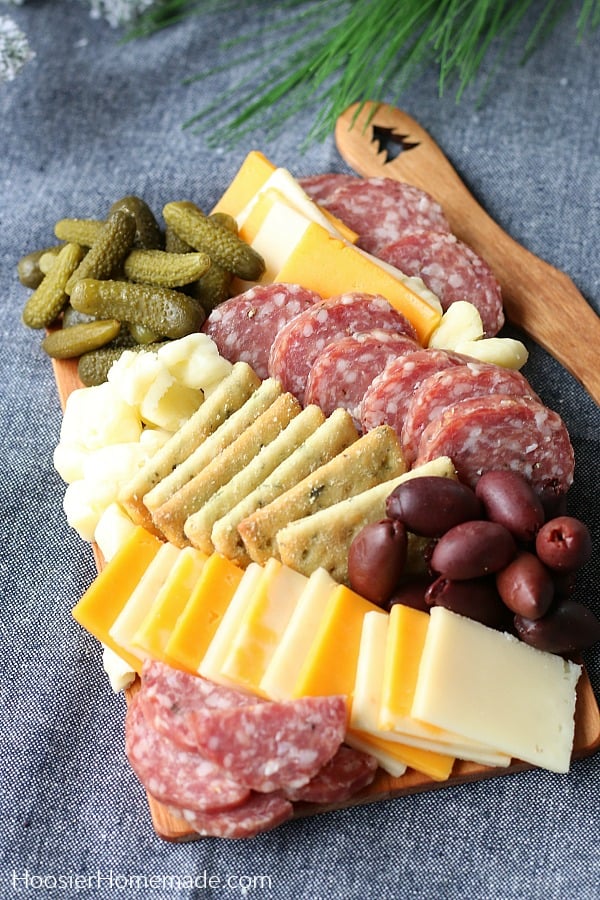 Now that you have the idea for a Charcuterie Board – who should you give it to?
Hostess – are you heading to a party, I bet the hostess would love to have this Charcuterie Board
Teacher – I bet teachers receive lots of candy and goodies during the holidays, why not give them something they can enjoy?
Neighbor – do you have a neighbor that you would like to give a gift to but have no idea what they would like? I bet they would love this Charcuterie Board.
Co-Worker – do you have a gift exchange at work, but don't know who you are giving to? Everyone loves a fun board.
Follow along with the 100 Days of Homemade Holiday Inspiration for more simple recipes, easy crafts, homemade gift ideas, decorating tips and much more!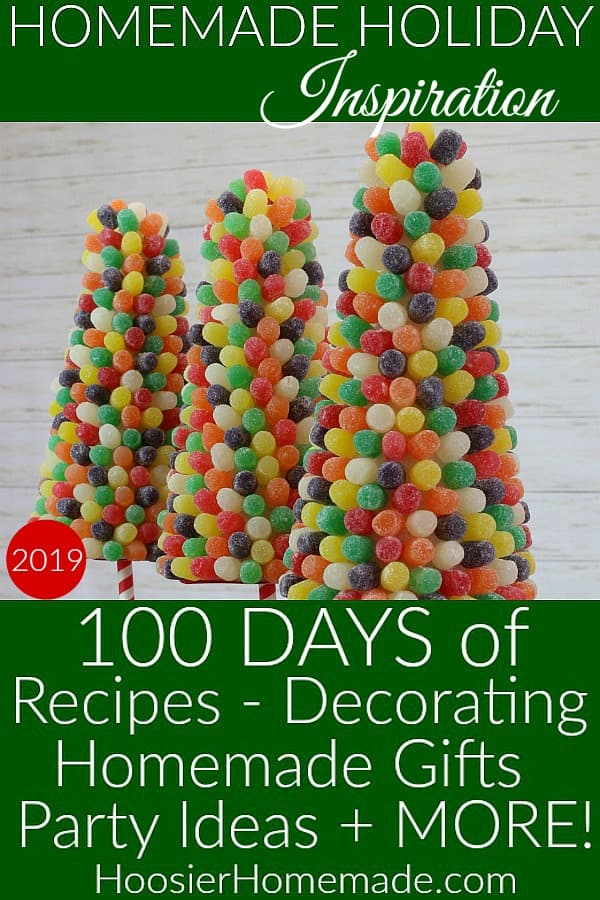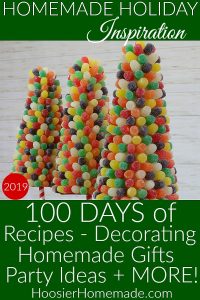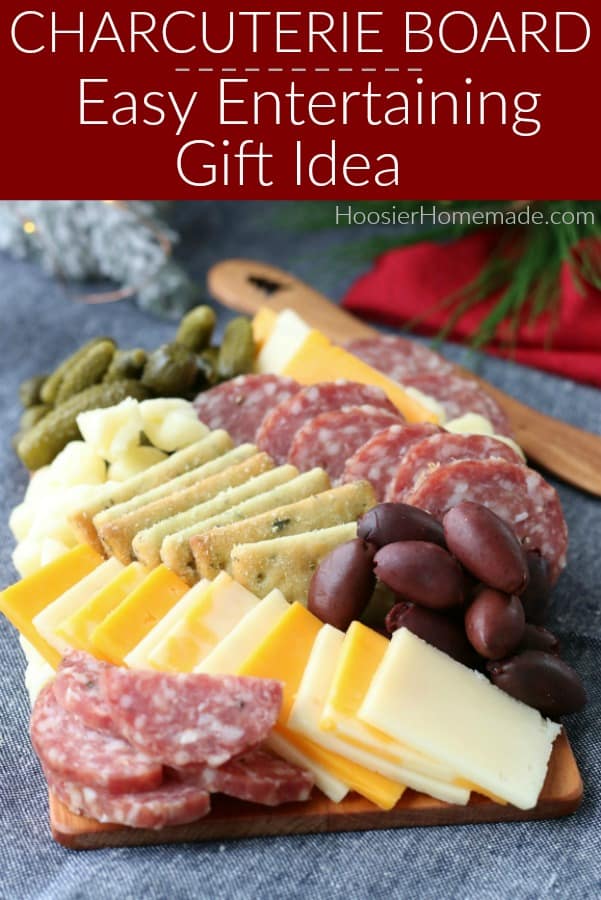 Looking for more Gifts from the Kitchen? Here are some favorites you may like –