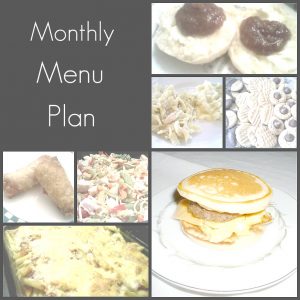 Here we are again, planning our Monthly Meals, wow, where did February go? We have been very excited here at Hoosier Homemade, last week we celebrated our 1 year Blogging Anniversary.
Many bloggers and homemakers that I know, meal plan for the week. But I think meal planning for the month can be a little overwhelming to some. I thought I would share with you a little of how I plan our monthly meals.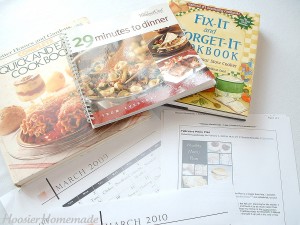 The first thing I do is print a monthly calendar, nothing fancy, just the full month. Then I get my calendar from last year (because I cook seasonal meals, Spring, Winter etc) and my menu from the prior month, to see what, if anything, we want to repeat.
We have lots of family favorites, and in a pinch for time, like last month, I just duplicate what we had the year before. This month, I decided to add quite a few new recipes. There are so many yummy looking recipes that I have been wanting to cook and share with you, I thought it would be best to add them to the menu.
Then I gather up my cookbooks and my very big stack of magazines like, Taste of Home, Kraft Food & Family and Pillsbury.
I add any holidays or special events that we have that month, then add in the meals. I always include, Breakfast for Dinner at least twice, a Mexican, an Italian, and a Crockpot Meal each week. In the past I used to have our larger meals on Sundays, but lately I have been so busy baking and preparing for the week ahead, that I decided to make Sunday a simple meal.
Here is what we are having this month…
1 ~ Bobby Dean's Favorite Goulash (Mommy's Kitchen recipe), Parmesan Knots & Salad
2 ~ Kielbasa and Rice
3 ~ Stuffed Baked Potatoes and Soup
4 ~ Chicken Pot Pie (roasted 2 chickens on Sun. will make 2, and freeze 1)
5 ~ Cheeseburger Mac (Recipezaar), Oven Fries
6 ~ Appetizers
7 ~ Chicken Tortilla Soup (recipe from Little Llamas)
8 ~ Breakfast for Dinner – Breakfast Tacos ,Fried Potatoes & Smoothies
9 ~ Chicken in a Haystack (recipe from Taste of Home)
10 ~ Taco Ring and Spanish Rice
11 ~ Mostacolli, Garlic Bread, Salad
12 ~ Chicken Fajitas, Rice
13 ~ Stuffed Crust Pizza (recipe from Taste of Home)
14 ~ Taco Soup and Cheesy Chili Dip
15 ~ Asian Chicken Stir-Fry and Rice
16 ~ Chili Cheese Dog and Baked Mac & Cheese
17 ~ Happy St. Patrick's Day ~ watch for a "green" menu
18 ~ Mini Meatloaves, Mashed Potatoes, Corn
19 ~ Stromboli
20 ~ Chicken Bacon Quesadillas
21 ~ Honey Sauced Chicken Wings (Recipezaar)
22 ~ Beefy One Pot Dinner (recipe from Kraft)
23 ~ Breakfast for Dinner ~ Homemade McGriddles
24 ~ Cheesy Chicken & Salsa Skillet (Kraft)
25 ~ Spaghetti and Meatballs, Parmesan Knots, Salad
26 ~ Hamburgers, Loaded Waffle Fries
27 ~ Pulled Barbecue Chicken Sandwiches (recipe from Simply Sugar & Gluten-Free), Potato Salad
29 ~ Ham & Cheese Calzones (Kraft), Oven Fries
30 ~ Slow Cooker Orange Chicken and Rice
31 ~ Lasagne Cups, Salad
Whew, I guess you can tell what recipes are my favorite! 🙂