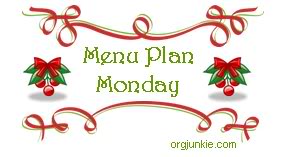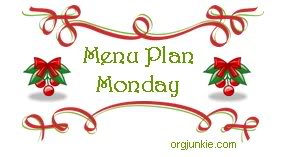 Wow, what a great we had last week, very, very busy, but lots of fun! I baked, baked and baked some more 🙂 my favorite thing to do, of course. If you missed some of my baking creations, you can catch up here. I also participated in the Once a month freezer cooking day, even though I didn't get everything done that was on my list (mostly because I was busy baking) and I didn't freeze enough meals for the month, I did get several meals prepared or frozen. And let me tell you, in all of the craziness that surrounds this month, it was so nice just to be able to go to the freezer in the morning and pull dinner out. I'm going to try to do this on a weekly basis.
This week I'm sharing my recipe, and I say that vaguely, because I really didn't use a recipe, but the Pot Pie turned out great.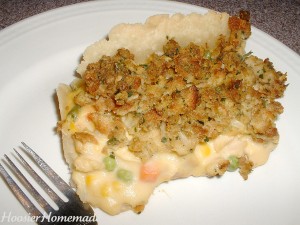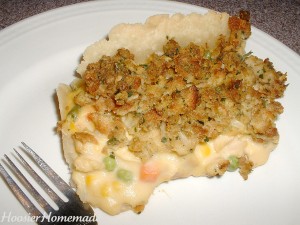 I started with leftovers actually, on Monday night we had creamed Turkey over biscuits, I used 3 cans of soup when I mixed it, so that I would have leftovers.
Ingredients:
Turkey (leftovers are great)
2-3 cans of Cream of Chicken soup and/or Cream of Celery soup
1-2 cans of Milk
1/2 bag of frozen mixed vegetables
2-3 handfuls of shredded cheese (I used Monterey/Colby blend)
1 Pie Crust (rolled out large enough to fit in a 13×9 pan)
1 box of Turkey Stove-Top Stuffing  (I used the Aldi's brand)
Directions:
Make (or buy) the Pie Crust, roll it out so that it fits in a 13×9 pan, covering the sides also. On the stove, heat Turkey, Soup, Milk, Veggies and Cheese until bubbling. Pour into crust. Make Stuffing according to directions on box (or you can use leftover stuffing if you have any) Spread stuffing on top of Turkey mixture. Bake at 350 degrees for about 45-60 minutes, or until stuffing is brown and filling is bubbling.
This Deep Dish Turkey Pot Pie was really good, it's definately a dish I will make again. My oldest son, Andrew, gave it a thumbs up and he's a very picky eater, so anytime I can please him, is good.
Now, onto our menu for the week…
Monday ~  Tacos and Nacho Bar
Tuesday ~  Marinated Chicken with Rice
Wednesday ~  Spaghetti and Meatballs, Red Lobster Biscuits (I've had a request for this recipe, I will be sharing it soon) and Salad
Thursday ~  Soup & Sandwich
Friday ~  Bubble Pizza
Saturday ~  Taco Bake (recipe from The Finer Things in Life)
Sunday ~  Chicken, Potatoes and Veggie
For more great menu plans, please visit: