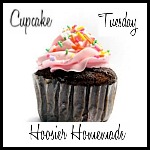 Welcome to Cupcake Tuesday!   If you are new here, grab a cup of tea or a glass of milk and enjoy a cupcake!
Thank you to all who added their great cupcake and muffin creations and comments last week for my Blogoversary! The winner of the Hello Cupcake Book will be announced after 8 p.m. Tuesday. If you haven't entered, you still have time.
I don't know if it's that I have a little Irish in me, or that I just like any reason to bake, cook and celebrate. But I just love St. Patrick's Day. I can make fun treats, decorate and I don't have to shop around for presents. 🙂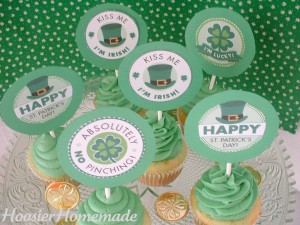 These cupcakes are a simple white cake, made into Poke Cupcakes with Lime Jello.
Place cupcakes on a foiled pan with edges, this process is a little messy, but worth it. Mix jello as directed on box, I used 1 small box, and had some left over. Poke cupcakes with a fork, about 3-4 times, then carefully pour jello over. I transferred the cupcakes, after wiping the bottom off a bit, onto another cookie sheet. I've learned the hard way, if you leave them on the tray, the jello hardens and makes the cupcakes pretty messy on the bottom. Place them in the frig for about one hour until jello is set.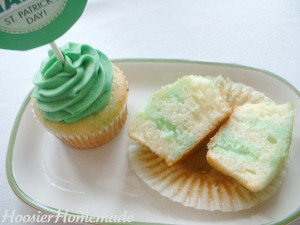 This is a very easy technique to add a variety of color and flavor to a plain cupcake.
Now for the decorations. I frosted them with Buttercream Frosting, be sure to stop back tomorrow and learn how I make my frosting. And these awesome cupcake toppers came from a new found blog, that I absolutely love, How Does She… All you need to do to get these super cute St. Patrick's Day printables is sign up for her newsletter, and let me tell you, you will want to, they (Shelley, Missy and Alison) are just full of great ideas!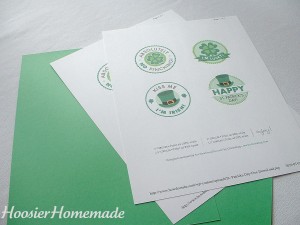 After receiving them in my inbox, I printed them on cardstock, and added some green construction to the back. To create the circles out of construction paper, I used the "professional" method, a drinking cup and pencil 🙂 Then just cut out the toppers, and glued them onto the construction paper, and taped a lollipop stick to the back.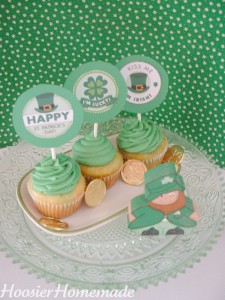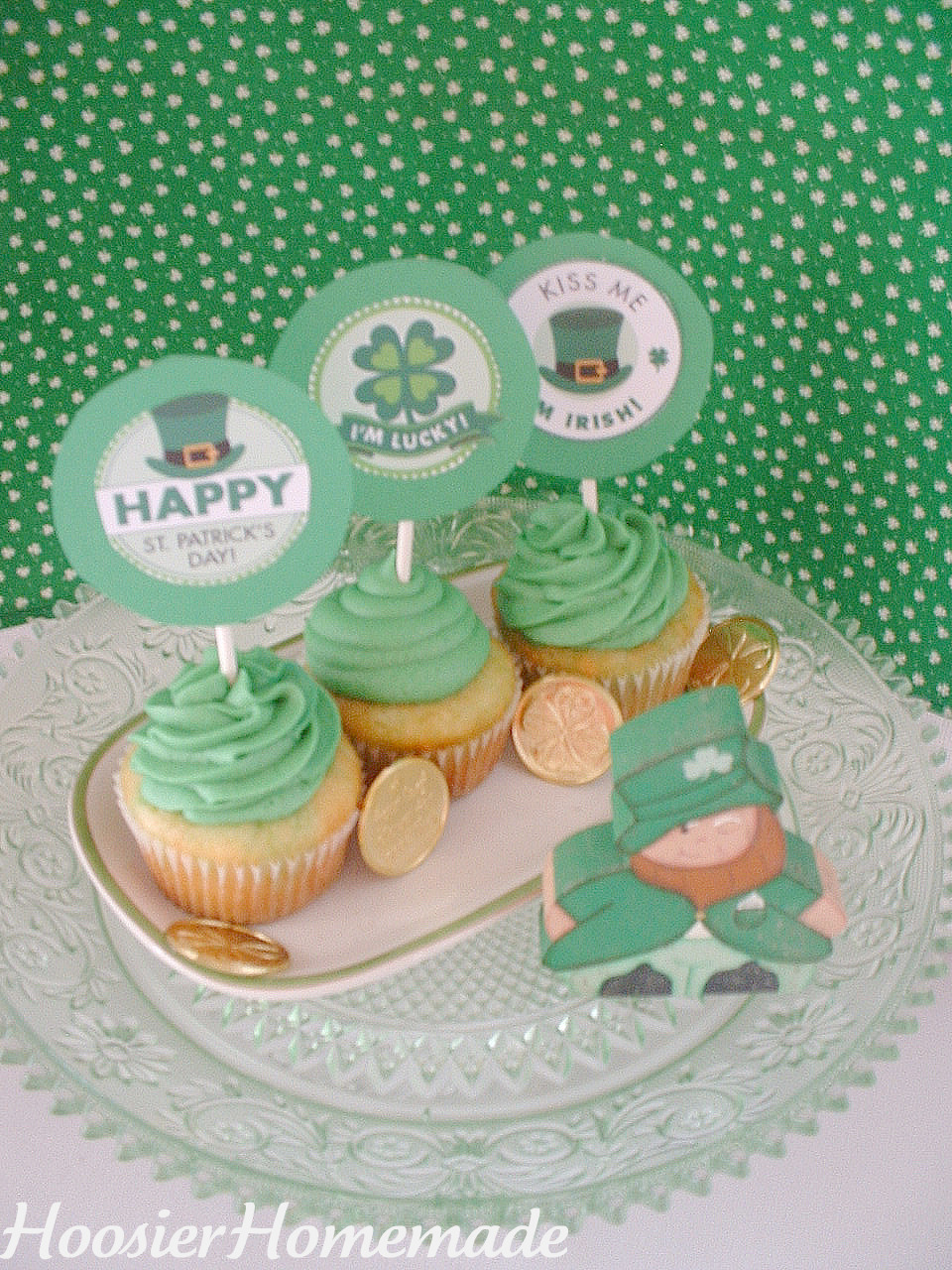 Be sure to get your Cupcake or Muffin recipes ready, and your oven fired up, next week on Cupcake Tuesday, for every link, I will be donating to our local Girl Scout troup. I will also be sharing a fun Girl Scout Cupcake with you, Yum! You can link up old posts, as long as you haven't linked it up on Cupcake Tuesday before.
The winner of the Photo Album and Pillsbury Orange Sweet Rolls provided by My Blog Spark is Vicki Wurgler. Congrats! Email me and I will send your information on.
This post linked to:
~St. Patrick's Day Party hosted by Created by Diane
~Made by you Monday hosted by Skip to my Lou
~St. Patrick's Day Party hosted by Somewhat Simple
Now it's your turn! Please share your cupcake or muffin recipe! For the guidelines, you can visit Cupcake Tuesday. Be sure to link back to this post and visit some (or all) of the other participants.