These Key Lime Pie Pudding Shots are absolutely delicious and go down smooth. With only four ingredients going in to the glass, these easy to make pudding shots are fun for any party!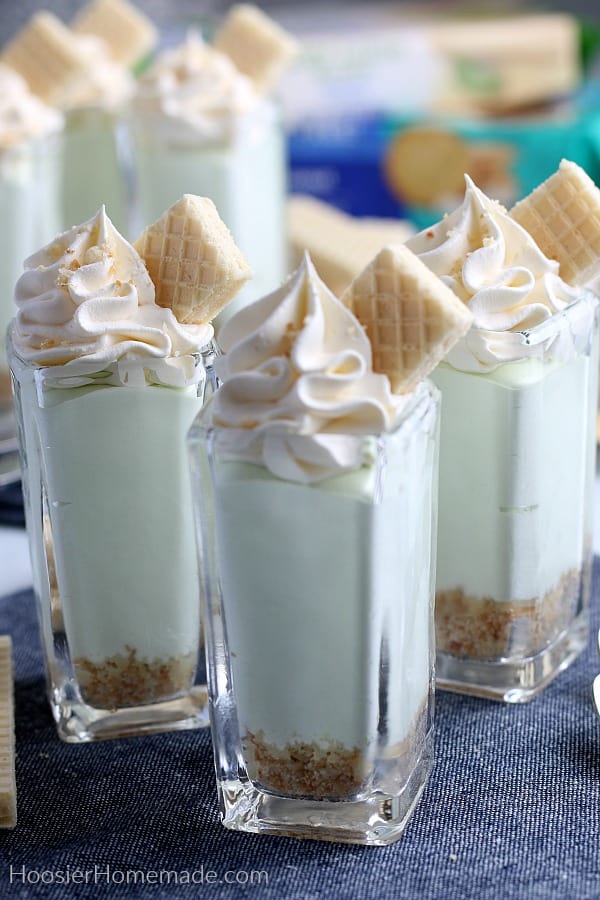 This post is brought to you by Voortman Bakery. As always, the opinions are my own.
What exactly are pudding shots? Pudding shots are the cousin to the jello shot. By adding alcohol to pudding, you get a creamy treat that fans of the jello shot can also enjoy. Which of these treats are better? Well I'll leave that up to you to decide. Personally, I enjoy the smooth texture of the pudding shots a bit more.
But let's say you want a little less party in your party pudding. If you want to enjoy these key lime pudding shots with all members of your family, all you need to do is swap all of the alcohol in the recipe with milk. Yes, it's that easy!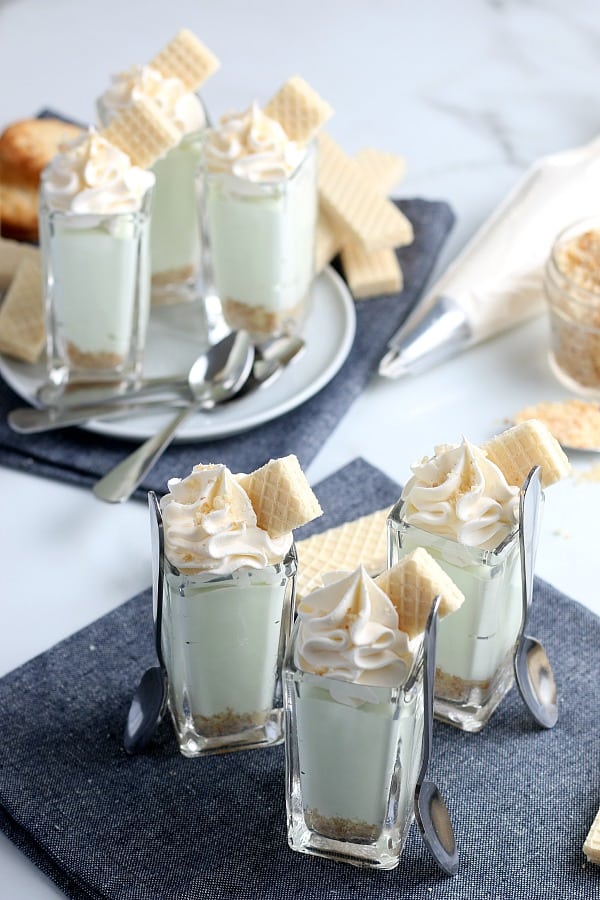 To bring even more flavor to this Pudding Shots Recipe, we added our favorite cookies from our friends at Voortman Bakery. We have been enjoying their cookies for over a year!
You all LOVE the Dessert Charcuterie Boards like the S'mores Dip Dessert Charcuterie Board, Fruit Board with Healthy Fruit Dip, Pumpkin Dip recipe and board and Cookie and Chocolate Board that we paired with wine.
And for the holidays, like St. Patrick's Day, these fun to make Mini Key Lime Pies. No Bake Cheesecake have a patriotic twist, and we can't forget Christmas with Hot Chocolate Bar and Cookies for Santa.
All of the Voortman Bakery products are made with no artificial colors or flavors AND no high-fructose corn syrup.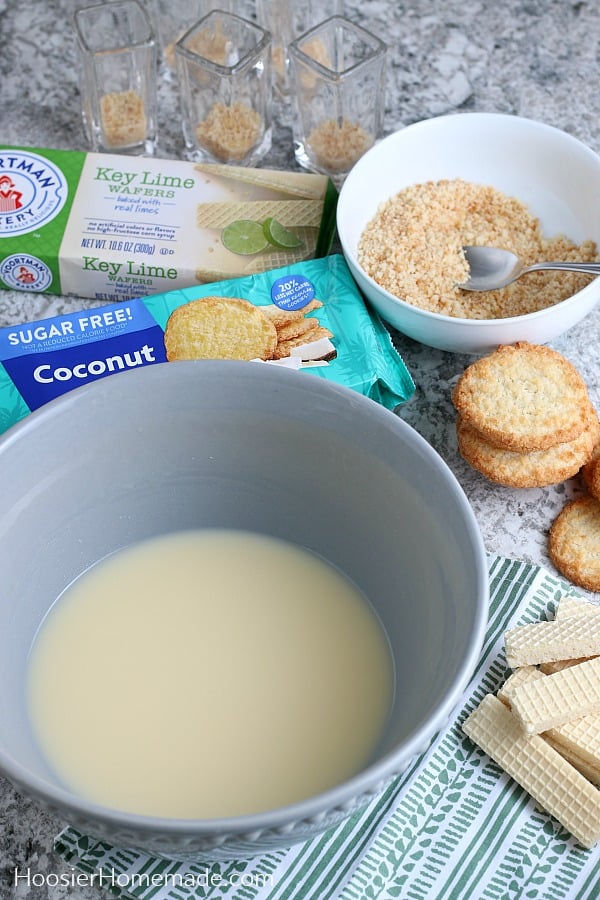 Putting together these pudding shots is quick and easy. You can make them any flavor you like, we like Key Lime for a fresh spring flavor. Chocolate pudding shots are also very popular.
Pudding Shots
Full printable recipe and instructions are below
Ingredients
Instant Pudding – any flavor is fine, for this recipe we used white chocolate cheesecake to give them a bit of a creamy flavor
Milk
Key Lime Rum – you can also leave out the alcohol for a kid friendly pudding shot, you will need to increase the milk
Whipped Topping – frozen whipped topping is best for stabilizing the pudding. You can also try fresh whipped cream, although I did not test this recipe with it.
Food Coloring, optional but fun
Cookies – Key Lime Wafers and Coconut Cookies from Voortman Bakery – some for the "crust" in the glass and some for garnish.
Kitchen Essentials Needed
Large Mixing Bowl
Whisk
Rubber Spatula
Measuring Cup
Shot Glasses – or small glasses, 4 oz mason jars work well too
Food Processor or resealable bag and rolling pin – to crush the cookies
Disposable Decorator Bag to easily fill shot glasses – this is optional, but much easier than using a spoon
Disposable Decorator Bag fitted with a #1M Star Tip for adding garnish – again, optional but fun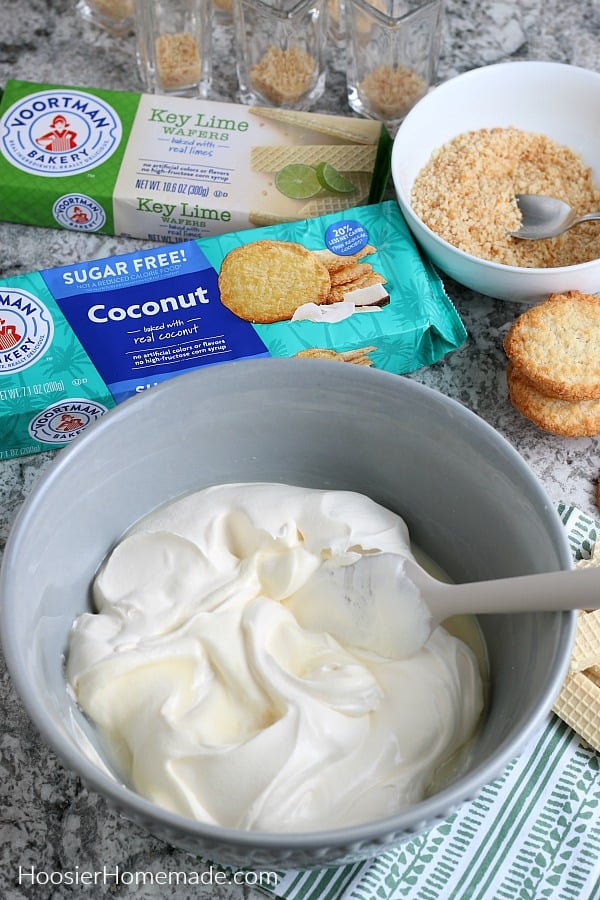 How to Make Pudding Shots
Full printable recipe and instructions are below
Crush the cookies into small pieces and add to the glasses. The amount will depend on how large your glasses are. I added about 1 teaspoon to each glass.
Then using a small spoon or skewer, gently tap down the cookies until they are firm in the bottom of the glass.
Add pudding mix, milk and alcohol to bowl and whisk until smooth
Then fold in the whipped topping, until pudding is smooth.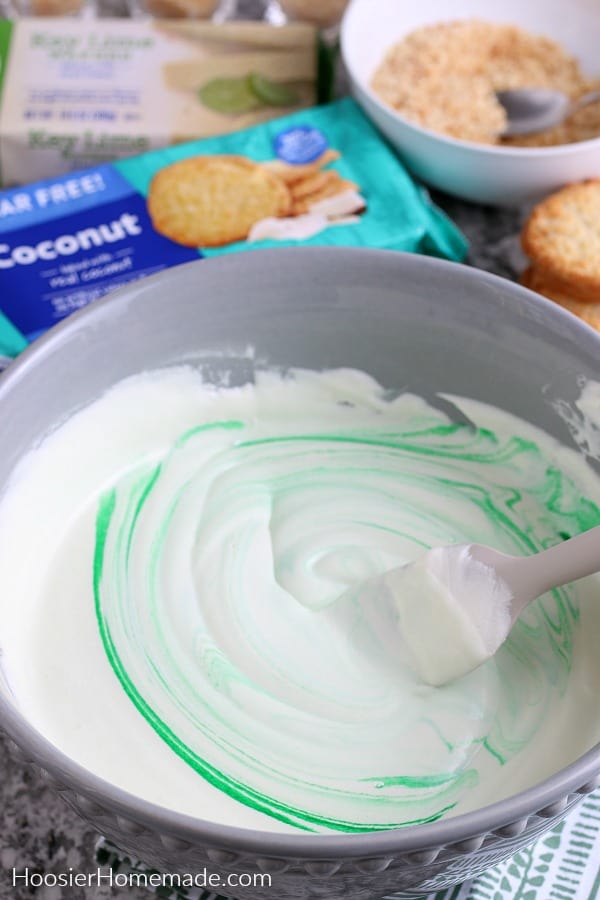 Now you can add the food coloring, if you like. Then into the glasses, and into the freezer.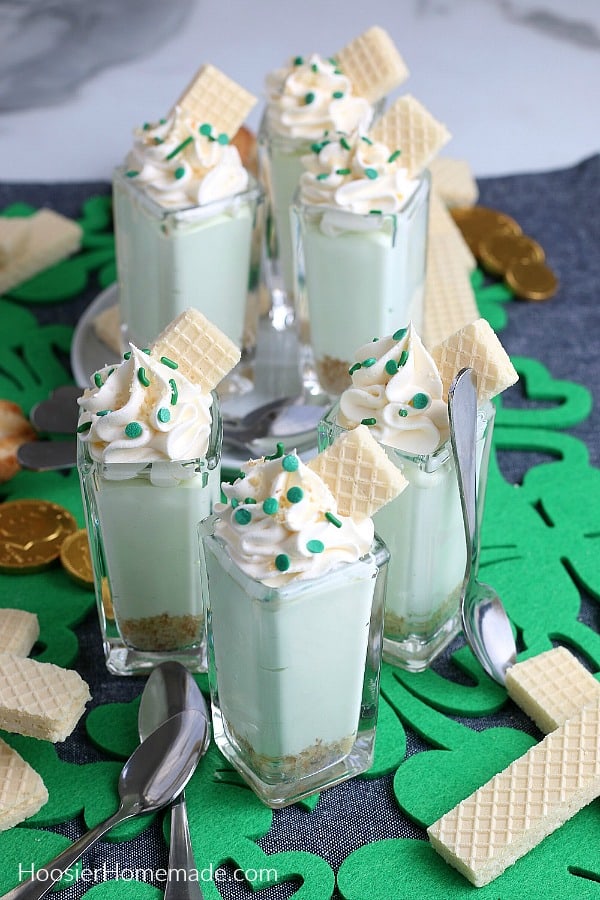 Key Lime Pudding Shots- Frequently Asked Questions
What do I do if the pudding shots don't set?
Putting them in the freezer and adding the whipped topping is key for this recipe. We did test them without using whipped topping and in the refrigerator, and they did not set.
What should I do if the pudding mix calls for more/less milk?
No need to worry about the instructions on the box.
How do I store these shots?
There are plenty of plastic shot glasses that come with lids to seal them. You can find these fairly easily in the party favor aisle of most stores.
How strong are these shots?
Rum and Vodka are both 80-proof liquors, but since they're mixed with other goodies you'll end up with a drink that is approximately 30-proof. This is relatively mild by alcohol standards.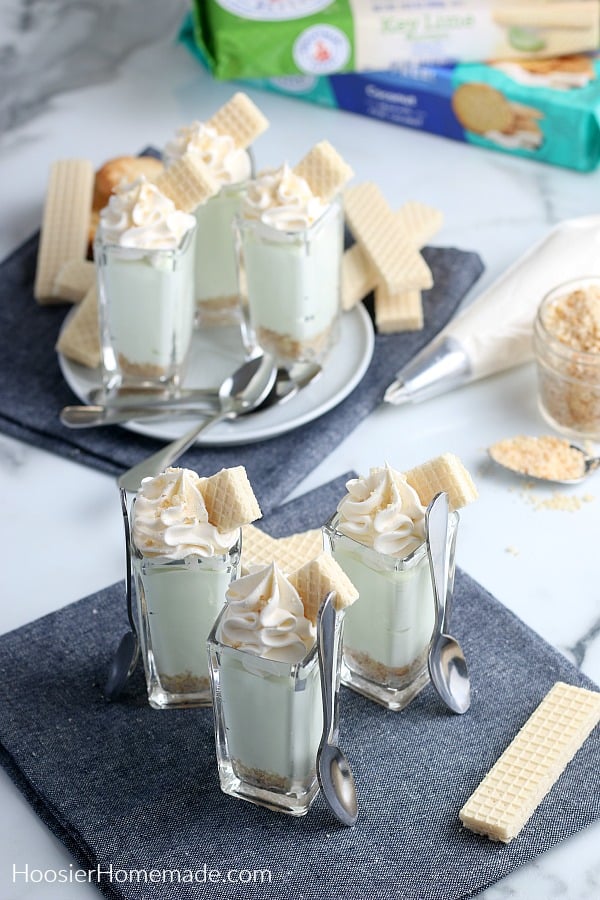 These key lime pudding shots are a magical treat that you can bring with you to any party on this Saint Patrick's Day. Or any holiday really. After all, why limit yourself? Fun should be a year long thing!
Now you can certainly enjoy these pudding shots on their own, or you can take them to a whole new level by adding in another treat to dip.
What would you add? How about some of Voortman Bakery Key Lime Wafers?! These cookies can be dipped in your pudding shots for an extra bit of fun and flavor.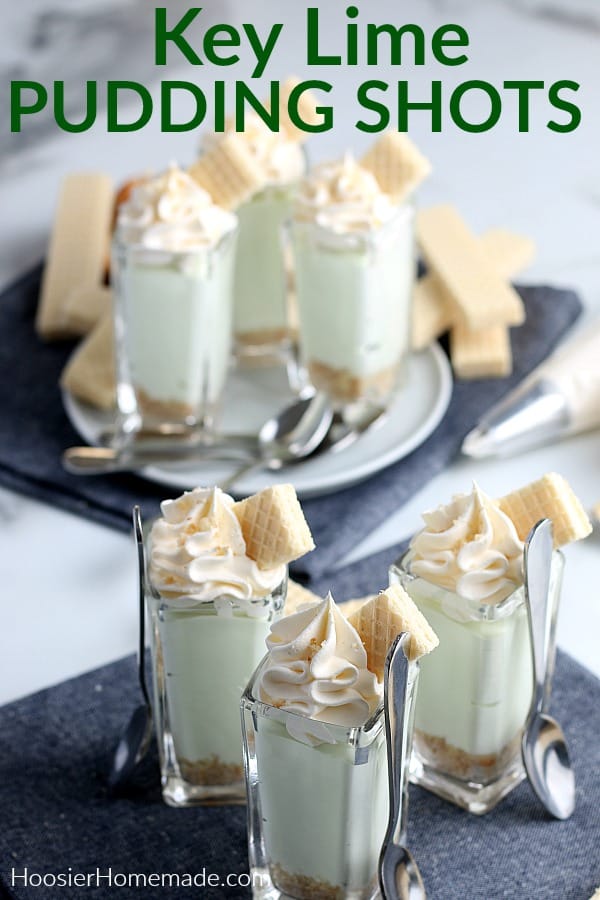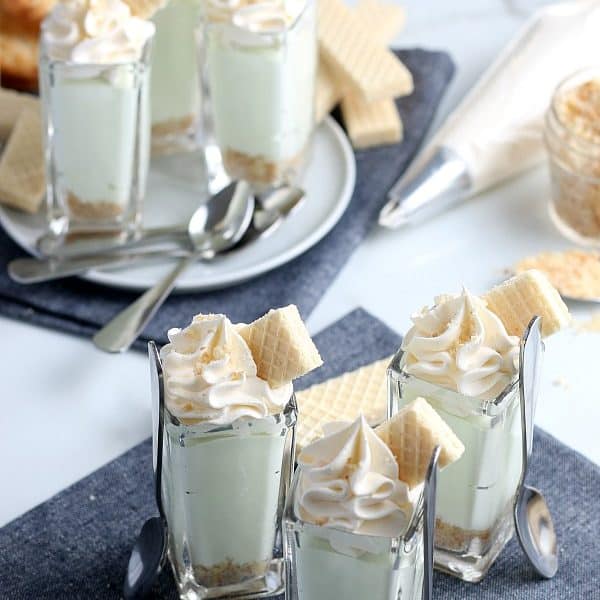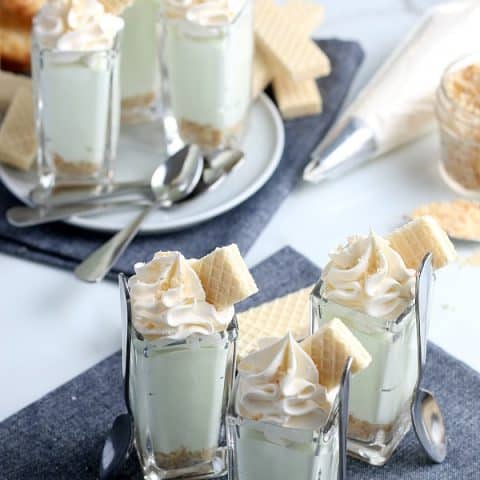 Key Lime Pie Pudding Shots
Make these Pudding Shots with or without alcohol
Ingredients
1 box (3.4 oz) white cheesecake or vanilla instant pudding mix
1 cup milk
3/4 cup lime rum or vodka
1 container (8 oz) whipped topping, thawed and cold
1 package Voortman Bakery Coconut Cookies
1 package Voortman Bakery Key Lime Wafers
Green food coloring, optional
Instructions
Crush about 15 coconut cookies in a food processor or resealable bag, set aside
Add pudding mix to large bowl
Add milk and alcohol
Whisk until smooth and slightly thickened
Fold in whipped topping
Add food coloring if you like
Place in freezer about 1 hour to set slightly, this is optional, but will help so the pudding mixture doesn't soak into the cookies
Add about 1 teaspoon (depending on size of glass) of cookie crumbs to bottom of shot glass and tap down to create a crust
Remove pudding mixture from freezer and add to glasses
Place in freezer 3-4 hours or overnight
Remove just before serving and add whipped topping to the top, crush coconut cookies and a key lime wafer for garnish
Notes
For non-alcohol pudding shots, increase milk to 1 3/4 cups and follow instructions
Nutrition Information:
Yield:

12
Serving Size:

1
Amount Per Serving:
Calories:

102
Total Fat:

4g
Saturated Fat:

2g
Trans Fat:

0g
Unsaturated Fat:

2g
Cholesterol:

10mg
Sodium:

110mg
Carbohydrates:

11g
Fiber:

1g
Sugar:

4g
Protein:

2g