It takes only a few ingredients, and next to no time to make this Shamrock Shake. They are a fantastic and well known treat. Just ask McDonald's if you want to know how popular these drinks are. But why even go out when you can make these delicious drinks right at home?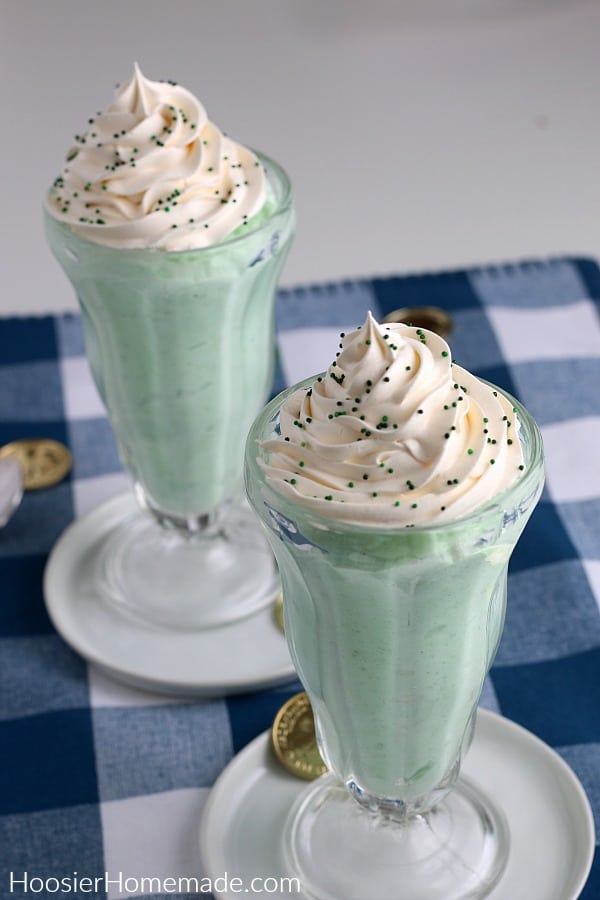 Shamrock shakes are a great dessert for St. Patrick's Day. It mixes two of the holiday's most recognizable things: green and mint. This makes it a must have for any Saint Patrick's Day celebration. Whether you serve them as dessert, or as a side to your holiday meal.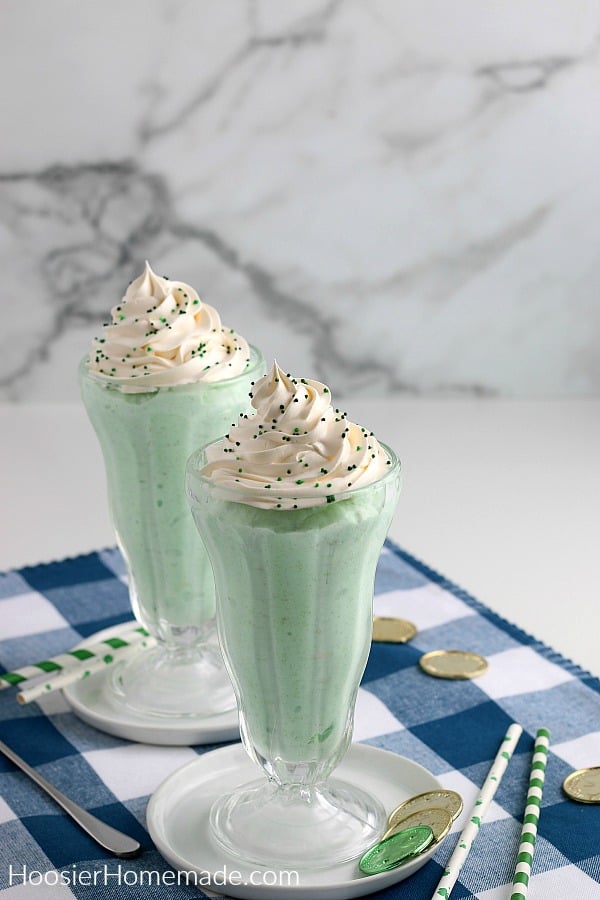 My family has been enjoying these drinks every year since finding this recipe. Whenever a shamrock shake hits the table, the family cheers in delight! We've perfected this recipe throughout the years, getting better each time. What's come out is a shamrock shake that will make anyone cheer.
As if the flavor of the shamrock shake wasn't good enough, you can also add a little flair to this dessert. With this drink, you can add whipped cream and sprinkles for a pop of color. The chaotic, festive nature of sprinkles is directly in the spirit of the holiday. You can even top it with a cherry, how fun!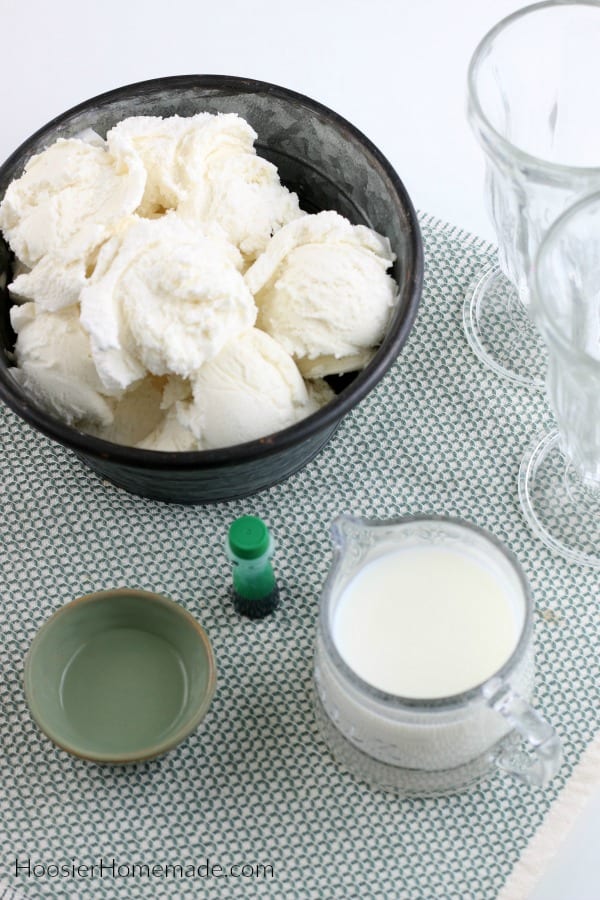 Shamrock Shake
Full printable recipe and instructions are below
Ingredients
Vanilla Ice Cream
Milk
Mint Extract
Green Food Coloring
Whipped Cream for topping, if you like
Sprinkles – they are always fun
Kitchen Essentials Needed
This Shamrock Shake Recipe is remarkably easy to follow. All you have to do is take the four ingredients- vanilla ice cream, milk, green food coloring, and mint extract (not peppermint extract! That's a completely different flavor than what we need.), and place those ingredients in a blender. Once the ingredients are blended smoothly, place them in a glass to serve, perhaps with some whipped cream and sprinkles on top, and boom! You've got yourself a shamrock shake to die for!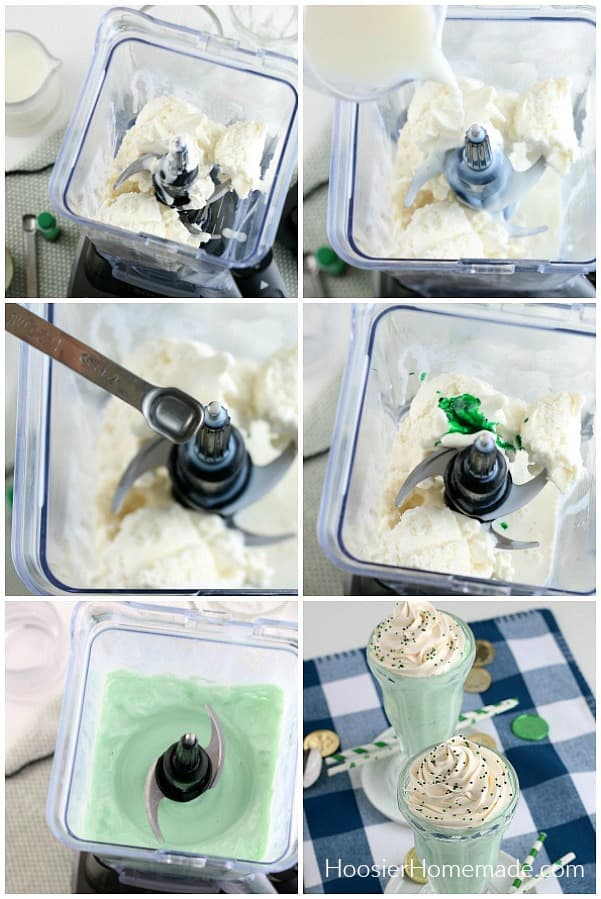 How to Make a Shamrock Shake
Full printable recipe and instructions are below
Add several scoops of vanilla ice cream to the blender. Good quality ice cream is best.
Pour milk over ice cream
Then it's time for mint extract. Be sure it's mint and not peppermint extract, they do taste different.
Now color the shake with a little food coloring. Liquid food coloring works best.
Blend it all up together until the shake is smooth.
To serve, pour the shake into tall glasses and top with whip cream and sprinkles, if you like.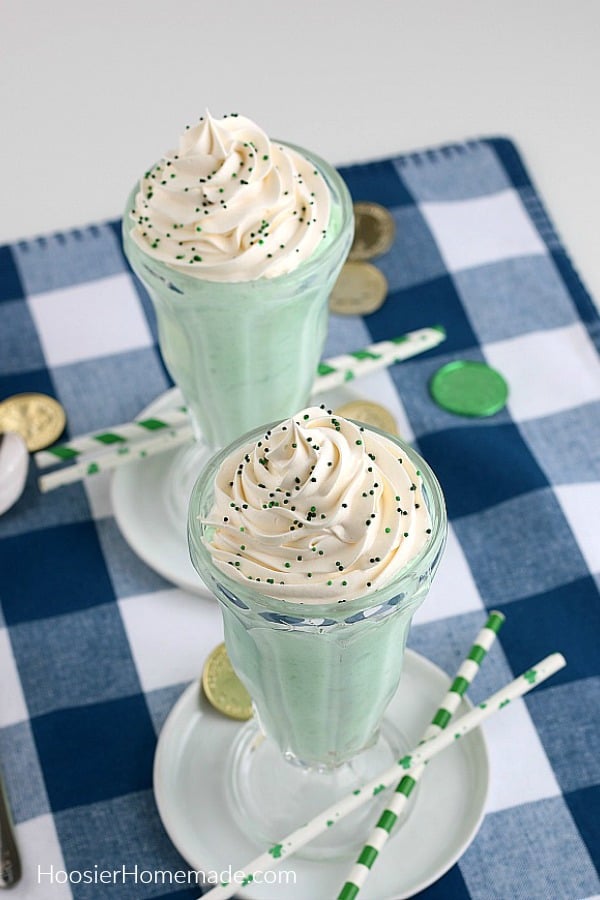 Shamrock shakes have been synonymous with St. Patrick's Day for quite a long while now. They've been popular in the times leading up to the holiday for many years now, ever since McDonald's introduced the shake many years ago. The main difference between their shake and our shake is ours can be enjoyed any time of the year!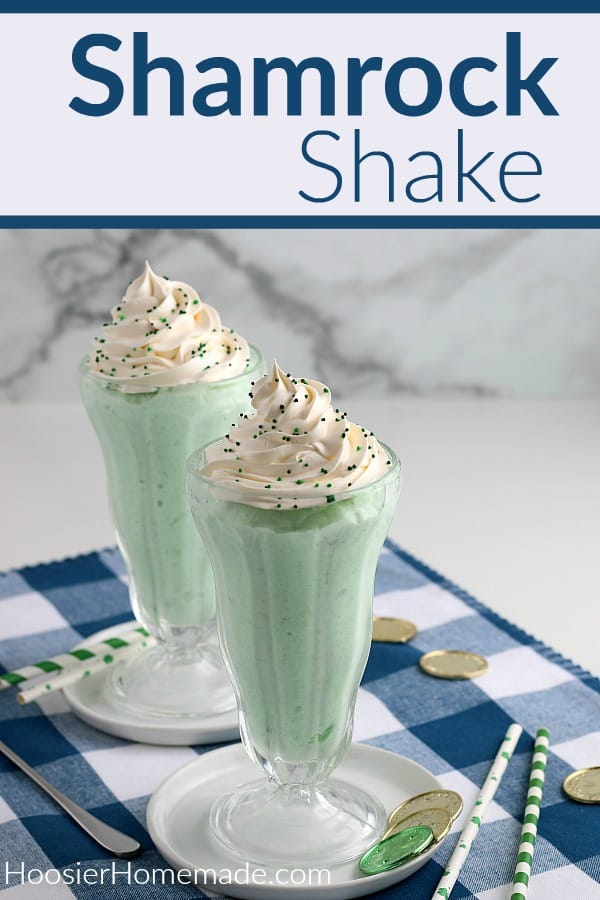 Shamrock Shake – Frequently Asked Questions
What does the shake taste like?
Nice and minty, with a bit of vanilla goodness. If you prefer your milk shakes on the thicker side, you can thicken this shamrock shake up by replacing the milk with half and half.
Can I add alcohol?
Yes you can! Of course McDonald's doesn't, obviously, but that shouldn't stop you from experimenting. I would recommend vodka for this, bonus points if it's flavored to match.
Do I need ice cream?
Ice cream is absolutely necessary. It allows the shake to have a nice, creamy base to build off of. If you're lactose intolerant, there are dairy free alternatives, same with milk.
Are there different flavors of shamrock shakes?
McDonald's has offered different flavors of shamrock shakes, the most recent of which being an Oreo variant. You can certainly add Oreo cookies to our recipe, as well as any other chocolate. Mint and chocolate pair very well, so feel free to experiment with different kinds. The original shamrock shake was lemon lime flavored, so you could even go for a classical flavor.
Now that you've got your shamrock shakes year round, what will you do with them? Will you serve them for Saint Patrick's Day? Maybe in the summer? The possibilities are endless!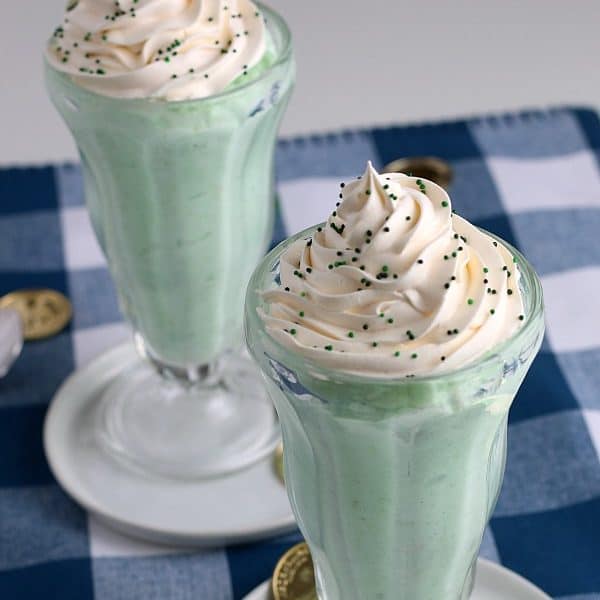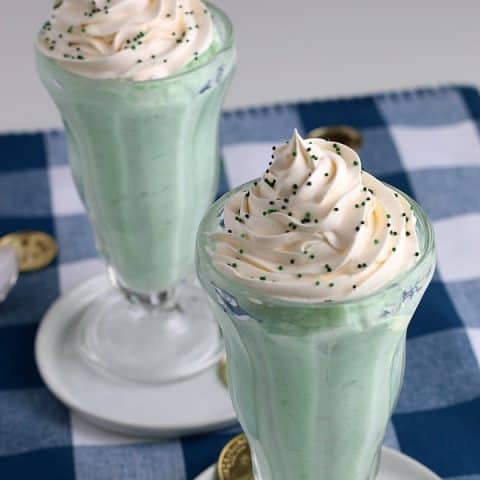 Shamrock Shake
Make your own Shamrock Shake at home in minutes.
Ingredients
2 cups Vanilla Ice Cream
1 cup Milk - or for thicker shake use Half-and-Half or Cream
6-8 drops of Green Food Coloring
1/8 – 1/4 teaspoon Mint Extract - depending on taste
Instructions
Place all ingredients in blender and blend until smooth
Pour into tall glass
Top with whipped cream, cherry or sprinkles, if desired
Serve immediately
Nutrition Information:
Yield:

2
Serving Size:

1
Amount Per Serving:
Calories:

669
Total Fat:

29g
Saturated Fat:

18g
Trans Fat:

0g
Unsaturated Fat:

9g
Cholesterol:

112mg
Sodium:

430mg
Carbohydrates:

87g
Fiber:

2g
Sugar:

77g
Protein:

16g