These Mini Key Lime Pies start with a Key Lime Wafer Cookie Crust and filled with a creamy easy Key Lime Pie Recipe that takes only four ingredients.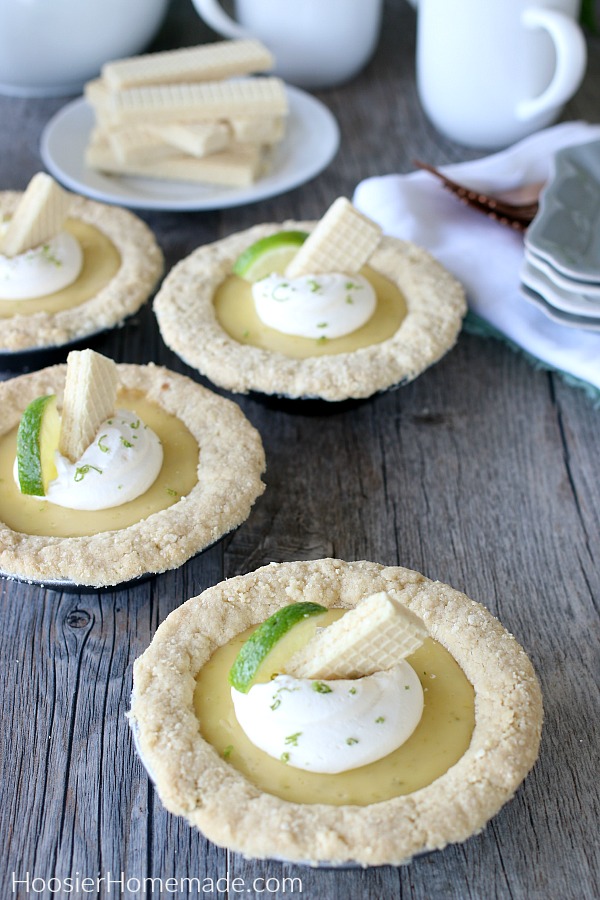 This recipe is brought to you by Voortman Bakery. As always, the opinions are my own.
Spring is a time to start fresh, to freshen our homes, our lives and reconnect with those we love. To celebrate as nature begins to come to life again. And part of celebrating is having easy recipes that are special enough for you to serve at your St. Patrick's Day party, Spring or Easter celebration, yet simple enough for a weeknight dessert.
These Mini Key Lime Pies begin with a wafer cookie crust. Voortman Bakery has Key Lime Wafers that were the perfect addition to this best Key Lime Pie Recipe.
Like all of their wafers (and other cookies) they are made with REAL ingredients, and the bakers believe in the art of baking, believe that cookies should taste delicious and are committed to giving their customers quality, flavor and simply better cookies. To cut back on my sugar, I have also tried the sugar free Voortman cookies, and they are really good.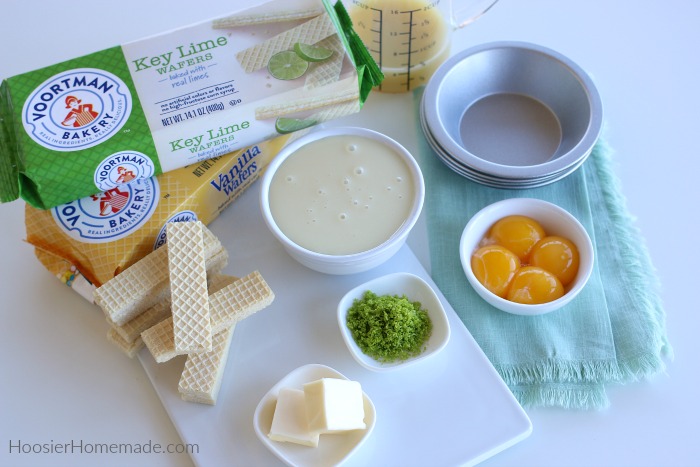 This easy Key Lime Pie Recipe has simple ingredients. The cookie crust has two ingredients and the Key Lime Pie filling has only four.
This recipe will make 4 mini pies or 1 regular size pie.
Key Lime Pie Recipe
Ingredients for Crust
Key Lime Wafers from Voortman Bakery – you will need one (14 oz) package for the crust plus some for garnish if you like
Butter -melted
Ingredients for Filling
Sweetened Condensed Milk
Egg yolks
Key Lime Juice
Key Lime Zest
Cookie Crust
First you will need to make the cookie crust. There are two options for crushing the cookies.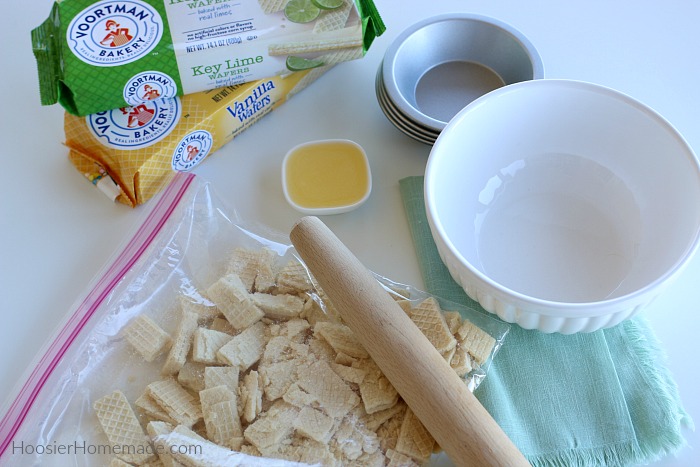 Break wafer cookies in half and place in a large resealable bag.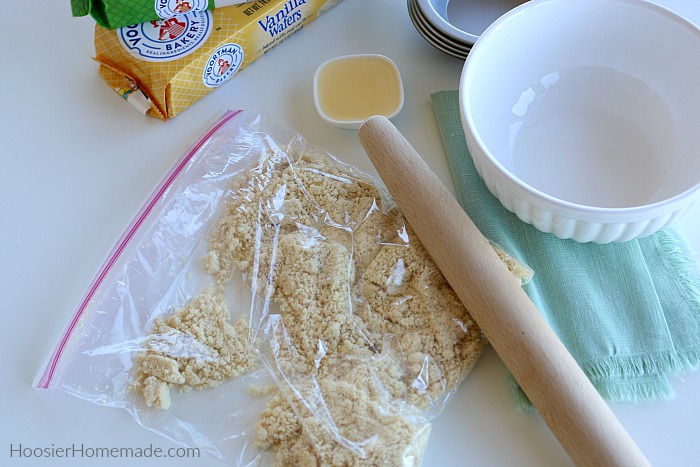 Crush cookies with rolling pin until crumbs are fine.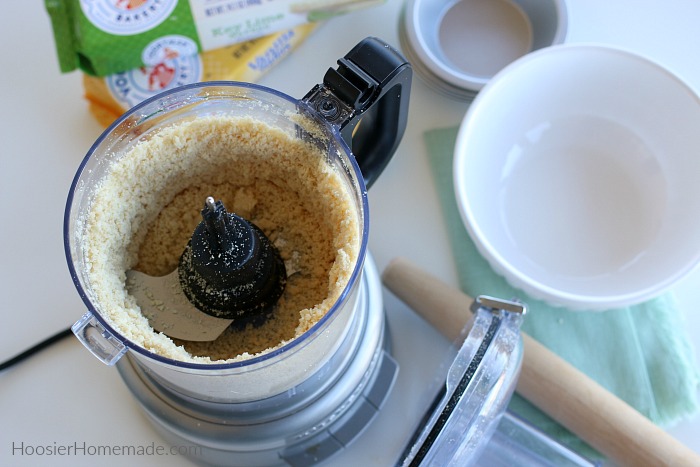 You can also crush the cookies in a food processor. Either way is fine, however the food processor is a lot easier and actually makes the cookies finer.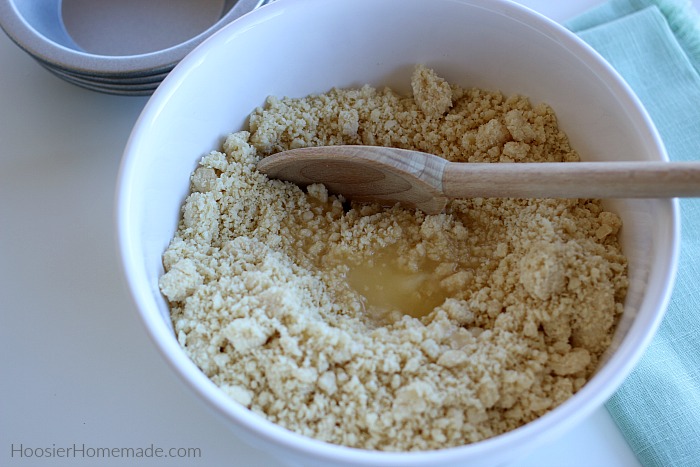 Next pour the cookie crumbs into a medium bowl and add the melted butter. Stir until well combined, the crumbs should begin to stick together. If it feels too dry, you can add more melted butter.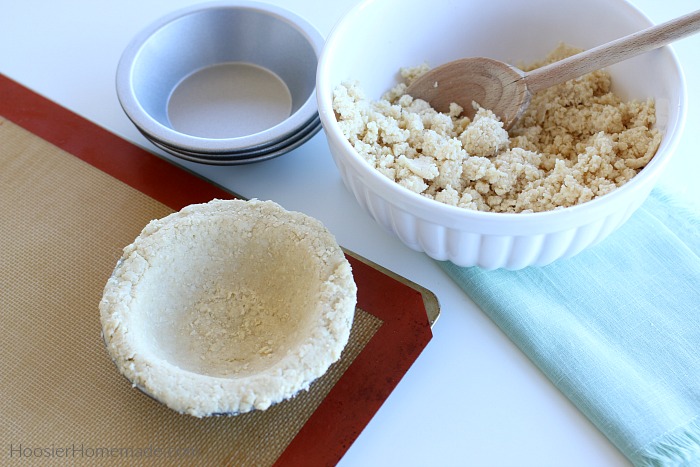 Now it's time to form the pie crusts. Add about 1/2 cup of cookie mixture to mini pie tin and using your fingers, form the crust up the sides of the tin making sure that the crust is as even thickness as possible.
Place the pie crusts on a baking sheet and bake at 350 degrees for 10-12 minutes, keeping in mind you don't want it brown or over baked, because it will be baked again with the filling.
How to Make Key Lime Pie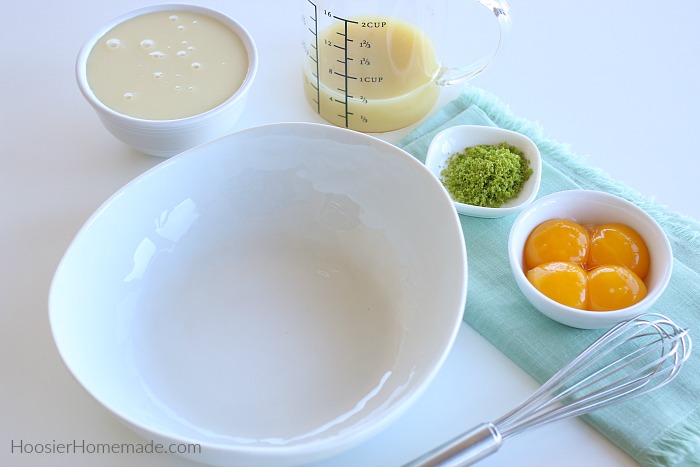 This recipe will make one regular size pie or you can make four mini key lime pies. You will need only four ingredients – Sweetened Condensed Milk, Egg Yolks, Key Lime Juice and Key Lime Zest.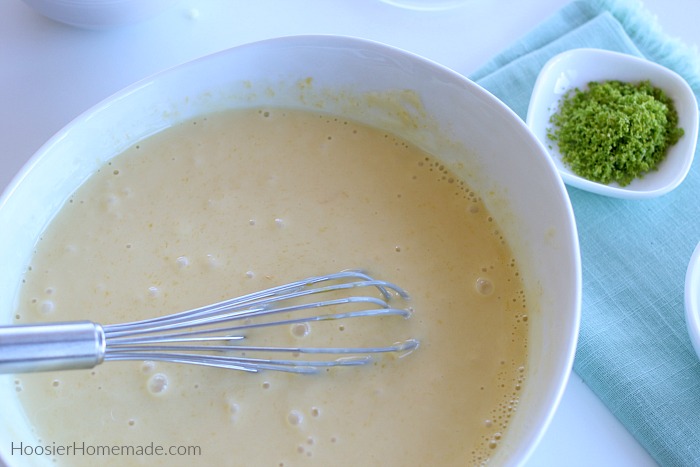 Begin by adding the Sweetened Condensed Milk, egg yolks and juice to a bowl and whisk until well combined.
Sweetened Condensed Milk – this canned milk is a bit sticky, but really easy to use. It's a key ingredient in many desserts. You can find it in the baking aisle at your local grocery store, or you can make your own.
Egg Yolks – separate the egg whites and yolks into bowls. You can use the whites for meringue for the top of the key lime pie.
Key Lime Juice – you can either juice the key limes (after you zest them) or buy a bottle of key lime juice. I actually used bottled juice in this recipe and it tasted fine. I find that the key limes are small and take several of them to get enough juice. I like to keep it simple and easy.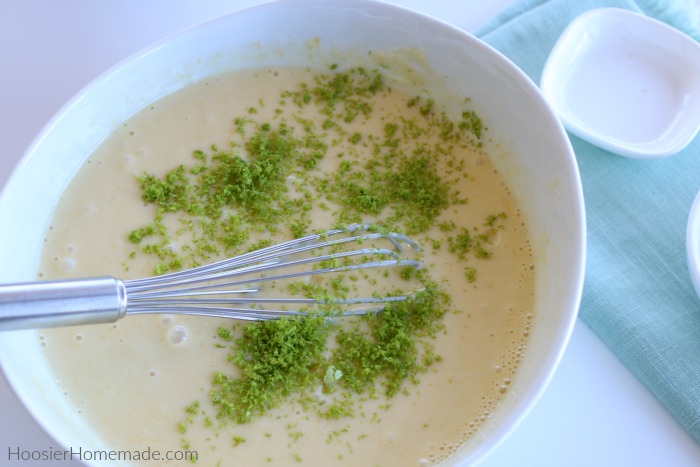 Add the Key Lime Zest and whisk together until smooth. Then divide the filling into the cooled crust, and bake at 325 degrees for 12-15 minutes or until the filling is set.
Key Lime vs Lime
There are two types of limes, one you are probably most familiar with – the Persian Lime, they are the larger limes that you see most frequently at the grocery store. And then there are Key Limes, they are small and not as green as the regular limes. Key Limes are usually picked while they are green, but then as they ripen they begin to turn yellow.
Key Limes, in my opinion, have a bolder more tangy taste. But are perfect for many desserts like Key Lime Bars, Lime Desserts, and even this Key Lime Pie.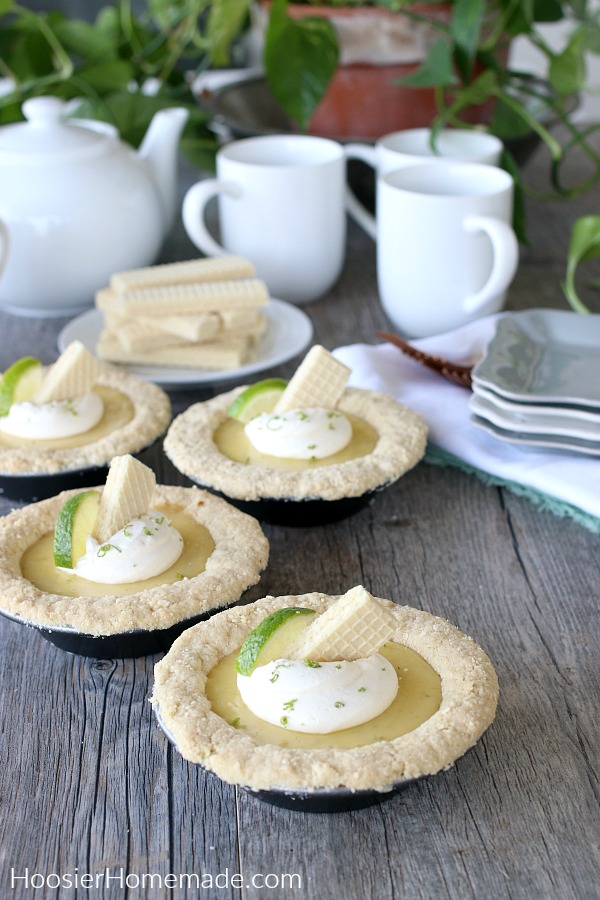 You can garnish the Mini Key Limes Pies with whip cream, lime zest, a slice of lime and a wafer cookie.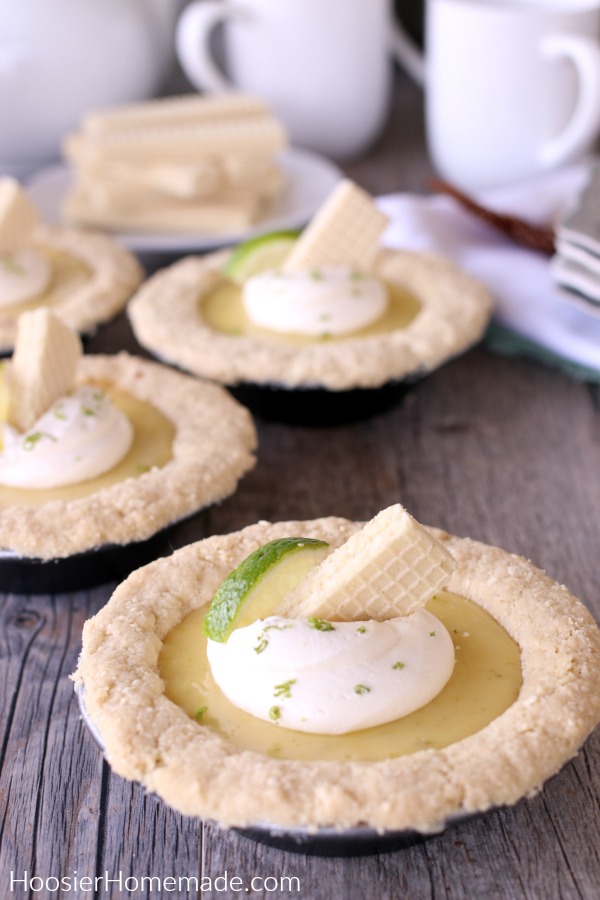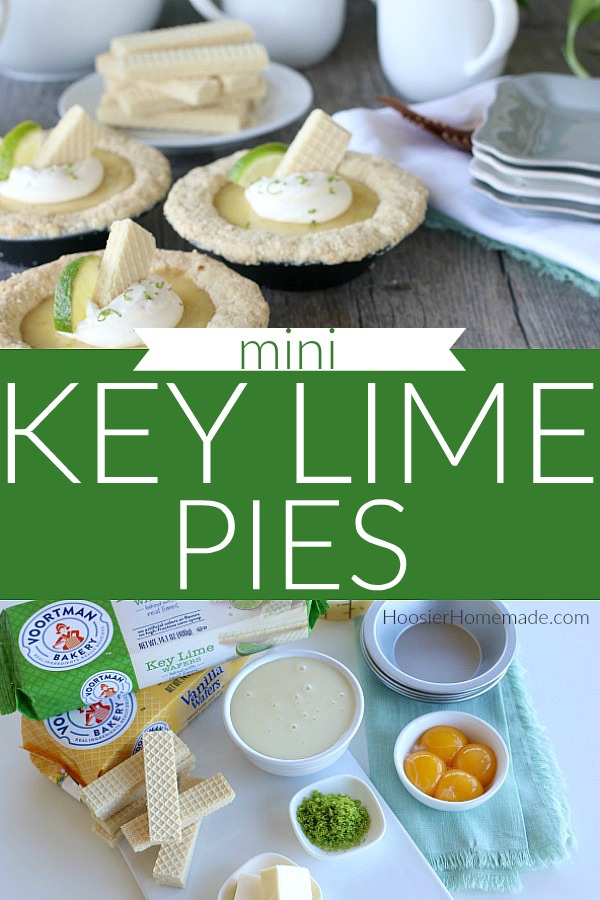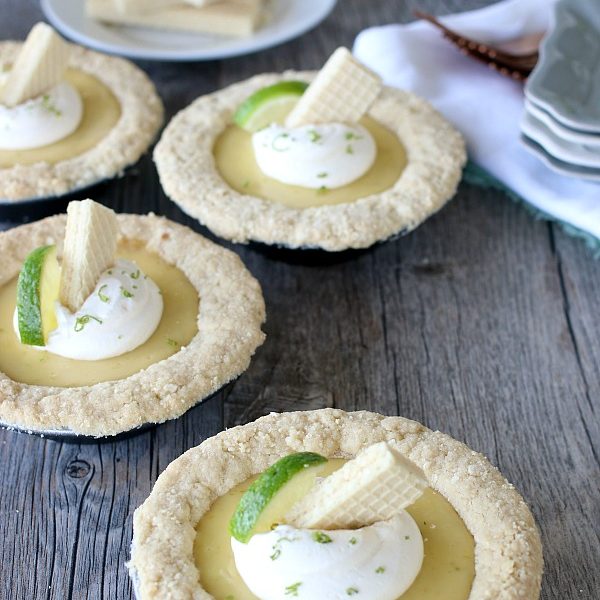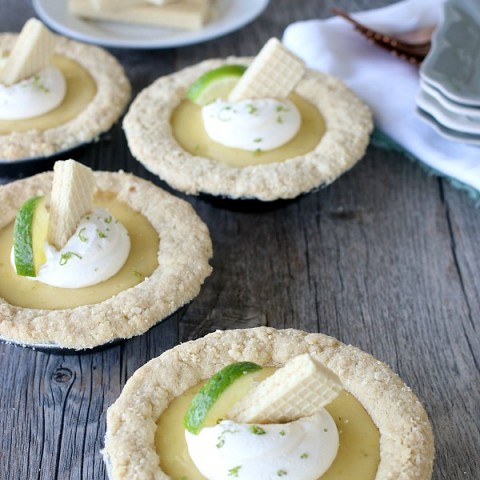 Mini Key Lime Pies
These easy to make Mini Key Lime Pies start with a wafer cookie crust and the filling has only four ingredients.
Ingredients
Cookie Crust
1 (14 oz) package Key Lime Wafer Cookies
1/4 cup melted Butter
Filling
1 (14 oz) can Sweetened Condensed Milk
1/2 cup Key Lime Juice
4 Egg Yolks
1 tablespoon Key Lime Zest, finely grated - plus more for garnish if desired
Instructions
Cookie Crust
Crush cookies in resealable bag or food processor until fine
Add crumbs to bowl and add melted butter
Stir until well combined
Add about 1/2 cup crumb mixture to each mini pie tin
Push crumbs into tin to form pie crust
Place on cookie sheet
Bake at 350 degrees for 10-12 minutes - don't over bake, as the crust will bake again with the filling
Cool crusts
Filling
To a medium bowl, add sweetened condensed milk, egg yolks and juice, whisk until smooth
Add lime zest and whisk until smooth
Add filling to cooled pie crust
Bake at 325 degrees for 12-15 minutes or until filling is set
Cool completely
For garnish, add whip cream, lime zest and wafer cookie
Store leftovers in refrigerator
Notes
This recipe make 4 mini pies or 1 regular pie