No Bake Cheesecake for the 4th of July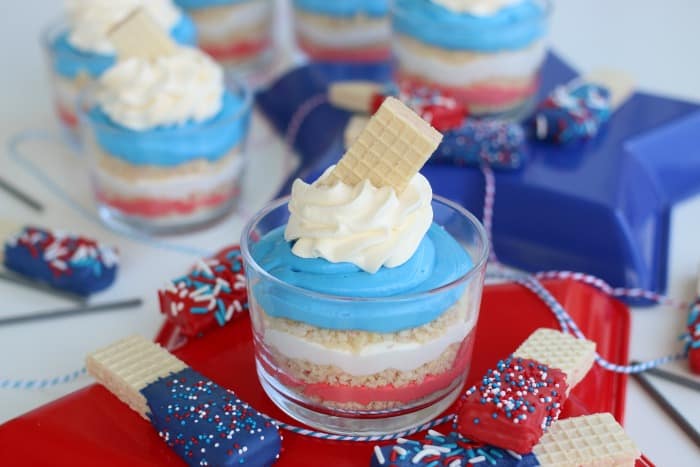 This No Bake Cheesecake for the 4th of July will be a hit at your next party! With only a handful of ingredients and about 15 minutes, you can have this fun dessert ready.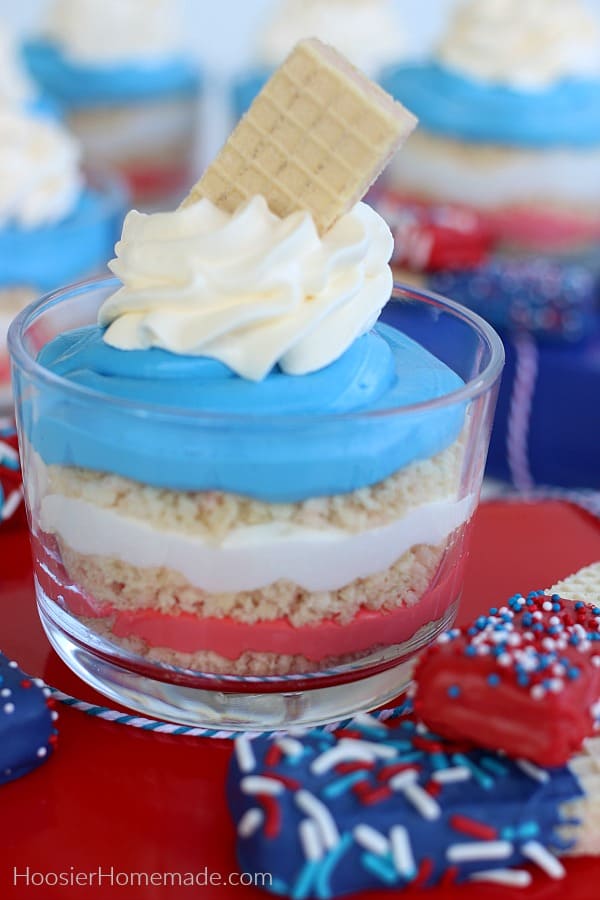 This recipe is brought to you by Voortman Bakery. As always, the opinions are my own.
4th of July is one of those holidays that is easy – there isn't a lot of preparation, there isn't expectation of gifts, and the decorations are minimal. I think that is one reason why I love 4th of July so much! It brings with it the anticipation of a care free summer!
Recently we shared the S'mores Dip and Dessert Charcuterie Board featuring our friends at Voortman Bakery and their two new cookies to celebrate Summer – S'mores Wafers and S'mores Cookies. All of their cookies and wafers are made with real ingredients – yes those that you can actually pronounce.
These No Bake Cheesecake Trifles have crushed Voortman Bakery Wafers between the layers and a wafer on top for decoration. They have a variety of wafers in flavors that you all love like Strawberry, Blueberry, Vanilla and Chocolate. And they also carry no sugar added varieties.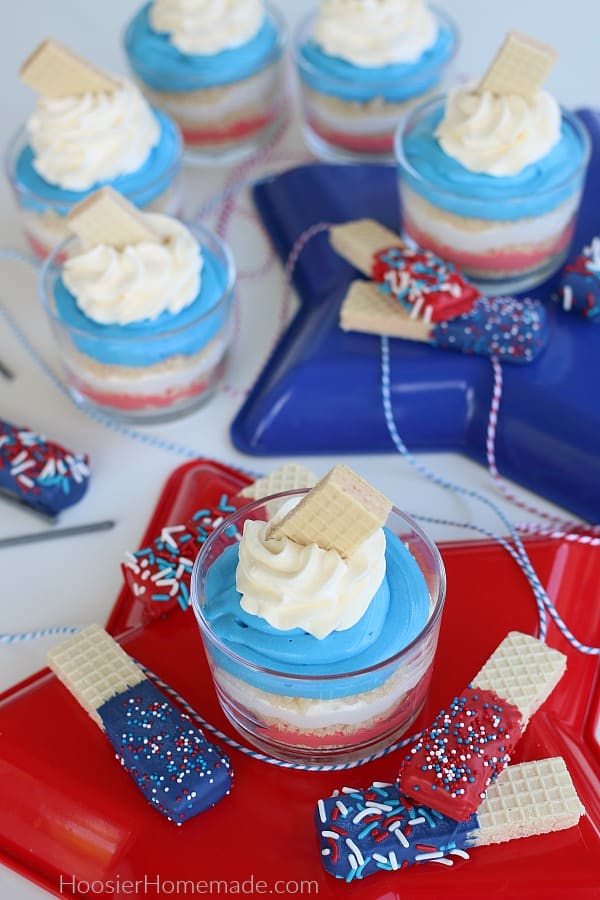 Serving individual desserts are really fun, they are fun to make and fun to eat! For the 4th of July, the no bake cheesecake mixture is colored with red and blue. You can easily swap the color for any holiday or occasion. Or leave it white.
I recently made this recipe for a party and left it white and added a few sprinkles for color.
To go along with the No Bake Cheesecakes, the wafers are dipped in melted candy melts and decorated with sprinkles. They add an extra pop of color and kids of all ages love them.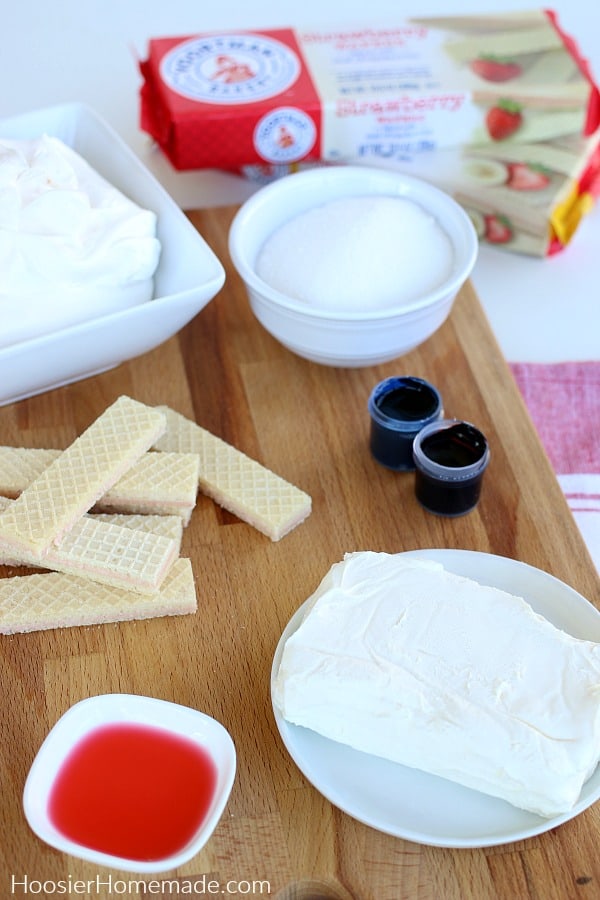 No Bake Cheesecake Trifles
Ingredients
Cream Cheese
Sugar
Whipped Topping
Flavoring
Coloring
Kitchen Essentials Needed
Large Mixing Bowl
Mixer
Spatula
Tart Shaper – for tapping down the wafer crumbs
Plastic Decorator Bags – these make adding the cheesecake to the dish a lot easier
Food Processor or resealable bag for crushing wafers
Dishes, Glass Jars or Containers for serving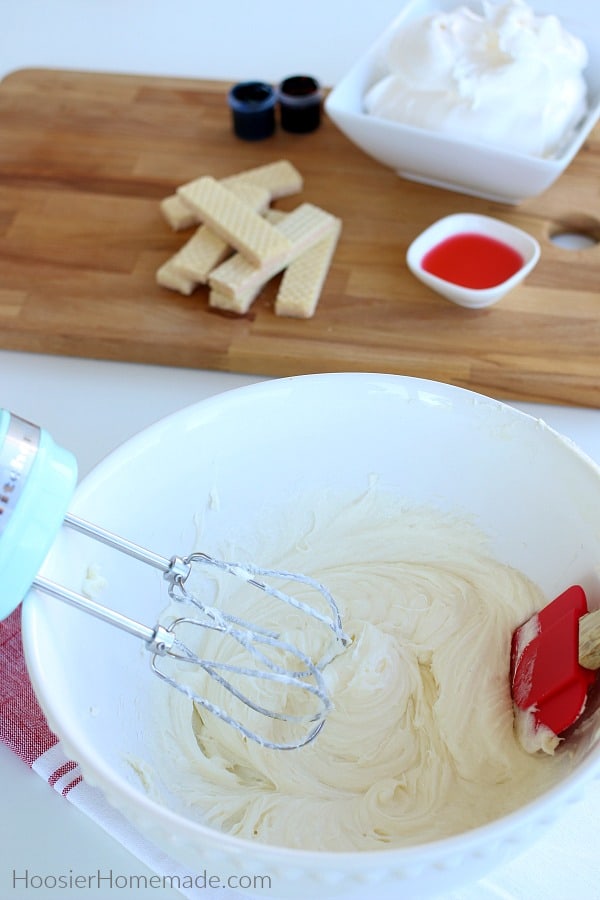 How to make No Bake Cheesecake
Step 1
Cream together the cream cheese and sugar until fluffy. At this point you can also add the flavoring if you want.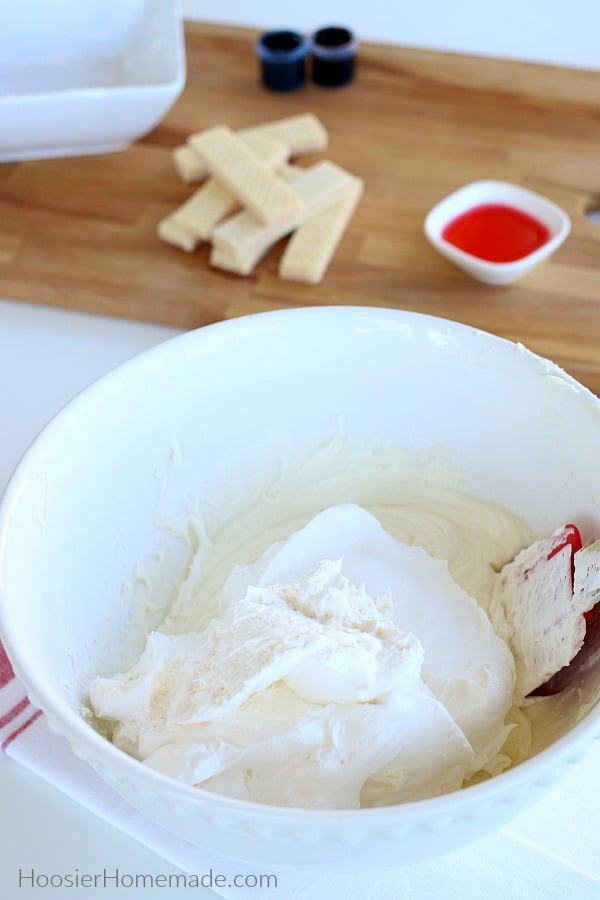 Step 2
Fold in the whipped topping until cheesecake is smooth. Be sure not to whip it too much or the whipped topping will breakdown.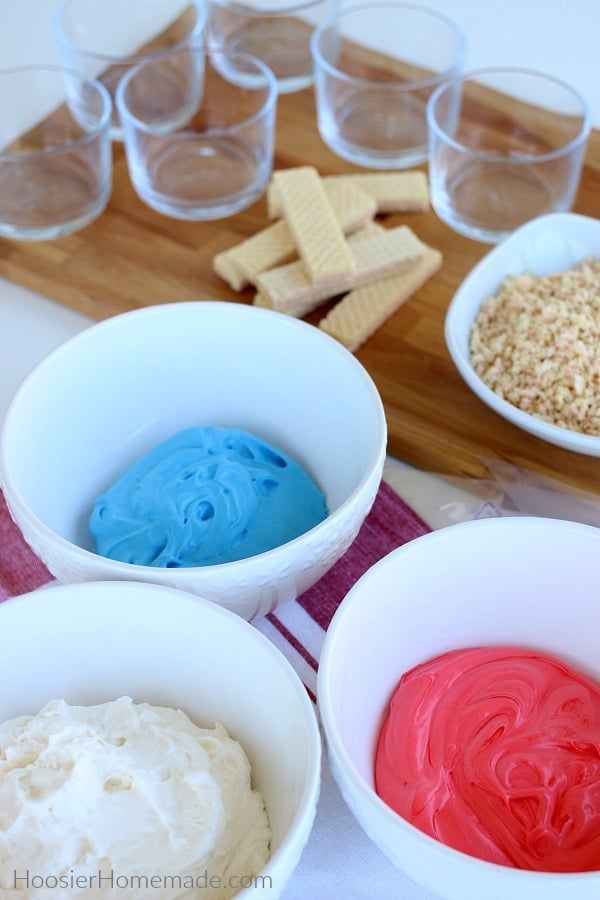 Step 3
Divide the cheesecake into 3 bowls. Color one with red and one with blue. You can also leave it all one color or white if you want.
Crush 1 package Voortman Bakery Wafers by adding them to the food processor or a resealable bag and using a rolling pin to crush the wafers.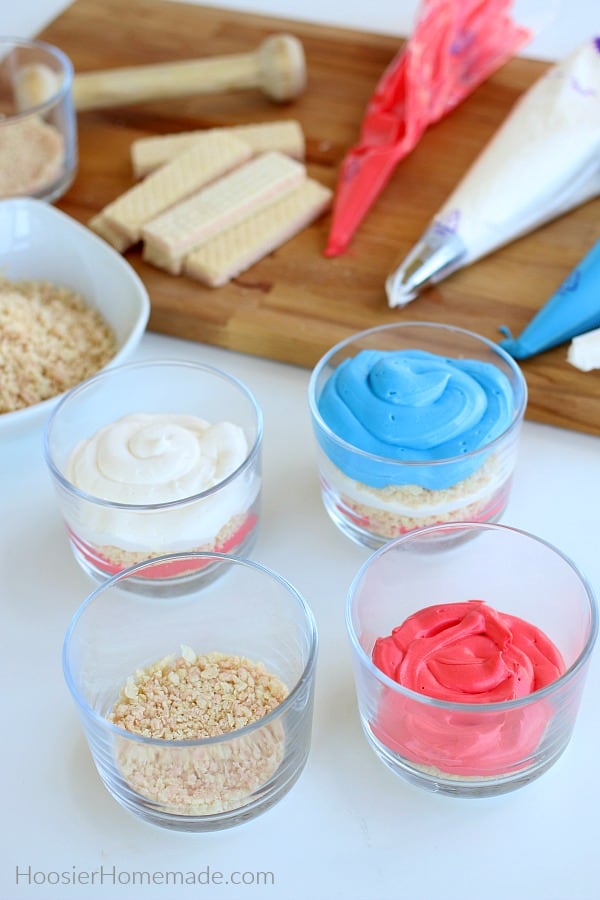 Step 4
Assembly
The size of your container and how many people you are serving will determine the amount of cheesecake you will need.
The dishes I used are from IKEA and are about 4 ounces each. It took a double batch of cheesecake and a full package of crushed wafers to fill 6 of them.
On the bottom, add a couple heaping teaspoons of crushed wafers, then tap it down a bit with a spoon or tart shaper tool.
Fill decorator bags with cheesecake mixture
Add a red layer, then cover with crushed wafers
Then add a white layer, then cover with crushed wafers
Now add a blue layer
Then top with a swirl of whipped topping
Add a piece of wafer to decorate
The cheesecake mixture can be made a day or two ahead of serving, but I would suggest assembling the trifles shortly before serving.
What will you be serving at your 4th of July Celebration?
You may also like these recipes using Voortman Bakery cookies and wafers –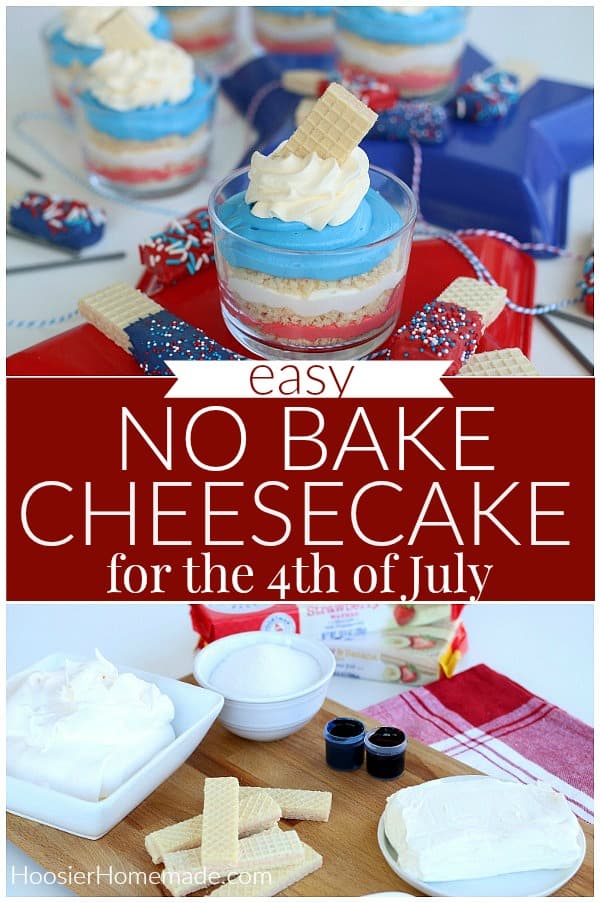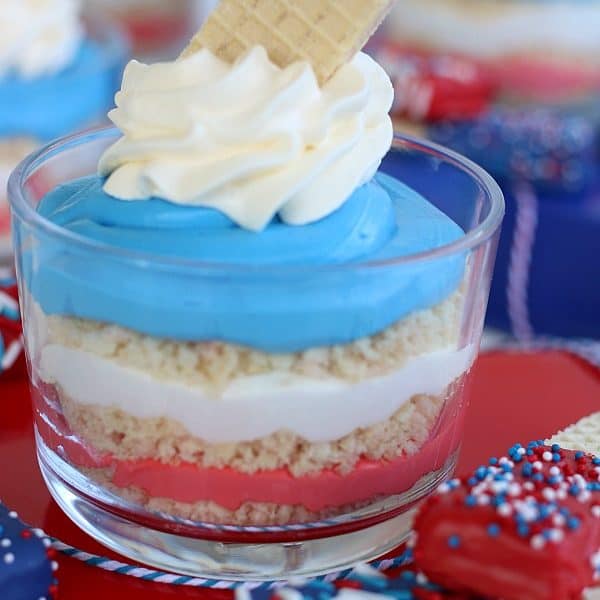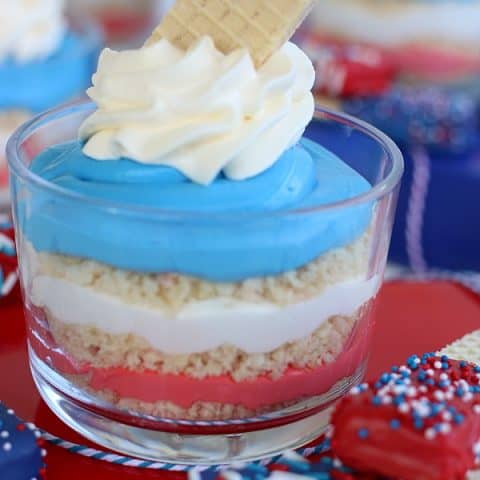 No Bake Cheesecake
No Bake Cheesecake for the 4th of July
Ingredients
2 packages (8 oz each) Cream Cheese, softened
1 1/2 cups Sugar, white granulated
2 containers (8 oz each) Whipped Topping plus some for decorating, optional
1 package Wafer Cookies, crushed
Red and Blue Coloring, optional
Wafers for decorating, optional
Plastic Decorator Bags, optional but makes filling cheesecake into dishes easy
Instructions
Beat cream cheese and sugar until fluffy and smooth
Fold in whipped topping until smooth
Crush wafers in food processor or resealable bag with rolling pin
Fill cheesecake into decorator bags
Add a couple heaping teaspoons of crushed wafers to the bottom of the dish
Add a layer of red cheesecake, then cover with crushed wafers
Add a layer of white cheesecake, then cover with crushed wafer
Add a layer of blue
Top with a swirl of whipped topping and decorate with a wafer
See notes for serving time
Store leftovers in refrigerator
Notes
This recipe will fill 6 dishes, 4 ounces each. You can easily cut it in half depending on how big your dishes are and how many you are serving.
You can also use this same recipe without coloring, or changing the color for any holiday or occasion.
Cheesecake can be made ahead a day or two. Assemble shortly before serving or the wafers will get soggy.