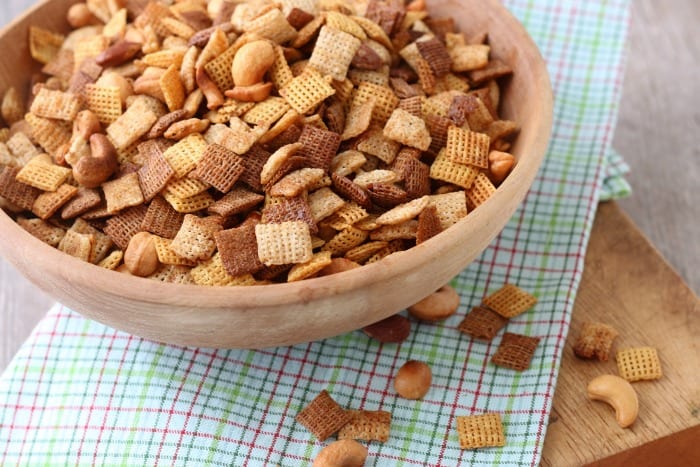 This Chex Mix Recipe is super easy to make and SO much better than store bought. It takes under 5 minutes to put together and then into the oven it goes. It's better than the original!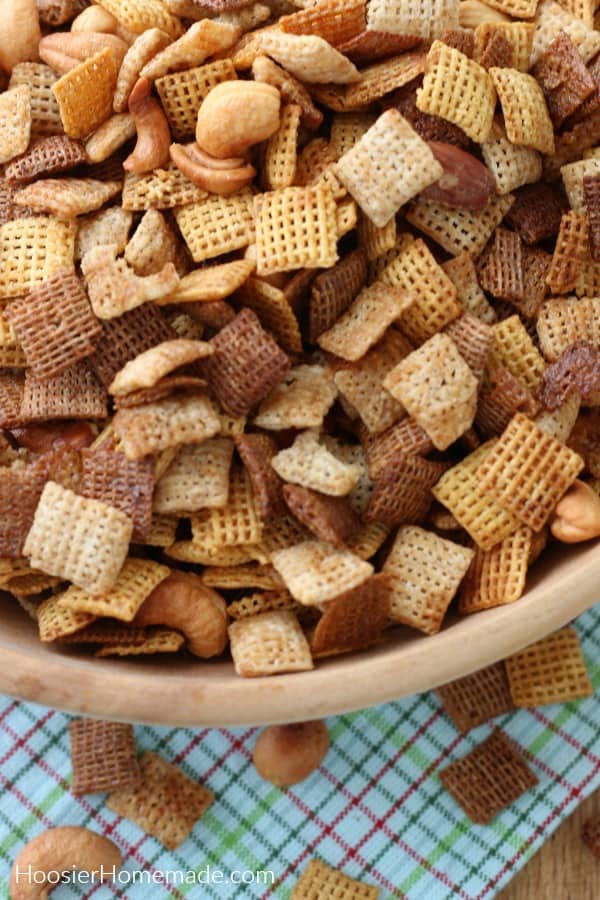 Welcome to Day 36 of the 100 Days of Homemade Holiday Inspiration! Each day we will be inspiring you with recipes, decorating ideas, crafts, homemade gift ideas and much more!
Are you a snack lover? Whether you are watching a movie, the big game, enjoying family time while playing a game, or even hosting a party – snacks are an essential part of our time together as a family. And giving snacks as a gift is also really easy and is always loved by the recipient.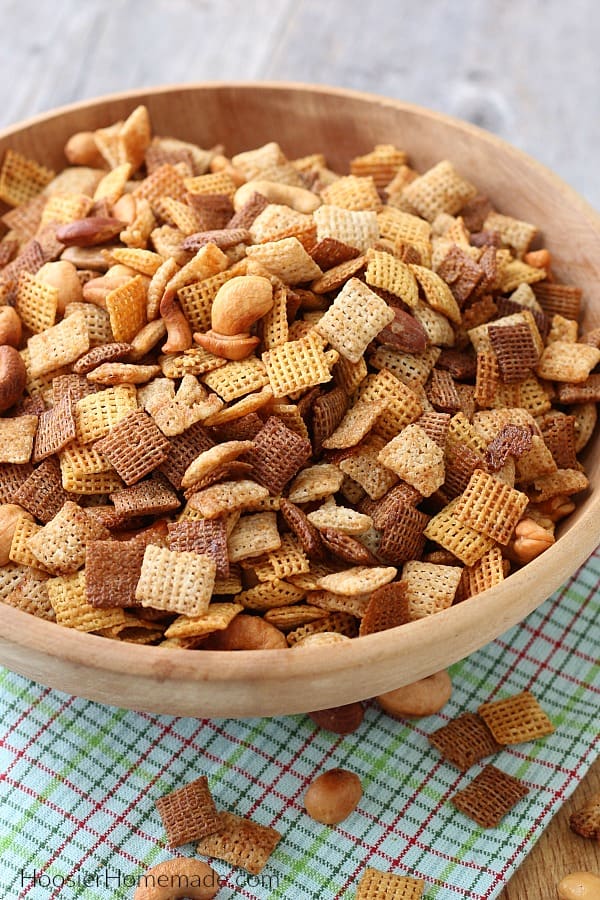 Chex Mix is one of those sacred recipes in our home, my boys and husband actually fight over the little burnt pieces, they think they are the best part of the mix.
This is also a family recipe, passed down from my mother-in-law. She was actually very well known for her Chex Mix Recipe. Every Christmas she would make 5 gallon containers full of this goodness. While mine won't ever be the same as hers, I do use her recipe and it's always a hit.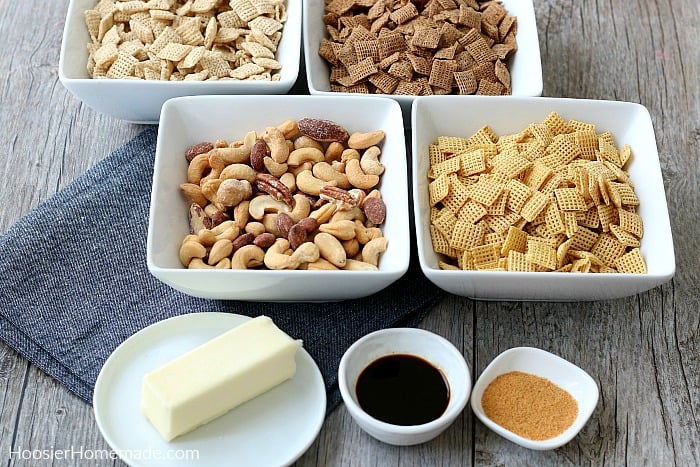 Chex Mix Recipe
Ingredients
Chex Cereal – A combination of Rice, Corn and Wheat are the best to use
Mixed Nuts and Cashews – you can also use only mixed nuts, but we like the extra cashews in this Chex Mix
Butter
Worcestershire Sauce
Seasoned Salt – this is like Lawry's or other brand
Kitchen Essentials Needed
Large Bowl
Rubber Spatula or Large Spoon
Whisk or Fork
Microwave Safe Bowl
Measuring Cup
Measuring Spoon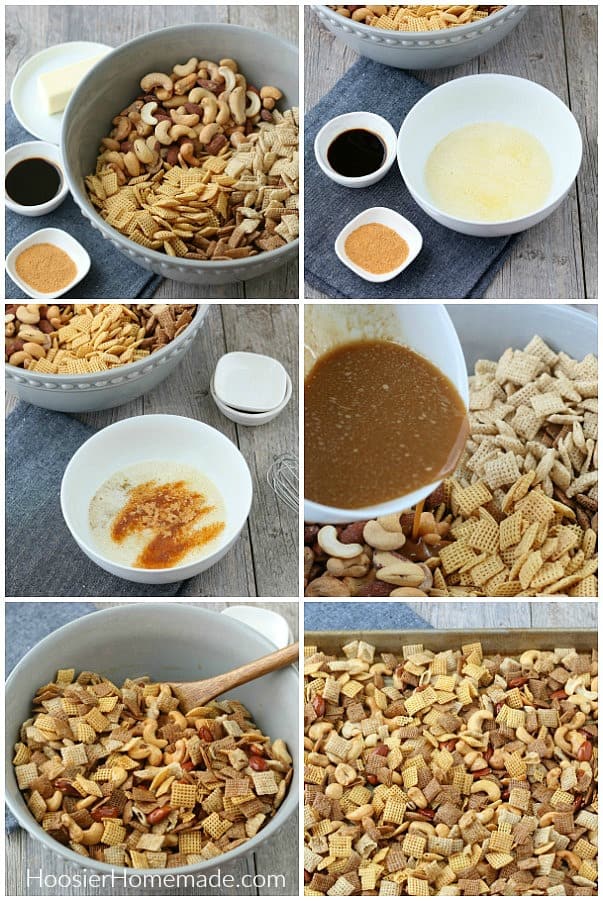 How to Make Chex Mix
Full printable recipe and instructions are below
In large bowl, combine the cereal and nuts
Melt the butter in a microwave safe bowl
Then add the Worcestershire sauce and seasoned salt
Pour butter mixture over cereal mixture
Stir until well coated
Spread mixture evenly onto rimmed cookie sheet
Chex Mix Recipe – Frequently Asked Questions
Is it okay to use the packet of dry seasoning mix that is available at the store?
Yes, you can certainly use that, however, keep in mind, making your own takes minutes and you actually know and can pronounce the ingredients that you are adding.
What else could I add to this Chex Mix Recipe?
There are hundreds of variations of this Chex Mix. You can add –
Pretzels
Oyster Crackers
Cheese Crackers
Do I have to bake this in the oven or can I use the microwave?
I do prefer this recipe baked in the oven but yes you can certainly cook the Chex Mix in the microwave. Microwave for 6-8 minutes, stopping to stir every 2 minutes or so.
Can I adjust the ingredient amounts in this recipe?
Yes, you can. I always like adding more nuts. One of the best things about making homemade chex mix is that you can make it to suit your taste.
Follow along with the 100 Days of Homemade Holiday Inspiration for more simple recipes, easy crafts, homemade gift ideas, decorating tips and much more!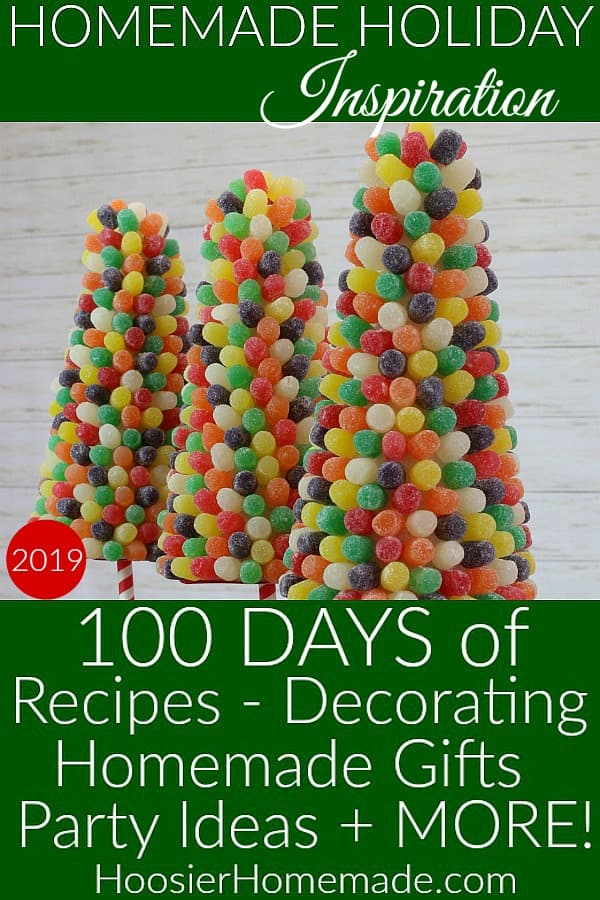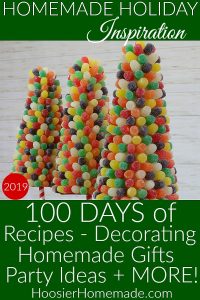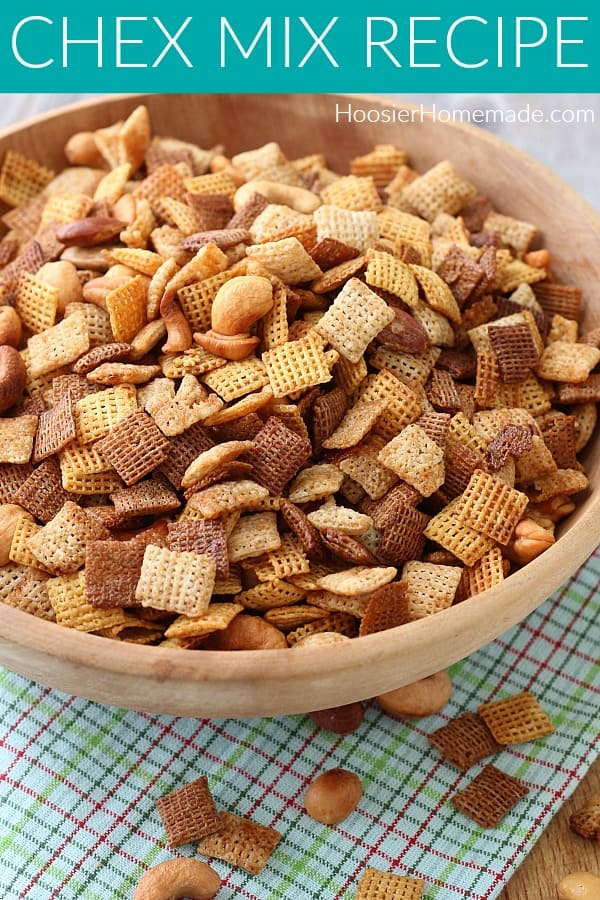 Looking for more easy Snack Mix Recipes? Click on the photo for the recipe.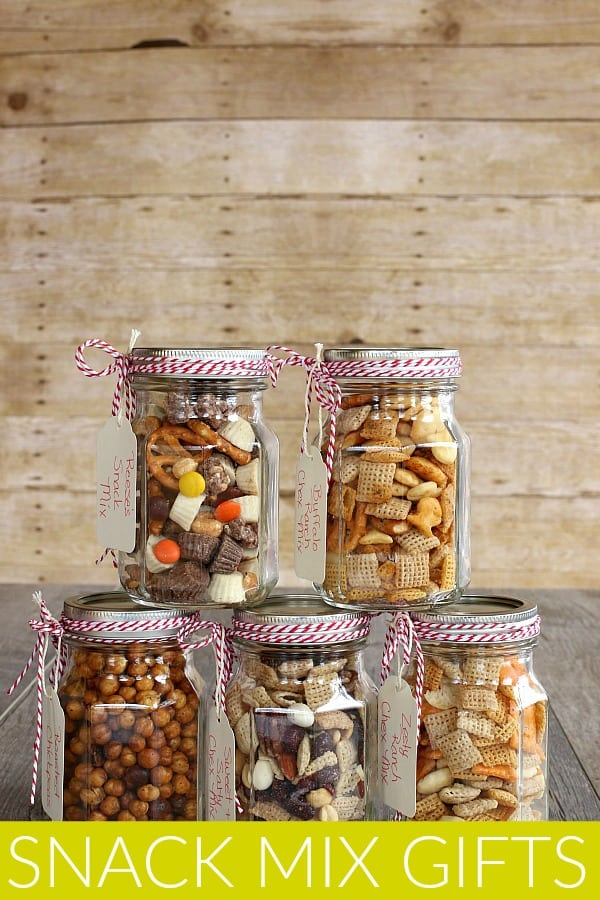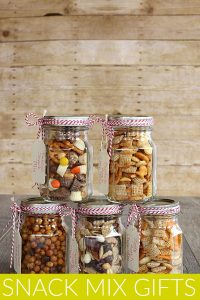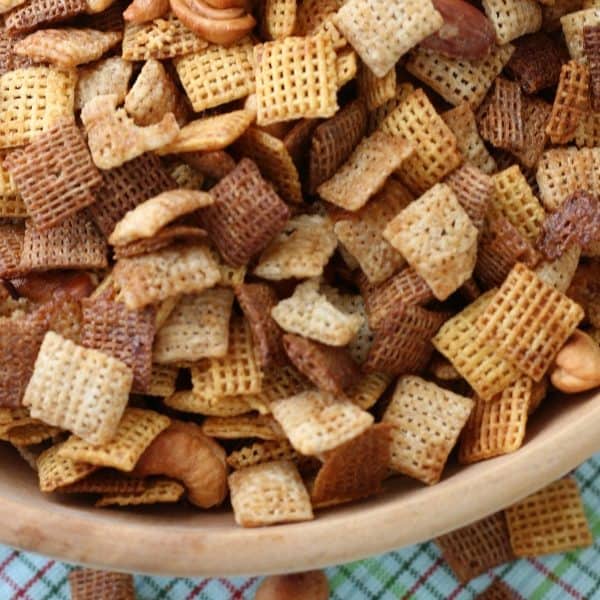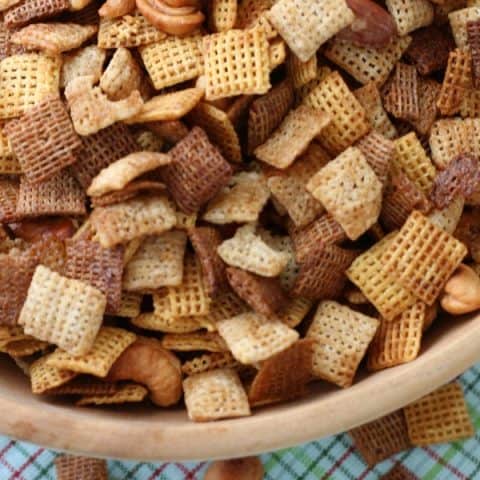 Chex Mix Recipe
This Chex Mix Recipe is easy to make and sure to disappear fast!
Ingredients
2 cups Rice Chex Cereal
2 cups Corn Chex Cereal
2 cups Wheat Chex Cereal
3/4 cup Mixed Nuts
3/4 cup Cashews
6 tablespoons butter, melted
4 teaspoons Worcestershire Sauce
1 teaspoon Seasoned Salt
Instructions
Preheat oven to 300 degrees
Set out rimmed cookie sheet
In a large bowl, combine cereal and nuts
Melt butter in microwave safe bowl
Add Worcestershire sauce and seasoned salt, whisk until well combined
Pour butter mixture over cereal mixture and mix until well coated
Spread evenly onto cookie sheet
Bake for 30-40 minutes, stirring half way in between
Remove from oven and allow to cool
Nutrition Information:
Yield:

8
Serving Size:

1
Amount Per Serving:
Calories:

338
Total Fat:

22g
Saturated Fat:

8g
Trans Fat:

0g
Unsaturated Fat:

13g
Cholesterol:

23mg
Sodium:

617mg
Carbohydrates:

33g
Fiber:

4g
Sugar:

4g
Protein:

7g